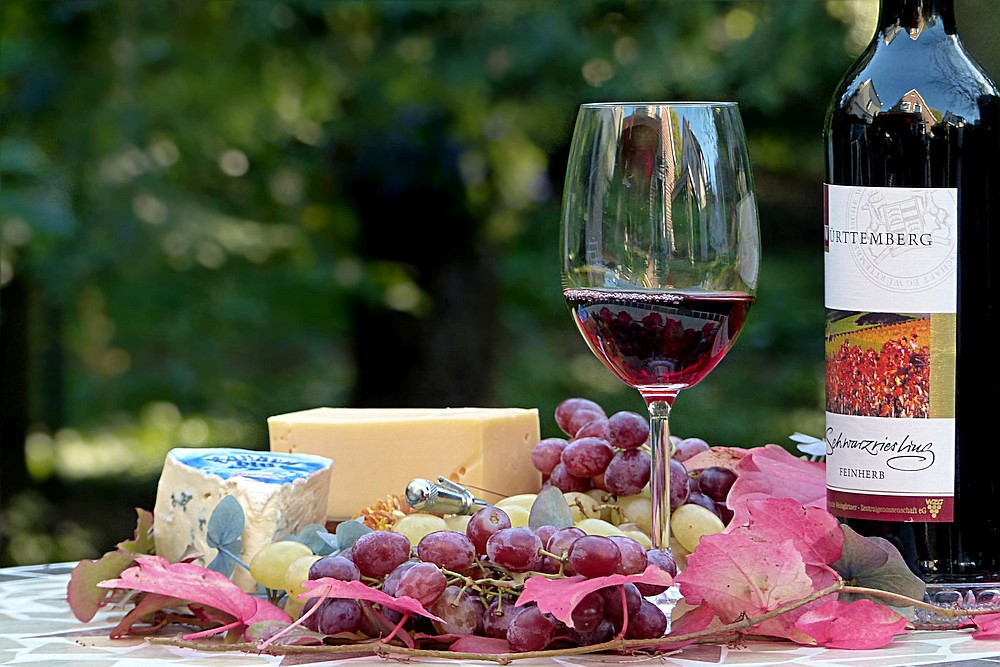 What to Eat With Wine: 11 Fantastic Options
Did you know that humans have been making wine for over 8,000 years?
Since we've had such a long time to perfect the craft, it's no wonder why so many people love treating themselves to a nice glass of wine.
Do you want to learn what to eat with wine to make your leisure time even more luxurious? Keep reading for 11 delicious food and wine pairings.
1. Sangiovese Pairs with Pizza and Other Tomato-Based Dishes
Since pizza, pasta, and other tomato-based dishes are Italian, it only makes sense to pair these foods with a glass of good Italian wine. The reason why Italian wines work well with tomato is because they help complement the acidity. Other wines have the potential to leave a metallic aftertaste in your mouth.
The older the Sangiovese wine is, the fruitier it gets. Before you take your first sip, take some time to appreciate the subtle scents of figs, cherries, and roses.
2. Pinot Grigio Pairs with Seafood Dishes
Seafood tends to have delicate flavours, so you wouldn't want to overpower them with a complex wine. Pinot Grigio is the best match for most seafood dishes because it's more subtle in flavour. This wine will not only enhance the dish, but it will let the seafood shine on your palate.
3. Rosé Pairs with Cheesy Dishes
Cheeses come in all different types of flavours and textures, which means they can make wine pairings challenging. If you're ever in doubt, Rosé tastes great with every type of cheese. The reason why is because Rosé embodies the acidity of white wines and the sweetness of red wines.
If you're more in the mood to have snacks with wine, you can create grown-up grilled cheese sandwiches. Grilled cheese and wine will hit the spot without making you feel too full.
4. Prosecco Pairs with Prosciutto and Melon
Prosciutto and melon skewers are one of the best snacks that go with wine. Since they're simple to prepare, they make a perfect party appetizer that's sure to please any crowd.
Although this sweet and savoury bite is delicious on its own, pairing it with a glass of Prosecco can take the flavours to the next level. Since this wine is sparkling and floral, it can cut through salty meats like prosciutto while also complementing the sweetness of the melons.
5. Malbec Pairs with Barbecue Dishes
Whether you're being adventurous and trying Korean barbecue or you're sticking with classic American barbecue flavours, you won't be disappointed if you drink some Malbec with your meal. Since barbecued foods boast a diverse, smokey flavour profile, you'll need a wine that also has a big personality. Since Malbec is fruity and smokey, it can enhance the sweet and tangy notes in your barbecue sauce.
6. Cabernet Sauvignon Pairs with Steak and Other Red Meats
Although any red wine tastes great with red meat, there's nothing more decadent than Cabernet Sauvignon and a nice cut of beef. This wine is high in tannins and has a bold, fruity profile. Since red meats are rich, the fats can help balance the flavours.
If you're looking for a well-rounded meal, you can't go wrong with this pairing. The sweet wine will lighten the heaviness of the meat. You'll walk away feeling perfectly satisfied.
7. Moscato d'Asti Pairs with Fruits
Fruits are obvious snacks to serve with wine since wine can be made from more than grapes. Moscato d'Asti is always a wise choice to serve with plain fruits or fruity desserts because it's not too sweet. Since it's also sparkling wine, it can also help cleanse your palate between each bite so you can enjoy the full flavours of each fruit.
8. Burgundy Pairs with Earthy Dishes
If you're eating a dish that uses a lot of vegetables or herbs, you don't want to miss out on relaxing with a glass or two of Burgundy. Burgundy is an elegant wine that's both earthy and sweet. This elegant flavour profile brings out the richness in foods like mushrooms, squash, basil, apples, and bell peppers.
9. Syrah Pairs with Spicy Meats
You may not think that there is any type of spicy food that goes with wine, but Syrah opens up a lot of possibilities. This red wine is so bold and decadent that some even describe the taste as meaty. The combination of its fruity tones with a surprising velvety smokiness is divine.
If you're eating any meat that seasoned heavily with spices like cumin, curry, or chilli, you'll be blown away once you try it with a glass of Syrah.
10. Chardonnay Pairs with Delicate Chicken or Pork Dishes
Oaked Chardonnay is known for its buttery taste while the unoaked chardonnay is zesty with more floral and citrus notes. Oaked chardonnay can add a layer of richness to your meal while unoaked chardonnay will keep the meal light and refreshing. No matter what type of Chardonnay you choose, it's bound to taste excellent with any delicate chicken or pork dish.
11. Zinfandel Pairs with Salty Snacks Like Pretzels or Chips
Did you know that pretzels and chips make incredible wine snacks? If you're a fan of these casual foods, you can rejoice because they're not only limited to beer.
Zinfandel is a beautiful match for salty party snacks because it has a unique sweet and smokey flavour. Since Zinfandel can have an alcohol content as high as 17%, you can feel great after one glass.
Learning What to Eat with Wine Is a Blast
Now that you know what to eat with wine, you can start creating the perfect pairings for a gourmet experience.
Do you want to go on a magical wine and culinary tour in Niagara Falls? If so, Niagara Vintage Wine Tours would love to treat you to the finer things in life. Check out our wine tour options to start planning your next adventure.