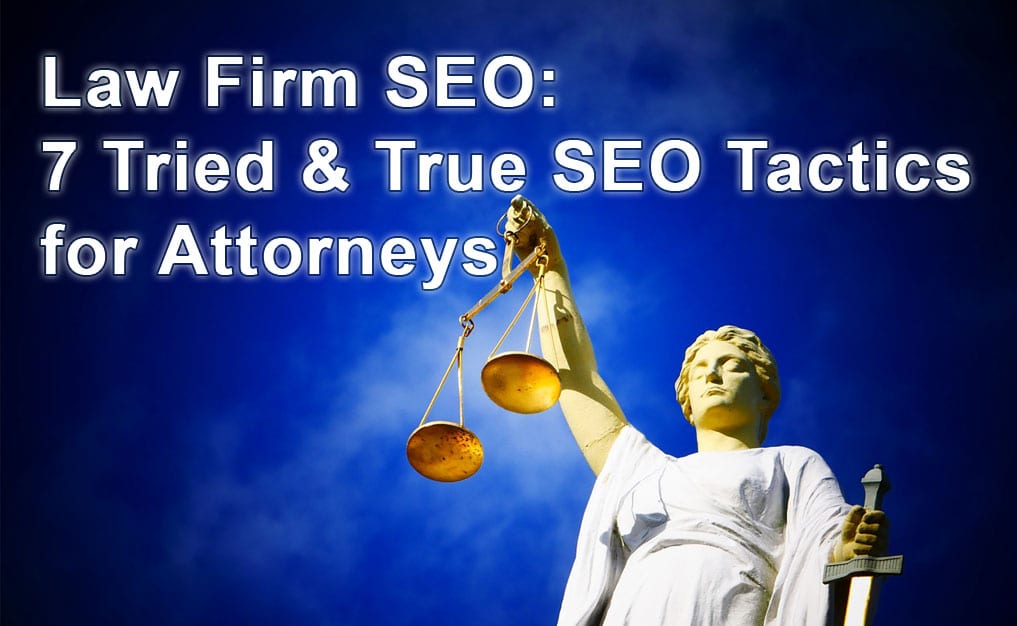 Law Firm SEO: 7 Tried & True SEO Tactics for Attorneys
Originally posted on https://www.caemarketing.com/law-firm-seo-7-tried-true-seo-tactics-for-attorneys/
Depending on your law firm's area of practice and geographical location, the field can sometimes be extremely competitive. This is especially true with personal injury attorneys, and bankruptcy attorneys, particularly in large metro areas. If you are an attorney, and you're reading this article, you're likely wondering how you can rank higher than your local competition, which is why you're here. So, let's get into it.
Utilizing these 7 law firm SEO strategies can increase the presence of your law firm, especially if it's a local business that focuses on in-person interactions instead of online services. If used correctly, local SEO can have a huge impact on your law firm's discoverability and greatly increase your presence both locally and on the internet.
1. Optimizing Your Law Firm's Keyword Usage
A major component of successful SEO is optimizing keyword usage. There are two main keyword-related focuses here; "near me" keywords and understanding user intent.
In the past, websites would focus on generic terms such as "personal injury lawyer", but recent trends have shown that these keywords are difficult to rank for due to well-established law firm websites that already have a tight grasp on those search rankings. As a result, trying to rank for those generic terms can be expensive and potentially a losing battle given their position. Instead, it's better to focus on more specific keywords and phrases such as "near me" keywords and intent keywords.
"Near me" keywords are focused on location metadata that is embedded into your website and business listings and not using the words "near me" literally. For instance, if someone located in Houston, TX did a search for "bankruptcy attorney near me", Google will see that phrase and automatically pull up law firms that are near the location of the user, in this example, Houston, TX, assuming they have location data enabled. If they don't, then Google will use the user's last known location or any address that they have listed in a Google-linked profile.
For intent keywords, there are three categories to consider:
Informational keywords are related to answering questions related to a product or service such as "what to look for in a law firm" or "what do I do after a car accident".
Navigational keywords are related to locating specific websites, products or services such as "law firm in Florida" or "best DUI law firm near me".
Transactional keywords are related to the purchase of a product or service such as "hire lawyer in Boston". Transactional keywords can also be a more detailed description of a service, such as "affordable DUI law firm in New York". This is because the user has already identified what they need and where they need it.
2. Always Do Keyword Research
Keywords with a high intent are described as words that could have a strong possibility of leading to a successful sale or qualified lead. Finding these keywords often involves the use of keyword research tools such as WordStream, Google Keyword Planner and Keyword Tool and SEMrush. These services are great starting points for finding the right keywords to use for maximum local SEO visibility and optimization, but will also show you the congested keywords that are best avoided due to well-established websites that will be difficult to overcome on the search rankings.
I can't emphasize enough how important proper keyword research is. Don't assume you know what people will use to search for your services – always look at the data!
For example:
Which search term is more popular?
PERSONAL INJURY ATTORNEY
or
PERSONAL INJURY LAWYER
Here is the average monthly search volume (in the US):
"Ah, great! So LAWYER is the term to use", you might be thinking, because it has the highest volume of searches. For "personal injury", yes, but not for other practice areas…
REAL ESTATE ATTORNEY
or
REAL ESTATE LAWYER
average monthly search volume (in the US):
Case in point; always do keyword research, and be sure to implement your findings on your website.
3. Optimizing Your Google My Business Listing
Digital marketing success for a law firm is generally focused on location-based strategies, hence the popularity and importance of local SEO. One of the first things every law firm must do is create a Google My Business listing, a free tool from Google that can help you manage your online presence on the search giant.
When a listing is created on the Google My Business platform, it automatically synchronizes with Google's search platform. This means that your business will show up on Google Maps, it will appear on local searches and your type of business will also be taken into consideration and categorized by Google's systems.
When the listing is created, it's important to set all of the information correctly such as your address, contact information, website link and even add photographs of your premises. This will also enable questions and answers. Potential prospects will be able to ask questions and it's important that you answer these queries to help give people more information about your law firm.
Adding photos is a great way to optimize your Google My Business listing but they need to make sense in the context of the listing. For instance, a logo image can help customers identify your business, a cover photo could help describe what your business does at a glance and additional photos can show the exterior of your law firm to help potential visitors identify your premises should Google Maps be outdated.
4. Understand the Importance of Positive Reviews
Few people make a purchase on the internet without first consulting reviews and advice from their peers. When it's something that they can't ask a friend or family member about, they will typically use reviews on the internet to determine if a service is worth their time or not.
One of the most popular sources to find a review of a business is from Google itself. After setting up Google My Business, you'll automatically have a review system that consumers can use to review your business and rate it with a 5-star system. This allows clients of your law firm to review your services and offer feedback which, if positive, can be used for positive local SEO.
The reasons positive reviews are so important for local SEO is because it's social proof. If you've successfully optimized your SEO so that your results are shown near the top of a string of keywords, then the next step is convincing those users that you are a trustworthy and reliable business. Google will list these star ratings and reviews on the front page of a search that shows your law firm, offering immediate validation to those users that you are a business that can be trusted.
Here are some key statistics from BrightLocal's 2018 Local Consumer Review Survey:
86% of consumers read reviews for local businesses (including 95% of people aged 18 to 34)
Consumers read around 10 online reviews before being able to trust a local business
40% of consumers only take the most recent reviews (up to 2 weeks) into consideration. This is up from 18% the previous year
57% of consumers only use a business if it has 4 or more stars
80% of 18-34 year olds have written online reviews compared to just 41% of consumers over the age of 55
91% of 18-34 year old consumers trust online reviews as much as a personal recommendation
89% of consumers read business's responses to reviews
With these statistics, it's clear that a local business must use positive reviews to their advantage when it comes to optimizing local SEO. But how exactly can you convince users to leave a review? This will depend mostly on your ability to offer a great service to the clients of your law firm.
However, asking is also a viable method of receiving reviews from your clients, even if you ask via email a couple of days once your service has concluded. In addition, the easier you make reviewing business, the more likely your users will do it. One example is to include a link to your Google My Business listing in an email or place a reminder on the invoice.
5. Optimize Website to Improve Local SEO
Having a well-optimized website goes a long way for local SEO for attorneys. If there are multiple law firms that you're competing with then the quality of your online resources will make a huge difference in your discoverability and credibility.
Loading speeds are surprisingly important when it comes to SEO. Google now has the ability to rank pages based on how quickly they load, so if you have videos and large graphics on your website, then you may want to remove them or at least make them more efficient. When it comes to optimization, think about how you can reduce the number of plugins to make your site faster and also get rid of unwanted features to make it load faster.
In addition, the vast majority of internet users these days are accessing the web from smartphones. If someone's just been in an accident and is looking for legal help online, they're not going to wait until they get home. Instead, they're going to use their phone and find a law firm near them as quickly as possible, but if your website isn't optimized for mobile, there's a very high chance that they'll just skip it and look for another company.
Hopefully, this article has given you some helpful advice on how you can boost your presence in order to boost your local SEO and increase the visibility of your business. While many of these tips can be handled on your own, it's sometimes best to hire an expert that can save you time and money and ultimately be more successful with optimizing your website for local SEO.
6. Use Schema Markup
Schema markup allows you to provide Google with more information, or rich snippets, that will often be displayed on Google's search results pages. This is a great way to stand out, as well as give potential clients another incentive to click on your law firm's ad versus another attorney.
A few great ways that law firms can use schema markup:
Legal Services Markup – this type of rich snippet identifies law firms as providing legal services.
Review Markup – this rich snippet allows attorneys to display reviews and ratings with little orange stars.
Contact Markup – displays your law firm's name, address, and phone number. This helps your contact information be more visible.
Schema markup can sometimes be complex to implement, but there are a number of tools available to make this process easier. If you are an attorney using WordPress, there are a number of available plugins to help you automatically generate rich snippets for your law firm.
7. Get More Backlinks to Your Law Firm's Website
Getting a popular or high-authority website to link back to your law firm's website will dramatically improve your website's authority, and hence boost your search rankings.
Building valuable backlinks is a strategy that continues to be one of the more important elements in your SEO arsenal. Not only will they help drive qualified traffic back to your law firm, but also give your own site a boost of authority.
Content marketing is one of the best strategies for link building, but it's very time consuming. Posting your articles as a guest author on a 3rd party website is a great way to do this.
Offering your advice or opinion on websites or forums is also a great way to get your name out there and possibly a backlink.
The best way to do this is to hire a reputable digital marketing agency that focuses on outbound content marketing, like CAE Marketing & Consulting.
Conclusion
Even today, in 2019, I am surprised how many attorneys do not have a solid SEO foundation for their firms. If you have not already begun putting together an SEO strategy for your law firm, contact us and let us help you. We will help you rank higher than your competitors.