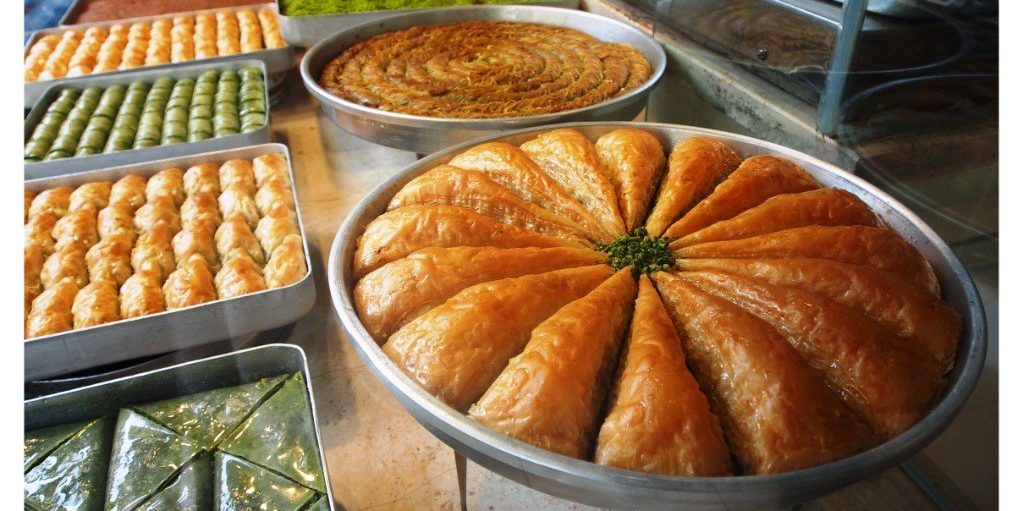 What to Eat in Istanbul – for a First Timer…
So, you're visiting Istanbul for the first time. And you have probably already heard that Turkish cuisine is one of the best in the world. You know about baklava, Turkish Delight and kebab. You'll, of course, drink Turkish coffee and tea. But what else should you be eating in Istanbul that you may not know about?
The Top 5 Foods You Should Be Eating In Istanbul are:
Kunefe – Turkey is famous for it's desserts, and you'll be sure to eat plenty of them during your visit. But one lesser-known dessert to those outside of Turkey is kunefe. Made from shredded wheat and cheese, kunefe is grilled in a round tray and then topped with sugar syrup and [of course] pistachios. Cheese, we know, sounds strange in a dessert. But trust us, this is a wonderfully tasty mix of all things delicious and is sure to become one of your favourites.
Dondurma – Turkey is not often thought of when compiling a list of the world's best ice-creams, and we have no idea why!  Turkish dondurma is a delightful mix of milk, sugar, salep and mastic, making it creamy and sticky at the same time. Available in literally any flavor you can think of, you should enjoy tasting as many as you can handle, on a warm Istanbul afternoon from the many charming street vendors dotted around the place. You'll enjoy the show put on by the dondurma sellers just as much as eating the ice-cream itself.
Midye dolma – 'midye' in Turkish is what we English-speakers know as 'mussels'. Traditionally, midye dolma is a street food, and you can find many stalls selling it quite cheaply, usually surrounded by many hungry Istanbulus. However, it is now also quite common to find this dish on restaurant menus (although at tourist-like prices). Like any dolma, midyedolma is stuffed with rice, spices and sometimes small raisins, and served in the shell with fresh lemon.
Lahmacun – often overlooked by tourists in favour of pide (which we don't discourage you from trying!), lahmacun is a lighter version, but still pizza-like. It is made from a very thin dough, topped with minced meat (most commonly lamb) and minced vegetables and herbs including tomato, onion and parsley. 2-3 lahmacun are usually enjoyed by Turks as a meal wrapped around salads, including pickled, lettuce, tomato and parsley, and sprinkled with lemon juice. Enjoy with a cold ayran for an authentic taste of Turkey.
Iskender kebab – also called Bursa kebab, this is one of the most delicious varieties of kebab you are likely to taste. The meat is prepared similar to a doner kebab and thinly cut; then placed over the top of pieces of bread, and topped with tomato sauce, melted butter and yoghurt. If you like your meat and kebab, you are sure to enjoy this tasty version.
While enjoying Turkish food in Istanbul for the first time, you may want to have a look at Travel Scams web page to avoid bad eggs around touristy locations.