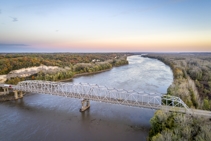 WHAT IS THE MOST DANGEROUS HIGHWAY IN MISSOURI?
Whether you live in Missouri or travel through often, there's a good chance that you have probably driven on Highway 63. This road stretches the length of Missouri and is a popular road for travelers and commuters across the state.
A recent report has shown that this road is one of the deadliest roads in Missouri.
Number of Injuries
A Fleet management company, Geotab, tracked and compiled data from the National Highway Traffic Safety Administration to calculate which roads had the highest fatal-crash rate in each state.
The findings were eye-opening: Highway 63 had the highest number of fatal crashes in Missouri over the past 10 years. Specifically, the report showed that there were 158 crashes ad 179 fatalities in that time period.
Some are not surprised. State Rep. Don Mayhew, R-Crocker, said in an interview with St. Louis Public Radio that he regularly drives a twisted, two-lane section of the road and that it's "not a safe road."
Improvements
Even with these numbers, there may not be much improvement in the near future. The Missouri Department of Transportation estimates that it could cost around $300 million to make the full length of the highway a four-lane, divided road. Mayhew said that a possible fix could be funded by a gas tax, however, Missouri voters rejected a gas hike in 2018.
Until full construction on Highway 63 is underway, make sure to take extra precautions when traveling on this road.
If you or a loved one is injured in Missouri, don't hesitate to reach out to our firm for legal representation. Determining liability can be tricky, especially when there are multiple factors contributing to the accident. We will diligently review the evidence of your case and fight hard for your financial recovery.
We are also licensed to practice in Kansas, Oklahoma, and Arkansas. Contact Johnson, Vorhees & Martucci at (833) 600-0125 to schedule your free consultation.