8 Memorable Team Building Activities In Sydney In 2022
Photo from Urban Legends Tour Co
Originally Posted On: https://urbanlegendstourco.com/blog/team-building-activities-sydney
Getting your team together outside the office is a great investment in more than one way. There are so many options for team building activities in Sydney that your team will remember for years to come. These activities all focus on enhancing their collaboration, problem-solving and communication skills. Giving you even more bang for your buck, your team will have appreciate you for getting them out of the office and giving them the opportunity to get to know their team mates better. That adds up to a better company culture whilst while having an epic time together as a team!
TEAM BUILDING ACTIVITIES IN THE HEART OF SYDNEY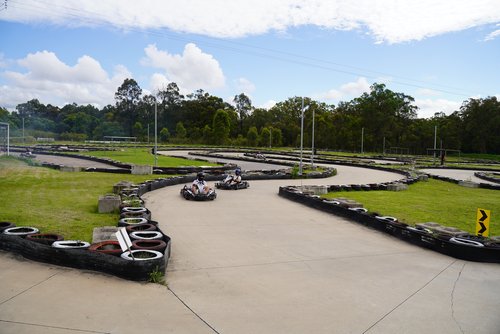 Looking for a quick team building activity right in the heart of Sydney? Head straight to the good stuff by booking an inner West Brewery Tour. Meet four awesome craft beer brewers on a behind-the-scenes tour and sample their beers with one of their epic beer paddles. If you have a little more time to plan in for your team? Add on a fun team building activity in the Sydney suburbs. Choose axe throwing for a little stress-management (a little imagination goes a long way ;)), go-karting for your adrenaline junkies (we bet the sales team will love this one!), ten pin bowling to allow for a few chats and more! With pick up, drop off and a woodfire pizza lunch sorted, your team building day in Sydney is ready to go!
BOOK NOW
Going Axe-Throwing with the team is a great way to work out some frustration while having a blast.
","url":"https://www.youtube.com/watch?v=Ww4mvrOlphE","width":854,"height":480,"providerName":"YouTube","thumbnailUrl":"https://i.ytimg.com/vi/Ww4mvrOlphE/hqdefault.jpg","resolvedBy":"youtube"}" data-block-type="32″ id="block-yui_3_17_2_1_1646186522292_130394″ style="position: relative; height: auto; padding: 17px; clear: both;">
" id="yui_3_17_2_1_1648684542655_178″ style="position: absolute; top: 0px; left: 0px; width: 333px; height: 187.156px;">
REACH NEW HEIGHTS WITH YOUR TEAM
After a long year behind their screens, your team might be looking a little lacklustre. If so, then it's time to get your team out of their comfort zone and into new heights. Sydney is a great base for climbing adventures that make for some pretty epic team building activities in and around the NSW capital! And let's face it, there is nothing better than finishing off with a few cold ones or a delicious cocktail after an activity like this!
Indoor climbing or bouldering is a great way to boost your team's confidence and mutual trust. Provide your team with vertical challenges specifically designed to encourage participation for any level of fitness and ability, and your team will enjoy the feeling of accomplishment! Ask the team about the best indoor climbing and bouldering gyms for your team!
Keen to take it up a notch? Treat your team to a Sydney Harbour Bridge Climb! You will be safely guided to the top of one of the world's longest steel-arch bridges for some epic 360 degree views of Sydney. While this might be pushing it for some of your team members, this is bound to be an unforgettable team building activities in Sydney!
BOOK NOW
Hands-on activities are loved by most teams!
GET OUT OF TOWN & INTO THE MOUNTAINS
To really feel like you are getting away from the office, why not leave the city for the day! The Blue Mountains are reached in only an hour or two and are a real adult playground, full of both active and relaxing team building activities. It's a wild heaven for any team that loves the outdoors and a great way to offer them a little break from spending too much time behind the screen! Hiking, mountain biking, canyoning, it's all possible in the wild and wicked landscapes that will fondly remembered by your entire team.
Think your team is up for an adventurous day? Book a day trip to the Blue Mountains and ask the team about the options for canyoning or bush walking. Prefer to give your team a hard-earned break without strenuous activities? Book a Scenic World cable car ride, or visit the Blue Mountains Botanic Garden instead. Include an Aussie BBQ and finish the day with a cold beer, and you've got the perfect team building day itinerary.
KEEN TO TAKE YOUR TEAM TO THE BLUE MOUNTAINS? VIEW OUR PACKAGES BELOW!
PACKAGES
Would love to see these happy looks on your team? Take them on a Sydney Team Building Day!
TEAM BUILDING ACTIVITIES ON THE WATER
The height of summer is often a great moment for a fun and engaging team building activity. And what better way to celebrate summer and your team than by heading out onto the water. For an active team building day, you can spend the day at Rose Bay, exploring this beautiful and sheltered part of the Sydney Harbour by paddle-board or kayak. Finish off a sun-filled day on the water with a behind-the-scenes brewery or distillery tour. Chat to the team about putting it all together for you.
If you think your team is up for a bigger challenge, consider the epic game of SUPBALL in Manly, a combination of netball, water polo, lacrosse, and rugby – played on stand-up paddle boards! The Northern Beaches is also home to a famously sustainable and delicious brews. That means that you and your team are able to head straight from the board into the bar. Get active and a little wiser by asking the team about a water-based team building activity and a behind-the-scenes brewery tour in the Northern Beaches of Sydney.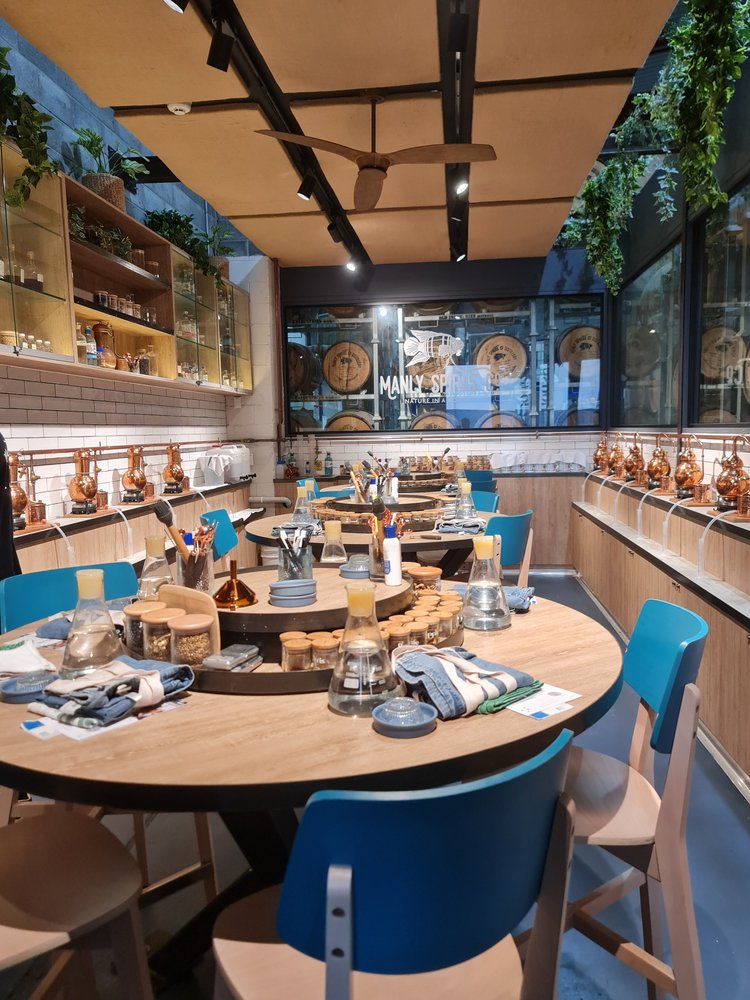 What about a cocktail making master class at Manly Spirits!
GO ALL OUT FOR YOUR TEAM!
We all love water activities, but if you're keen to show your team that they've done an excellent job this year, why not go for something a little more extravagant? Go all out and let your team celebrate their achievements by hiring a private yacht and take your staff on a luxury boat tour of the Sydney Harbour. As you can see in the pics dotted through this blog post, most teams are, to put it mildly, ecstatic when they realise what surprise you have planned for them. It might seem like a bit of a mission to organise a luxury yacht for your team building activity, but fear not! Luckily, we know who's who in the Sydney yachts world and can hook your team up with a sweet on-the-water ride that will give them a night to remember forever. Nothing to do but to sit back, relax and enjoy a drink while cruising around.Sounds like a pretty sweet team building activity to us!
What better way to show your appreciation to your team than taking them on a harbour cruise?
TREAT THE TEAM TO A WINERY TOUR
Is there a better way to relax from a busy period at work than heading into nature, getting some fresh air and pamper your team with the best food and drinks on offer in New South Wales? The Hunter Valley, Southern Highlands and the South Coast are home to a bounty of amazing produce, including cheeses, chocolates, olives, wine, gin and craft beers, so this is the place to go and indulge your staff!
","url":"https://www.youtube.com/watch?v=cL-yrTFtTSA","width":854,"height":480,"providerName":"YouTube","thumbnailUrl":"https://i.ytimg.com/vi/cL-yrTFtTSA/hqdefault.jpg","resolvedBy":"youtube"}" data-block-type="32″ id="block-yui_3_17_2_1_1646186522292_82604″ style="position: relative; height: auto; padding: 17px; clear: both; color: rgb(69, 69, 69); font-family: "Varela Round"; font-size: 19px; font-style: normal; font-variant-ligatures: normal; font-variant-caps: normal; font-weight: 400; letter-spacing: normal; orphans: 2; text-align: start; text-indent: 0px; text-transform: none; white-space: normal; widows: 2; word-spacing: 0px; -webkit-text-stroke-width: 0px; background-color: rgb(244, 246, 247); text-decoration-thickness: initial; text-decoration-style: initial; text-decoration-color: initial;">
" id="yui_3_17_2_1_1648684542655_220″ style="position: absolute; top: 0px; left: 0px; width: 700px; height: 393.438px;">
You can choose between a wine, beer, spirits or cocktail tour, based on what your team prefers. Go all out with locally produced gourmet cheese & produce platters or include a BYO picnic lunch at a beautiful picnic spot with epic views, overlooking epic landscapes and get some great pics of the team while you're at it.
CYCLING, THE ULTIMATE TEAM BUILDING ACTIVITY
Want to get your team more active and into the outdoors? Why not get them on a Sydney cycling tour and have them explore their favourite city through a new set of eyes. Our cycling tour guides know the city like no other and can take your team to places they never would have found by themselves. Ask our team about the best spots to stop with a guide, or consider having a self-guided cycle route and have various teams race each other. It suits different groups of people, can be done outdoors and has the right level of fun versus competitiveness. It also makes for the perfect team bonding activity, because it can be adapted to any team size, as well as to people of all ages and fitness levels.
Have your team explore the city and compete against each other or enjoy a relaxing bike ride, up to you! Make sure to reward them afterwards for all their hard efforts with a well-deserved gourmet harbourside lunch or urban winery tasting!
SHOW MY TEAM THE CITY!
Sydney Cycling Tours are a great way to get your team out and about!
DO SOME GOOD
More and more teams want to contribute to something good during their team building days. Why not cook for charity by helping those in need in your local community. Food cooked on the day, whether it is organised on the day or through a putlock, could go to charities like OZHarvest, Foodbank, or others. Alternatively, you can also learn about sustainability projects all around the city by connecting with many non-profits offering team building activities or by talking to the Urban Legends team! Your team will be sure to feel great, knowing that together they made a real impact! Afterwards, reward their hard work with a behind-the-scenes brewery tour or a gin tasting so your team can talk about what they learned. Guaranteed positive vibes!
Sydney is home to excellent distilleries where your team can taste various gins, vodka's, whiskey's, and more!
RIDE THE WAVES IN WOLLONGONG!
Nothing quite like a dip into the cold water. While we all live, reasonably, close to the ocean, not all of make it there on a weekly basis, or even once per month! There are so many epic reasons to take your team on an active team building activity (looks like we've listed a few here!). It offers your team a wonderful break from the (home)office and it is proven to be pretty epic for their own health, both physical and mental. Let's be honest, is there anything more healing than the ocean? We think not! In a two to three hour lesson, your team will have a good understanding to what it takes to stand on a board. Maybe a lucky few might even ride an actual wave! Learning a new skill, like surfing, might even teach your team that they can overcome things that seems impossible only a few hours earlier! Afterwards, you can even take your team on a Wollongong-based craft brewery tour that will block their socks off. The perfect way to spend the day!
Surfing lessons for your team with an option to add on lunch or dinner and even an overnight stay, is all peanuts for our team building events team. Shoot us a message to chat through the options!
I'LL TAKE MY TEAM SURFING!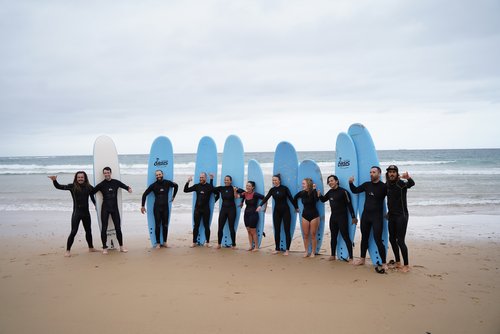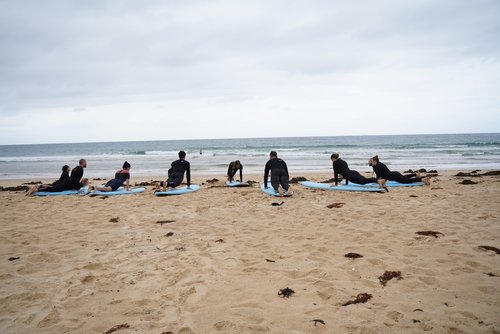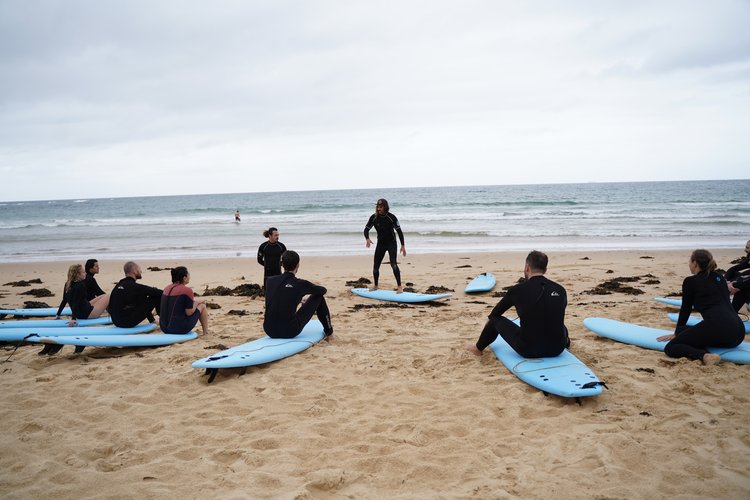 Surfing allows your team to overcome a challenge together!
RIDE WITH URBAN LEGENDS!
Bus, mini van or luxury car, whether you are taking a entire team or a executive team on the road, we've got you covered. Riding to the various team building destinations should be done in style when you are spoiling your team for any of the team bonding activities that we covered in this article. We can literally take care of any size group, from 4 to 57 people!
Our luxury vehicles are all equiped with airconditioning and have the comfiest seats. We even allow your team to blast any songs that they love as a team! Did we mentioned that you are guaranteed a fun and experienced driver? Our reviews don't lie! We can even pick you up at home or at your accommodation anywhere in Sydney, North Sydney and Western Sydney. Get ready to sit back and enjoy the epic day that you have planned for your hardworking team.