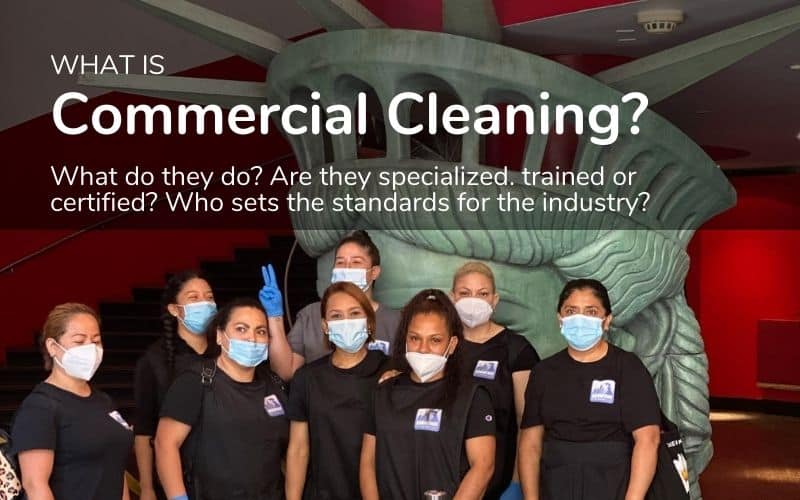 What Is Commercial Cleaning? – An insider's look
Photo from Advantage Cleaning LLC.
Originally Posted On: https://advantagecleaningllc.net/general/what-is-commercial-cleaning/
What Is Commercial Cleaning?
How do we define commercial cleaning? Commercial cleaning is defined as a cleaning company that provided a commercial cleaning service, and employs trained cleaners, which they offer to local businesses. A commercial cleaning service, consists of a trained team of cleaners that follow a specific set of cleaning standards. The cleaning standards cover the safe and efficient handling of equipment, application of cleaning products, carried out in a specific process to deliver a consistent quality cleaning result.
All About Commercial Cleaning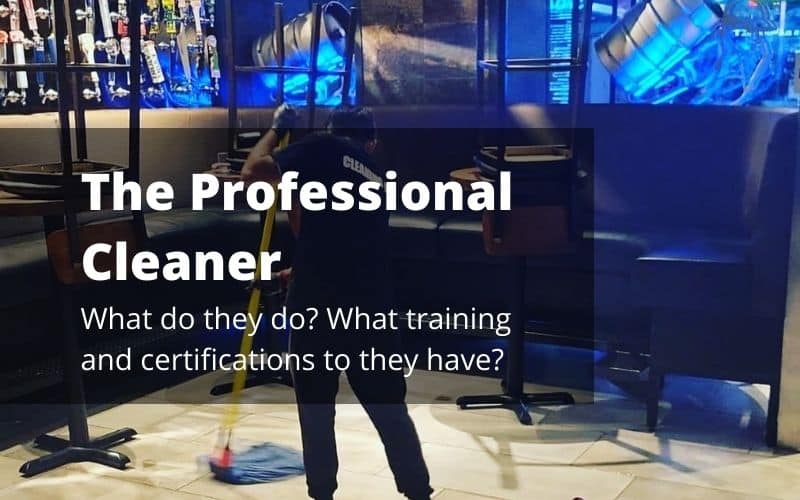 What Does A Commercial Cleaner Do?
A commercial cleaner, clean, dust, scrub, wipe and polish floors, furniture, fixtures, machinery, and other everyday cleaning duties. They also remove any rubbish from the site. Work locations are typically commercial, industrial or residential properties, including schools, offices, hospitals, factories, industrial facilities and construction sites.
Profile
A professional cleaner may specialize in cleaning particular things or places, such as window cleaners. Cleaners often work when the people who otherwise occupy the space are not around. They may clean offices at night or houses during the workday.
Cleaning duties
Cleaners are responsible for maintaining the cleanliness of facilities. A professional cleaner performs tasks such as garbage removal, dusting and cleaning surfaces like floors or walls with a mop to keep them looking their best!
In summary: Cleaner performs various duties which include vacuuming carpets; mopping kitchen floor(s); wiping down exterior window sills – all part of keeping facilities clean and safe.
Background checks
A common procedure for commercial cleaning companies is to provide verification, in proposals, that their team of professional cleaners have been through a rigorous background check.
A background check most often includes
Employment verification.
Education verification.
Criminal history.
Driving and motor vehicle records.
Credit history.
Military background.
Verifying references.
Drug testing.
Training
Professional cleaning companies hire both new as well as experienced cleaners and enroll them in onboarding training, on-the-job training. Larger cleaning companies may have their own dedicated trainers, who have completed various training and certification courses provided by cleaning organizations and equipment suppliers.
Certification
While becoming a professional cleaner does not require any exam or certification, there are opportunities for more formalized training that will lead to a certification. ISSA is one of the international cleaning organizations that offers their members (cleaning companies) certifications of their professional cleaners and trainers.
Salary of professional cleaners
The national average annual and hourly wage of commercial cleaners and housekeeping cleaners vary by state but in general the highest wages are found in New York and California.
CleanersMean hourly wageMean annual wageJanitors and Commercial Cleaners$13.98$29,080Maids and Housekeeping Cleaners$ 13.47$ 28,010Source: US Bureau Of Labor Statistics
Commercial vs Residential Cleaning?
What is the difference between residential and commercial cleaning services?
In commercial cleaning, there are two main different types; commercial cleaning and residential cleaning. The difference between them is the type of buildings they have specialized in, which includes the training, cleaning process, and cleaning equipment used.
Commercial Cleaning Services
Cleaning companies typically specialize in cleaning commercial facilities, such as offices, restaurants, industrial warehouses, production facilities and retail stores. Commercial facilities are bigger cleaning jobs and take longer to clean and disinfect compared to residential buildings. Therefore, the size and capacity of the cleaning machinery is larger and more expensive, and in most instances require training.
As commercial facilities are larger and frequented by a lot of people, they also need cleaning more often, which means more cleaners, time, training, and expensive equipment.
Commercial cleaning businesses in United States (2021)
In 2021 there were a total of 1.1 million commercial cleaning businesses in the United States, year-on-year growth of about 4.6%.
The states with the highest number of Janitorial Services businesses are:
California (5,730 businesses)
Florida (5,640 businesses)
New York (3,585 businesses)
In total these cleaning companies employed approximately 2.0 million janitors and cleaners, not including residential maids and housekeepers.
Source: IBIS World
Residential Cleaning Service
A residential cleaning company, or house cleaning service, are typically specialized in cleaning private homes and multi unit housing properties. As a home is significantly smaller than a commercial facility, it can typically be handled by a single cleaner and only need basic cleaning equipment.
Houses and apartments are typically smaller in size than commercial facilities, and may only need cleaning on a weekly basis. This makes residential cleaning more simple, and less need for expensive equipment and training.
Residential cleaners in United States
In 2020, there was a total of approximately 800K residential maids and housekeepers working in the United States.
Source: Statistica
What Are Types Of Commercial Cleaning Services?
A cleaning company may offer a general or specialized type of janitorial services dependent on the type of commercial building, geography, and type of customers they serve. Some cleaning companies have specialized their cleaning services in segments like:
Types of janitorial services
Office building – Office cleaning, or commercial building cleaning and disinfecting provide specialized cleaning services to ensure the health and safety of employees and customers, and helps the business operate.
Retail Store – Cleaning and disinfecting retail stores to keep staff and customers healthy which is critical for retail to keep operating and generate sales.
Medical Facility Cleaning – Medical facility cleaning may require a special cleaning process if it includes areas that contain blood. The medical facility may provide the cleaning of surgery rooms themselves.
Gym & Fitness Center Cleaning – Fitness center cleaning involves sanitizing fitness equipment, locker rooms, shower rooms, toilets, and floors.
School Cleaning – School janitorial services include cleaning of classrooms, canteen, break out rooms, common areas, gym facilities, toilets, and offices.
Industrial Facility – Cleaning of industrial facilities range from floor cleaning, restroom cleaning, window cleaning and high dusting as production facilities and warehouses tend to have very high ceilings.
Commercial buildings – Includes any type of building similar to office building, industrial facilities, hotels, healthcare facilities, manufacturing facilities etc.
Construction Clean Up – Construction cleaning, or post-construction cleaning, involves removal and disposal of debris, before a cleaning and sanitizing process can begin.
Restaurant Cleaning – Restaurant cleaning, and particularly cleaning of exhaust hoods in commercial kitchens are governed by rules and standards provided by National Fire Association, FDA, CDC, OSHA. Environmental laws may apply for the disposal of contaminated cleaning water and waste, which must be followed.
Property Management Cleaning Services – Cleaning for property management companies, who rent out residential or office units to tenants, involves maintenance and overall up keep of the buildings. Cleaning for property managers is focused around cleaning when occupants move in or move out, cleaning of common areas, cleaning up after renovation, and keeping common facilities like, gyms, restrooms, pool areas, etc. presentable and branding the property as a well kept and clean.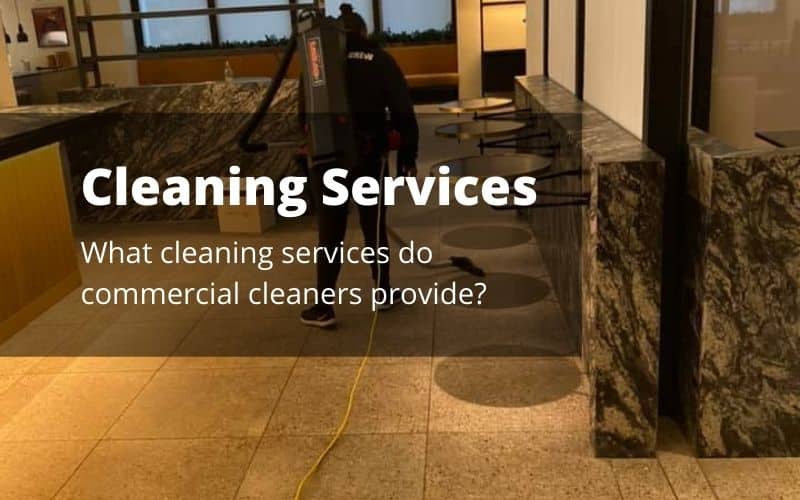 What type of cleaning tasks are included?
The scope of cleaning, cleaning methods, and cleaning frequency, will depend on the type of facility and what it is used for. A facility with many employees and visitors will require daily cleaning, whereas offices may only require cleaning weekly, or monthly.
CleaningDescriptionGeneral CleaningGeneral cleaning involves wiping down surfaces such as tables, chairs, computer keyboards, doors, doorknobs, glass doors, light switches, etc.Restroom CleaningCleaning and sanitizing restrooms involve cleaning toilets, walls, sinks, mirrors, tile and grout, and replenishing soap dispensers, paper towels etc.DustingDusting, high-dusting and low-dusting of high cabinets, ceiling lights, baseboards etc. High dusting may involve ladders and lifts which will require training in OSHA safety standards.Floor CleaningFloor cleaning covers cleaning of all soft and hard surface floors like wood floors, vinyl floors, tile floors, carpet cleaning and vacuuming.Deep CleaningDeep cleaning is beyond the scope of a regular cleaning and involves moving furniture, carpets, etc. in order to thoroughly clean hard-to-reach areas. Deep cleaning may be done once or twice a year.Window CleaningWindow Cleaning – Depending on the type of facility, the commercial cleaning company may include window cleaning as a service.Disinfection ServicesDisinfection involves the use of equipment and disinfection chemicals that kill germs. The frequency of disinfection will vary based on type of facility, foot traffic, and any confirmed or suspected case of e.g. COVID.Power washingThe cleaning of facades, on commercial property, are often done using high-pressure water, or power washing.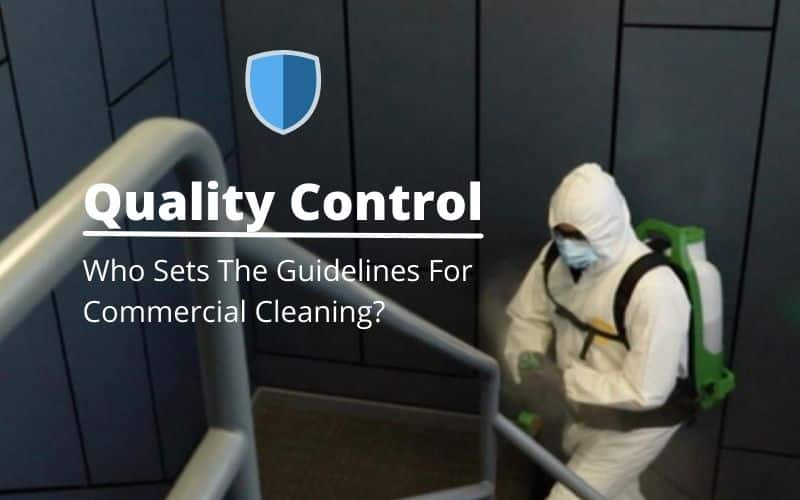 Who sets the standards for commercial cleaning?
There are various government institutions and private organizations that help provide guidelines and standards for the cleaning industry. These guidelines are created  in an effort to guard the general health and safety of the community. The guidelines and standards  also help raise the image and reputation of cleaning companies. The main government agencies and organizations setting the standards and guidelines are:
CDC – The Centers For Disease Control & Prevention
EPA – The Environmental Protection Agency
OSHA – Occupational Safety & Health Administration
ISSA – International Sanitary Supply Association
CDC (The Centers for Disease Control & Prevention)
For both the prevention and the protection of health and safety, CDC provides a range of guidelines for home and commercial cleaning. The guidelines are based on research and science and seek to help increase awareness and procedures for continuous improvement of health and safety standards.
Guidelines for cleaning and disinfecting facilities
OSHA (Occupational Safety & Health Administration)
OSHA is the public institution that helps ensure the health and safety of professionals such as janitors and commercial cleaners. This involves guidelines for safe use of equipment, and cleaning products.
OSHA guide for commercial cleaning
EPA (Environmental Protection Agency)
EPA is an executive agency of the United States federal government tasked with environmental protection matters. EPA provides a range of guidelines that pertain the commercial cleaning industry in relation to environmentally safe and effective cleaning, sanitizing and disinfection chemicals.
EPA List N – Disinfectants for Coronavirus (COVID-19)
ISSA (International Sanitary Supply Association)
ISSA is a private and international organization that provides standards for commercial cleaning. The standards aim to continuously  raise the quality of the indoor environment for commercial facilities and schools.
Through membership, commercial cleaning companies can get access to training, quality control, and other standards that help with increased efficiency and higher levels of cleaning quality.
Why hire a commercial cleaning company?
There are many reasons why a business might choose to hire a commercial cleaning company. Perhaps the most obvious reason is that it can be very difficult, if not impossible, for employees to take time out of their day to clean the office. Cleaning companies have the expertise and equipment necessary to get the job done quickly and efficiently. They can also be relied on to provide consistent quality service.
Health & Safety Guidelines Are Changing Frequently
Health and safety is critical to your business uninterrupted operation, in pursuit of your revenue growth.
Commercial cleaning standards keep changing, CDC continuously update guidelines for cleaning and disinfecting, suppliers develop new cleaning and disinfectants, which EPA frequently evaluates and approves. OSHA provides guidelines and training related to occupational safety. Therefore there is a continuous need for staying abreast of updates to guidelines, time and cost of training the cleaning staff. By hiring a commercial company the update, time and cost is no longer on your books.
Higher Efficiency & Lower Cost Of Cleaning
Business owners and employees are not trained in process and efficiency of cleaning, in-fact it's a drag, undesirable, zero motivation, and so the cleaning quality will reflect that.
Commercial cleaners have chosen the job and completed the training of professional cleaning. They have undergone training that provides them with knowledge of the most efficient cleaning process, the correct use of cleaning product and equipment, they are bound to be far more efficient and provide a better result.
Less Management Time, Payroll & Cleaner Scheduling
Achieving the desired level of quality cleaning requires management time, assessment of the need for training, necessary changes to the cleaning process, procurement of cleaning products, supplies, and equipment. Cleaners call in sick and a replacement needs to be found, and new cleaners needs to be interviewed and hired. A commercial cleaning company will handle all these processes and cost as a part of their core service.
Disinfection Is The New Normal & Requires Training
Regular disinfection has become the new normal, and understanding the correct use of disinfectant, equipment, and disinfection process, is necessary to achieve the health and safety of your organization, so they in turn can ensure your business uninterrupted operation and revenue growth. Find a motivated and reliable commercial cleaning company that can provide a systematic process of quality cleaning and quality control, so you can focus entirely on your business.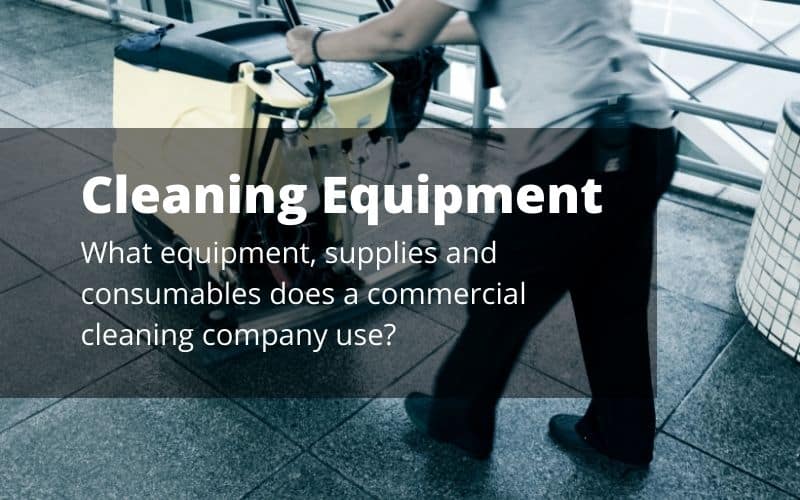 Cleaning Equipment, Supplies & Consumables
As mentioned earlier, commercial facilities are larger and the need for efficiency to keep cleaning cost low, requires equipment and cleaning machines. The equipment helps increase efficiency of the cleaning team, so they can handle larger facilities in less time, and serve more customers.
The general equipment, supplies, and consumables used by a cleaning company is:
Cleaning Equipment
Brute / Dolly for garbage collection
Vacuum cleaner (backpack vacuum)
Carpet cleaning machines
Reach and wash window cleaning equipment
Rotary machines high/low speed
Wet/dry vacuums
Sweeping machines
Scrubber dryers
Steam machines
Pressure washers
Materials
Duster cloths
Mops, brooms
Supplies & Consumables
Antibacterial products
Glass cleaner
Paper products: Paper towels,
Hand Soap:  refills
Black bags and bin liners
Dishwasher tablets
Deep cleaning products – Acids & degreasers
Chemicals for use with equipment – carpet extraction machines etc
Graffiti removal chemicals
REFERENCES:
Wikipedia: Commercial Cleaning
Relevant Articles
What is commercial cleaning – an insiders's look
Benefits Of Hiring A Commercial Cleaning Company
How To Disinfect Your Office: 7 Tips
FAQ – Commercial Cleaning
What is the difference between janitorial and commercial cleaning services?
The definition of a Janitor is a person who cleans and maintains a building, and fulfils some security duties as well. A commercial cleaning company will provide similar services, including a "porter" service, so in practice the two terms are used interchangeably with no clear distinction.
There may be a semantic difference between janitorial and commercial cleaning as larger cleaning companies tend to refer to themselves as commercial cleaning companies.
What is the difference between industrial cleaning and commercial cleaning?
Industrial cleaning is done in a factory or other industrial setting, while commercial cleaning is done in a business or office. Industrial cleaning is often more intense and thorough, as it needs to remove dirt, grease, and other contaminants that can harm the manufacturing process. Commercial cleaning is more focused on aesthetics, making sure the workplace looks clean and pleasant for employees and customers.