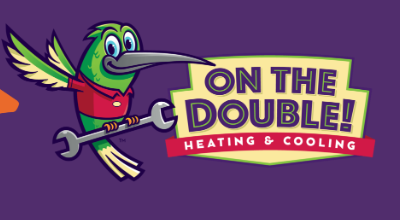 AirTex Has a New Name & Logo!
FOR IMMEDIATE RELEASE
Lubbock, TX, June 24, 2022 – It's hard for us to imagine, but 2022 marks the 10th year AirTex Heating and Air Conditioning has been helping our homeowners and businesses with their heating and cooling needs.
This anniversary got us thinking about how much we've grown and improved over the past decade. It also made us realize our name and brand simply didn't reflect our incredible services, quality products, outstanding staff and amazing customer service experience. So, we decided to spread our wings and embrace a new name and brand, while still providing the best AC installation in Lubbock without missing a beat!
Allow us to introduce you to—On the Double! Heating & Cooling! With our new name, it's clear from the start that customers who choose us will always enjoy a doubly great experience—double the service, double the quality and double the care. If you need AC repair in Lubbock, we've got your back!
We've also welcomed a new mascot into the fold—a colorful, friendly hummingbird that says: "We Keep Your Home Humming!" Don't you just love him? We know we do! Hummingbirds are smart, speedy, industrious and energetic—all traits the team here at On the Double! admires and uses day in and day out to keep our customers 100% satisfied.
With our new name and new look, it's easy to see—in a flash—that we're the friendly, fast, professional and outstanding choice. No matter what your heating and cooling needs are, you can count on us to keep your home humming!
Our outstanding services include:
Air Conditioning Repair
Air Conditioning Replacement
Air Conditioning Installation
Heating Repair
Heating Replacement
Heating Installation
Heating & Cooling System Maintenance
Ductless Mini-Splits
Indoor Air Quality
Air Filtration
Water Quality
If you're one of our many loyal customers, we want to thank you for your continued business. Plus, we want to assure you that some things haven't changed—and never will. We're still the same family-owned and family-operated company that you've come to know and trust—just with a new and improved name and logo! We aren't going anywhere and will continue to deliver the same great products and services you've come to expect. We're still going to be providing the best furnace repair in Lubbock!
If you haven't tried our services before, we encourage you to join us on this incredible journey. You'll be glad you did!
We're grateful for your loyalty to our company and we truly appreciate you standing by us during this exciting change. The entire team at On the Double! knows you will be as fond of our new brand as we are.
To schedule your appointment or to learn more about us, call On the Double! at 806-549-5973
or contact us through our website: CallOnTheDouble.com. Sincerely,
JOSH & SHAUNA BROWN
And the Entire On the Double! Team
WE KEEP YOUR HOME HUMMING! 
Media Contact
Shauna Brown
On the Double! Heating & Cooling
9205 US-87 #5, Lubbock, TX 79423
(806) 549-5973
https://callonthedouble.com/
Originally posted On: https://syndication.cloud/airtex-has-a-new-name-logo/