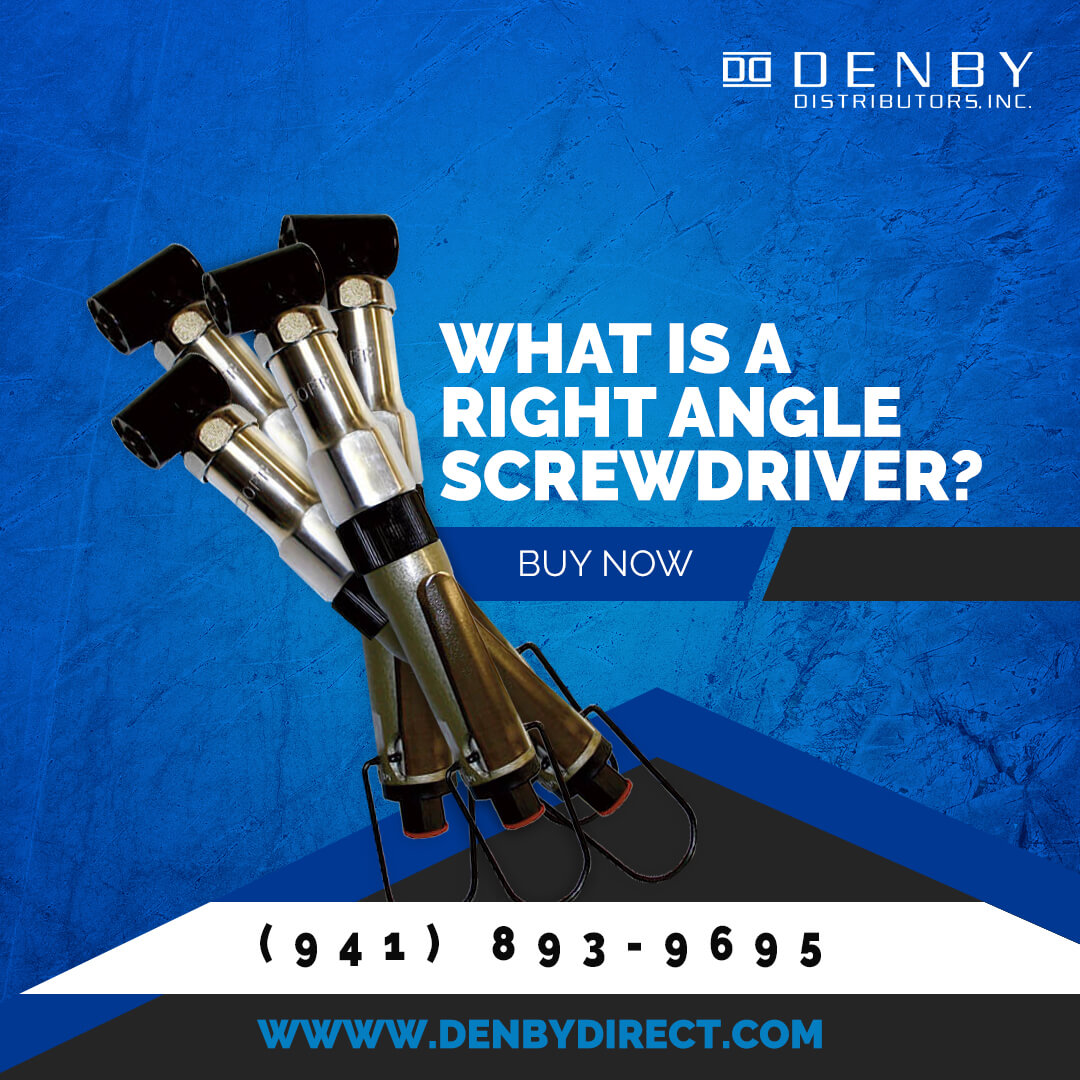 What Is a Right Angle Screwdriver?
Photo by Denby Distributors
Originally Posted On: https://denbydirect.com/what-is-a-right-angle-screwdriver/
You may have needed one when you're working a project with hardware tools. It happens when you need to screw, tighten, or loosen screws in a space with little to no clearance. Some people do not know how versatile and convenient a right-angled screwdriver can be when working in these confined spaces.
For instance, the right angle screwdriver can help you finish a project even when you have less than one inch of clearance to screw, tighten, or loosen hardware. It is the convenient ratcheting mechanism that gives the right angle screwdriver ample torque for tightening or loosening hardware. What's more, most right angle screwdrivers come with seven hex bits so you can access the perfect size screwdriver while working in the confined and tight workspace.
There is almost no space too small when you need ample torquing power that a right angle screwdriver can't give you. Read on if you want to learn more about how to determine if you need a right-angle screwdriver as part of your tool kit. The instructions below give you the details and benefits of what a right-angle screwdriver can offer you.
Most of the time, a 1/4 right angle screwdriver offers 1500 RPM and has an internal adjustable clutch. The screwdriver also can offer you rear exhaust and is reversible, which makes it a one of a kind useful tool. The right angle is what provides the greatest benefit to you when you're removing and installing molding around fender walls or in other tight places.
This handy tool is indispensable in many situations which is why it's worth learning about and using on projects where other types of screwdrivers won't work.
The overall design of this screwdriver is versatile and offers significant advantages due to some of the detailed criteria listed below. It's vital that you compare the below details of what any dependable right-angle screwdriver should provide if you're planning on purchasing one
The torque range in.lb. is between 30-70 lbs.
The length is about ten inches
The weight should be heavy enough to provide the torque but light enough to use effectively, so it comes in at around 1.8 lbs.
The average Air Cons. is about 4
The Air Pressure comes in at 90 PSI Max
The clutch-type is INT. ADJ.
The Hex Drive is 1/4 inch
It's the convenient ratcheting mechanism that provides ample torque for tightening and loosening hardware in the tight spaces you have to work in.
RIGHT ANGLE RATCHETING SCREWDRIVER
The crucial angle and ability to work in only one-inch clearances give this screwdriver a receptive and eager customer base. When you're dealing with a confined space where you've had problems getting your screwdriver to fit, you should consider the right angle ratcheting screwdriver. There's no doubt that traditional manual screwdrivers are laborious when you're tightening screws on a project or work job.
It's almost impossible to install or disassemble screws when you get to tight corners or facades that need the benefit of screws you can tighten or loosen for completion purposes. Multi-aspect structure studies suggest the design of the right angle screwdriver is the one that provides users with the most choice and benefit when selecting a screwdriver for their tool kits.
No doubt it's the screwdriver's ability to change the arm of force that makes it so beneficial. This is a screwdriver, constructed with its extending arm of force on the handle in a near-perfect hexagonal prism that seems to fit the basic technical capabilities of a human body. The trick is in the design's ability to change the length of its arm force to meet almost any position the screw installation requires.
A low-profile right-angle screwdriver is sometimes called a ratchet but it's a bit different from a ratchet or other tools because it's used with bullet-style bits. Bullet style bits can be used in a standard 1/4 inch hex screwdriver bit and still provide the optimized benefits you need.
Most low-profile right-angle screwdrivers have a built-in ratchet mechanism that can provide you with a quick ratchet dial. This quick ratchet enables screws to be tightened or loosened quickly, which increases productivity. Most of these screwdrivers also offer a slot head with bit sizes #1, #2, (X2) #3 and is portable.
If you work in concrete blocks, construction, mining, or any other labor-intensive jobs, the right-angle and low-profile screwdrivers can exceed your expectations in terms of ease of use and power-based results.
THE NEXT TOOL YOU BUY
If you are willing to give up the battle with your screwdriver struggling to loosen or tighten hardware in compressed and confined spaces, you might want to consider buying a right angle screwdriver. Reach out to Denby Distributors for your next rivet tool, screwdriver need, or hardware purchase. Denby Distributors provides customers with the highest quality parts at reasonable prices.
Denby makes sure you get your purchases in a timely manner and offers to answer any of your questions or concerns before, during, or after your purchases. If you are running effective and efficient manufacturing or production business or simply like to work on projects in your spare time, Denby Distributors have the quality parts and tools you need. Denby Distributors' customers let you know the quality parts and tools they sell are one of the best places to start when you need effective hardware that helps get the job done for you.
From plant operation managers to craftsmen working on a project in their garage, Denby Distributor's quality products will not let you down. Structures you are working on sometimes need labor-saving effects, and the right-angle screwdriver can meet this requirement with its force arm structure. Make your job easier and more efficient by reaching to Denby Distributors today.