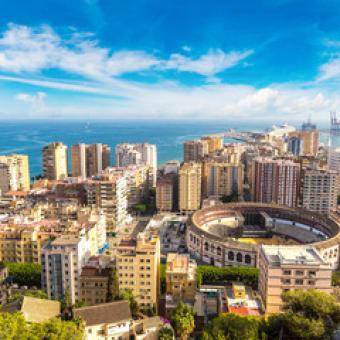 Weekend Getaways: Picasso's Malaga
Photo From stock.adobe
Originally Posted On: https://rightcasa.com/weekend-getaways-picasso%E2%80%99s-malaga/
Malaga is an exciting and cultural city, recognised for so much more than simply the sun, sea, and sangria fun of many of its Costa Del Sol counterparts. Whilst you can still enough all of these things, you can also have an artistic and cultural getaway: visit the Pompidou Centre, enjoy the street art in Soho, climb to the mountainside Roman Ampitheatre and, of course, spend some time in the Museu de Picasso. Picasso was born in Malaga, and the people here are passionate and proud to have him as part of their city's heritage.
If you're spending a weekend in Malaga then here's our guide to the very best things to see and do, to help you make the most of your time in the city:
What to Do
One of the most popular sites in Malaga is the cathedral, affectionately nicknamed the one-armed lady thanks to its lopsided appearance. This unsymmetrical cathedral is loaded with renaissance charm and also includes Baroque and Gothic influences. For incredible views of the city, take the 200 steps to the top of the cathedral's recently restored rooftops.
Another exciting attraction in Malaga is the Roman Ampitheatre, which is the oldest monument in the city, and sits at the foot of the famous Alcazaba fortress, meaning that you can explore two incredible attractions in just one afternoon. The Alcazaba citidel dates back to the 11th century and is a popular location for visitors to take their souvenir selfies to show off back home! This is a wonderful way to experience Malaga's ancient past and understand what cultural blend inspires its present and its future.
Where to Walk Picasso's Footprints
It would be more than possible to spend your entire weekend in Malaga simply walking in Picasso's footprints. The Museu de Picasso can take anything up to a full half day to fully appreciate in its entirety, with a range of exhibits dedicated to both his works and his life, as well as occasional galleries highlighting the works of his contemporaries. There are over 120 of Picasso's works in the museum and the building itself is an old 16th century mansion which is another wonderful attraction with exploration.
Once you have enjoyed The Museu de Picasso, you can visit the house where Picasso was born, which has also been turned into a museum which is located just a stone's throw away on Plaza de la Merced.
Finally, pop for a drink or two in the Antigua Casa Guardia, the oldest bar in Malaga which once counted Picasso himself as one of their regulars: there's no better place to recreate the everyday life of the man himself.
Picasso's influence can be felt everywhere in Malaga, so just walking the streets and appreciating the street art is a wonderful way to feel his footprints across the city. Malaga is a city that has an incredibly rich artistic heritage.
Where to Eat
Malaga has an excellent reputation for its culinary delights, so when it comes to dining out, you'll be spoilt for choice! Whether you're looking for a breakfast sugar hit, a cheap lunch, or a romantic dinner for two, the options are endless. One of our favourite breakfast options is to grab rich, chocolatey churros from one of the many vendors you'll find dotted all over the city. The sugar will give you a burst of energy and set you up for a day of sightseeing.
For an affordable lunch, why not head to the Mercado Central. The market here is a bustling social hub no matter what the time of day, making it a great place to pull up a chair and tuck into a hearty plate of freshly grilled seafood or tapas, whilst people watching, of course.
If you've still got room for dinner after all of this overindulgence, then we heartily recommend El Pimpi, where you can enjoy traditional Andalusian cuisine, or if you have a hankering for seafood then head to the beach and dine at Marichuchi, where the fish is always fresh and cooked to perfection.
If all this talk of food and culture has got you thinking of moving to Spain then why not get in touch with our local property experts? They're perfectly placed to help you with your property search and turn your Spanish dreams into reality!