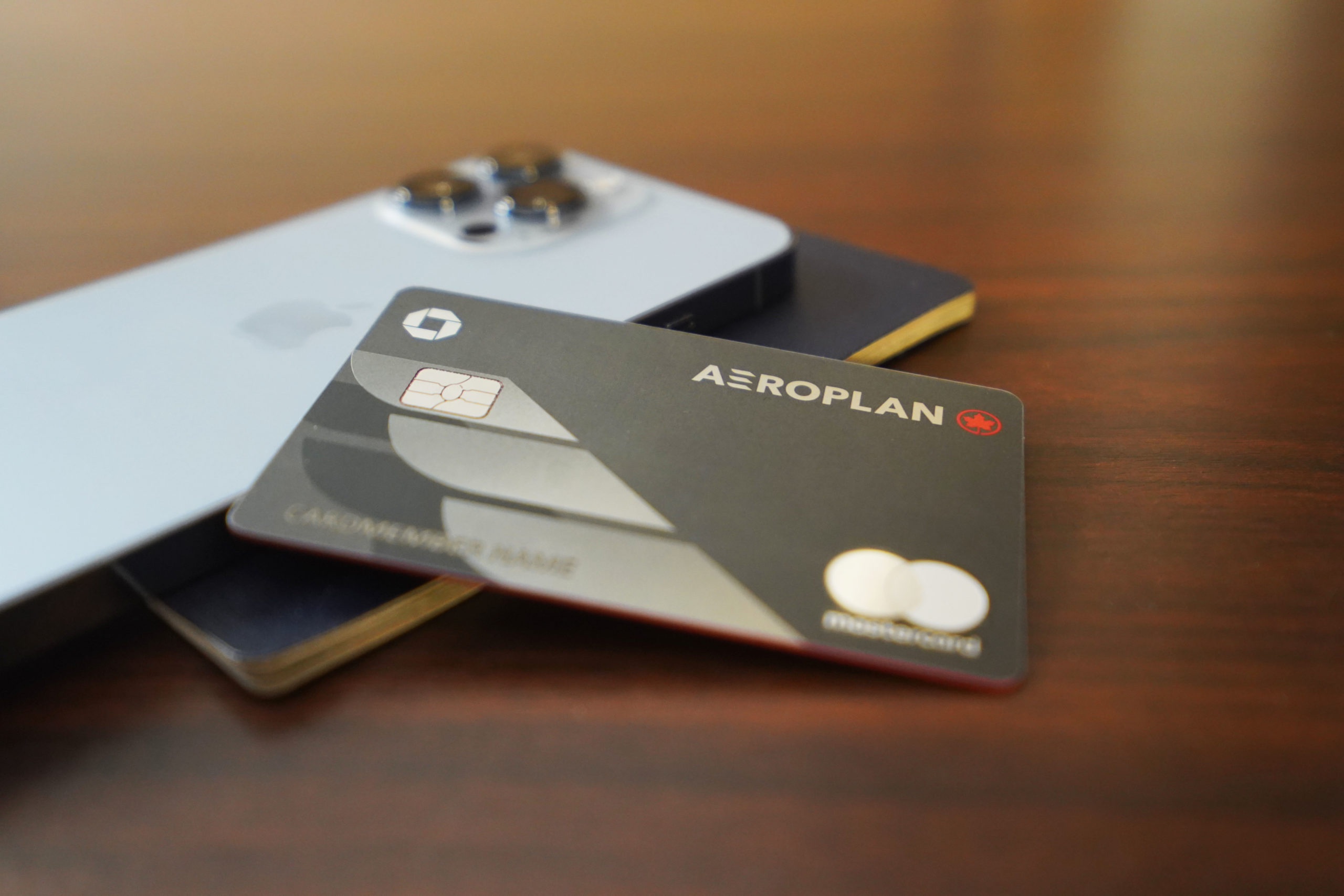 The New Chase Aeroplan Card: Everything You Need to Know
Photos from Chase Aeroplan
Originally Posted On: https://princeoftravel.com/blog/the-new-chase-aeroplan-card/
After many months of anticipation, Aeroplan's US-issued co-branded credit card, the Chase Aeroplan World Elite Mastercard, has finally launched today.
The card will offer a wide range of benefits and an exciting welcome bonus for a $95 annual fee (all figures in USD). Here's everything you need to know about the new Chase Aeroplan Card.
Welcome Bonus Worth Up to 100,000 Aeroplan Points
For a limited time, the Chase Aeroplan Card will offer a welcome bonus worth up to 100,000 Aeroplan points upon spending $4,000, delivered in the form of two Welcome Flight Reward Certificates of 50,000 Aeroplan points each.
Each Welcome Flight Reward Certificate can be thought of as a "coupon" worth 50,000 Aeroplan points, which can be applied to a single reservation for a single passenger: 
If the flight redemption costs more than 50,000 Aeroplan points, you'll simply need to top-up the difference in Aeroplan points to complete the booking.
If the flight redemption costs fewer than 50,000 Aeroplan points, the Welcome Flight Reward will be considered used, and no difference will be given back.

 
Note that only one Welcome Flight Reward can be used per reservation, per passenger. 
For example, if you wanted to book Washington–Abu Dhabi on Etihad Airways First Class one-way for 120,000 Aeroplan points, you'd only be able to apply one Welcome Flight Reward worth 50,000 points, and you'd have to top-up the remaining 70,000 points.
On the other hand, if you wanted to book Los Angeles–Toronto round-trip in Air Canada economy class for two passengers, and the entire reservation came to 50,000 Aeroplan points, then applying a Welcome Flight Reward would only cover 25,000 Aeroplan points for one passenger – so this wouldn't be an optimal use of the certificate.
Once earned, Welcome Flight Reward Certificates do not expire as long as the credit card that had earned them remains open and in good standing. You'll have as long as you need to redeem them for maximum value on a flight that suits your needs.
On top of the public welcome bonus, individuals who had signed up for the Chase Aeroplan Card's pre-launch waitlist will receive an extra 10,000 Aeroplan points and 10 eUpgrade credits.
Finally, as we'll discuss in more detail below, there's one more component that can be considered part of the card's initial welcome bonus: an instant upgrade to Aeroplan 25K status through the following calendar year.
3x Aeroplan Points on Groceries, Dining, and Air Canada Purchases
The Chase Aeroplan Card will offer the following earning rates on everyday purchases:
3 Aeroplan points per dollar spent on dining, takeout, and food delivery services worldwide
3 Aeroplan points per dollar spent on groceries worldwide
3 Aeroplan points per dollar spent on Air Canada and Air Canada Vacations purchases
1 Aeroplan point per dollar spent on all other purchases
The 3x earning rate on groceries and dining is easily the most attractive component of the earning structure. 
As a Mastercard product with strong acceptance worldwide, the Chase Aeroplan Card should prove to be a popular spending option for high-volume diners, drinkers, and buyers of assorted goods at the grocery store in the US, Canada, and around the world. 
(As per the industry standard, "groceries" excludes wholesale retail stores like Costco or Sam's Club, as well as general merchandise stores that sell groceries like Walmart.)
In addition, there will be a monthly spend accelerator of 500 Aeroplan points for every $2,000 spent in a calendar month, up to a maximum of 1,500 points.
Equivalent to an effective additional 0.25x earning rate on your first $6,000 spent per month, this accelerator probably isn't worth going out of your way to pursue, but it's certainly a nice bonus for cardholders with higher volumes of organic monthly spending. 
Amazing Ways to Boost Your Aeroplan Elite Status
The Chase Aeroplan Card will offer significant benefits on the Aeroplan Elite Status side, rewarding cardholders with easy pathways to entry-level status and opportunities to level up their status with credit card spending.
Aeroplan 25K Status
Upon signing up, new cardholders will automatically receive Aeroplan 25K status through the next calendar year. (Individuals who apply this month in December 2021 will receive 25K status through December 2023.)
Going forward, it'll be more favourable to apply for the Chase Aeroplan Card towards the start of a year than the end of a year, as you'll get automatic Aeroplan 25K status for longer.
Moreover, after your first year(s) of instant 25K status, you'll be able to retain 25K status every year by spending $15,000 on the Chase Aeroplan Card during a single calendar year. As soon as the $15,000 annual spend threshold is met, 25K status kicks in through the end of the next calendar year. 
As one of its most meaningful benefits, Aeroplan 25K status grants 25 eUpgrade credits every year, which can be used to upgrade instantly from economy class to business class on Air Canada flights in a strategy known as the "Latitude Attitude".
This can save you five to six figures' worth of Aeroplan points every year compared to simply booking business class flights outright!
Elite Status Level Up
In addition to entry-level 25K status, cardholders can also earn an "Elite Status Level Up" to Aeroplan 35K status or higher upon spending $50,000 in the calendar year. 
The Elite Status Level Up takes into consideration whatever status level you've organically earned during the year of hitting the $50,000 spending threshold. Then, as of January 1 and through December 31 of the following year, your status will be bumped up one level higher. 
It's important to reiterate that the Level Up is based on the status you earn in the year that you spend $50,000, not the status you hold.
To illustrate, let's consider an Aeroplan member earned 35K status in 2020, which got automatically extended to 2021 and then again to 2022. Since the 35K status was originally earned in 2020, this member could not count on a further bump to 50K status for 2023 by spending $50,000 on the Chase Aeroplan Card in 2022. 
On the other hand, if this member engages with the program enough (for example, by crediting paid flights to Aeroplan) to organically earn 35K status in 2022, and they spend $50,000 on the Chase Aeroplan Card in 2022, then they'd be rewarded with 50K status for the duration of 2023.
Gifted status is eligible for Elite Status Level Up, and status is considered earned in the year in which the gift was received. 
However, status earned via the Level Up benefit does not count as earned status for the following year's Level Up benefit – that would be too easy!
Chase Aeroplan cardholders can "Level Up" all the way up to top-tier Aeroplan Super Elite status – if they earn 75K status and spend $50,000 in the same calendar year.
And if a member earns Super Elite organically and spends $50,000 in the same year, then they would earn the ability to gift 50K status to another member in lieu of a Level Up benefit.
Higher Spend Thresholds: Priority Rewards & Global+1
The Chase Aeroplan Card addresses a major gap in the North American credit card market so far: meaningful incentives for high-volume spenders. 
Not only can cardholders earn an Elite Status Level Up for reaching a $50,000 annual spending threshold, but there are even more rewards available for cardholders who spend even more:
Earn a Priority Reward voucher upon reaching spending thresholds of $100,000, $250,000, $500,000, and $750,000 in a calendar year.
Earn a Global+1 upon reaching a spending threshold of $1,000,000 in a calendar year.

 
Priority Reward vouchers can be redeemed for a 50% discount on an eligible Aeroplan flight redemption for one passenger.
The set of eligible flights for applying a Priority Reward voucher is dependent on your Aeroplan Elite Status at the time of earning the Priority Reward, as below:
(And remember, your high volume of spending on the Chase Aeroplan Card could've already helped you level-up your status, which expands the set of eligible flights for your Priority Rewards, as well as giving you eUpgrades that can be combined with a Priority Reward booking in economy class to upgrade into business.)
Priority Rewards are valid for one year after issuance, although they can be applied towards travel that takes place after their expiry. 
Meanwhile, Global+1 is an entirely new benefit that's being introduced with the Chase Aeroplan Card, geared towards the true high-rollers out there who can put $1,000,000 of spend on their card in a calendar year.
Global+1 effectively acts as a no-questions-asked companion voucher that makes your Aeroplan points go twice as far, operating as follows:
Designate one passenger as a companion (i.e., a "+1").
Book travel for yourself and the companion.
Receive 100% of the Aeroplan points used for the companion's flights redeposited into your account after travel is complete.
The Global+1 benefit period kicks in as soon as you reach the $1,000,000 spending threshold in a given year, and lasts all the way through the end of the next calendar year.
Just to illustrate, a cardholder who spends $1,000,000 will have earned at least 1,000,000 Aeroplan points – which would then be effectively worth at least 2,000,000 Aeroplan points with the Global+1 benefit in place!
As you can tell, the Chase Aeroplan Card is set to deliver more value than any other product in the market for high-spending clientele, and also offers unique pathways to earning coveted benefits like Priority Rewards for cardholders with high personal, business, or other types of spend.
Free Checked Bags with Air Canada
In addition to all of the innovative new benefits on the Chase Aeroplan Card outlined above, there are also plenty of card features that are more "standard" for an airline co-branded credit card.
The Chase Aeroplan Card will offer a free first checked bag when travelling with Air Canada for the primary cardholder and up to eight other passengers on the same reservation.
First checked bags can run you $30 per passenger, so this benefit can easily save hundreds of dollars for, say, a family of four on a round-trip flight.
This is on par with the free checked bag benefit offered by the Canadian-issued core, premium, and small business Aeroplan cards, and so it's a very much an expected perk for the US-issued card too. 
Preferred Pricing on Air Canada Flights
The Chase Aeroplan Card will offer preferred pricing for Aeroplan redemptions on Air Canada flights.
When logged in to their Aeroplan account, cardholders will see meaningful discounts on Air Canada flight redemptions compared to a member who doesn't hold a co-branded credit card.
If the preferred pricing discounts line up with what Canadian cardholders receive, then Chase Aeroplan cardholders can expect to get discounts of 8–15% on Air Canada's flight pricing.
In theory, cardholders who have Aeroplan Elite Status should also see greater discounts than cardholders with no status, although in practice the difference isn't very meaningful (only a few hundred Aeroplan points). 
$100 Global Entry, TSA Pre-Check & NEXUS Credit
The Chase Aeroplan Card will offer a $100 statement credit every four years that can be used towards one of the major North America trusted traveller programs: Global Entry, TSA Pre-Check, and NEXUS. 
Cardholders can simply charge the application fee to the card and the statement credit will apply. The $100 credit is enough to cover one Global Entry application fee ($100), one TSA Pre-Check application fee ($85), or two NEXUS application fees ($50). 
Since NEXUS includes both Global Entry and TSA Pre-Check, it's the best bang for your buck as long as you can access NEXUS interview locations near the US–Canada border. 
The Chase Aeroplan Card is also the first US-issued credit card to offer a NEXUS credit, which aligns with its strong positioning on both sides of the 49th parallel. 
Coming Soon: Chase Pay Yourself Back
In one more innovative twist to the Chase Aeroplan Card, starting in early 2022, cardholders will have access to Chase's Pay Yourself Back feature using their Aeroplan points.
Pay Yourself Back is a feature previously only seen on Chase's own Ultimate Rewards cards. It allows cardholders to use Aeroplan points to offset the cost of travel purchases charged directly to their credit card at a fixed rate of 1.25 cents per Aeroplan point (cpp), up to a maximum of 50,000 Aeroplan points per calendar year.
By redeeming through Pay Yourself Back, cardholders can effectively use Aeroplan points to book hotels, car rentals, vacation packages, or any other type of travel at a fixed rate of 1.25cpp.
For Aeroplan members with large balances of points, this offers a useful way to "cash out" up to 50,000 points per year for $625 worth of travel purchases they might've made anyway.
However, if your Aeroplan balance is on the modest side, it may not be the best idea to use the Chase Pay Yourself Back feature, as the value you'd get from redeeming Aeroplan points for flight rewards can far exceed 1.25cpp. 
Other Benefits: Carbon Offsets and More
Recognizing the growing threat of climate change, Aeroplan and Chase have teamed up to offer automatic carbon offsets as a central feature of the Chase Aeroplan Mastercard.
When cardholders redeem Aeroplan points for travel on Air Canada for themselves and companions on the same reservation, Aeroplan will purchase carbon offsets to reduce the impact of greenhouse gas emissions associated with the cardholder's travel.
This positions the Chase Aeroplan Card as the travel rewards credit card of choice among eco-conscious travellers, and it's a pioneering move among airline co-branded credit cards in an industry that faces constant pressure regarding its environmental impact. 
In addition, the Chase Aeroplan Card will offer the standard package of World Elite Mastercard benefits (concierge service, Priceless Experiences, etc.), some insurance benefits (trip cancellation and interruption insurance, baggage delay insurance, etc., but excluding emergency medical insurance), and no foreign transaction fees.
Apply Now
The Chase Aeroplan Card launches with a superb value proposition in exchange for the $95 annual fee. 
New cardholders who apply through the waitlist offer will earn a welcome bonus equivalent to 110,000 Aeroplan points (two Welcome Flight Reward Certificates worth 50,000 points, plus 10,000 points), 10 eUpgrades, and Aeroplan 25K status through December 2023.
Cardholders will also have the opportunity to retain 25K status by spending US$15,000 in a calendar year, level up their status by spending US$50,000 in a calendar year, and earn further high-value reward instruments by spending US$100,000 and above in a calendar year. 
The Chase Aeroplan Card is subject to Chase's "5/24 rule", which means that you're unlikely to be approved if you've opened five or more US-issued credit cards over the past 24 months. 
If you're a Canadian-based Aeroplan members and are interested in getting this card, refer to our guide to Getting US Credit Cards for Canadians. If you're starting out now, it'll likely be at least a year's time before you're eligible to get the Chase Aeroplan Card. 
Meanwhile, US-based Aeroplan members can apply directly via Chase, or through the waitlist offer that lands in your inbox for the best possible deal.