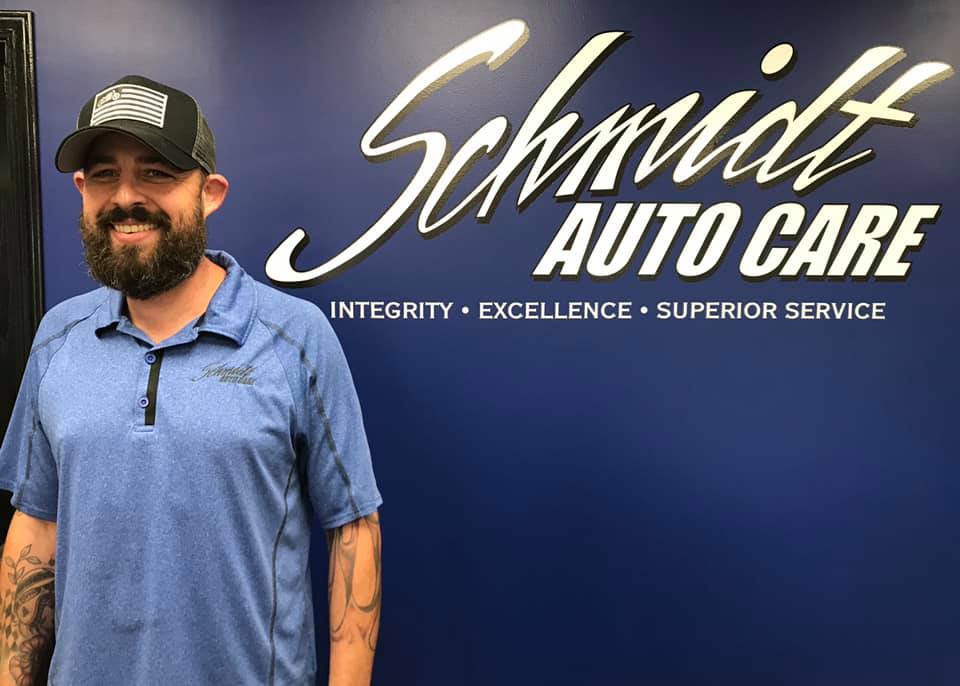 The Emotional Side of Auto Care
One would think the automotive industry would be an emotionless business. It's very technical and mechanical and doesn't allow for a lot of emotions outside of the expected stress. But when you've had a business for 10 years, you start to make connections that live on. You meet people that tell you their life stories, you get them out of jams when they can't afford the repairs, you put their car back together on the side of the road when they're stranded, you watch their families grow, and you genuinely start to make a tribe that is reliant on your expertise. We realized this a few years ago and we started welcoming and thanking people for being a part of the Schmidt Auto Family as opposed to thanking them for their patronage. Because that's what it feels like, we all become family. And that's one of the best feelings as a business owner. It means you genuinely trust us, and that's huge in the industry we work inside of.
We don't just sit at desks and look over your inspections to see how hard we can price gouge you. We deeply care when we know you have less than adequate brakes and payday is still a week away for you. We are concerned when we know money is tight in your family and we must tell you the car needs new tires. It kills is to tell you the reason your vehicle isn't moving anymore is that the transmission died inevitably a month after you did major work to your other vehicle. What we love doing is getting you safely back on the road in the quickest and most efficient manner possible. We love telling you that your car looks like it's in good shape, and we love chatting with you each time you're in the shop. Somewhere in all those conversations, and tough car moments, we became friends. And this year, we had to say goodbye to a friend. I'm going to call him Captain for the sake of his privacy.
Ten years ago, when Schmidt Auto Care opened, Captain met Erich at a local gun shop, they conversed some and went on their way. Then one day, Captain showed up at the shop. Being an old military man, he instantly connected with Erich and they talked for a long time before Erich looked over his truck. Back then the business was new and slow, so the time that one could invest in a client was endless. A lot of solid relationships were established this way, and Captain was one of them. As the years went by, Captain stopped by with his cars and trucks for their repairs, and sometimes just to say hi. Many hours were logged together in that first shop, and Captain was a client that transitioned with us over to the shop when it relocated to Springboro. He was just that client that you dream of; lighthearted, good-natured, kind, understanding, and wilding hilarious.
Three weeks ago, I got a phone call, and it was Captain. I was happy to hear from him because he hadn't been in a while and he'd not seen the new shop. Just as I was getting ready to make him an appointment, he asked for Erich. Erich was on a test drive with tech, so I asked if I could take a message and asked how he was. He told me he needed to tell me something, so I listened. He would no longer be coming to see us, and he wanted to thank Erich for taking great care of his vehicles all these years. I sat there saddened as this vibrant client was saying goodbye. He went on to tell me he'd had a massive heart attack and the decision was made for him to move into an assisted living community. He no longer had his beloved vehicles, he would no longer be stopping by, and he simply wanted to say thanks and goodbye to Erich and his friends at Schmidt Auto Care. We chatted for a while about our families and before I said goodbye I took down his new address because now it's our turn to go visit his place and chat with him.
This is what business is all about. It's you being welcomed by a friendly face when the days have gone crappy and your cars gone mad. It's you knowing if you're stuck on the side of the road you know who to call for car advice. It's you knowing if you're kids grounded from their car, you can park it in our lot to ensure it's not at their access. It's us laughing together about you doing that with your kid's car. It's us knowing that some of you love pumpkin spice latte and chocolate creamer, so we keep it stocked all year long next to the Keurig. And it's you coming back time and time again because we build these bonds that are more than just oil changes and tire rotations.
We want to thank you. In July we will be open 10 years, and that's a little mind-blowing sometimes. We would never be where we are without our ever supportive and growing, Schmidt Auto Care Family. Thank you for trusting us, building with us, promoting us, and sharing with us your lives. We love providing you with an excellent automotive experience. I'm so glad we got to spend the last decade with so many of you. And from the bottom of our oil-stained, car-loving hearts, we can't help but be a little emotional as we say goodbye to the ole Captain.
Written By:
Lauralee Schmidt
VP of OPS/MKTG
If you're looking for a superior automotive experience, please reach out.
We welcome all makes and models, both foreign and domestic.
www.schmidtautocare.com