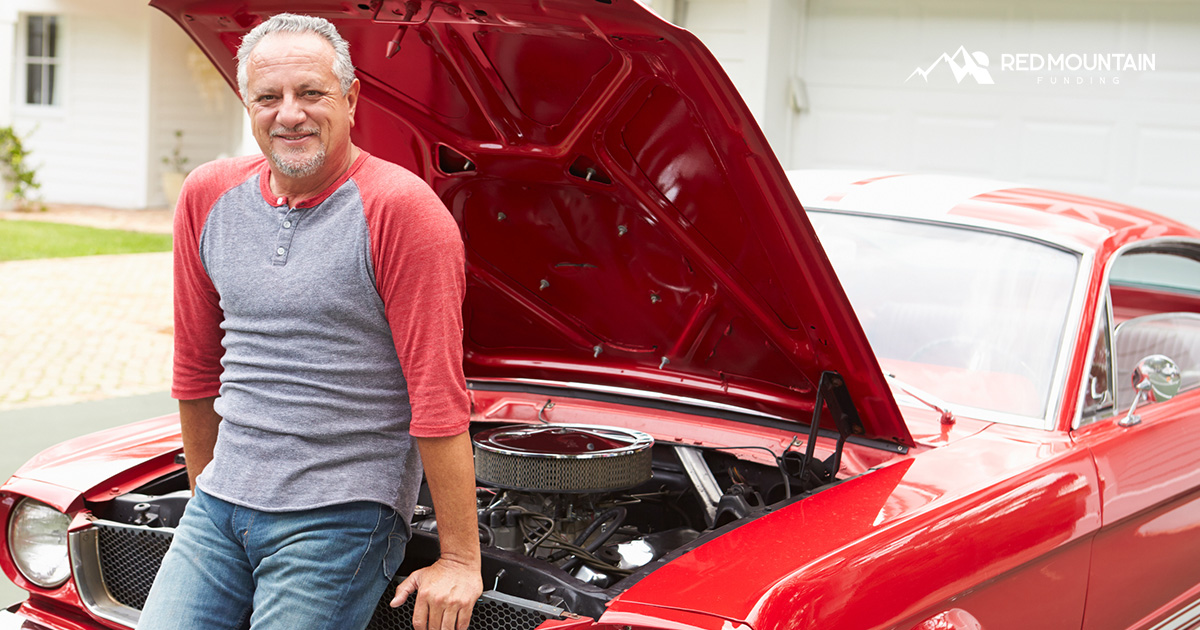 The Best Cars to Restore (And How to Find Them)
Photo from Getty Images
Originally Posted On: https://redmountainfunding.co/blog/the-best-cars-to-restore-and-how-to-find-them/
Cars, just like many other high-dollar consumer products, are experiencing a seller's market right now. Inventory of quality used cars has become inconsistent at best, and the same can be said of pricing. Thankfully, there is still plenty of room in this market for a mechanically inclined investor to turn a profit restoring and flipping cars. It's all about finding the right car at the right price before you begin your project.
SO, WHAT IS THE RIGHT CAR?
There is no single correct answer. The best cars to restore for profit are the ones that match your budget, your mechanical skill set, and the type of project you're willing to undertake. Dropping a new engine in a modern SUV with a salvage title and restoring the body and interior of a mechanically sound 1970s cruiser are two extremely different processes, requiring different skills, tools, and levels of investment. However, both can be potentially lucrative projects for someone who is able to find the right car at the right price.
A list of the best 90s cars to restore will look much different than a list of the best European and domestic cars to restore. In fact, each category of vehicle will have unique sets of potential buyers, restoration needs, mechanical issues, and sources for finding the perfect project car.
WHERE TO FIND CARS TO RESTORE
When you're ready to look for cars to restore for sale, you should be willing to spend a good amount of time on this process and look in a variety of places. Check these spots for quality restoration projects.
Local Classifieds
Sometimes, local newspapers or online community groups have unique listings that major websites don't feature.
Walk Your City
If local classifieds are good for opportunities you won't see on major websites, the same can certainly be said of taking a walk locally. Simply scouring your neighborhood or town looking for cars with "for sale" signs can yield some unexpected results.
Social Media
Facebook marketplace can be a good resource for used vehicles, but you should also keep a close eye on your personal social media for leads. The perfect project car is often stumbled upon through personal connections (friends and family discount, anyone?) You never know when a real-life acquaintance might get frustrated with repair costs and post about being ready to move on from a car that meets your project needs perfectly. That's a textbook win-win situation.
Major Used Car Shopping and Classifieds Websites
If you're into flipping cars, you probably already know about all the big classifieds websites. If not, it's as simple as running a search for "used cars for sale" and you'll find many pages of results in any search engine. Some websites allow you to filter listings to find exactly what you need while others will require you to scroll through endless listings hoping something catches your eye. Scour them all.
Auction Websites and Marketplace Apps
Don't stop at eBay. Many apps designed to bring neighborhoods together also feature special areas for buying and selling goods locally. If done right, your local apps are like a virtual community-wide garage sale that never ends. The closer to home you find your project car, the less it will cost to get it into your garage.
We recommend checking out the Auction Central Sponsored By AutoHunter Live Online Auction. Whether you plan on bidding or simply want to be a spectator, check out their site to find live auto auctions all across the nation.
Live Car Auctions
Car auctions (and their marketing materials) often focus on flashy, fully restored masterpieces, but they can also be a great source for project cars and parts cars. Call ahead to see exactly what kind of cars will be on the block.
WHY IT'S IMPORTANT TO BALANCE PATIENCE AND TENACITY
Check many different sources and be prepared to keep doing so over the long term. Don't overspend or invest in the wrong vehicle just because you like the look of a car or you're becoming impatient. Doing so risks turning your smart investment idea into an expensive hobby instead.
While patience is key, you should also know exactly what you're looking for and the price point you need to get it at. This way you'll be ready to take the plunge and snag your dream project car before someone else gets their hands on it. Whether it's the very first listing you click or a car you stumble upon in a parking lot half a year into your search, you'll need to show both patience and perseverance when searching for your ideal restoration project.
WHERE TO FIND OLD CARS TO RESTORE
If you're specifically looking for classic cars, many markets have special publications that are specific to the buying and selling of cars and trucks. Check the newspaper stand at a truck stop or gas station for these local and regional buy-and-sell publications, some of which are free.
Lots of self-described "old-school car guys" like the familiar world of these paper classified ads. You can find a lot of good classic cars in the pages of these papers, some of which may not be listed prominently online. That doesn't mean you should skip the internet if you're in the market for classics to restore — there are also plenty of classic cars available on used car websites large and small.
TOP CLASSIC CARS TO RESTORE
If you need ideas for some solid classic cars to restore, here are a few that tend to have reasonable price points for used cars and plenty of inventory available for aftermarket parts. The classics listed here also have decent markets for finding a buyer once you've completed your restoration (assuming you haven't fallen in love and decided to keep it for yourself).
AMC AMX (1968 or 1969)
One of the few truly unmistakable cars, AMCs of all models continue to beguile collectors and restorers, many of whom consider the late 60s AMC AMX to be the most desirable and attractive of any AMC. They can be pricey, depending on the feature package and engine size. However, even the AMXs with the smaller 343 or 290 horsepower engines are desirable collector cars that can make satisfying and profitable projects.
Chevrolet Camaro (1967 to 1969)
Photo from Getty Images
The great thing about a late 60's Camaro is that they're so popular you could literally build one from the ground up using nothing but brand-new aftermarket parts. Demand for this iconic Chevy remains consistently high, which can affect your ability to find a good restoration candidate at the price you want. Still, demand means your efforts will also pay off big when it's time to complete your flip.
START SHOPPING: CLASSIC CHEVROLET CAMARO FOR SALE
Chevrolet Impala (1965 to 1968)
Photo from Getty Images
The Impala is another icon of American car culture from Chevy that will always have a collector's market ready to buy high-quality restorations. The Impala is known for its place at the intersection of power and luxury. While the older models are more desirable to some collectors, the late 60s versions can be found at far better price points, and often in more pristine condition.
Dodge Charger (1968 to 1970)
Photo from Getty Images
We would be remiss without a Charger on this list, as it is perhaps the most iconic American muscle car of all. Plenty of Chargers were manufactured in this era, so stock remains relatively high—always a positive when you're pricing project cars. As with many muscle cars of this era, how much you pay will largely be a function of engine size and body rust. Suffice to say there is a significant market for any lovingly restored Charger.
Dodge Dart (1967 to 1976)
A lot of collectors who have been priced out of the market for Chargers and Challengers come to appreciate the compact, nimble stylings of the 70s era Dodge Dart. Dodge made a lot of them, they have a reputation as reliable vehicles, and cars and parts are extremely affordable compared to other collectible cars of the same era. Dodge Darts from this decade come in a variety of engine configurations and packages (the beloved Dart Swinger, for example) so you're sure to find something that meets your budget and personal preferences.
Ford Model A (1928 to 1931)
The late 20s/early 30s run was a huge pre-war push for Ford, which means that original cars and parts are more readily available than most other cars (or any other surviving products) of this era. Aftermarket parts are also plentiful, allowing you to choose between creating a faithful restoration, an outrageous hot rod, or anything in between. While it may seem intimidating trying to restore a literal antique almost 100 years old, the early, no-nonsense design makes this version of the Model A an extremely accessible project for a first-time flipper.
Photo from Getty Images
Lincoln Continental (Early- to mid-1960s)
Photo from Getty Images
To this day, when someone says "Lincoln" in the context of automobile manufacturers, the image that pops up in many folks' minds is an iconic 60s Continental. This is the very definition of classic automotive luxury, comparable only to the most successful Cadillac products. Continentals are simply a very satisfying car even to just sit in, and that doesn't even touch the satisfaction you'll get from a restoration. Knowing that every unit originally came to the dealership assembled by hand makes restoring one feel like you're a living part of automotive history.
Plymouth Barracuda (1973 or 1974)
Photo from Getty Images
Purists might scoff at anything other than the 1970 or 1971 Mopar-equipped versions, but the mid-70s models are far more economically viable as a restoration project. They're just as easy to work on and very nearly as fun to restore and drive, especially to someone who has never embarked on such a project. If you're looking for a project as a financial investment rather than a hobby to sink money into, it simply doesn't make sense to hold out for an early 70s 'Cuda.
Pontiac Firebird (1970 to 1973)
Photo from Getty Images
The early 70s marks the beginning of the Firebird's second generation. These are arguably less collectible and desirable than the original 'Birds… but they're also more affordable. Those skyrocketing prices on first-generation Firebirds are only making the early 70s models more and more collectible.
Pontiac GTO (1971 or 1972)
A decent early GTO can be prohibitively expensive, especially if it has a V-8. Unfortunately, price is a factor even if the car is in project, rather than collectible, condition. The 1971 and '72 models, however, retain the aggressive, iconic GTO styling of the '68 but can be had at a more reasonable price point. The collecting and restoration communities are coming around to these later GTOs, so finding parts and resources is no problem.
Volkswagen Beetle (Any Year)
The long history of the VW "Bug" makes it a no-brainer for a restoration project, especially if your tastes lean more towards classic imports. Most of the construction on classic Bugs is bolt-together and they are well known for being friendly to users who want to make their own repairs or modifications. To say that aftermarket parts and community resources are plentiful would be a huge understatement. While maybe not exactly what comes to mind when you think of restoring a classic car, the Volkswagen Beetle is iconic in its own right. The collector's market seems perpetually insatiable.
RESTORING AN OLD CAR CAN BE AN INVESTMENT
So, there you have it: the cars that are best to restore are spread across numerous decades and eras. The time commitment needed may be considerable, but these are cars that will likely appreciate in value over time, perhaps even appreciating enough to cover your costs. In other words, restoring these cars is a worthy investment for many; and for those who would like to add more value to their car, it's certainly a possibility.