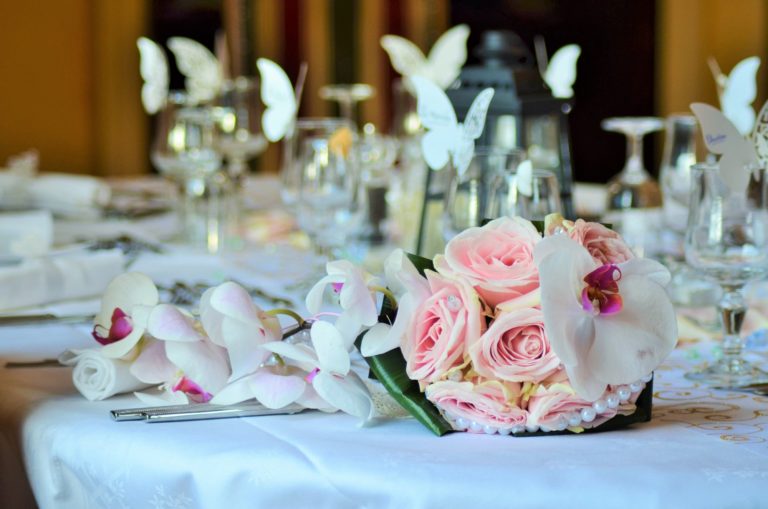 10 Key Tips for Planning Your Wedding Reception
Originally posted on https://hosbeg.com/10-key-tips-for-planning-your-wedding-reception/
In 2018, the average wedding cost the happy couple and their families around $44,000. Even when you're cutting corners or going full DIY, weddings are undeniably pricey.
Of course, if you're the ones getting married, it's easy to focus your attention on the ceremony and pay less mind to the wedding reception. If that's the case, time to refocus your energy, because the reception is a lot longer and requires more planning than the ceremony!
A lot more happens at a wedding reception than just eating, drinking, and dancing. If executed well, your guests won't even realize how many wheels are turning behind the scenes to keep the party going.
Keep reading for ten helpful tips on how to plan a wedding reception!
1. Get Organized from the Start
First thing's first: go get yourself a binder. Maybe some colorful pens. Oh, and sticky-notes.
Gather whatever you need to stay organized and establish a system that works for you, your fiance, and anyone else who's involved in your planning. It may seem Type A, but you'll be glad you did it.
When you plan a wedding reception, you find yourself up to your ears in contact information, dates and times, and lists. You don't want to miss a consultation with your caterer or lose track of your wedding planner's phone number because you misplaced the gum wrapper you wrote that information on!
2. Find Your Venue
This is one step you want to do as early as possible, especially if your ideal date falls between early Spring and late Autumn when wedding season is in full swing.
Start your research with a few things in mind: location, amenities, and size. Once you know your must-haves and your would-like-to-haves, it will be a lot easier to narrow down on a few venues that check all your boxes.
Then, start calling. Even if a venue offers an online consultation request form, it's best to follow up with a phone call. That way, you're sure to get in touch with someone quickly.
Once you have an idea of when your possible venues are available, decide what's more important: the perfect venue or the perfect date. If you're really lucky, your perfect venue will be available to book for your perfect date! The odds of that happening only go up the earlier you start your research.
3. Learn the Rules of Your Venue
Before you dive headfirst into details, make sure you know what flies in your venue and what doesn't.
Venue's rules will vary based on state laws, county laws, and their own personal preferences. For example, what's the rule on alcohol? Can you serve anything, everything but liquor, or nothing at all?
Find out if they have a list of preferred or required caterers. If not, there may still be rules on what the caterers have to bring to the table, like proof of insurance.
You also need to know their maximum capacity before you decide to squeeze some last-minute guests to a table. For that matter, find out if your venue provides tables and chairs!
These are all things that will save you a massive headache down the road. The last thing you want is to move forward with your wedding reception plans just to find out that half of what you've already paid for isn't allowed.
4. Pick Your Caterer
Once you've got a hang of your venue's rules, it's time to pick a caterer. There are a few ways to do this: food-forward, budget-forward, or both.
The average amount that couples spend on catering is around $4,000. That may be outside of your budget, but keep in mind that food is one of the main attractions at a wedding reception. If you have to cut costs, try to cut from other areas of your budget and give yourself more wiggle-room with the caterer.
Finding a caterer within your budget is straightforward, but deciding on a menu can be tricky.
No matter how much you and your fiance love tacos or BBQ ribs, consider the mess they can make. Everyone at your wedding reception is dressed in their finest, and may not want to dribble salsa on their lap!
And don't forget your guests with special dietary needs. Skip the peanut sauce if someone in the room is deathly allergic, and don't forget that your one vegan friend deserves to eat, too.
At the same time, you can't make everyone happy. Provide a few options, but don't go crazy. Remember, it's not your problem if Grandma doesn't like steak if she can eat the chicken, instead.
5. Pick Your DJ
The DJ is arguably one of the most important people in the room at a wedding reception. They take some of the pressure off of you by performing a little crowd work and keeping your guests happy.
Find a DJ that has worked weddings or similar functions before. That way you know you're in good hands from your first dance with your new partner to the last dance of the night!
And as much as you want to pick every song from finish to start, put some trust in your DJ. They've been in the business for a long time and know every crowd-pleaser in the book. Give them your list of songs that you absolutely have to hear, then step back and let them work their magic.
6. Make a Call on Alcohol
If alcohol is something you'd like to have at your wedding, decide what to offer and how to offer it.
Do you want to keep the bar well-stocked with cheap beer so there's enough for everyone, or are you more keen on craft beers, only? Will there be wine? Will there be liquor, and if so, is there a limited list of cocktails you'd like to offer?
A lot of these questions will be answered once you've set a budget for alcohol at your wedding reception. If you know you can stock a full open bar, go for it! If you can't but still want to serve alcohol, limit the options for your guests. All the while, bear in mind that not everyone at your wedding reception will drink, but there will probably be a few people who drink a lot.
7. Plan Your Seating
A good reception plan always includes a seating plan. This means planning a comfortable arrangement of seating areas and a seating chart that makes sense.
Where you place the tables can make or break the flow of your reception space. A good rule of thumb is that the DJ (and the dance floor) should be at the center of everything. That way, everyone has a good view of the merriment even if they don't want to participate.
Planning a seating chart can be stressful, especially if a few of your guests don't get along. Start by making a list of the people who need to be together, like your friend from college and her spouse, and a list of people who can't be together. If you want people to stick it out until the end, they need to be comfortable.
A good way to break up your guest list is to divide them into groups based on how you know them.
Are there five or six people from your old job? Put them in a group.
A handful of people from your hometown? Group number two.
Don't worry about how well these people have kept in touch over the years. Weddings are a great place to catch up on old friendships, and your guests will be happy that they're seated next to a familiar face.
8. Come Up With a (Loose) Schedule for Your Wedding Reception
A lot needs to happen in the few hours you've booked for your wedding reception. You have your first dance with your spouse, any other dances with parents or close relatives that have made the list, dinner, cake cutting, the open dance floor… It all needs to happen, which means someone needs to be watching the clock.
That being said, try not to get frazzled when things get off track by a few minutes. You're dealing with a room full of people, so you never know what can happen or how the mood in the room will change at any given time.
Having a wedding planner will cut down a lot of this stress, but if you chose not to hire one, make sure someone else has your back.
9. Delegate Tasks
You've planned everything in advance. You know exactly where everything should be and when it should happen.
Now it's the day of the wedding, and everyone wants to talk to you (duh, you're why they're here). It's easy to get off-task at your own wedding reception. That's why it's crucial that you delegate certain tasks to other people in advance.
Your wedding party can be of great help to you, as long as they know what you need. They'll be a lot happier to help you if you're calm when you ask them, rather than barking orders or panicking.
It could be as simple as asking a bridesmaid to gather your wedding party and family when it's time for pictures or asking a groomsman to remind people to sign your guestbook. Even the little things can start to add up if you don't delegate them to other people.
10. Don't Freak Out
Seems simple, right? Well, when those first few weeks of planning turn into months or even years, it can be hard not to get bogged down in the details.
Try to remember what this day is all about: celebrating your love for your new spouse with all of your favorite people.
If planning is taking over your life, give yourself a break. Your binder full of color-coded notes will be there in a few days.
And never be afraid to ask for help. Whether you reach out to a parent, a best friend, your fiance, or your wedding planner, know that that's okay, and even expected. No one thought you would do this all on your own!
You're Already Ahead of the Curve
Stopping to do a little research on wedding reception planning is a sign that you've got this under control. You're not totally winging it!
Since you're someone who loves to know their stuff, you might just enjoy some of the other topics we've written on. Check out our other posts and see what other useful, interesting, or downright weird things there are to learn!