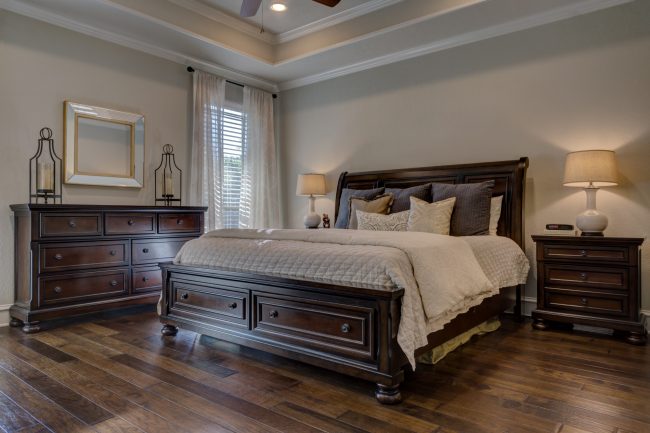 The Best Bedroom Flooring Ideas and Options for Your Home
At the end of every day, you head home to go relax and dissolve the day's stress in your bedroom. This is the one place you get to be yourself and due to that, it has to be perfect.
Your bedroom should have an ambiance that stimulates relaxation. In addition, it's not just about the bed, it's about the decor and the personal touch that makes it home.
The bedroom is the one place people overlook when decorating a house. Considering you spend the bulk of your evening in the bedroom, it should at least look good.
This is why quality bedroom flooring should be at the top of your redecorating list.
Bedroom Flooring Ideas
The energy and overall feel of the bedroom comes from the flooring. It's more about the sense of openness, the style it conveys, the feeling as you walk on it and the coziness it creates.
The flooring creates the perfect backdrop for your walls, furnishing, and bedding.
Some of the best bedroom flooring ideas include:
1. Hardwood Floors
These are compatible with any bedroom style from contemporary, farmhouse to traditional styles. When it comes to hardwood floors, your flooring options are limitless.
You can use pre-finished hardwood or unfinished wood and stain it to create a unique design. Hardwood flooring is the ideal pick for a bedroom due to its smooth surface which is not only easy to clean but also resistant to allergens.
Your choice will depend on a few factors such as type, style, and installation. Popular hardwood floors include walnut, oak, and maple.
2. Laminate Floors
Laminate floors offer a look that is similar to that of hardwood floors but at a lower cost. It's available in a variety of texture and colors. Thus, easy to match to your bedroom color scheme.
You can even laminate floors that look exactly like exotic wood floors such as bamboo and teak. It's the ideal bedroom flooring option if you're working with a tight budget.
With laminate floors, you get to choose the level of thickness, shine, and width. Also, the texture varies from wire brushed to smooth to textured.
Each of these textures offers a different effect. And if you are into conservation, there are eco-friendly options.
3. Vinyl Flooring
It's one of the most economical options for master bedroom flooring ideas. It's easy to install, which is ideal for DIY enthusiasts.
Unlike 10 years ago, vinyl floors are no longer seen as the cheaper option but as a fashionable statement.
Vinyl flooring materials include tiles, planks, and sheets. However, there are high-quality planks that are designed with an attractive finish similar to that of hardwood floors.
This type of vinyl flooring is an excellent option if you want the hardwood look without the additional cost and labor.
In terms of look, you can get almost anything you want from marble and slate to ceramic tile and stone. The color options also vary depending on your choice and preference.
Not only are vinyl floors easy to install but they are also easy to obtain. You can buy Vinyl floors from local stores or an Online floor store. The only part of installing vinyl that is hard is following the right pattern.
4. Cork Flooring
This is typically applied in the kitchen but it has proven to be an excellent option for bedrooms. Basically, it's ground cork shaped into tiles and has a pleasing texture and natural look.
It's ideal for contemporary or Asian style bedrooms.
Unlike hardwood floors, cork floors have a spring-like feeling as you walk on it. This is one of the reasons why it's used as kitchen flooring.
It also has excellent sound buffering properties making it one of the best flooring for bedroom. In addition, cork flooring is made of eco-friendly material and it has insulating properties.
The only downside of using cork floors is that heavy furniture will leave dents and permanent marks in the flooring.
This will be a problem if you're accustomed to switching floor pattern every once in a while. The same issue applies if it's exposed to the sun, high humidity, water or claw marks from your pet.
5. Tiles
Tiles can be used in almost all rooms in the house which includes the bedroom. They add a unifying design element and welcome colors that works best if combined with other master bedroom flooring ideas.
Tile flooring styles are quite attractive but they have one main downside. They tend to be cold, especially if you walk barefoot in the house.
They also have poor sound absorption properties. You need a rug to reduce the noise.
Tile floors are ideal for bedrooms that feature bold patterns and colors.
They come in different sizes and materials such as ceramic, stone, marble, granite, limestone, slate, porcelain, etc. Each of these materials has its pros and cons.
Your choice on the material will be determined by the look and pattern you want.
6. Bamboo Flooring
Bamboo floors are similar to cork floors in that they both use eco-friendly materials. The interesting thing about bamboo flooring is that it is harder than hardwood floors.
However, it has one downside, moisture causes it to warp due to its low tolerance for moisture.
Bamboo floors also quite costly and you should only choose it if you are certain that the conditions of your bedroom are favorable for this option.
Use a moisture test kit to check the moisture levels of your sub-floor. It should not exceed 12% if you want to install a bamboo floor.
What's the Best Option for Bedroom Flooring?
Your choice on the best bedroom flooring will depend on several factors such as preference and budget.
For example, if you have a tight budget, the best option is vinyl floors, laminate floors, and carpets. Each of these has its upsides.
In addition, if you want a bedroom floor that muzzles sound you can go for cork floors or carpet floors. You need to research on how the different types of floors are installed and the materials that are required.
The installation process will affect your budget since floors such as tiles need additional material such as grout and additional expenses such as labor cost.
Visit our blog for more information on home décor, DIY tutorial and project ideas.