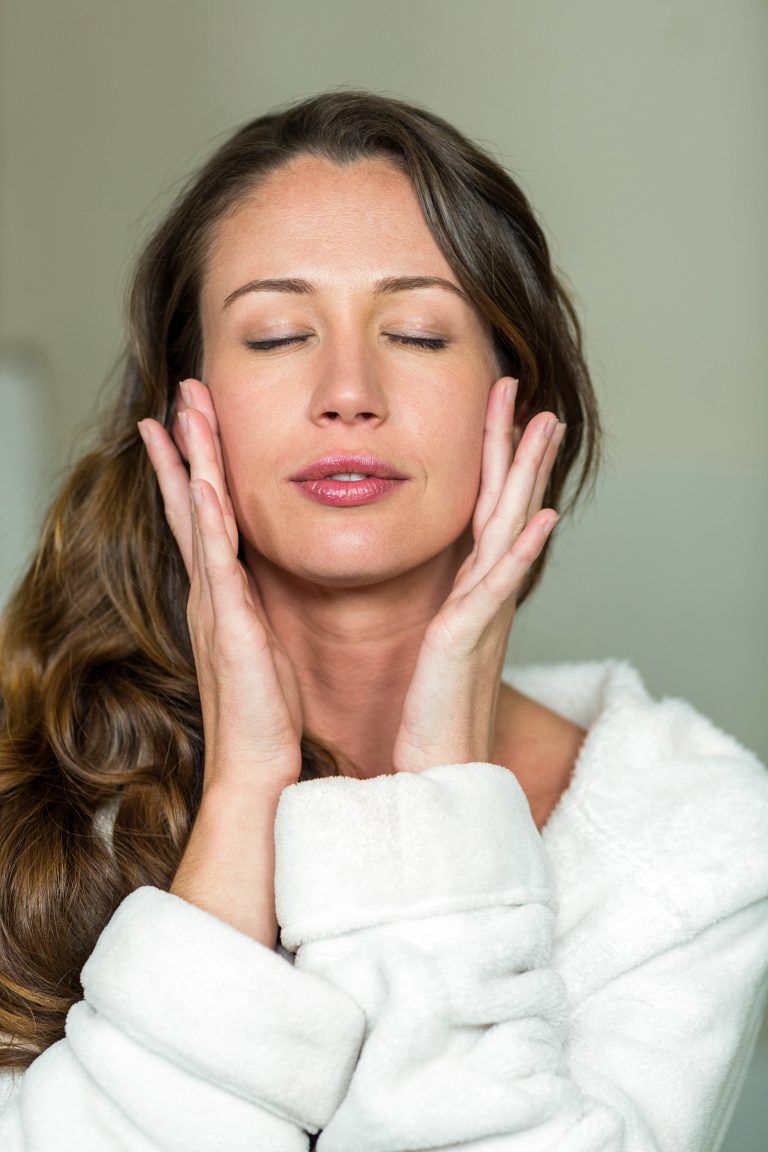 The at Home Microdermabrasion Machine
What is Microdermabrasion?
Microdermabrasion, sometimes referred to as "Microderm," for short, is a light cosmetic procedure that uses a mechanical medium, usually a handheld buffing tool, for exfoliation to remove the outermost layer of dead skin cells from the epidermis, so that the healthy new skin can show through.
Can you picture yourself with new glowing skin? Instead of using harsh chemicals, this is done with a simple buffing tool, often with a replaceable synthetic diamond head, then by suction to remove the old skin cells. Microdermabrasion can be done on other parts pf the body as well.
Want That Youthful Rosy Glow?
Once the new skin below, now free of dead skin cells is revealed, you can benefit much more from your skin care products.  Make your serums and moisturizers work much better with the help of regular treatments to your face on a regular basis by removing the dead skin cells which act as a barrier to the healthier skin below.
History of Microdermabrasion
In the early 1990s doctors originally used microdermabrasion to help burn victims in order to restore the looks and quality of their skin.  By doing so they quickly noticed that by gently exfoliating the top layer of the skin a new much healthier skin was revealed below as a result.  This simple revelation of exfoliating the top later of skin, and promoting regeneration below, brought a new concept of improving the quality of the skin for all people who had suffered burns, acne scars, and other small imperfections on their skin.  In 1998, doctors re-classified microdermabrasion as a "spa treatment" rather than a medical treatment.
"Unlike the older crystal system, the diamond microdermabrasion does not produce particles from crystals that may be inhaled into patients' nose or blown into the eyes. Hence, diamond microdermabrasion is regarded as having higher safety for use on areas around the eyes and lips. Generally, the slower the movement of the microdermabrasion handpiece against the skin and the greater the numbers of passes over the skin, the deeper the skin treatment." (Wikipedia)
One of the safest methods of microdermabrasion involves the use of corundum or aluminum oxide crystals suspended in an antioxidant cream.  This version of the treatment is generally the most cost-efficient as it involves the use of a small handheld skincare tool instead of expensive equipment used by a salon. This method of microdermabrasion rose to popularity in the early 2000s and is widely available today. The other style is the tiny diamond head version. Different brands favor slightly different features as far as the abrasion head on the machine.  
More on the Process of at Home Microdermabrasion
Now, at home microdermabrasion machines are plentiful, and easy to obtain. This makes doing microdermabrasion at home very realistic. The machines vary somewhat in style, but for the most part are quite user-friendly. Using a simple handheld tool, the process resurfaces the top layer of skin using a jet of aluminum oxide crystals while carefully using a gentle vacuum which removes the dirt, grime and dead skin cells which has developed on our skin over time.  By doing so this process accelerates the growth of healthy new skin, and also stimulates new collagen production which contributes directly to the results of new skin growth.  This process also leaves the skin much more smooth and supple now free of impurities that were present in the top layers of dead skin cells.  This newly regenerated skin is now ready to receive the maximum benefit from moisturizers and other great quality skin care.
The results of microdermabrasion, and the regular use of an at-home microdermabrasion machine, is a skin that has a more youthful radiant glow and an overall improved vibrant appearance.
Are There Any Side Effects to Microdermabrasion?
There can be a risk of eye irritation if you don't use the proper eye protection with any method in which the shooting of tiny rough crystals to buff the skin is used as part of the regimen. If you use this type of machine, protective eyewear often comes in the box with the machine.  Many manufacturers of machines most recently favor the diamond tip method in a handheld device to avoid any such issue.
When going out in the sun shortly after, be sure to wear a high-quality sunscreen.  If all directions and precautions are observed with any microdermabrasion machine there should be few if any risks involved.
Let the real you shine through with the magic of microdermabrasion!
Microdermabrasion, sometimes referred to as "Microderm," for short, is a light cosmetic procedure that uses a mechanical medium, usually a handheld buffing tool,  for exfoliation to remove the outermost layer of dead skin cells from the epidermis, so that the healthy new skin can show through. Instead of using harsh chemicals, this is done with a simple buffing tool, often with a replaceable synthetic diamond head, then by suction to remove the old skin cells. Microdermabrasion can be done on other parts pf the body as well.
https://youtu.be/HFXwmqerAlk    Microdermabrasion. Check out this Youbevideo to learn more about Microdermabrasion. These days you don't have to go to a spa or a dermatologist's office for treatment. There are many at-home microdermabrasion machines that are affordable and user-friendly.
Want That Youthful Rosy Glow?
Top 12 At Home Microdermabrasion Machines for 2020
Which are the Best Microdermabrasion Machines?
  #1 Microderm GLO Diamond Microdermabrasion System by Nuvéderm
#1 Dermatologist recommended
Microderm Glo – A top favorite
No longer do women need to spend thousands of dollars on dermatology office and/or spa appointments for microdermabrasion treatments! Enjoy discovering Nuvéderm's patented Diamond Density, Dispersion, Safe3D technology, engineered for salon-quality results and safe for all skin types including sensitive skin. Includes easy to use timer functions for safe no-fail results. Turn back the clock and regain that youthful glow again! For the discerning buyer, the Microderm GLO System machine is FDA registered. Regular microdermabrasion treatments at home will start you on the path toward healthier skin which perhaps you never before thought was possible.
In a hurry? Click here to see the latest prices on Amazon for the Microderm Glo. Start looking younger today!
The  Nuvéderm Company offers a 100% satisfaction guarantee.
Their company philosophy is that if the customer is not 100% satisfied with outstanding visible results, they will offer a refund on the product. See Amazon for more detail.
It is important to buy extra filters, as you will need a new filter every time you use the machine.
* * * *
FDA Approved Microdermabrasion Machine
There are only a few microdermabrasion systems that are FDA approved and this is the one machine many buyers chose for this reason.  The Microderm Glo machine was designed in the USA from an American company with English instructions. It was created by a team of dermatologists to give the best and safest results for home use.  This is one reason this machine rates so high at the top of the list.
you know you want it! Buy now on Amazon while supplies last
#2 Trophy Skin MicrodermMD at Home Microdermabrasion Beauty System for Exfoliation and Anti Aging
Trophy Skin MicodermMD
From Trophy Skin Care, one of the top names in high tech skin care tools, you can improve and literally transform the appearance of your skin texture removing and gently buffing away old skin cells. This action then reveals the new skin underneath, and helps stimulate collagen levels and healthier skin growth. Also, regular use softens the appearance of fine lines and wrinkles, and can help diminish the appearance of various types of scars.  Home treatments are known to make the skin smoother and more supple, and  increase and promote a more even skin texture.
.
Using a handheld simulated diamond buffing head, the dead skin cells, blackheads, and impurities and gently are removed. Follow all instructions that come with the machine. Over buffing can cause temporary bruising.
This style of microdermabrasion machine comes in a case with a mirror. Some women may like this convenience, while others may feel like it takes up too much space. Most microdermabrasion machines are simply a handheld buffing tool used on the face while standing or sitting in front of a mirror, usually in a bathroom. However, this style in the case, does make it possible to sit anywhere and use the machine. It's a personal preference or not.
What comes with your purchase:  The machine in a case, a wand with a Pore Extraction tip, Standard Medium Diamond tip, and Infusion tip. (The infusion tip helps to apply your serums and moisturizers deeply into the skin) Power Adapter and User's Manual. In the case you will find 100 filters. It is suggested you change the filter in the tip after each use.  You can buy packs of 100 replacement filters inexpensively on Amazon.
No More Expensive Spa Treatments:
Many women who were quite satisfied with the Trophy Skin MicrodermMD mentioned that they had been accustomed to going to the dermatologist's office regularly for their treatments.  After using microdermabrasion at home with the Trophy MicrodermMD machine about twice a week, they saw no difference between the expensive dermatologist office or spa treatments, and doing the treatment themselves.  Many highly recommended it in their own way. It was so much better to use at home, they said, and not be rushed through a treatment.  Their skin was then much better prepared to take in the moisturizer and other skin care products with the best optimum results.
Also pointed out was that tips on the vacuuming tube on these machines are replaceable for minimal cost.
A number of customers did mention that the Customer Service for the Trophy MicrodermMD was very good, and they stood ready if they ever needed a replacement part or if something broke on the unit. One customer mentioned that in her case a replacement part was shipped out the next day free of charge. The manufacturer clearly stood behind their product even though her machine was 2 years old!
The machine comes with one multi-use tip, but according to users, it lasts about one year then it's time for a replacement, available on Amazon. The users also have to buy replacement filters which are inexpensive.
Click here to buy the Trophy Skin MicrodermMD on Amazon so you can get started right away!
# 3  NuBrilliance Microdermabrasion Skin Care System
NewBrilliance Microdermabrasion System
Close in popularity to the Trophy Skin MicrodermMD is the NuBrilliance Skin Care System.
The users love the appearance of their skin after use producing a glow, and a greater softness to their skin that ever before.  So many also mention loving how they save on spa expenses that were formerly part of their lives.
Some users report a loss of suction after using the unit for a few weeks. However, one user who had this happen, got into trouble-shooting with the issue on her own machine reported that the proper cleaning solved the problem! Cleaning the tip every time she changed them was a great solution, she remarked. She has had the machine for 2 years now, and has had marvelous results, with no more loss of suction from the machine. Users reliably report that their skin looks much softer and brighter after using the NuBrilliance unit. They loved the money they saved being able to successfully do microdermabrasion treatments at home, and don't know how they ever lived without this skin care concept in their lives.
Users also mentioned was how they loved feeling like a pro using this machine.  Customers loved how it was nicely packaged and came also included with unit were the cleansers.  Customers mentioned how they loved the follow-along instructions while viewing the DVD that came along with the machine helped explain exactly how to use it.
Excited to begin? Buy your NuBrilliance Microdermabrasion system here on Amazon
#4 Trophy at Home RejuvenationMD System
Make your skin like new with the RejuvedermMD
This is a Spa-Level Machine: Trophy Skin's RejuvadermMD is a spa-grade anti-aging beauty tool that will improve the texture and appearance of your skin. With regular use, your skin will take on a more polished and brighter glow than ever before.
Diamond Tip/Dual Action: The dual action exfoliation extraction method utilizes a diamond tip for a gentle abrasive action using a simulated roughed diamond head, and a small vacuum motor to suction out sebum, dead skin cells, impurities, blackheads and whiteheads from your pores. Customers say they find this machine is very user-friendly.
Glowing New Skin: This lightweight portable non-invasive aesthetic treatment will gently remove skin debris, imperfections, blemishes, and uneven skin pigmentation by safely exfoliating your face and body. The result will be healthy, beautiful, glowing new skin ready for your best skin care products.
Helps to Restore New Cell Activity: Maximize the effectiveness of your daily skin care routine by increasing greater absorption now that the outer surface of the skin (epidermis) has been exfoliated from dead skin cells. Regular use of this machine combined with quality skin care products will help to restore cell activity, replenish nutrients and promote greater skin health.
60-Day Manufacturer Guarantee: "The Trophy at Home Rejuvenation System" makers say they will help you discover your best skin. With continued use, a good skin care routine, and doing microdermabrasion 2-3 times a week, the Trophy Skin Company is sure you will enjoy a younger, smoother, and more radiant skin. They say they will help you take care of both your skin and your microdermabrasion device, should you need any repairs.
        * * * *
Many users of this machine, the Trophy at home Rejuvenation System, reflected satisfaction with the product in clearing up everything from acne problems, fine lines and wrinkles to producing a greater quality of their overall complexion. Another mentioned that the system worked perfectly and as expected as long as you regularly clean the head with ultrasonic jewelry cleaner. Comments mentioned over and over were that the Trophy at home Rejuvenation System gave their owners as good of results as the spa treatments they had in expensive salons. These satisfied customers often mention recommending the machines to other friends and family based on the good results they experienced. They say the cost of the machine is worth every penny!
Once again, many Trophy Skin Rejuvenation at Home Microderm Beauty Systems owners speak highly of the product from the actual experience of using the machine.  The only negative comments seem to have to do with a part breaking, or not all parts coming in the box.  But there is customer service information for replacement parts, and users say that their customer service at Trophy Skin is amazing!
Ready to try it on your own face for marvellous results? Click here to buy on Amazon
# 5 Kendal At Home Microdermabrasion Machine –
 Kendal Professional Diamond Microdermabrasion Machine HB-SF01
Learn about this high-quality Kendal Microdermabrasion Machine HB-SD01
Here it is! A really great Microdermabrasion machine for home use. Click to buy on Amazon now!
High quality speaks loudly in this at-home microdermabrasion machine that is much like a professional spa treatment for your face.
This one is definitely for the serious microdermabrasion machine user.
 Gently buffing, removing the outer layers of dead skin, this machine comes with two dermabrasion handles with .9 piece diamond heads. The skin debris is suctioned off removing surface impurities. The tips come in different sizes such as fine, medium and coarse to handle all skin types. These attachments come with a nice case for tips and parts. Comes with a 1-year warranty, and lifetime support on parts.
About the Kendal Machine HB-SF01  – A Non Surgery Solution for Improving Skin Texture
This machine provides a safe skin resurfacing action in a procedure that uses sterile synthetic diamond heads to peel and rub off the dead cells at the top layer of skin, or epidermis. This is followed by a vacuuming suction action which removes tiny particles along with any dirt and dead skin cells to reveal a healthier skin. This process also can fade scars and blemishes, soften fine lines and wrinkles and improve the looks of skin pigmentation.
This machine comes with two dermabrasion stainless steel handles .9 piece diamond tips which are unique. They include different sizes and are of fine, medium, and coarse tips so that they can be used for different purposes and locations on the face or on the body.
Also Included:  Two cylinder-like plastic oil filters. Dimension: L16.9xW12.2xH16.3 inches. Safety: CE certified.
In Summary of Comments by Satisfied users:
So glad she bought this . . .
The reviewer-owner said that she was a bit nervous hearing from other owners that the suction might not be strong enough but decided to give the Kendal machine a try.
She said that the suction was plenty strong enough, and if anyone was having trouble just double check the connection between the diamond head and the skin, or if the diamond head was screwed all the way onto the handle. It should have enough suction for everyone who tried the machine.  She loved the professional performance of this machine, and would definitely recommend it to anyone. Also, recommended was watching the youtube tutorial video on how to correctly do microdermabrasion if someone has never done it before.
Another purchaser of this machine said that it absolutely saved her face!
Though she was in her early thirties, this particular woman said that she started breaking out on her chin for no apparent reason . . . no change in lifestyle or diet. This machine literally helped her control and eliminate the breakout problem with a couple uses per week! She emphasized that she did all the in depth research, and recommends this machine wholeheartedly.
Click here to buy the Kendal A-Home Microdermabrasion machine on Amazon
* * * * *
#6  Trophy Skin Mini MD Portable Handheld at Home Microdermabrasion Machine for
exfoliation and Anti Aging – Easy to use
The Trophy Handheld Mini is perfect for beginners
This easy to use MiniMD Microdermabrasion System is Trophy Skin's microdermabrasion tool designed for new beginning users. If you haven't experienced what microdermabrasion is, this is the perfect easy-to-use tool to start with.
This Mini handheld device comes with the Standard Diamond Tip that gently and safely exfoliates the skin, removing the dead layers, to make it smoother and feel softer and you gently buff away top layer dead skin cells with a real diamond head.
Improves the Appearance of Fine Lines and Wrinkles
This Mini Microdermabrasion hand-held device is designed to help improve the appearance of fine lines, wrinkles, age spots, mild scarring, dull, uneven skin tone, rough skin, large pores and sun-damaged skin. Users say that they see a noticeable difference in 6-8 weeks of regular use.
Get big results with this small mini tool. This Mini Microdermabrasion hand-held device may improve the appearance of fine lines, wrinkles, age spots, mild scarring, dull, uneven skin tone, rough skin, large pores and sun-damaged skin.
Safe to use for all skin types. Be sure to read all the directions before using.
Comes With a 60 Day Guarantee
60-Day Guarantee: The manufacturer, Trophy Skin says they will help you discover your best skin. With continued use, a good skin care routine, and practicing microdermabrasion 2-3 times a week, Trophy Skin is sure you will enjoy a younger, smoother, and more glowing skin. They will help you take the best care of your skin and your microdermabrasion device (should you need any repairs).
Summarizing Reviews from Satisfied Amazon Purchasers
It was clear that the majority of purchasers of this product reflected that they were so happy they purchased this machine.  It was easy to use, and they saw immediate results in reducing the appearance of light scars, and other skin flaws such as reducing pore size.  They mentioned being able to clearly see the skin exfoliation process, and loved the results. One user warned not to over buff the skin, or it might be flaky for a while.
In a hurry? This is the perfect tool for beginners. What are you waiting for? Buy on Amazon now!
Enjoy the Simplicity
This is one of the simpler models and ideal for a beginner, or someone just getting acquainted with microdermabrasion tools. This tool uses a simple diamond abrasion buffing tool.  Ages vary, and even one user who was in her late sixties wondered how she's ever lived without this skin buffing tool for so many years, she said.  One negative comment was this "microderm" tool had less suction than more expensive models, but that she had owned it for two years and it served its purpose.  The same purchaser mentioned that it was travel-friendly, and she would recommend it to anyone.  One negative report had to do with the machine dying after the 3rd use. However, the Trophy Skin company replaced the machine. I'm convinced in the world of manufacturing, there are always a few lemons. If you get one, whether it's related to coffee making or skincare, just return it and get a winner!
* * * *
#7 Personal Microderm Classic
Available on Amazon. Buy yours now!
The PMD Personal Microderm Classic
Amazon's choice for "PMD" – over 1 million sold!
Product description in a nutshell:
One Speed Classic Face & Body Caps Personal Microderm Classic is a new cutting edge at-home device providing the same brilliant results as professional microdermabrasion treatments. This machine combines a patented Spinning Disc technology with Perfectly Calibrated Vacuum Suction to leave skin looking fresh and radiant every time. Users say that weekly treatments reduce the appearance of fine lines and wrinkles, blemishes and enlarged pores in most users.
The description of the product goes on to provide the best usage and routine for this machine. No guessing! Great directions.
Overall, women seem very happy with this product
In a sampling of reviews from customers who bought this product on Amazon, users commented that this machine worked great on scars, noticeably diminishing them. This included acne scars.
One mother remarked that her son had experienced acne so extreme that the scars were quite noticeable. Some areas were pitted and discolored.  She said it was amazing how the microderm treatment significantly smoothed his skin and even the discolored areas out beautifully. She said she didn't think he would stick with the regimen, but he did! In about 4 weeks the results were remarkable! Most scars and discoloration had faded, she observed.
Works great on scars
Another satisfied customer said that she borrowed a friend's PMD and was so impressed by the results that she had to buy her own.  This woman had been living with noticeable acne scars on her face since she was a teen, but with just a few weeks of treatment saw the scars fading and her pores becoming smaller. She said she will always use this machine.
Other owners of this machine say that they feel their skin seems much more breathable, smooth and refreshed.
An Esthetician gave her recommendation. She said she was skeptical thinking the suction would be too weak to make a difference.  She had to admit she was wrong, and it provided the same results as the professional treatments she gave in her salon.
Others mentioned that they liked the feature that they could choose how much exfoliation they wanted and what's best for their skin. The amount of suction it produced was powerful but yet did not harm their skin, they said. The reviewers said the treatments they had in the past easily ran around $100.-$150. in the spa. Saving the cost of even one treatment pretty much pays for the machine, they pointed out.
Love the thing!
One customer commented that she initially had trouble with the machine. She contacted customer service and they sent her a new one!   
Once she got into using it, she loved it and said she never wanted to be without it.
Researched this for months and she was glad she did
Another satisfied user said she had researched for months before buying this one, and she was glad she did. It worked perfectly for her. She warned others to use the sensitive disc around the eyes as to not cause damage to sensitive tissue.
In a hurry? Buy this favorite microdermabrasion device on Amazon now
This Product is Amazing
Another woman said that she followed the directions as stated on the box and has seen incredible results. She uses 1-2 times weekly.
A particular woman suffered from enlarged pores and always had blackheads between my eyebrows, nose, chin, and inside cheeks toward my nose. This removed them all, she said with excitement. She said that the strips and masks had never worked for her, and always had blackheads left, but not with this machine, she commented happily!
Others remarked that it worked on my fine lines around her eyes and I have noticed a difference in the wrinkles on her forehead as well. She claims that her skin is baby soft and glowing with color!
Another mentioned that the machine was extremely easy to use. She said that she was very nervous after reading some of the reviews online but she had no problems at all with scabs, cuts, etc.  Use as instructed, keep it moving, and "shazam" you would see great results, she remarked.
   * * * *
I love this product. It makes my skin feel so soft.
Another buyer of this machine loved this product because it made her skin feel so soft and helped her get rid of dry skin on her face. She commented that she had experienced no problems with burns or super red marks like she had read about in other reviews. She said just be sure you watch the video that comes with it. She even got on YouTube and looked for people using it and reviewing it before she tried hers. Her husband loves it too, she said. One word of extra advice was that she didn't realize she was supposed to replace the heads every 4 weeks.  She reminded others that they can order them on Amazon.
         * * * *
Really Wonderful Product
One happy user warned buyers of the machine to be sure to watch the videos and don't overdo it.  She said she was very happy with her purchase and her complexion was very smooth and brightened noticeably after using.
* * * *
Happy with their personal results.
#8 PMD Personal Microderm Pro 
PMB Microderm Pro
Nice Customer service
A number of women users echoed the sentiment, "I'm in love with this item . . . great experience" was a common compliment to this machine.  Also mentioned was the really great customer service which was really good and really fast. A great help to the skin texture was another great comment.  Many mentioned the same things with how pleased they were with the results once their skin was clear of the layers of dead skin cells that had accumulated over time. Customers also mentioned how easy the machine was for them to use.
Buy the PMD Personal Microderm Pro on Amazon. Click here now!
* * * * *
# 9  PMD Personal Microderm Regeneration System – Value Kit 
PMD Personal Microderm Regeneration System
This model comes as a kit with valuable accessories such as facial cleanser, soothing toner, and a variety of tips to interchange depending on whether you are doing a treatment on your face or your body. Included is also a training video disc to take you step by step.
Satisfied customers stressed that you don't just want this, you need this
Every woman dreams of having glowing skin.  Now it is possible
One satisfied customer absolutely loved this Microderm Plus Kit! She used it on the training disc at first, and commented that she could actually hear the skin being taken off her face! Super easy to use, she said–and so quick, she had to make sure she wasn't just missing a step. She also tried the body attachment on her legs and arms and they felt smoother right away. Happy with the results, she said that she planned to tell all her friends about this product.
      * * * *
 Skin felt better after just one use!
One woman was so amazed that her skin felt and looked so much better after just one use. She decided that this machine was going to be such a wonderful tool to use as her skin ages. She loved the different heads that come with the kit. She thought that the directions were clear and concise and easy to understand. Their customer service is top notch, she said. They replied to answer her questions quickly within the same day, she said.  She said that she couldn't wait to see how this at home kit will transform her aging skin. This happy user said she would highly recommend this to all her friends.
">Click here to buy the PMD Personal Microderm system on Amazon
* * * *
#10 Olay Pro x Microdermabrasion
Great for beginners
Great product for beginners
This Microdermabrasion concept differs from some of the other brands in that the ProX by Olay Microdermabrasion Plus Advanced Facial Cleansing Brush System offers a microdermabrasion treatment and a daily facial cleansing in one. The rotation provides gentle exfoliation with cleansing that's better than basic cleansing on hard-to-remove makeup. The facial brush deeply cleans and helps maximize the immediate hydrating effectiveness of your anti-aging moisturizer. With 3 speeds on the brush action, you can control how the cleansing brush treats your skin for a customized facial care routine that's just right for you..
* * * *
Reviews from satisfied customers of this product commented
It worked for my purposes!
A satisfied customer commented that she thought this system legitimately helped her skin. She had some moderate acne scarring, active acne and discoloration on her face. She was feeling very insecure about her skin. She even considered microdermabrasion treatment in a spa. She started washing her face using the system once or twice per day for a few weeks and she said there was a noticeable difference. Her skin felt smoother, less dry, and she had less active acne and her skin tone was more even. She stressed that you have to be consistent with this product, but it will work for the problems she had.  She strongly urged that she would highly recommend this product. It surprised her with outstanding results, she said.
Her face was clear like never before!
 A satisfied customer said been using this brush for over 3 weeks now. She said that it was the best decision she had ever made for her skin. This woman's skin type was super oily and for years she had been searching for a solution for her acne and oily skin trouble. This brush with the cleansing scrub and polisher made her skin soft. She says now her face is clean like never before. As instructed, she used it every other day. She said when she was not able to use it a week, her acne was back. So now she makes sure she spends an extra 5 minutes every night. What a difference it made, she remarked.   
Buy the Olay Pro x Microdermabrasion device here on Amazon
* * * *
#11 Moving from the Usual At Home Microdermabrasion Machines List to Professional Grade, are the "New Spa Home Diamond Portable Machines"
New Spa Professional Vacuum Treatment Machimne
These two New Spa machines are now designed to be portable "At Home Units." They are definitely near the top of the list in quality, but are in their own kind of class.
Professional Microdermabrasion Machine
New SPA Professional Vacuum Face Treatment Machine
In a hurry? Click here to by your New Spa Professional Vacuum Treatment Machine on Amazon
Once reserved only for Estheticians and Professional use, NEW SPA is now available in a portable at-home microdermabrasion version. In a class by itself. This New Spas series is for serious skincare enthusiasts and may take more study than usual of the manual before using.
This machine has excellent suction. This tabletop version has a powerful 25inHG pump and is the perfect selection for a skincare salon or advanced skincare enthusiast.
NEW SPA has a very unique vacuum head with a large aperture which provides a deep massage suction that can be used on either the face or body to lift and stimulate muscles. This machine can also be used to treat cellulite to help break up fat deposits on various parts of the body.
NEW SPA also has the smaller double vacuum head tool for milder exfoliation action, particularly on the face.  These heads are covered with a very fine synthetic mesh to perfect for gentle exfoliation where needed.
The NEW SPA Professional Face Treatment comes with 1 body and face large treatment head, 9 face vacuum treatment heads with insert diamond tip for an amazing collection of microdermabrasion tools.
#12  Professional Microdermabrasion Machine Kit by "New Spa" SOLD OUT!
Salon Grade 25inHG Suction | Face and Body Treatment Tips 18pcs  by NEW SPA
Although this popular New Spa machine was recently sold out, they have come out with an affordable new machine "The Professional Grade Portable High-Frequency D'Arsonoval Facial Device" you will want to review.
Portable High-Frequency D'Arsonoval Facial Device
NICE SELECTION OF SKIN TREATMENT ATTACHMENTS.
Click to see it here- buy the Professional High-Frequency Portable D'Arsonolva Facial Device here on Amazon
This Professional Grade Portable High-Frequency Facial device has some positive and unique features you will not find included with other machines.
As one satisfied user explained: "This particular kit contains 3 neon electrodes and 7 argon electrodes, with a professional wand. Best of all, they arrive in a case that you can use to store the parts when not in use. That is incredibly important because these parts are made of glass tubes."
She went on to say that she was able to get rid of brown spots and an old very noticeable scar on her forehead that the doctors had told her the only option was to fade it was through surgery. She described how this machine had diminished it almost completely. Read the many reviews of the satisfied purchasers and users of this Professional Grade D'Arsonoval machine.
Click here to read more about this product and buy on Amazon here
* * * *
In Conclusion – At Home Microdermabrasion
Want really great results with an at-home machine? The overwhelming opinion of the users of these microdermabrasion products are amazingly positive! There may be some difference in skin types, or types of scars people hope to diminish, but for the most part, the majority of people feel that the difference before and after was definitely worth the purchase.  Some go as far as to say they don't know how they ever lived without the machine. Most say the use of the at-home microdermabrasion machines was as good or better than the doctor's office or spa treatments they received for considerably less money owning an at-home machine. . . I would say that's fairly dramatic!
As far which is the BEST AT HOME MICRODERMABRASION MACHINE, all the products here had very high reviews. I have listed my one dozen best picks.  However, it will ultimately depend on your trust level with microdermabrasion for your personal skin and your own personal budget!
Learn skin care and health tips at herspaplace.com