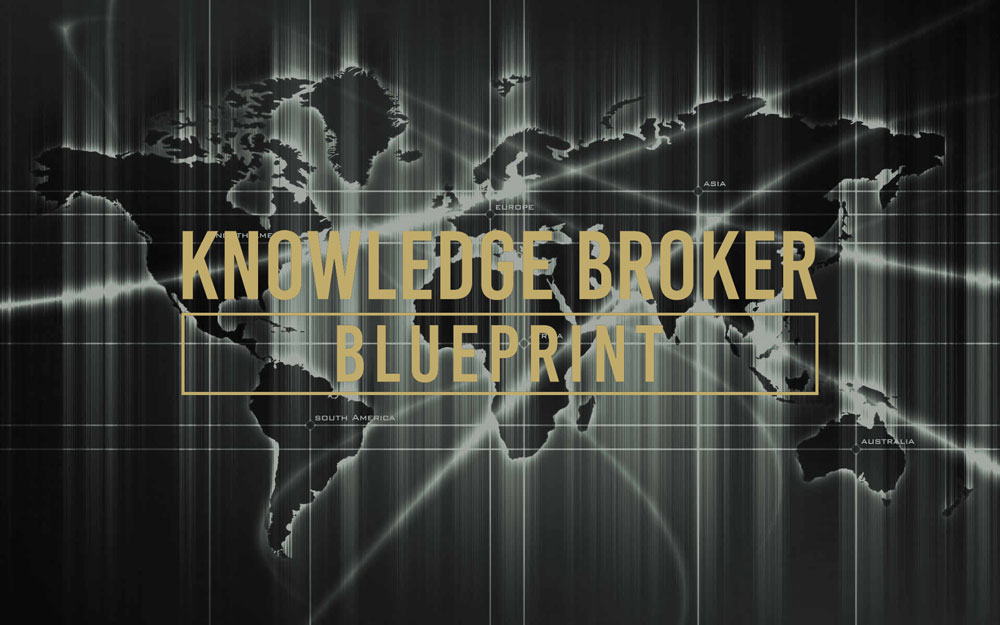 Knowledge Broker Blueprint by Tony Robbins and Dean Graziosi
Photo from gainbitcoin
Knowledge Broker Blueprint is the newest business mastermind program by Tony Robbins and Dean Graziosi that comes in three separate pillars for the KBB 2.0 launch; an educational training course, MindMint software tool and a coaching mastermind community.
Tony Robbins and Dean Graziosi's new Knowledge Broker Blueprint is the second coming, quite literally, on how to successfully setup an online business and become an elite entrepreneur the right way by.
Knowledge Broker Blueprint is the new and improved update of Knowledge Business Blueprint, which was watched by over 200,000 people where more than 17,000 people joined hands with Tony and Dean to partake in their MindMint software and coaching program. Before we jump into a deep-dive review of Knowledge Broker Blueprint, let's break down the name and see what the two legendary businessmen are seeking to accomplish.
Knowledge is defined as facts, information and skills acquired by a person through education or experienced.
Broker is defined as a person who buys and sells goods or assets to others
Blueprint is defined as a design plan or guide to making something.
In essence, Knowledge. Broker. Blueprint = a guide for individuals with skill, passion and expertise who want to share it with the world to earn profit and create an impact. That is the basis for why KBB 2.0 was reinvented due to the extreme demand and desire to learn how to profit off of passion and purpose. Tony and Dean have designed Knowledge Broker Blueprint to be the GOLD STANDARD for when it comes to packaging actionable course learning materials with a powerful software system that enlightens aspiring entrepreneurs to run high impact, high profit masterminds, workshop groups and communities.
The KBB 2.0 is an enhanced version of KBB 1.0 (which launched in April 2019), and is a tried and true proven 4-module training course that goes to great lengths to teach members how to extract your given knowledge, hobby, passion and skills and share it with the world to create impact and boost your livelihood.
The Knowledge Broker Blueprint live event is February 27th at 8PM EST and will be hosted by Tony Robbins and Dean Graziosi. Ran by Mastermind.com, let's research everything there is to know about KBB 2.0 launch and review why everyone should be in attendance for this live broadcast. When two of the biggest industry giants get together to share their new Knowledge Business Blueprint and Mindmint winning playbook formula is should be a code-red alert status level of importance to reserve your spot and watch risk-free. Just to hear the enthuaism of Tony Robbins or the excitement from Dean Graziosi will be worth the time it takes to watch, even if you find KBB 2.0 isn't right for you.
But first, a straight-forward nuts and bolts Knowledge Broker Blueprint review on why this mission holds so much meaning to both Tony Robbins and Dean Graziosi.
Click Here Now to Get Registered for Knowledge Broker Blueprint
Contents [hide]
What Exactly is the Knowledge Broker Blueprint?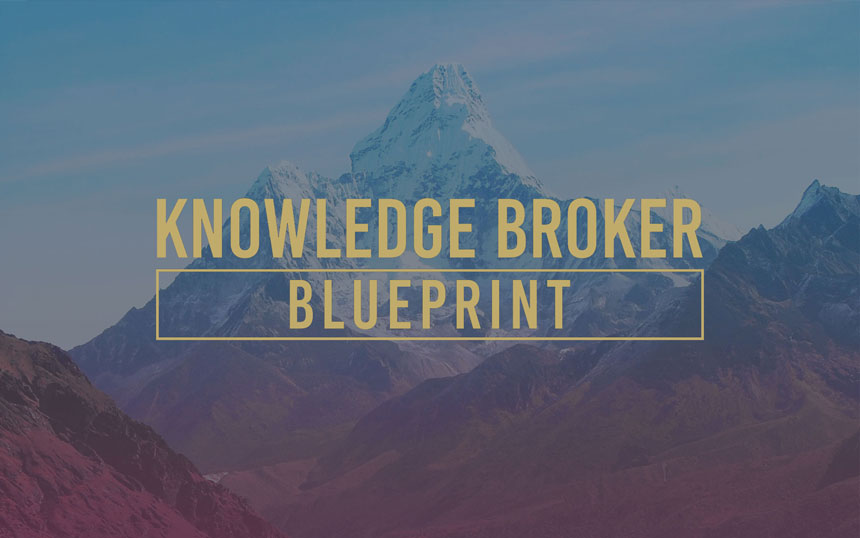 As the name seems to suggest, Knowledge Broker Blueprint (KBB) is an online-only course that seeks to help/train users on how to run their very own Mastermind events and seminars. The course has been carefully devised by world-renowned life coach and philanthropist Tony Robbins in conjunction with Dean Graziosi. In regards to the impact this program has had on people all over the world, it bears mentioning that upon its launch, the initial live cast that was facilitated by Tony and Dean was able to rope in a total of 250,000+ virtual attendees. Not only that, upon its initial release, a total of 17,000 individuals invested in Knowledge Broker Blueprint — which is quite an impressive feat, to say the least.
In this article, we will explore a number of key details regarding KBB as well as share insights into what the auxiliary MindMint software is all about. So without any further ado, let's get straight into the heart of the matter.
In its most basic sense, KBB can be thought of as an online course that teaches individuals how to create and administer their very own Mastermind programs. Each purchase of KBB comes replete with a host of educational content including:
Tutorials
Resources
Exercises
Worksheets
Access to Tony's private FB group.
From a technical standpoint, we can see that the Knowledge Broker Blueprint consists of four core operational modules. These include:
Extract it
Fill it
Run it
Knowledge Broker
Each of these separate sections contains their unique set of lessons that can be used by anyone to train themselves in an easy and hassle-free manner. The modules are quite varied and can range anywhere between seven minutes to half an hour in length. Additionally, there are some longer sessions as well that have been designed by Dean to teach users about niche' topics such as 'How to maximize one's public reach using Facebook and YouTube ads'.
As mentioned previously, the course is highly meticulous in its approach towards conducting Masterminds (and other similar seminars) and has some of the most important tools that one can learn in order to maximize one's potential regarding the same. For example, the quality of the training videos included in KBB is extremely high — something that is to be expected since they have been devised by industry veterans like Tony Robbins.
Also, in addition to each of these videos, users are also provided with a set of downloadable PDF worksheets that contain various exercises (that help individuals retain the knowledge presented to them during the session). Lastly, after the conclusion of each individual program, users are presented with an opportunity to test their knowledge through a series of specially devised quizzes.
Click Here Now to Get Registered for Knowledge Broker Blueprint
What is MindMint Software Tool?
Simply put, MindMint is a packaged software system that is designed to complement the Knowledge Broker Blueprint. It serves as a foundational base that can help users extract all of the skills that they may need to host/conduct a mastermind session successfully. For example, the software not only allows users to create new events, but it also guides people through the various steps that are involved in the planning/execution of such an event, such as:
Obtaining information regarding trainers and speakers
How to manage and handle attendees
How to establish an agenda
If that wasn't enough, MindMint also allows helps users with some of the peripheral aspects of hosting a Mastermind — like creating sales funnels that can be used to pitch one's ideas to a large audience as well as creating a high-quality landing and sales page for one's website.
Who stands to benefit the most from KBB 2.0?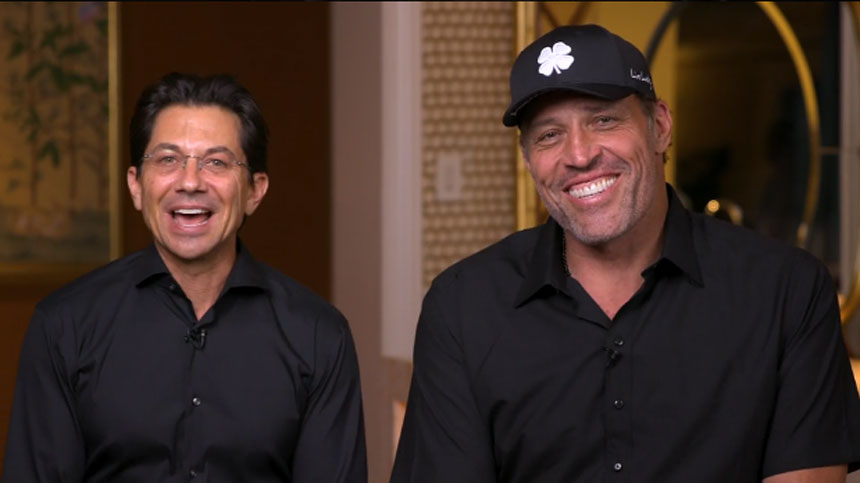 The Knowledge Broker Blueprint program is meant for people who want to create an impact on those around them by sharing their wealth of knowledge in the easiest, most streamlined manner possible.
As the program clearly states, every individual has their very own niche' skillset/area of expertise that can help others. In this regard, KBB allows individuals to not only identify their core competencies but also share this knowledge with the world.
A Detailed Breakdown of the Course
As mentioned earlier, KBB consists of four primary modules. In this section, we will look at the different elements that are contained within each of these modules in a little more detail.
(i) Extract it
The 'Extract It' section of the course starts out by providing users with a number of tips and tricks — to help shape one's mindset — that have been devised by Tony himself. This is followed by several videos from Dean that lay down the foundations of how to create a working Mastermind-related business model. Some of the items covered include:
Identifying one's area of expertise
Establishing what one's ideal client looks like
How to weave a story so as to aid your teaching
Which exercises to use and when to use them for gaining optimal results
How to set up your first Mastermind agenda
(ii) Fill it
The Fill it module looks at the various marketing tactics and strategies that one may need in order to succeed with the filling aspect of their Mastermind programs. As part of the module, Dean and his team of experts have included a number of lessons such as:
The easiest way to become a master marketer
How to create an attractive landing page and sales funnel
The easiest and most streamlined way of running social media ad campaigns
The best affiliate and email marketing strategies that can be used to maximize one's global/local audience reach
Establishing attractive order and landing pages.
(iii) Run it
As the name seems to clearly imply, the 'Run it' section of KBB tackles all of the core lessons needed to operate a successful Mastermind program — be it virtual, in person or a combination of the two avenues. The module teaches users key lessons such as:
The optimal formula that can help you conduct the perfect Mastermind program.
How to conduct virtual as well as in-person events.
How to prepare for a mastermind — including a checklist of all the main do's and dont's required to succeed.
(iv) Knowledge Broker
This is the last and final training module of the Knowledge Broker Blueprint. It contains a number of insights from Tony and Dean regarding things like:
How can you organize a Mastermind event for a third party?
How can you become a professional knowledge broker?
What is the easiest way to succeed in this cutthroat market?
Lastly, folks who make use of KBB during its first-round launch (available till February) are currently being offered the following bonuses absolutely free of cost:
Tony Robbins' Ultimate Edge – A four-part audio primer designed to help people excel in life and maximize their innate potential.
Dean's Inner Circle – A program that teaches people some of the main lessons from Dean's Inner Circle Training program.
Tony Robbins' Platinum Bonus – Contains a number of audio/video recordings from established industry personnel such as Peter Mallouk and Jack Bogle
Russell Brunson's Mastermind Funnels
Tony Robbins' Priming Exercise
What is the best way to get started with KBB Business Program?
In order to start making use of the Knowledge Broker Blueprint, interested users can join Tony Robbins and Dean Graziosi during their next live webcast that is scheduled to take place in February. As part of the stream, Tony will provide users with a number of ways in which to register for the course as well as describe the various payment avenues that can be used to complete the registration process.
Now that we have reviewed all of the available aspects of Knowledge Broker Blueprint, let's quickly run through the epic journey that made Tony Robbins the man, guru and prominent life coach he is today.
Click Here Now to Get Registered for Knowledge Broker Blueprint
Tony Robbins: About the Man, Guru, Life-Coach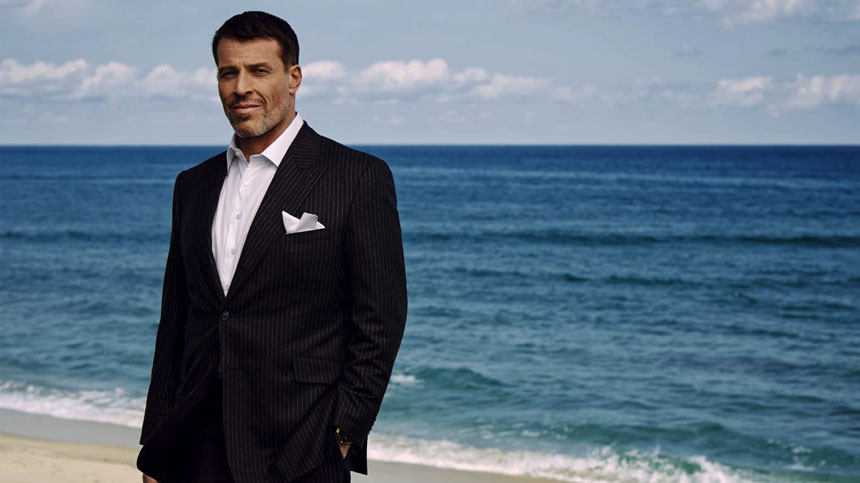 For a whole host of millennials, the name Tony Robbins might not ring a bell or draw any immediate associations, however, for folks who may be a bit older, Tony is a pioneer who for over forty years has worked as a life coach, philanthropist, entrepreneur, author, and investor helping shape the lives of nearly half a billion people all over the world.
Robbins is also a well-respected self-help guru and business strategist whose best selling books (such as Money: Master the Game and Unshakeable) and live seminars have empowered individuals from all walks of life. In 2015 and 2016, he was voted into Worth Magazine's list of the 100 most powerful people in the world.
Humble Beginnings to Self-Help Rockstar
Robbins was born on the 29th of February, 1960 as the eldest of three kids. He spent a major portion of his childhood in Azusa, California where he excelled in his studies and was even elected as the president of the student body in his senior year in high school. In addition to his school life, Tony also started working as a handyman to help support his siblings.
According to Robbins, after years of mental and physical abuse, at age 17 he packed up and left home, never to return again. To support himself financially, he worked a number of odd-jobs (including one as a janitor) to make ends meet. As a result of all the hardships he incurred in the early part of his life, Tony was not able to attend college. However, that did not deter him in the slightest and by 1980, he started working as a marketing specialist and promoter for motivational speaker Jim Rohn.
By the early half of the 1980s, Robbins had already met up with Neurolinguistic Programming (NLP) co-founder John Grinder and had become partners with him — teaching a number of NLP and hypnotherapy classes to interested individuals all across the United States. By the end of the decade, Tony's popularity had skyrocketed thanks to his charismatic personality and an overall positive outlook towards life. In 1988, he released 'Personal Power', his first infomercial that explicitly portrayed him as a life coach and performance expert. Following this phase, a number of celebrities (including NFL start Fran Tarkenton and Martin Sheen) started vouching for his personal services as well as self-help audiotapes. It is estimated that by the end of 1991, a total of 100 million Americans had been exposed to Robbins and his massive body of work.
After cruising through most of the early to mid-nineties, in 1997 Robbins went on to establish the Leadership Academy seminar which helped him become a mainstay of the global seminar circuit. For example, companies like Learning Annex and TED started to regularly invite Tony to give presentations and self-help talks to students, businessmen, thought leaders, corporate personnel and politicians all over the world. According to statistical data available online, more than four million individuals have watched Robbins' live seminars till date.
Career Milestones
(i) During the early portion of the last decade, Robbins teamed up with therapist Cloé Madanes to help establish the Robbins-Madanes Center for Intervention. The aim of this organization is to impart life skills to families and individuals dealing with various addiction-related issues.
(ii) Back in 2014, Robbins in conjunction with a number of celebrities such as NBA legend Magic Johnson, businessman Peter Guber, acquired the rights to LAFC — a Los Angeles based soccer club that has been competing in the MLS (America's top-tier soccer league) for a couple of years now.
(iii) In 2016 Robbins once again teamed up with Peter Guber and Ted Leonsis to purchase an eSports franchise called Team Liquid.
(iv) Over the years, Robbins has personally worked with a number of high-profile clients including ex-US President Bill Clinton, NHL legend Wayne Gretzky, tennis superstar Serena Williams as well as entertainers such as Hugh Jackman and Pitbull.
(v) In the past, Tony has been featured in a number of Top 50 lists released by Accenture, Forbes and Harvard Business Press.
Association with Cryptocurrencies
Since 2016, Tony has been a keen observer of the crypto industry. To help his social media followers gain a better understanding of this burgeoning market domain, he recently released a detailed blog post outlining the various benefits of Bitcoin. To be a bit more specific, he goes into a number of details regarding the basic tenets of what Bitcoin is, how the currency can be used to facilitate everyday transactions as well as how it can be mined digitally.
Robbins and his team constantly allude to the fact that since no single financial entity or government body can control Bitcoin, owners have complete access to their holdings at all times. Not only that, owing to BTCs overall independence from conventional financial structures, the currency cannot be devalued by any government nor can anybody stop another person from using or owning the premier digital asset.
In regards to why Robbins' endorsement is quite huge for the crypto industry, the man is widely considered to be one of the most well-respected life coaches in the world. Thus, every tweet of his promoting Bitcoin could push his 3 million-plus social media followers to either invest in the currency or at least learn more about this technology.
Tony's Business Dealings Over the Years
At the time of writing this article, Mr. Robbins is currently the head of a firm that is consists of more than fifty private business enterprises — that are estimated to be worth more than $6 billion. As a result of his growing business empire, Tony was recently named as one of the top 50 business intellectuals in the world by Accenture. Not only that, the folks over at American Express recently named him as one of the "Top Six Business Leaders in the World".
Additionally, as mentioned in an earlier section, a number of high profile business personnel as well as leaders have called on Robbins for his insights. For example, he has worked with three former presidents, athletes like Andre Agassi, Serena Williams as well as finance magnates such as casino mogul Steve Wynn and Salesforce.com founder Marc Benioff.
Philanthropic Efforts
In addition to him being a world-famous life coach, Tony is also known globally for his philanthropic efforts. For example, as a result of his partnership with Feeding America, he has helped serve more than 500 million meals to those in need over the course of the last five years. Additionally, it is estimated that by the end of 2025, Robbins' various initiatives will be able to feed more than 1 billion people in the United States alone.
Other ventures worth highlighting:
To help kids maximize their potential, Robbins has teamed up with a number of NGOs and charity organizations such as Youth on their Own, Promise2Kids, Reading Legacies. If that wasn't enough, he has also initiated a number of programs in around 1500 schools across the globe to help children that are in need (both financially and socially).
As things stand, Tony's philanthropic efforts have helped inmates based across more than 700 prisons throughout the United States.
Robbins and his associates are currently aligned with more than 50,000 service organizations and shelters.
As part of his foundation's effort to help developing countries around the world, Robbins is currently working to deliver fresh water to 250,000 people a day in India. The goal of this entire effort is to help ward of waterborne diseases that have been responsible for the deaths of a lot of children and infants in the S.East Asian country.
Books
As mentioned previously, Tony has authored a total of six books, four of whom are international best-sellers. In this section, we will provide our readers with a short account of what each of these books is essentially about:
(i) Money: Master the Game:
As the name seems to clearly suggest, this book is basically a 7-step blueprint that seeks to provide individuals with all of the tools and resources needed to secure one's financial freedom. As part of his research, Robbins interviewed more than 50 investors, wealth experts and industry giants (such as Warren Buffett and Steve Forbes) to help chalk out strategies that can be used to implement some of the most complex financial concepts in existence today. Lastly, it should be mentioned that the book can be used by people hailing from every walk of life irrespective of their financial backgrounds.
(ii) Awaken the Giant Within:
This book provides readers with all of the resources and insights they may need to take control of their mental, emotional, physical and financial destiny. In particular, Robbins seeks to connect with people who want to make a major change in their lives but because of various reasons, have been avoiding any sort of internal reflection or introspection.
(iii) Unshakeable:
Similar to one of his previous titles Money – Master the game, in Unshakeable, Robbins essentially adds to the various concepts that he has already tackled in the past. They include:
What are some of the best long, medium and short terms investment avenues that can be used by individuals living in different countries?
How to make business decisions without being swayed by emotional impulses.
The best way to succeed during times of financial hardship
(iv) Unlimited Power – The New Science of Personal Achievement:
One of Tony's most enduring books, in Unlimited Power he seeks to provide readers with a number of tools that they can use to develop their character, gain self-confidence and overcome their different insecurities. The book serves as a guide that touches on a number of different topics related to human well being and mental health. Not only that, but it also contains a whole host of pointers that can be used by people to maximize their social interaction skills as well as achieve their personal goals.
(v) Giant Steps:
Another self-help classic that helped turn Tony into a household name, Giant Steps looks to not only expound on his philosophies related to individual self-confidence, decision making, mental wellbeing but also tackles a number of niche' issues such as:
How to set goals and achieve them?
The core difference between a career, business, and economic goals.
How to succeed in today's cut-throat work environment?
(vi) Notes From a Friend:
First published back in 1991, Notes from a Friend can be thought of as a guide/manual that contains some of the most important tools and techniques that Tony himself has used in the past to transform his life. And while the book may not be as popular as some of his other titles, it is one that is definitely worth checking out for people looking to get rid of their unhealthy lifestyle habits and destructive habitual tendencies.
The Legend Continues to Grow
Even though Tony is on the verge of becoming sixty years old, his popularity continues to increase with each passing day. This is in part due to his immense charisma and caring demeanor (that have helped transform the lives of millions of people). In 2020, it is expected that Robbins will participate in a number of fundraising, charity initiatives across Asia and Africa.
Click Here to Join Tony Robbins Knowledge Broker Blueprint Event
Knowledge Broker Blueprint FAQ Recap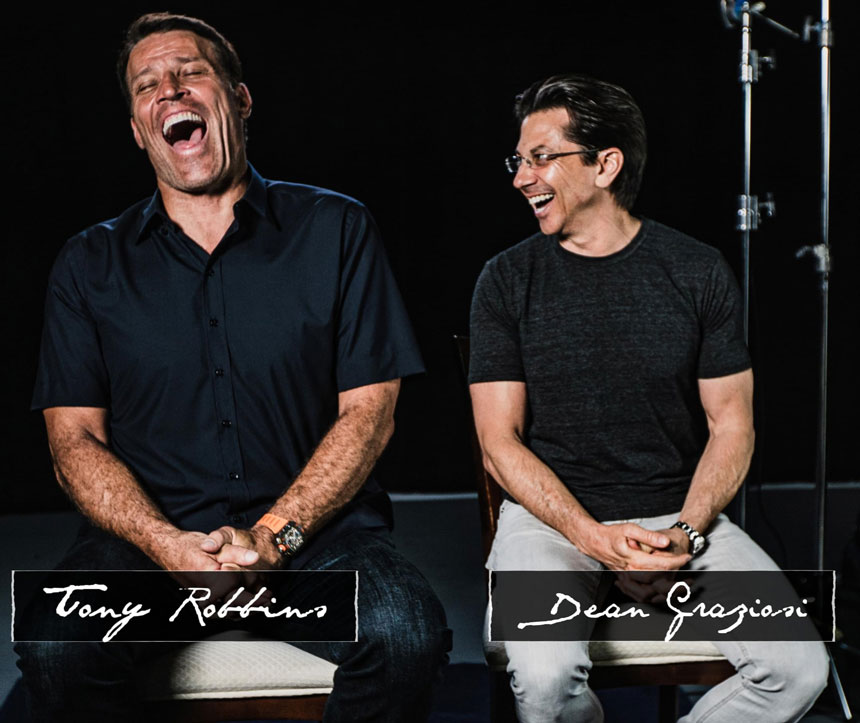 Whew, that was a lot to take in – from learning about Knowledge Broker Blueprint launch to the incredible life story of Tony Robbins – now let's recap all of the pertinent details and answer the most pressing questions in summary format:
Q: When is Knowledge Broker Blueprint?
A: The free live broadcast event in webinar format for Knowledge Broker Blueprint is scheduled to take place on February 27th, 2020 at 8PM EST. The KBB 2.0 webcast training will be ran by Tony Robbins and Dean Graziosi where the two mastermind coaches will lead an online workshop breaking down all of the enhancements, changes and upgrades made in the course, software and coaching program for Knowledge Broker Blueprint.
Q: What is Knowledge Broker Blueprint (KBB 2.0)?
A: Knowledge Broker Blueprint's core focus is to train, provide tools and create a community of entrepreneurs. The e-learning blueprint on becoming a Knowledge Broker will be revealed by Tony and Dean as a way to take your personal passions, expertise and worldly insights and turn them into profits. Over 20,000 people joined Knowledge Business Blueprint (KBB 1.0) back in April 2019 and since then the legendary entrepreneurial leaders have revamped the course and software to create the GOLD STANDARD when it comes to extracting knowledge and applying it into the real world for creating a living based on what you already know today. Whether launching as a beginner or scaling as an expert, Dean and Tony's Knowledge Broker Blueprint is a sure-fire bet to be a cut above the rest when it comes to quality, integrity and purity.
Q: Who is Tony Robbins?
A: Tony Robbins needs no formal introduction as he is a self-educated pioneer when it comes to engineering your best life. As a motivational speaker, best selling author, business consultant and self-help guru, Tony has enjoyed massive success dating all the way back to the 1980s and 1990s. From hosting high energy seminars to helping people walk across broken glass, Mr. Robbins is one of the most trusted names in the personal development industry and has one of the best track records you could ask for as far as training, coaching and masterminding with. Thus, Tony not only created Knowledge Broker Blueprint, he fully endorses and supports it and is the top catalyst for the reason why the KBB 2.0 community is flourishing in 2020.
Q: Who is Dean Graziosi?
A: Dean Graiosi is no add-on side-kick to Tony Robbins, they are equal partners in creating both Knowledge Business Blueprint and now Knowledge Broker Blueprint. Much like his friend Tony Robbins, Dean has a decorated track record of being celebrated as an author, investor, trainer and entrepreneur. In many respects, he went from zero to one hundred in terms of the wealth spectrum and is most known for his creation of Millionaire Success Habits, Motor Millions and Think A Little Different prior to creating Knowledge Broker Blueprint. Sir Richard Branson calls Dean Graziosi the type of entrepreneur who makes the world a better place and his partner Tony thinks Dean is literally a genius and enjoys his authentic genuineness for helping people create success in their lives.
Q: Why is Joining a Mastermind Program So Important?
A: Tony Robbins and Dean Graziosi are launching Knowledge Broker Blueprint from the Mastermind.com website as it represents what the core pillar of the program is all about; training course, tools, and coaching. A singular mastermind is defined as a person with outstanding intellect, and so when you combine multiple masterminds, you have a group of exceptional individuals all contributing towards a common cause and goal. In this case, Mastermind.com and Knowledge Broker Blueprint are building a community of like-minded entrepreneurs who are seeking to create financial success in life through online business strategies and tactics not share outside of the KBB family. As Tony and Dean are both brilliant thinkers with original ideas, Knowledge Broker Blueprint is the accumulation of first-hand experience, insight and wisdom that everyone can learn a thing or two from in life.
Knowledge Broker Blueprint Review Summary
When Knowledge Business Blueprint first launched 10 months ago, it broke the internet. Now, fast forward to the new 2020 decade, Tony Robbins and Dean Graziosi's Knowledge Broker Blueprint is putting the whole online business training industry on notice with a no fluff, all mint-condition stuff approach to creating success in life.
Everyone who had the privilege and honor to partake in KBB 1.0 will be the first to tell you how impactful and insightful it was as a whole. And now, Knowledge Broker Blueprint is the all-new and improved virtual learning party lead by two of the most respected and recognizable names in the game. Tony Robbins and Dean Graziosi both know e-learning is the future and will be a multi-billion dollar industry in the new decade.
That is why the Knowledge Broker Blueprint is designed to be a movement focused on impact by helping each of its members extract their best knowledge and skills and transform it into a successful business. As always, it is highly recommend to research other Knowledge Broker Blueprint reviews to gain another perspective and gather more intelligence on what KBB is all about.
But, in the words of Knowledge Broker Blueprint's creators, Tony Robbins and Dean Graziosi – "this mission is something that holds a lot of meaning to both of us" – and in the words of GainBitcoin, we highly encourage everyone no matter what level of business involvmenet you are in to at least attend the free live broadcast event on February 27th, 2020 at 8PM EST and find out what is KBB 2.0 is all about. We will be there in the 'front seat' watching and hope you partake in an industry-shifting movement known as Knowledge Broker Blueprint.
Click Here Now to Get Registered for Knowledge Broker Blueprint