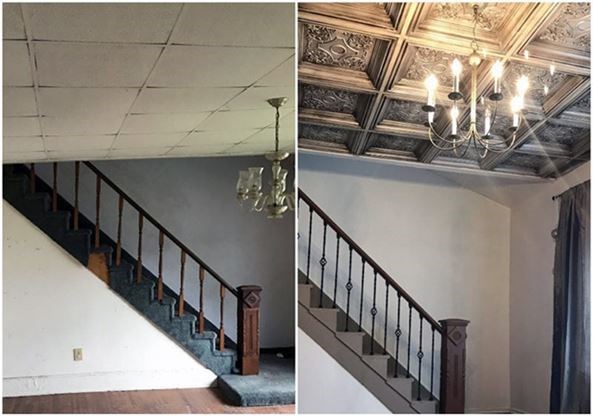 Talissa Décor: Bringing interiors to new dimensions
Ceiling tiles and wall panels are the perfect decorative choice for anyone looking to upgrade their space quickly and hassle-free. Interior spaces can truly benefit from the elegant designs and patterns offered by these unique products. No matter if you're going for the traditional look or if you're after a hip, modern interior, ceiling tiles and wall panels can help you bring your vision to reality.
The greatest quality of ceiling tiles and wall panels is that they are extremely easy to install, which is why they are so popular among DIYers. They can either be installed via drop-in or glue-up method, both of which don't require previous installation experience or special tools. Plus, the design options are limitless. You can follow a theme to achieve an authentic look or add variety to make the area pop. The best thing of all is that ceiling tiles and wall panels look great in both residential and commercial areas, so it doesn't matter if you're looking for something for your business or home; the options offered by these products will certainly satisfy your needs.
The traditional look
Faux tin ceiling tiles are perfect for achieving that traditional look that you mainly see in specialized restaurants and unique shops. Very popular among restaurant and nightclub owners, faux tin ceiling tiles are the solution you need to create a unique experience among visitors. You can also mix and match various patterns for better emphasis.
The modern approach
Giving a modern touch to your space doesn't have to be complicated. In fact, all it takes is some imagination and a good choice of wall panels or ceiling tiles. For example, you can easily create an accent wall with one of the many 3D wall panel designs available at Talissa Décor, or you can mount a few faux-leather wall panels on a wall of choice and create the perfect accessory.
A festive look
Nothing can achieve that celebratory atmosphere like the smooth and elegant design of ceiling tiles and wall panels. Silver and white tones go great in weddings, and you can mix and match several patterns to achieve the look you want. If you're looking for something more luxurious, then copper and golden tones are the ideal choice for you. Plus, you can customize the look of the space even if you can't find the right colour, because some ceiling tiles and wall panels can be repainted with ease.
Great for popcorn ceiling cover-ups
If you want to redecorate a room, the ceiling is a good place to start. Ceiling tiles are ideal for makeovers because you can use them to cover up popcorn ceilings, water stains or anything else that might be affecting the appearance of your space. Before you know it, you could have a new ceiling installed with no plastering and painting needed!
Talissa Décor is an exclusive distributor of ceiling tiles, wall panels and other decorative solutions for your commercial or residential space. To see the numerous decorative options of both ceiling tiles and wall panels, visit Talissa Décor's online shop at www.talissadecor.com.
Talissa Décor has two showrooms in Toronto:
850 Magnetic Drive
North York, Ontario, M3J 2C4
Improve Canada Mall
7250 Keele Street, Unit 145
Concord, Ontario, L4K 1Z8