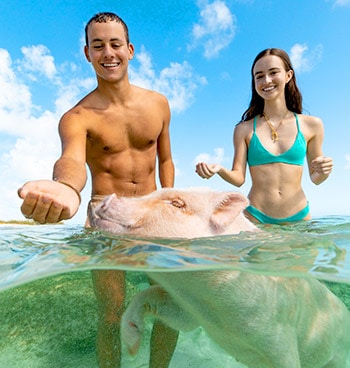 Swimming Pigs. Rose Island, Bahamas.
Originally posted on https://www.sandytoesbahamas.com/swimming-pigs/
Only 25 minutes from Nassau/Paradise Island
The Bahamas Swimming Pigs are quite well known in the beautiful islands, and you may have thought you had to travel so far to see them; Not anymore! Sandy Toes is home to a sanctuary of protected wildlife including our Royal Peacocks, curly tail lizards, ocean reef life and our beloved "farm – saved" beach going, swimming pigs!
Meet Babe, Wilbur, Pumba, Larry, Curly, Mo, Ginger, Pepper, and Spice our 9 awesome Rose Island piggies! These big guys and some little guys are vet checked and cared for on the regular, and only given the cleanest diet served with plenty of love, sunshine, and sunscreen (yes, sunscreen!) With tons of space to run around, the ocean next door to take a dip in, and a protected and shaded pad to call their own, they're living the dream on Rose Island! Come see for yourself!
The swimming pigs are part of our Full Day Excursions from Nassau to Rose Island. The experience (which is totally optional) is included in your price along with access to the island, snorkeling, lunch, and all of the other amazing Sandy Toes amenities already available to our guests!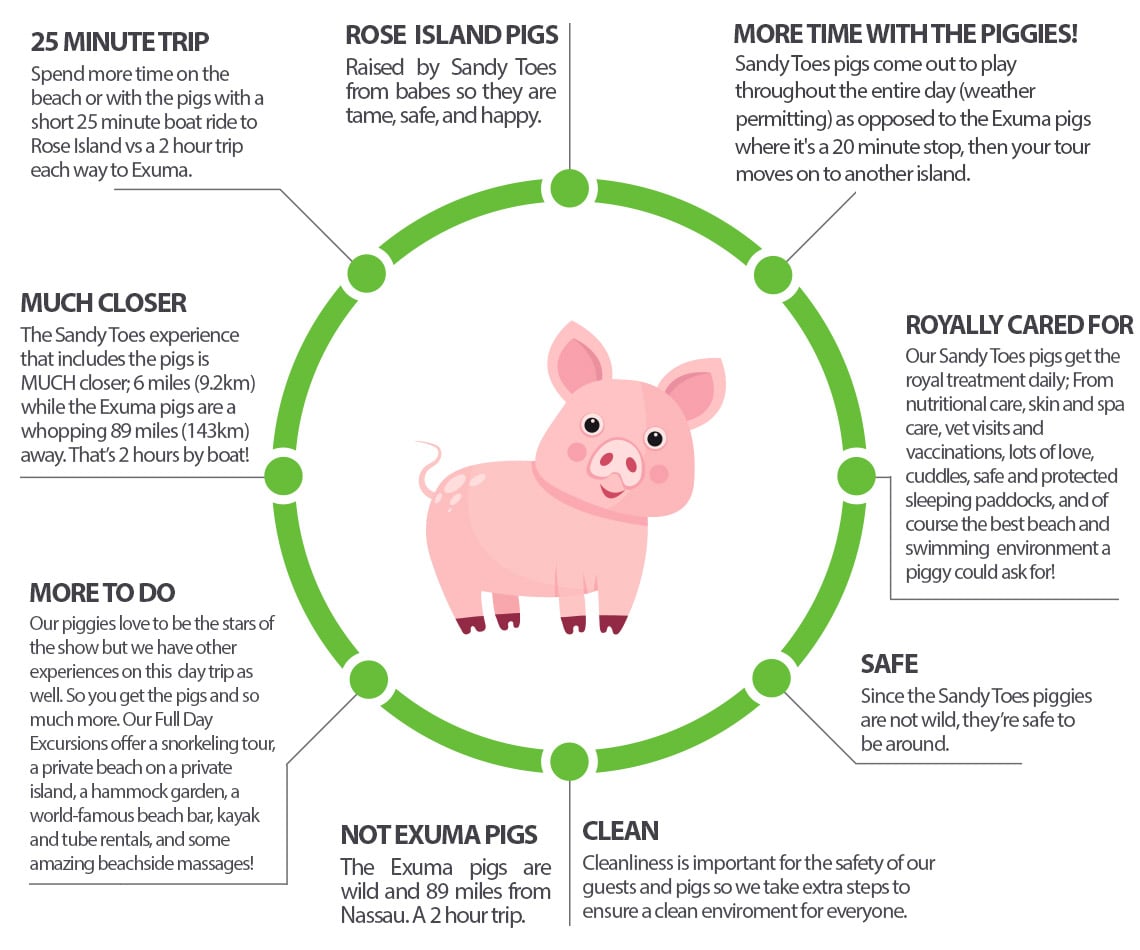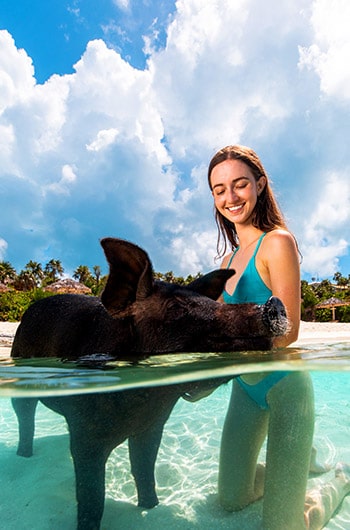 Swimming With Pigs.
Looking for a way to experience swimming with the pigs without traveling 4 hours and still get all the fun in the sun action of a full private island experience? Look no more! Sandy Toes has an action packed day and the added bonus of the pig experience. Here's how the day goes:
Book Your Day Pass with Sandy Toes
Take a quick 25 minute trip from Paradise Island to Rose Island while touring Nassau Harbour
Land on Rose Island and welcomed by the friendly staff and a welcome drink
Enjoy to your hearts desire with Beach Volleyball, Kayaking, Snorkeling, Tanning, Massages and much more.
Check out our world famous beach bar for some of our world famous drinks Sandy Toes Beach Bar
Lunch (or more drinks)
Play with and feed the swimming pigs
Back to Nassau on a quick boat ride

What You Need to Know About The Swimming Pigs
As if your day wasn't action packed enough with the Sandy Toes day excursion, we've thrown in some face time with some of the most lovable animals you'll ever meet. They love the attention and we provide healthy, hearty snacks for you to feed them with while you get your swimming pig selfies.
A Day in the Life of the Pigs
Here's a quick video to show you a part of your day excursion as you get to feed the piggies. Our day excursions fill up fast so make sure to book in advance!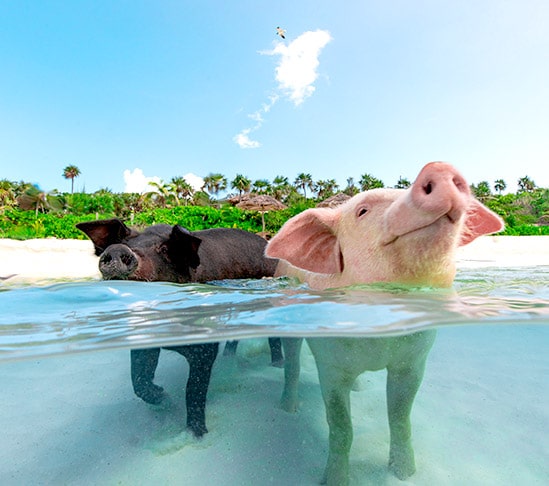 Can you swim with the pigs in Nassau?
The answer used to be no, until now! If you're staying at Atlantis, Baha Mar, AirBnB or anywhere on Nassau, in a quick 25 minute cruise up to Rose Island, the answer is yes! We're all waiting for you! *
* This attraction is only available on the Sandy Toes Day Excursions. Sandy Toes is a private venue and not open for charters. Any inquiries please send us an email at [email protected] or call us at 363-TOES.
*All amenities, including the swimming pigs, are weather-permitting. The swimming pigs experience may not be available on certain days for these reasons. In the event the swimming pigs experience is not available and the swimming pigs cannot swim with guests, no compensation on the excursion will be given, as this experience is an optional activity available at Sandy Toes, and not a guaranteed activity. Should weather permit, interactions on the beach will still be available. Other terms and conditions may apply. All guests will be required to sign a liability waiver.