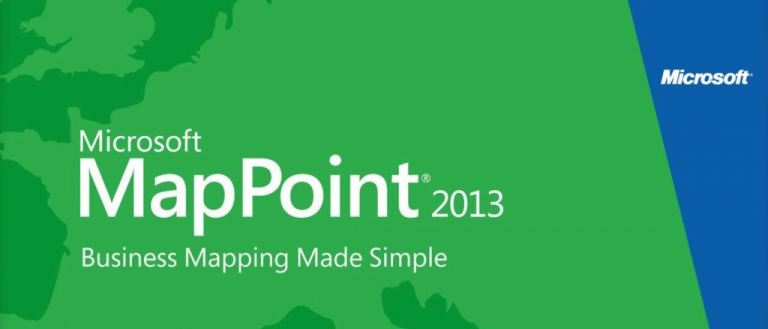 SPOTIO, Your MapPoint Alternative
What Was MapPoint?
Just before the turn of this century, Microsoft released MapPoint, a mapping software that helps your team navigate unfamiliar sales territories. MapPoint grew from a consumer version launched in 1988 by NextBase, a group of promising software developers working out of their garage in the UK. In 1994, Microsoft purchased the software originally built to run on DOS-computers.
While other software programs focused on navigation, MapPoint was unique in that it included geographic analysis. In fact, per Chron, Microsoft's Streets and Trips, the consumer version of the software, was a pared-down version of MapPoint.
Users of MapPoint could not only get where they want to go, but they could also add business data, including sales trends for the area and even individual salespeople's success rates in the area.
Perhaps most importantly, MapPoint had features that could target potential customers and markets based on geography. Proponents of the program appreciated how it could help with planning and forecasting with real geographic and demographic information.
MapPoint was self-contained, meaning all the data was built into the program without needing anything online. In other words, it didn't need the Internet—and it came on a CD ROM.
MapPoints' most notable functionality:
– Route planning
– GPS tracking
– Territory management
– Reporting
– Mileage tracking, drive time estimation, and expense calculators
Why was MapPoint discontinued?
Despite MapPoint's popularity in the U.S. and Europe, MapPoint mapping software was discontinued at the end of 2014. Technical support ended in 2015. At the same time, Microsoft also closed down Autoroute, a popular European version of the software. Commercial (or business) mapping software just didn't have the appeal any more as it once did.
By that time, Microsoft put their support behind Bing Maps, its web mapping service which was part of its Enterprise framework. The move to discontinue MapPoint and Streets & Trips came at a time when CEO Satya Nadella said that Microsoft would "be re-evaluating products and processes that don't make sense for the company's future."
If you liked MapPoint, you're going to love this…
Replace MapPoint and accelerate your sales performance
SPOTIO, Your MapPoint Alternative
Outside sales people are turning to SPOTIO because it combines the familiarity and benefits of MapPoint with more modern functionality with an additional set of features. Features only offered by SPOTIO include: Android/iPhone/iPad compatibility, calendar and CRM integration, mobile enabled, custom fields, daily planner, team accountability, and leaderboards… just to name a few.
After a 20-year run they ended things by recommending those using the tool to turn to PowerBI for Excel and Sharepoint in order to visualize their business data on a map. But there is something better… SPOTIO, your alternative to MapPoint.
A few reasons salespeople used MapPoint:
1. Organization and advanced preparation
2. Optimized routes to save drive time and gas money
3. Route editing and historical customer data on the go
For a product with so much support, you'd think there would be more to it. But, MapPoint was far outdated and required computer access to utilize, and as a result, an alternative to MapPoint became a priority for its users.
7 Important Gains by MapPoint Closing
MapPoint Alternative #1 | Advanced Data & Analytics
SPOTIO's dashboard provides instant insight for each individual team member. Determine where your sales reps have the most room for improvement. After coaching them, monitor their performance using live metrics to easily visualize and analyze their progress.
– See team performance in relation to your sales funnel
– Reflect data from custom statuses and fields based on KPIs
– Graphs represent team performance, best time and day to knock, and more
– Know the number of attempts it takes to establish contacts, get leads and make sales
– Different views available so you see the data in a way that makes the most sense
– Get automated alerts based on parameters you set
MapPoint Alternative #2 | Live Updates In Real-Time
SPOTIO's data is live and updated in REAL-TIME. MapPoint was installed and only able to be accessed from a PC.
Whether it's rep location, customer status, or user data, every piece of information that you have changed is immediately reflected in the platform. This real-time insight is valuable. It increases revenue, maximizes profitability, and boosts productivity.
Real-time knowledge backed with recorded data creates usable information to make immediate decisions to effectively manage your team.
MapPoint Alternative #3 | Access From Any Device
Take advantage of SPOTIO's complete feature set. It's robust, yet extremely easy to use no matter which device you prefer. You can download the SPOTIO app on the App Store, Google Play Store, or use the web app for larger administrative tasks.
With access on any device you can:
– Collaborate with management
– Schedule and book appointments
– Use the in-app chat
– Click-for-directions
– Click-to-call
– Click-to-text
And more!
MapPoint Alternative #4 | Complete Visualization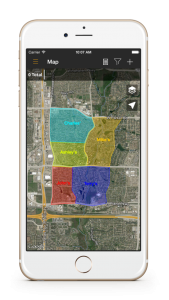 Trying to access your sales funnel in the field to determine where you're going next is difficult if your just using a list. SPOTIO equips salespeople with the tool to do both. See every prospect and customer's geographic location on the map or view them in a list format.
Because SPOTIO is 100% customizable to your sales process, you can sort and filter as much as you'd like. Searching for those hot leads is now a breeze and viewing your entire funnel has never been easier.
Create notifications to alert you when you haven't visited a prospect in a certain number of days or trigger an email campaign based on your specifications. Never have another lead slip through the cracks again.
MapPoint Alternative #5 | Unlimited Integrations & Customization
We understand the importance of each company's sales process and know that each one is unique. To match this level of adaptability, SPOTIO integrates with over 750 different applications to keep you as lean and efficient as possible.
Customize any field or status in the app, or create your own if you don't see what you need. Send pins to dozens of CRM's and continue automating your sales process to make your sales organization more productive than ever.
Some of the cool things you can do with automation:
– Appointment reminder texts / emails
– Handwritten thank you letters
– Email new sales to management
– Collect electronic signatures
– Create new Trello cards
Our most popular integrations include:
MapPoint Alternative #6 | Lead Machine
A convenient tool located within SPOTIO is your one-stop-shop for identifying strong leads and managing sales and canvassing territories based on reliable, up-to-date data. Capturing leads is easy:
draw your ideal areas, choose your target your customer profile, specify your ideal customer, narrow your search for leads, and automatically import into SPOTIO.
SPOTIO's Lead Machine allows you to identify key territories and target qualified potential customers in a matter of seconds. From age to location to home square footage and household income to the type of dwelling and the ability to search the home's purchase date, Lead Machine offers 50 unique data points to specify your ideal customer.
We triple-verify this information to ensure its accuracy and make sure you're not blowing money. SPOTIO's Lead Machine currently touts a 95% accuracy rating.
MapPoint Alternative #7 | Sales Rep Tracking Made Easy
Have you ever wanted to know if a sales rep was where they said they were? It's now possible with live GPS tracking. Just push the "Find My Team" and watch the magic. MapPoint doesn't hold a candle to this level of accountability.
SPOTIO provides the exact location for each salesperson on your team every 2 minutes. You'll get real-time knowledge of: 
Location – Track sales reps to know if they are where they're say they are.
Status – Know the result of interaction or non-interaction with customer.
User – Identify specific email address of sales rep.
Date & Time Stamped Data – Know the exact day and time a pin is dropped.
"Map It" – See exactly where a pin was dropped in relation to where the rep's device was pinged.
Here are few additional features solidifying SPOTIO as the number one MapPoint replacement on the market:
Territory Performance Dashboard
Unlimited Territory Management
Customizable Sales Funnels
Verified Pins
Mobile Enabled
SPOTIO is the best MapPoint replacement option
Not only will SPOTIO enable your sales team to increase productivity by 46%, but we can identify inefficiencies in your sales process. Plus, you can see what's working (and what isn't) by tracking the team's performance. Let us show you how using SPOTIO's software by targeting and managing the territories you create can drive more revenue for your organization.
Difficult situations often result in great opportunity for change and progress. MapPoint paved the way for technological advancement in outside sales and SPOTIO is continuing that trend.