SEO Trends for 2020 that Your Winery Needs to Know
There's nothing like search engine optimization to provide your winery with a steady stream of customers ready to taste and buy your wine. However, in order to optimize your winery website for search, you're going to need a few tricks up your sleeve.
In this guide, we'll show you everything you need to know about winery SEO in 2020. From recent developments to applicable tips, you'll become a lot more competitive.
If we could explain SEO in three words for 2020, it would be:
And if you want to optimize your winery website for search, you should keep them in mind as we traverse the road leading us to the brave new world of search.
First, video and visuals are powerful. People remember information gauged through visual stimuli more than written information. You could say our brains are wired to remember visuals better than texts.
Secondly, we're increasingly using our phones to search for things we're interested in. Mobile accounts for almost 50% of web traffic. If your potential customer starts thinking about joining a wine club, they're not going to wait to get home. Instead, they'll pull up the information they need on their phone.
And finally, your customers know exactly what they're looking for, and they expect your content to match their intent. 46% of searches have local intent, and for every personalized piece of content, your chances of winning new customers increase.
So, how do you make sure that your customers don't just find your website, but stick around and buy your wine?
Understanding Search Intents
Let's say your potential customer is going back home from work, and there's nothing they'd like more than to unwind with a glass of their favorite wine. They don't have wine at home, and they can't stop at the grocery store. So they remember something a friend once mentioned: wine clubs with free trials. They pull up their phone and type in the following search query:
"Wine club free trial."
They'll be met with the following results: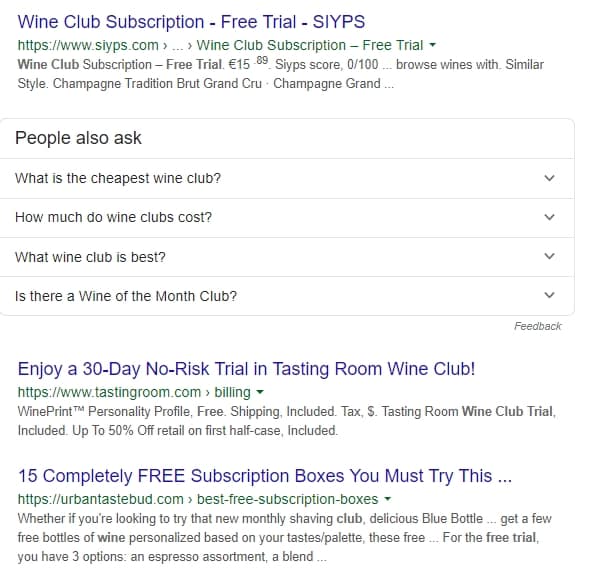 Which one do you think they'll click on?
Likely, one of the first two. They explicitly match the searcher's intent.
The customer came to the search looking for wine clubs with free trials, and these search results provided exactly that.
If they click through, they'll love TastingRoom's site.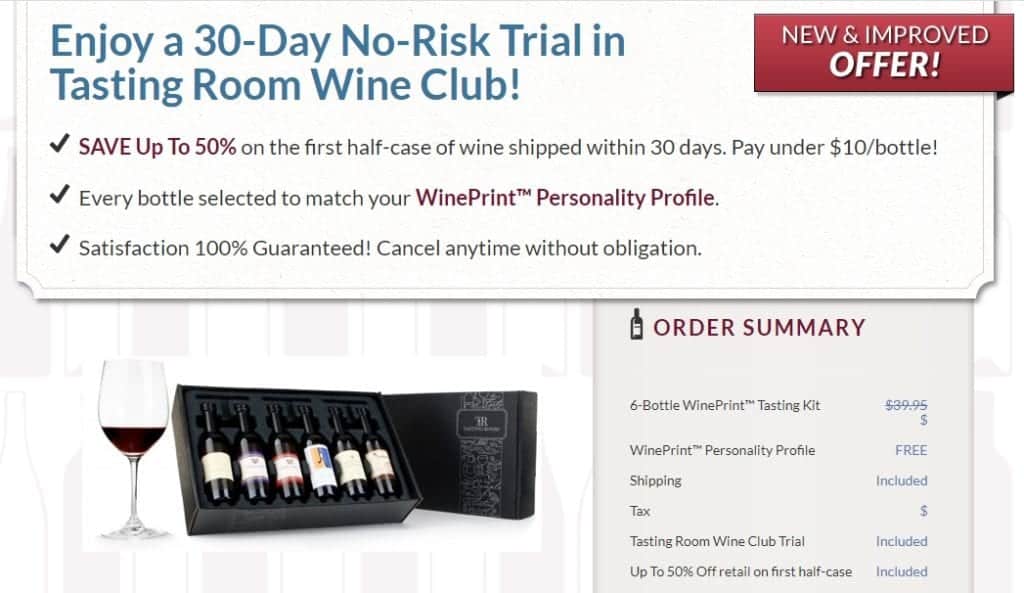 The landing page completely matches the intent, offers discounts, and provides ample room for personalization according to customer preferences.
How to Optimize Your Winery Website for Search Intents
Every keyword comes with an embedded search intent:
"What are wine clubs?" & "Best wine clubs 2019" – Informational intent. Your potential customers want to educate themselves.
"Tasting Room wine club" – Navigational intent. The customer already knows which wine club they want to join.
"Wine club free trial" – Transactional intent. The customer wants to join a wine club immediately.
In order to boost your sales, you should focus on transactional keywords and search queries such as:
Wine club free shipping
Wine club free trial
Join a wine club
Wine clubs [your (shipping) area]
Wine club membership
Wine club subscription
Any search query that contains keywords signaling that the searcher is ready to join a wine club should be considered.
Take it a step further by creating relevant landing pages.
For example, if your potential customer searches for "wine club membership Napa" and sees the following search result (which matches their intent), they'll expect the landing page to follow suit, reiterating what was promised in the search: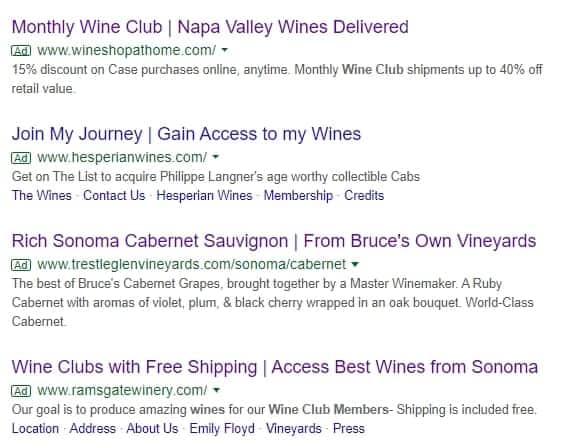 Out of these four results, the first one matches the intent.
The other three either redirect to other irrelevant pages, making the searcher lose interest.
However, Wine Shop sends searchers to a relevant landing page.
Make sure you match searcher intent in your search results, as well as on your landing pages.
Stand out with Featured Snippets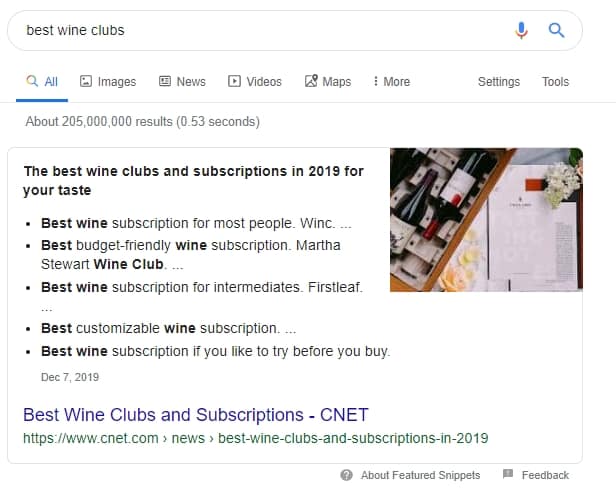 In a sea of similar search results, wouldn't it be nice for your winery to stand out and grab the attention of your potential customers from the get-go? By optimizing for Featured Snippets in search, you can make sure you're the first thing your potential customers notice.
How to Optimize Your Winery Website for Featured Snippets
Featured Snippets normally appear for search queries that contain questions. If your potential customers often pose similar questions, Google will find pages that give the best answers.  Like in the example shown above, you should create pages and posts responding to your customers' frequent questions. First, find keywords you already rank highly for, and keywords that either have Featured Snippets already or have FS potential.
You can use Ahrefs.
Then, add what Brian Dean calls "snippet baits" to your content.
For example, if you're writing an explanatory article about wine clubs for wine beginners, you'd have a section such as:
What Is a Wine Club?
A wine club is….
Format your content for Featured Snippets.
Normally, Featured Snippets are pulled from content that is formatted as:
A FAQ section
A list
A table
Use headings and subheadings to clearly mark questions of interest, and corresponding answers.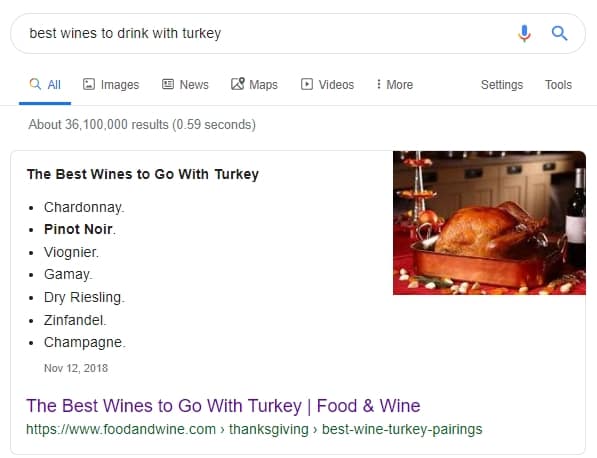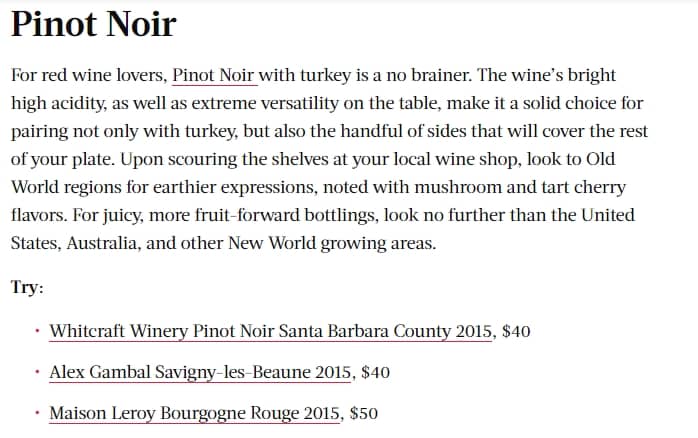 In this case, this website neatly organized the content around pairing wine with turkey dinners. They appeared prominently for relevant search results.
Improve Your EAT Score
No turkey dinners involved in this one, folks!
EAT score stands for:
Expertise
Authority
Trustworthiness
In short, EAT shows how reputable Google finds your site.
Google will perceive your reputation improvement as a signal that you're consistently offering quality results to searchers. Consequently, your content will rank higher in search results.
How to Optimize Your Winery Website for EAT
As a winery owner or its marketing manager, you're not in one of the key categories where EAT score can make or break your website. For example, medical and legal fields are under scrutiny.
However, you should still show the bots and your customers that your website offers high-quality information. After all, it'll give you a winery SEO boost.
First, add author boxes.
Whenever you publish a post, include an author box describing the writer of the content:
Consider Kendall Jackson's simple author box that goes a long way:

Create detailed and specific "About Us" pages. Make sure your contact information is easy to find.
It's best to link to about and contact pages from main menus. You can also add quick buttons to the footer. State any awards your winery (or your related programs) may have won.
Link to reputable sources within your content.
For example, if you're discussing statistics of wine consumption or harvests, link to a relevant source.
Your EAT score will flourish if you're cited on and linked to from trustworthy websites.
For example, if you operate a winery in California, a link from California Winery Advisor or similar industry resources would be extremely beneficial.
In general, your EAT score is closely linked to your branding. The more reputable your winery is, the higher will your EAT score be.
Other ways to improve your EAT score are:
Nurture relationships with press and critics
Use SourceBottle to connect with press
Respond to reviews and engage customers on social media
Connect with (industry) influencers followed by your potential customers, to both amplify the reach of your content and generate sales directly
Improve your social mentions: monitor conversations about your winery on social media with tools such as Mention and Google Alerts
Make Your Winery Website Flawless
Google pays particular attention to user experience. You should primarily offer helpful, relevant content to searchers.  However, your website should have the appropriate framework. Namely, your winery's website has to be lightning-fast and secure if you want to improve your search rankings.
How to Optimize Your Winery Website
If you want Google and searchers to take your website seriously and consider buying your wine, you should first get a padlock, but not just any old padlock.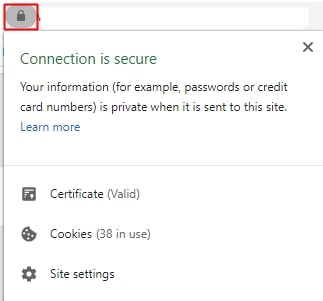 You'll need the HTTPS padlock.
It shows that your website has a working SSL certificate. SSL certificates secure the connection between your website and your visitors and prevent hackers from tampering with your and your customers' data.
When a customer sees your website is marked as secure, they'll be more likely to follow through with their purchase. Otherwise, they'll receive a notification that your website is not secure. Their browser will advise them not to enter any sensitive information. If they planned on entering their billing information, they'll be advised not to proceed.
Under the California Consumer Privacy Act, you'll also have to create a privacy policy and pay attention to how you process consumer data. Make sure you consult an expert to comply with the requirements.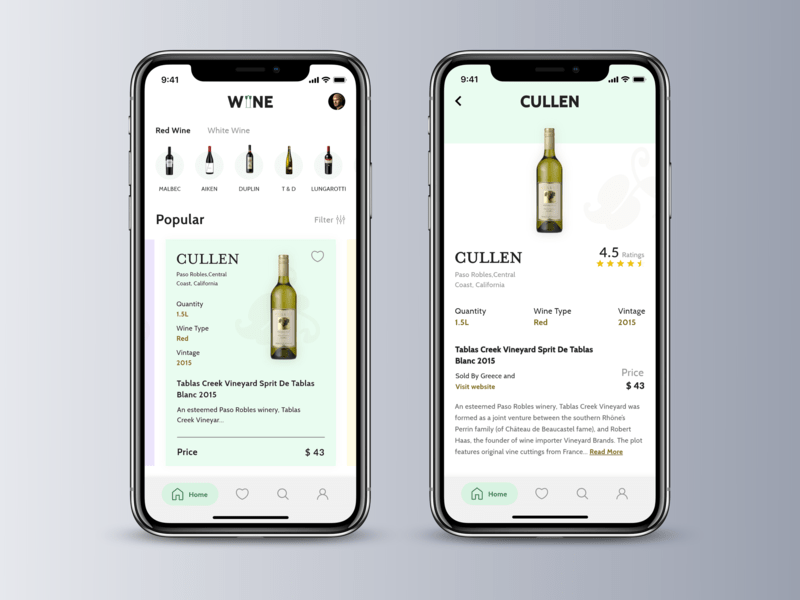 Source: Reshu Bisht
Implement responsive web design that adapts your website to different devices.
More and more customers are using their phones to find great wineries and wine clubs. And regardless of their device, you need to provide them with a seamless user experience.
Additionally, Google has recently rolled out mobile-first indexing. Your website performance (which is also a ranking signal) score will be based on the mobile versions of your website, not desktop.
Make sure your winery website is mobile-friendly:
Optimize images
Improve your website speed
Display important information on your mobile website version
Use light menus or breadcrumb menus for seamless user experience
Host videos on YouTube or Vimeo, don't upload them directly to your site
Finally, make sure that your content matches the searcher intent. This way, you'll make sure that your potential customers click through and dwell on your website.
And speaking of dwelling…
Dwell Time and CTR Are Vital to Your Winery SEO
CTR (click-through rate) and dwell time are the two most important ranking signals for search optimization.
CTR measures how many searchers clicked on your search results in SERPs (search engine results pages).
Dwell time shows how much time searchers who clicked on your results in SERPs spend on your website.
Google's main presumption is that the more people click through on your results, the more useful they are. And the more time they spend on your winery website, the more will Google perceive it as a highly valuable resource.
Consequently, Google will display your pages to more searchers.
How to Optimize Your Winery Website for CTR
The first step to improving your CTR is writing really good meta descriptions: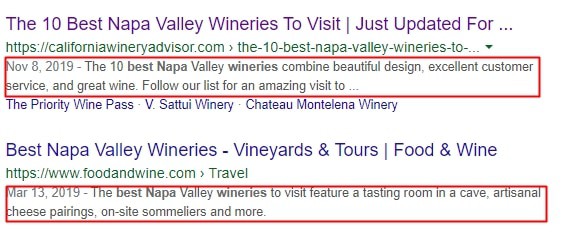 Include the target keyword/search query to match the searcher intent
State the most important information in the first 120 characters
Emphasize the benefits (e.g. Free shipping for a wine club)
Include a call to action (e.g. Sign up now!)
Good meta descriptions will both match the searcher intent (e.g. Your potential customer is looking for a winery in Napa, and you stated that's your location) and entice customers to click through by emphasizing the benefits.
Use long-tail keywords.
Long-tail keywords allow you to reach the exact customer groups you need to find.
Long-tail keywords can contain:
Three words or more
Locations
Varietals
Other perks and features (e.g. free shipping)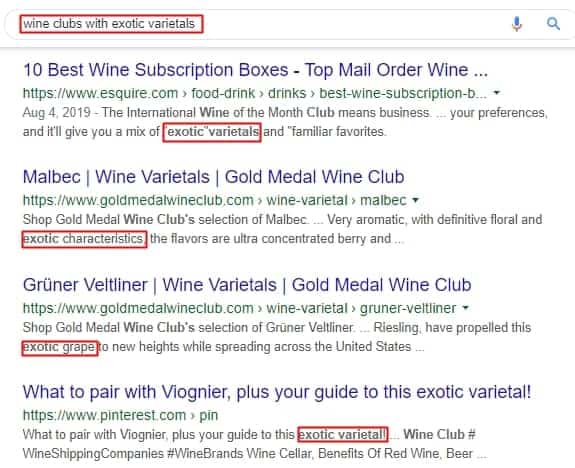 It's best to target bottom-of-the-funnel prospects with long-tail keywords. You'll increase your CTR and your sales. Additionally, long-tail keywords aren't as competitive as big, general keywords. They're a great choice for winery PPC advertising, as well.
Implement Schema markup
Implementing Schema is a great way for your results to catch the eye of your potential customers.

Wineries can make their SERP meta descriptions more engaging by implementing Schema markup for wineries:
Reservations
Price range
Ratings and stars
Brand
Awards
Founding date and location
And much more.
Rich snippets will make your search results more prominent.
Consequently, your CTR will improve.
This use of structured data can also help you land Featured Snippets, as you'll effectively tell Google how different content elements on your website serve the searchers.
Use descriptive URLs.
URLs are another prominent part of search results that can help you increase your click-through rate.

A potential customer looking for free wine tastings in London only needs to take one look at this URL to know everything about the event; from the region to the perks.
Conversely, if you'd only used a boring URL that doesn't match searcher intent, the prospect would be less likely to click on your results.
With descriptive URLs, your prospects are seeing confirmation of their intent everywhere they look.
Operating locally? State it in your headline.
The number of "near me" searches has risen dramatically in the past few years. Capitalize on that by including your region in your title or meta description, especially if you're located in one of the prominent wine regions.
How to Optimize Your Winery Website for Dwell Time
Once you've made your prospects click on your search results, it's time to make them stay on your website.
The golden rule is:
If you promised it in the search results, make good on it in your content.
Let's say that the title and the meta description of your page state that you have a wine club with exotic varietals and free shipping. When a searcher clicks through to your website, they want to see relevant content in front of them. They don't want generalized pages. They don't want to spend minutes navigating your website to find information about your wine club. They want information, and they want it now.
Make sure that your headline, meta descriptions, and landing pages match the searcher intent you are targeting.
[Please embed: 13 and 14]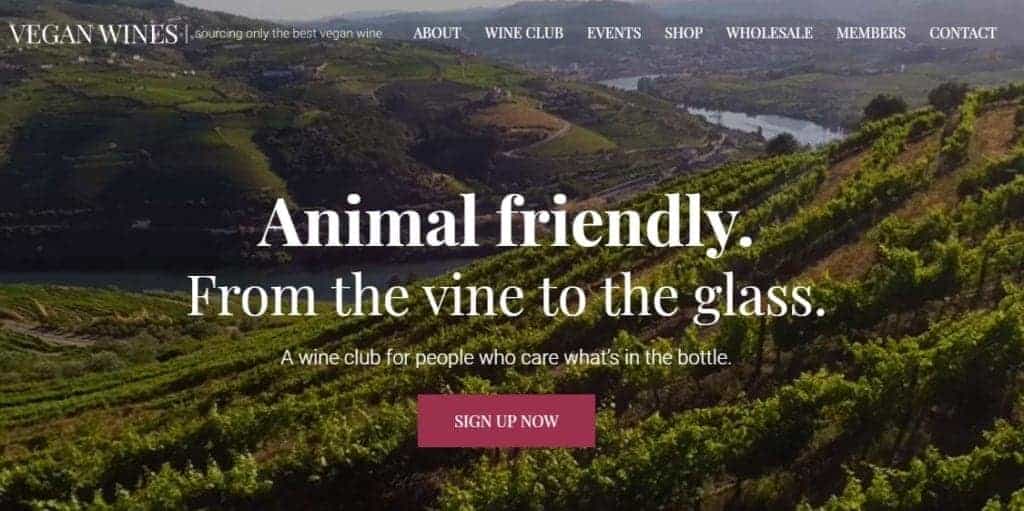 This vegan wine club emphasizes their main quality from the get-go. And when the vegan wine aficionado clicks through to their website, they'll be met with the reiteration of their search query: vegan wine club.
If you want to make sure visitors explore your website, make it informative.
The aforementioned Vegan Wine Club also has helpful and educative segments on the landing page, all to explain the benefits of joining their club.
Use video to keep your prospects hooked.
If you clicked through to Vegan Wine Club, you'll see that they have videos on their landing page. This keeps the visitors on the site longer. Consequently, dwell time and conversion likelihood increases.
Design is everything.
Written content aside, the first thing your potential customers see will be what either keeps them on the page, or makes them leave.
First impressions matter.
You can use a beautiful hero image to announce your wine club, an impressive statement, or pose an enticing question to your prospects.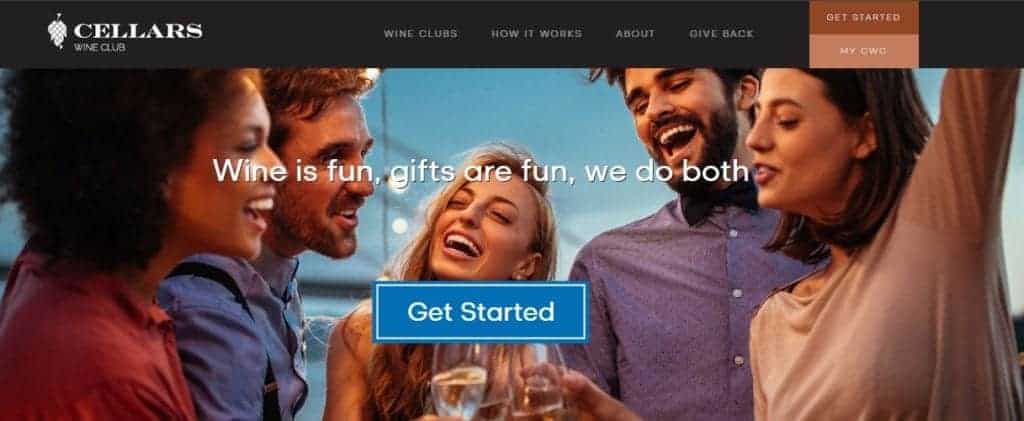 Cellars use a featured hero image depicting smiling faces with an appropriate tagline evoking fun. And nothing makes people more likely to explore your website than seeing people have fun while drinking your wine.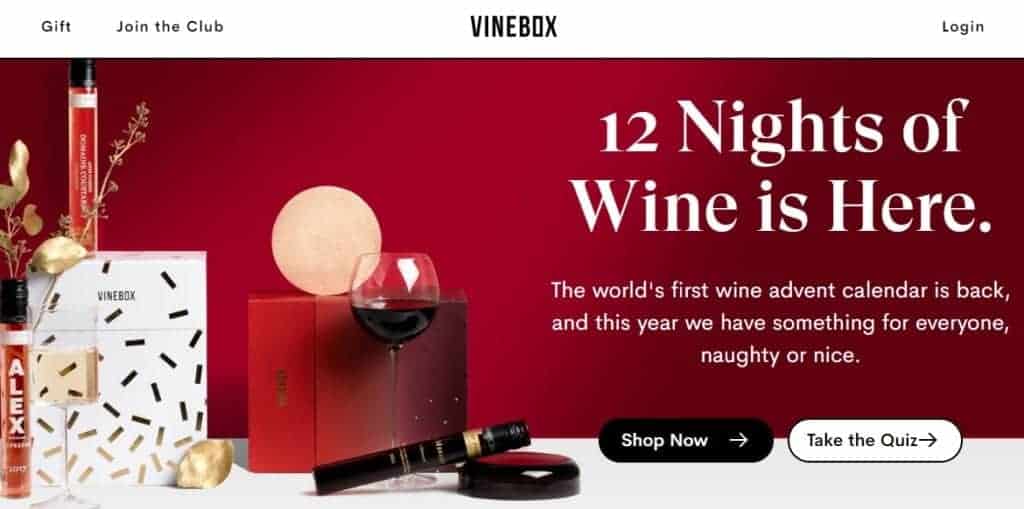 Vinebox have fun with holidays with a catching description. Pay attention to how they have two CTAs: "Shop now" and "Take the quiz."
There's nothing like a quiz to keep your prospects on your site longer.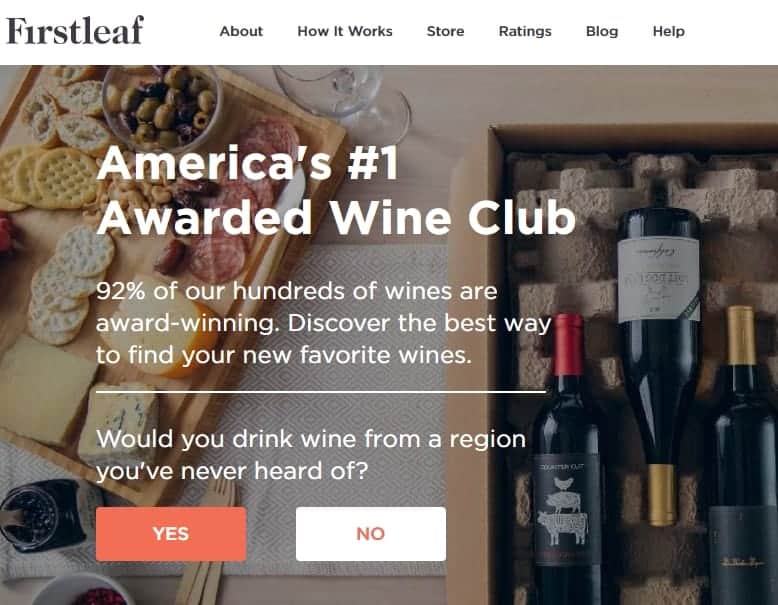 Finally, consider engaging your prospective customers from the get-go, just like the folks behind Firstleaf Club do.
They make visitors feel like a part of their clique even before they've committed to anything.
The CTA question then turns into a wine shipment customization quiz, at which point it's easy to answer questions and end up subscribing to their club.
Internal linking
Your potential customers might have more questions, or they might want to learn more about your winery before committing to anything.
This is where internal linking comes in.
Link out to other useful pages from your main content, ensuring that you've captured the interest of your prospects even if they aren't ready to buy.
Adjust your tone.
Your content has to be engaging to make visitors stay on your website:
Use shorter sentences
Use headings and different styles
Keep your paragraphs short and sweet
Know your audience: Are they formal? Are they comfortable with oenological jargon? Or do they want you to talk to them like a friend?
It's always a good idea to add enticing images and videos. However, don't overdo it.
Know the purpose of the page, and then match the searcher's intent.
If you're writing a blog post…
Longer content definitely works better.
It's simply more comprehensive and offers more value to readers.
However, even if you're digging deep into the 4,000-word lengths, your posts don't have to be boring:
Turn to social media for content ideation and presentation
Crowdsource questions and responses from your existing customers
Conduct extensive keyword and topic research to make sure your audience cares about the topic
Go the extra mile: offer additional resources, new information, or your own take on a topic to engage your visitors
A blog post is not an academic essay. Keep things light, fun, and personal. Don't shy away from talking about your own experiences and emotions. They're the best way to get closer to your audience and show them who the people behind the winery are.
Creating Rich Video Experiences
Wine relies on storytelling. No one buys a bottle because they want to sip on a tinted liquid.
People buy wine because it tells a story.
Engage your visitors, show them what makes your wine special, and make the transition towards the purchase as smooth and enjoyable as possible.
And if you want to be successful, do it with video.
When we talk about SEO, we often forget about the world's second search engine: YouTube, a video platform.
And according to Google's research, 60% of people would rather watch online video than TV. By 2021, video will make up for 80% of online traffic.
Even Google is adding video to its standard search results and Featured Snippets.
It's the prime time to use it and give your sales figures a boost.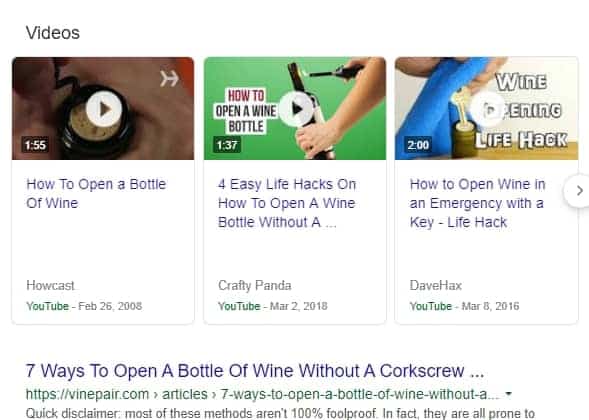 How to Optimize Your Winery for Video Search
Organize your video into sections.
For example, if you're telling a story of your winery's beginnings, organize and mark it as:
Introduction to XYZ Winery
How XYZ Winery Started
XYZ Winery Varietals
And so on.
Sections work best if you're creating an instructional video (e.g. How to pick the best wine for your Christmas dinner).
Optimize your video as you would optimize your content.
Titles, meta descriptions, keywords, tags… All of these well-known SEO elements work for videos, as well.
Use your main keyword in the title, and use other keywords sporadically in the description of your video. Match the searcher's intent, and show them that you have the content they want. List all the topics you will cover in your video in your description, and tag appropriately.
Transcripts: one of the most important video SEO assets.
Always include closed captions in your videos.
The majority of people watch videos on mute.
You don't want to turn away prospective customers just because you don't have closed captions or transcripts.
Avoid auto-generated captions. Instead, generate your own .SRT files to make sure the closed captions are correct.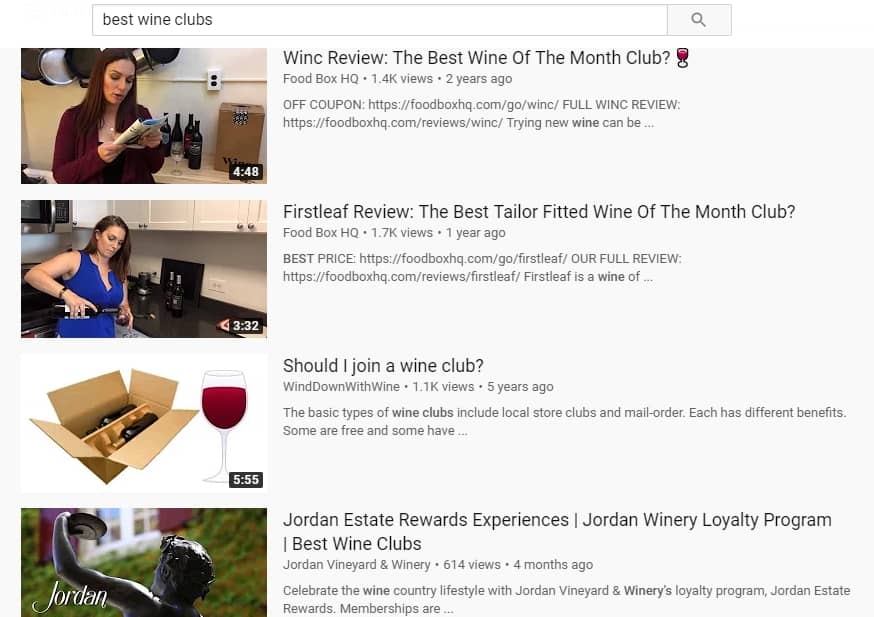 Pay attention to thumbnails.
People usually respond best to faces and emotions, which is certainly something to consider when creating video thumbnails.
Add your videos to your posts and your website.
It's best to host files on third-party sites such as YouTube and Vimeo. However, once you've uploaded them to these platforms, you can embed them into your website and your blog posts. It will increase your page dwell time and your chances of converting potential customers.
Promote your videos.
Finally, make sure you share your videos across your social media profiles to generate backlinks and reach more customers.
The Rise of Voice Search
Voice search has certainly been one of the major movers and shakers of contemporary SEO.
By 2020, 50% of all online searches will be voice.
This primarily means that people are using more conversational search queries.  Instead of "wine club Napa Valley," people will be more likely to search for: "What is the best and cheapest wine club in Napa Valley?" The rise of voice SEO will give you plenty of opportunities to accurately target people who can't wait to taste your wine! However, if you want a voice assistant to list your pages in the voice search results, you're going to have to make it to the top three.
How to Optimize Your Winery Website for Voice Search
Typically, voice search results list results from the top three positions in SERPs. You'll accomplish a lot by optimizing for voice search as you'd optimize for Featured Snippets (earlier in the article).
Structure your content as a FAQ section.
State questions and provide answers.  If that's not possible, then aim to provide a clear distinction between headings and content.
Consider Jordan Winery's blog post on wine pairings: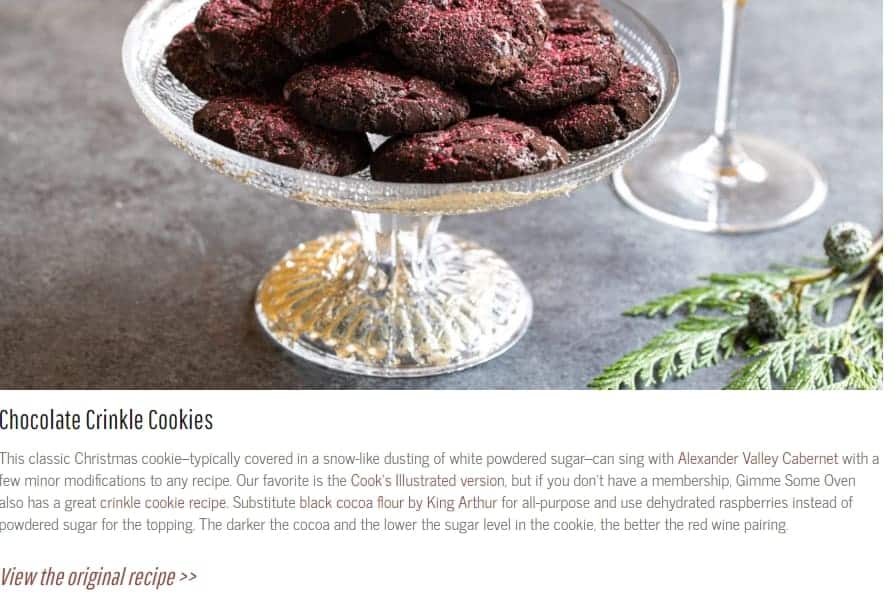 Wine Folly also does a great job of appearing in Featured Snippets for "pairing wine with salmon:"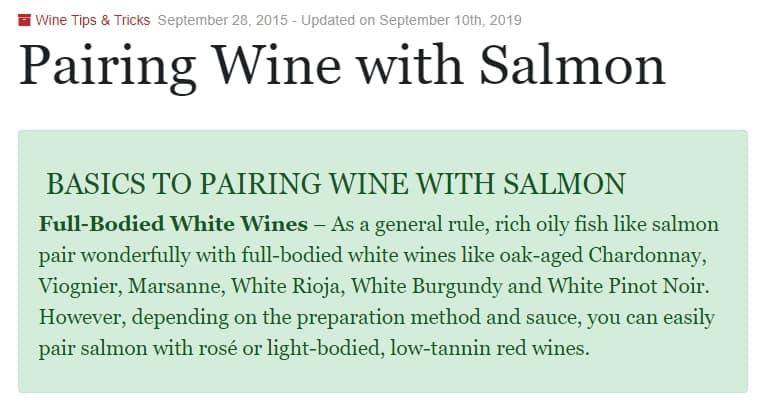 They even have a structured Featured Snippet-like question and answer box.
Use Answer The Public for keyword research.
Since voice search queries are conversational, use tools like Answer The Public to find the most common queries and integrate them into your content.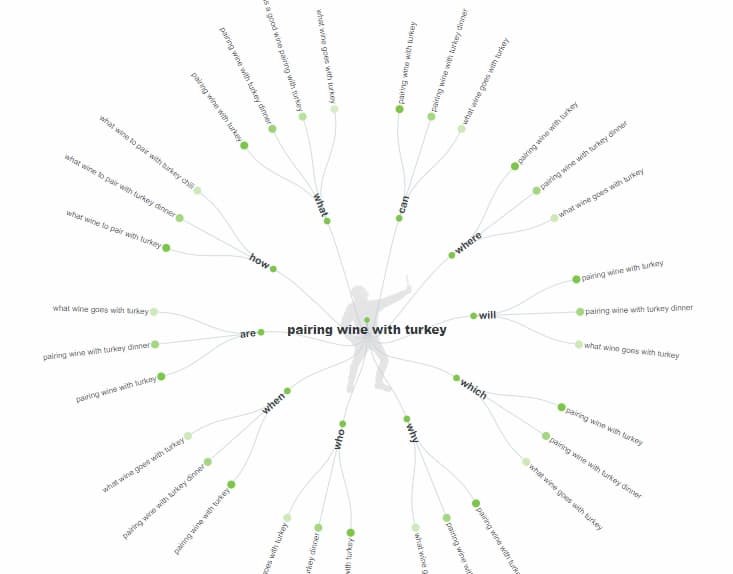 You can also take a look at "People Also Ask" sections in search engine results pages.
Structured data tells Google how your content helps searchers.
While Schema markup can help your winery stand out in the search results, it can also help you appear in Featured Snippets and voice search responses. For example, if your customers are wondering how much your wine costs, using Schema to define your price range will help Google display the correct results.
Mobile voice searches are 3x more likely to be local.
Don't forget to mention your location, whenever appropriate. It'll help Google show your results for "near me" or specific area searches.
At the End of the Day, Nothing Beats Content…
2020 is going to be an exciting year for winery marketing. However, it's important to remember that content is (still) king.
SEO is increasingly turning into a holistic part of your marketing machine where customers – not bots – come first.
We encourage you to use all the tech tricks at your disposal. Artificial intelligence, email marketing, personalization… They're all valuable tools in your marketing toolbox.
However, make sure that the content you are promoting is enticing, engaging, and personalized.
After that, it's only a matter of applying the right tactics for search engines. Keep your customers first with everything you do. Pay attention to their search queries, and create content they care about. In return, they'll eagerly await your shipments.