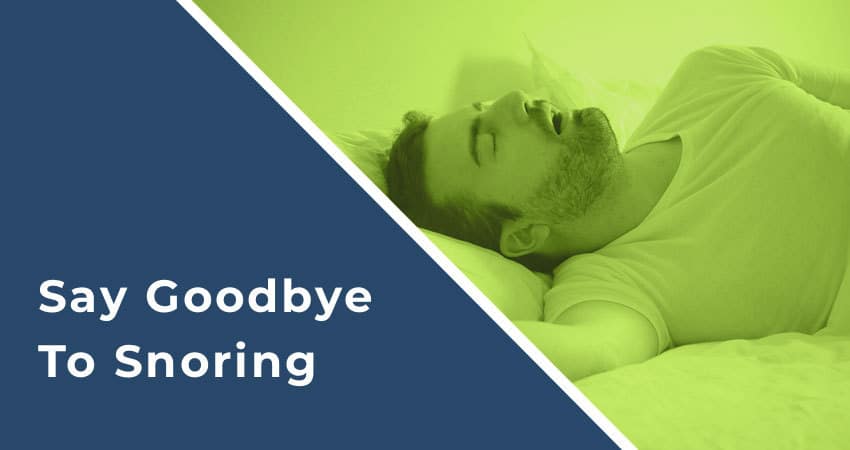 Say Goodbye To Snoring With These Anti-Snoring Mouthpieces: A Buying Guide
Originally posted on https://wellawaresystems.com/best-anti-snoring-mouthpiece/
Snoring is a rather common problem, so a lot of snorers just brush off the condition as nothing to be worried about. After all, everyone knows a fellow snorer or two among his circle of friends, right?But medical experts reiterate that snoring should be checked, especially if it is habitual. It can cause you to wake up multiple times and deprive you of a restful, energizing sleep.
It also increases your risk of certain diseases, like high blood pressure and even enlargement of the heart. More worrying still is that snoring might also increase your risk for stroke and heart attack.
No, we don't mean to scare you. In fact, there are plenty of options available to remedy your snoring problem–the most common of which are anti-snoring mouthpieces.
Take a look at this anti-snoring mouthpiece buying guide to see which one can help you sleep better at night.
ZQuiet Mouthpiece
If you're looking for a snoring remedy without busting your wallet, the ZQuiet Mouthpiece is a good option to consider.
What sets it apart from the competition is its hinged design. Unlike other anti-snoring devices, you can still open and close your mouth while wearing the device.
Comfort is also not a big issue, thanks to its thin material and low-profile design. But like other mouthpieces, it takes some time to get used to.
It's also easier to use compared to other brands. Unlike other mouthpieces where you have to boil the mouthpiece, you can make adjustments directly on the mouthpiece. This also means you'll still be able to make changes to the settings throughout the device's lifespan.
As an FDA-registered device, you're assured of its safety. It's also one of the more affordable options in the market, making it a top choice for budgetarians.
Read more: AirFit P10 Nasal Pillow – CPAP Mask Review
Pros
FDA-approved
No complicated fitting process
Easy to clean
Open and close your mouth while wearing the device
Comes with a money-back guarantee
Cons
Might not be suitable for those wearing dentures
Shipping costs for returns are non-refundable
Jaw soreness after long-term use
Zyppah Mouthpiece
The Zyppah Mouthpiece is a highly rated and popular anti-snoring mouthpiece that's even endorsed by various celebrities.
One reason why it's an effective snoring cure is that the Zyppah Mouthpiece is actually a hybrid. It's a mandibular advancement device (MAD) with a tongue restraining device (TRD) component so it targets potential causes of snoring.
Some people snore because the soft tissue at the back portion of their mouth relaxes, partially obstructing their airways during sleep. As a MAD, the Zyppah Mouthpiece pushes the jaw bone forward so it opens up the air passage.
Meanwhile, other people snore because their tongues fall back and partially block their airways during sleep. In this case, the Zyppah Mouthpiece's TRD component comes into play, as it has an elastic strap that prevents that tongue from moving too much so that the airway remains open throughout the night.
Made of BPA and latex-free material, the mouthpiece is deemed totally safe for use. It is also approved by the FDA.
You can customize the device using your teeth and mouth as mold to ensure a very personalized fit. It's comfortable to wear since it's tailor-fit to your mouth.
Read more: Z1 Auto CPAP Machine – Your CPAP Machine on the Go
Pros
MAD-TRD hybrid, making it an extremely effective anti-snoring device
Easy to clean
Allows users to breathe freely
Made out of safe, non-toxic material
Easy to customize
Money-back guarantee
Cons
One size only
Takes some time to get used to
Might cause drooling while sleeping
PureSleep Mouthpiece
Perhaps you feel that some snoring treatments are a bit too tight for your budget. But fret not, because the PureSleep Mouthpiece might just have you covered.
Before using it, you have to do the fitting process yourself. You make some adjustments to its bite setting, then make a dental impression on the mouthpiece's inner thermoplastic component. This way, you'll end up with a device that's comfortable to use and suited just for you.
As a MAD, the PureSleep Mouthpiece prevents the soft tissue at the back of your throat from partially blocking the airflow as you breathe. It does this by gently pushing your lower jaw forward, creating more clearance.
You don't have to worry about product safety since this is FDA-cleared. After all, it's made of BPA and latex-free material.
Pros
Combination of bite settings and "boil and bite" fitting method for a personalized fit
BPA and latex-free
FDA-certified
Recommended by dentists
Cons
Needs trimming after the fitting process
Bite setting can't be changed
Causes drooling like other MADs
SnoreRx Stop Snoring Oral Appliance
If customization is what you are looking for for your anti-snoring mouthpiece, then the SnoreRx Oral Appliance might be the right product for you.
You have full control over the amount of jaw advancement this mouthpiece can give you. It has an easy to read calibrator so you can make accurate adjustments at one-millimeter intervals. With controls as precise as this, you can create a fit that's both effective and comfortable.
The device's comfort level is further enhanced by its thermal matrix design. You can personalize the SnoreRx to fit exactly your mouth since you'll be making your own dental impression for a custom fit by heating up the mouthpiece making it pliable.
Breathing is also easier with the SnoreRx Oral Appliance. It has an open front design that maximizes airflow, making it suitable even for mouth breathers.
Pros
Fully customizable for a perfect fit
Can be readjusted after initial fitting
Breathable open front design
Affordable
Cons
Does not open with your mouth – unlike some mouthpieces which have a hinged design so they move and also open up when you open your mouth
Causes dry throat and drooling
Sleep Silent Stop Snoring Mouth Guard
The Sleep Silent Mouth Guard is a relatively new entry in the anti-snoring mouthpiece niche. But it is quickly gaining popularity because of its affordable price point while delivering the same level of snoring remedy as more expensive brands.
Just like other MAD devices, the Sleep Silent Mouth Guard solves snoring by preventing airway obstruction as you sleep. It does this by applying gentle pressure on your lower jaw, keeping your air passage open throughout the night and helping you achieve uninterrupted sleep.
This is device has also been tested safe for use by the FDA. Like other mouth guards, it's made from BPA-free, latex-free, and medical-grade materials.
You can also make adjustments to this device to suit your specific needs. You can recalibrate the device in 1 millimeter increments to get that perfect balance of comfort and treatment efficacy.
Read more: ZQuiet Mouthpiece Review: Is it a good Anti-Snoring Device?
Pros
Made out of medical-grade, BPA-free, and latex-free polymers
Can be customized for a precise fit
More affordable compared to high-end options
Cons
Only ships within the US or to APO and FPO addresses
Lifespan is only between 7 to 9 months
Causes drooling while sleeping
SleepMore Snore Stopper Mouthpiece
The SleepMore Snore Stopper Mouthpiece is a good option for those looking for a low-priced option. It is one of the most affordable devices in the market now, yet it has been raking in positive reviews from those who have tried it.
As a MAD, it opens up your airway more, avoiding friction that causes snoring as you breathe in and out. You get a more restful sleep as more oxygen enters your airways and rejuvenates your body.
Aside from snoring, the SleepMore Snore Stopper Mouthpiece also cures teeth grinding, which is also called bruxism or when you involuntary gnash or your teeth during sleep. Left untreated, teeth grinding may lead to cracked and broken teeth, loose teeth or gum recession.
This device comes with a money-back guarantee, so you can still return it and get a refund if you're not satisfied with its performance. It's also safe for use since it's BPA-free.
Pros
Made out of non-toxic, BPA-free material
Cures both snoring and teeth grinding
Comes with a money-back guarantee
Easy to use
Cons
Might be uncomfortable for some users
Might not work for people with dentures
Causes drooling
K&P Harmony Premium Anti Snoring Mouthpiece
Here's another affordable option that can help you stop snoring without burning a hole in your pocket: the K&P Harmony Premium Anti-Snoring Mouthpiece.
Though it comes only in one size, it fits most people because of its flexibility. Plus, you can customize the size at first using the "boil and bite" fitting process, so that the mouthpiece is perfectly suited to the contours and alignment of your teeth.
In the boil and bite fitting method, the mouthpiece is immersed in hot water to soften its inner plastic material. This makes it pliable enough so you can bite into the mouthpiece to create your own unique dental impression. This way, you'll end up with a device made just for you.
What sets this product apart from other options is that it has a flexible tubing to improve airflow so that you can also breathe through your mouth. It's a great help to sleepers who unconsciously switch to mouth breathing once they're asleep.
Pros
With flexible tubing for mouth breathers
Can be customized using boil and bite fitting process
Affordable
Ultra-lightweight and ideal for travel
Cons
One size only
Takes some time to get used to
Might cause dry mouth in the mornings due to the tubing
A Guide in Choosing the Right Anti-Snoring Mouthpiece
Don't know how to choose which of these best anti-snoring mouthpieces is right for you? We've included some tips and tricks in this section to help you choose the product which suits you best.
Take advantage of trial periods or money-back guarantees.
You'll never know if a product works unless you give it a try.
You may find a highly-rated product with tons of positive reviews, but that doesn't mean it will suit you.
Thus, choosing mouthpieces offering these money-back guarantees and trial periods will allow you to return the product and get a refund if it fails to work for you.
Read product reviews.
Product reviews give you an insight on just how satisfied or dissatisfied people are with a particular mouthpiece. If positive reviews just keeping piling up, there's a good chance that the product really worked for a lot of people.
But be discerning of reviews as well because not all reviews online can be trusted. Aside from buying guides like these, you may also check out review sites for some legit and trustworthy mouthpiece reviews.
Determine the cause of your snoring.
There are a number of factors that might cause your snoring.
It might be caused by your tongue partially blocking your airway, or your throat's tissue becoming too relaxed. It can even be caused by weight problems.
Depending on the cause, you can choose the features that you need in an anti-snoring mouthpiece.
Never neglect comfort.
The biggest reason why you want to solve your snoring woes is that you want to get a restful sleep as much as possible. Obviously, you can't sleep well if your mouthpiece is giving you too much discomfort.
Thus, always be mindful of the comfort level of the product when you make a buying decision.
Read more: Best CPAP Cleaners of 2019 – A Buyer's Guide
Conclusion
With the latest advancements in medical technology, you now have a wide range of snoring remedies. The trick is to find a treatment that works best for you.
The important thing to consider when choosing the right mouthpiece is that it should treat the cause of your snoring. If your condition is caused by your throat tissue relaxing and partially obstructing your airway during sleep, then a MAD type of mouthpiece is a good option to consider. If it's your tongue blocking your airway, then you can use a MAD-TRD hybrid like the Zyppah Mouthpiece.