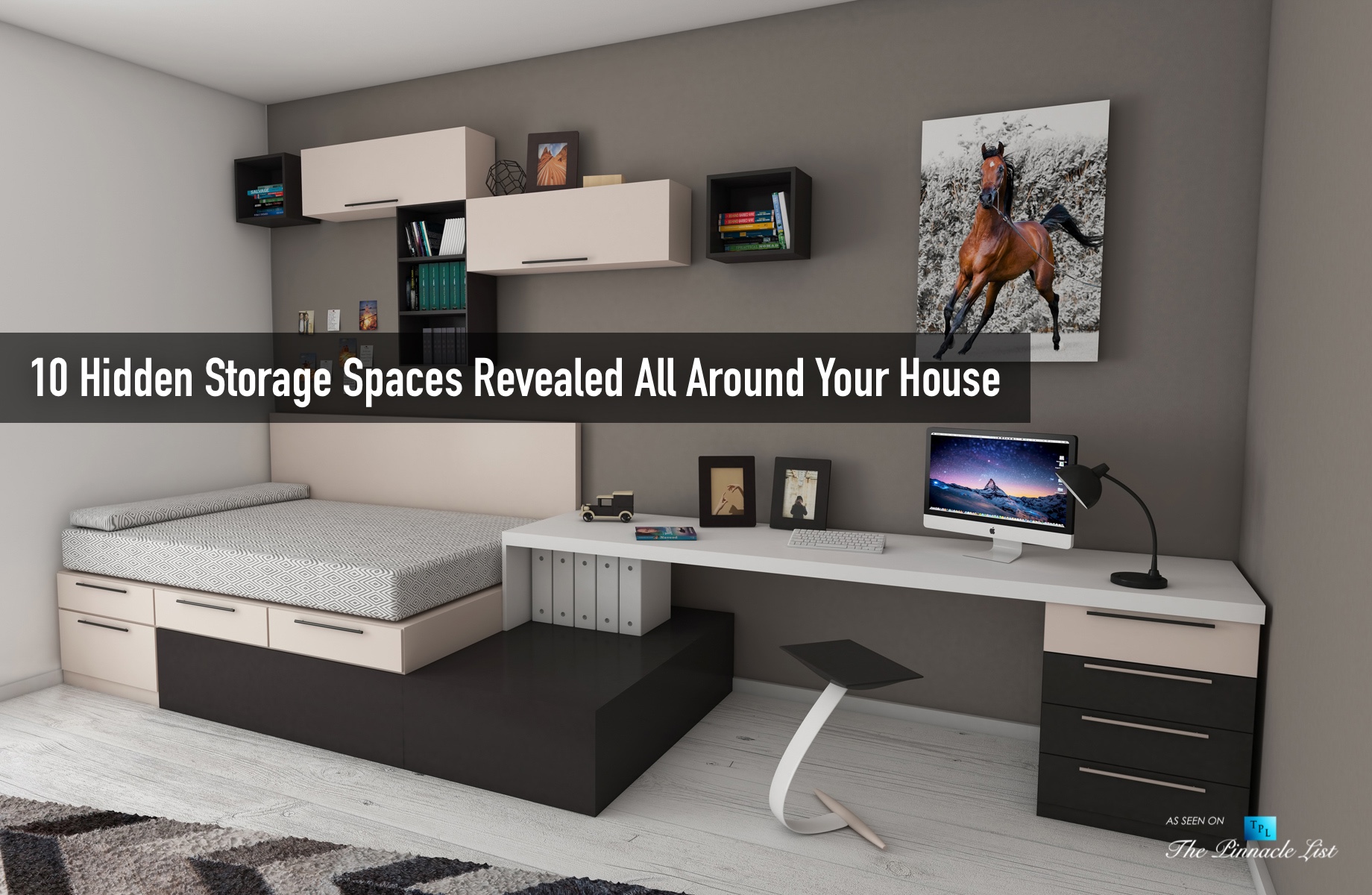 Remove the Clutter – 10 Hidden Storage Spaces Revealed All Around Your House
Clutter is a big problem for most people with recent market research indicating that Americans will spend over $37.5 billion this year on storage. That works out to an average cost of about $90 per month on storage. Research has also shown that this overflowing excess can even have a direct impact on the quality of your mental health!
Finding space for all the things you have is key to helping you manage them. Your home is probably brimming with hidden storage spaces that could keep clutter in check and create an aesthetically pleasing space. Not to mention that some of these spaces are like secret storage, so only you know where they are!
But where can you find amazing storage spaces around your house? Let's look at some places in your home when you might benefit from extra storage.
1. Coffee Table
Coffee tables are brilliant for storage. Many of them are available hollowed, leaving you plenty of room for your remote, magazines, books, DVD's, and the like.
2. Secret Shelving
Love the look of floating shelves and how they provide great space? Take it one step further by making that floating shelf a secret compartment to hide valuables, books, or anything else!
3. Under The Bed
Stop the clutter under the bed by designating it for storage! There are a few ways you could do this, depending on your needs.
First, you could use storage containers that fit snuggly under the bed for storing items like winter and summer clothes, shoes, and other things you feel necessary.
Second, you could invest in a bed with a mechanism that can lift the mattress, which allows you complete access to space underneath. You might decide to put luggage, clothing, bedsheets, and anything extra you want.
Additionally, loft beds allow you to keep most of your space in the bedroom while giving you a place to sleep.
4. The Bathroom
Everyone is always looking for more bathroom storage! From towels to toothbrushes, extra storage is needed in this space.
Here are a few ideas for finding hidden storage gems in your bathroom:
A magnetic medicine cabinet inside can keep your hair accessories and makeup from cluttering the counter.
Large bathroom mirrors can function as storage if you build shelving behind them.
Space around and under the tub is never used! Before you put in a new bathtub, take some time to see how best to use this space for towels, personal items, or cleaning supplies.
5. Hollowed-Out Books
Like something out of an old-time mystery story, hollowed-out books provide sneaky storage space for holding anything you want to keep secret and out of sight.
Take a box that will fit on your shelf, cut old spines from old books, and glue them onto the box, so they blend seamlessly with the other books on your shelf.
6. Kitchen Space
If there's one place where people struggle with storage, it's usually in the kitchen. We own so many appliances, food items, cookbooks, and glassware that it quickly becomes clutter if it's not being used.
Consider utilizing these spaces in your kitchen:
Hollow out a solid corner cabinet to contain your cookbooks.
That space underneath your kitchen cabinets isn't just for show—use it to store flat pieces like cooking trays, pots or lids, and more.
If there's space between the fridge and your countertop, build a tall spice rack to hold all your spices, which pulls out for easy cooking and frees up pantry space.
7. The Stairs
If you have stairs in your home, they hold a wealth of storage possibilities. Stairs with storage are great if you have a home with a large family and need ample space for all their things.
For example, it's possible to create slide-out cabinets underneath your steps to house shoes, outer garments, and such.
You can even create a small room here.
8. Crawl Space
Crawlspaces are sometimes the least likely place people might think about when it comes to storage. But a crawlspace can be a perfect place to put your things! With a little crawl space cleaning, and if it's accessible and safe, you can pack containers with some belongings and keep them dry in a crawl space.
9. Electric Outlet Safe
If you have valuables that are priceless and precious to you, you want a place where no one would ever think to look. This is where an electric outlet safe comes in extremely handy.
What looks like an electrical outlet function is the front of a small safe that pops out to reveal a space to keep your valuables. Store little things that mean a lot to you in here, and no one will ever know!
10. Above the Door
Most people will line the wall with shelving, but completely ignore the space about the door. If you have a room filled top to bottom with shelving or other storage ideas, don't forget to take advantage of the above-the-door space!
Hidden Storage Revealed
Using hidden storage spaces in your home can keep clutter contained, and your home neat and tidy. Many of these spaces are already in your home, waiting to be transformed for proper use!