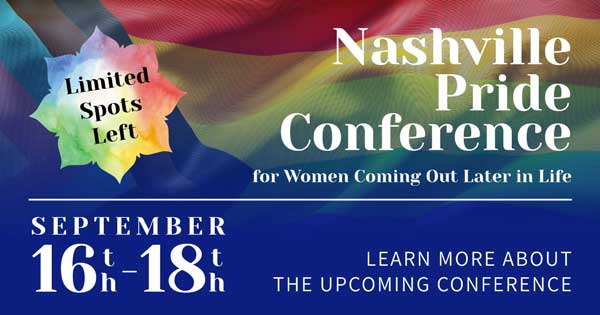 Nashville Pride Conference September 16th- 18th 2021
Photo from annemariezanzal.com
Originally Posted On: https://annemariezanzal.com/nashville-pride-conference-september-16th-18th-2021/
Five years ago I was in the middle of the coming out process to the LGBTQIA+ community. I was fifty-two years old and drowning in doubt, fear and grief.  I had joined an online FB support group for people like me and it was a lifeline. They were having a conference for our community and I signed up to go, eager to meet my online people in real life.  I also was in the middle of falling in love, like the way they write about in books and movies, for the first time in my life.  My new girlfriend happened to live in the conference city of Nashville.  Sign me up!
And then I didn't go to the conference even though it was only a few miles away from me.  Why?  Many complicated reasons:  I was in love and I thought I didn't need it because I was in love.  Yet, I did need it because I was an emotional mess. Maybe I was afraid to be vulnerable with a group of women?  Or I just needed it to look like I had my shit together? After all, I always overachieve……..damn it I was going to overachieve at being a lesbian!
As I reflect back on the last half decade, NOT going to the conference was one of the biggest mistakes I made for my own self care.  Why?  Because when I went to the next one the following years as a participant and facilitator on grief, I realized what I missed the previous conference.  (Side note – I wish I was just a participant – remember the overachiever thing?)  I missed the opportunity to be with a group of women who got it on a soul level and understood both my joy and pain. I was able to hear stories so very similar to my own.  As fate would have it I was matched to share my story with a woman who had the exact same birthday as me down to the year.  She will forever be my birthday twin. I was able to make friends in a way I never did before, authentically and showing up as my whole gay self.  I was able to party with my people!
This experience was so life changing and nurturing to me, I went on to organize and facilitate four more retreats/conferences over the next two years by myself and with the founders of the online support group.  They work for those of us struggling with the grief and loneliness of this experience.  The conferences help normalize the later in life experience and the assumption of an LGBTQIA+ identity. These conferences were the genesis and are a natural fit for my online coaching business providing individual and group support for people coming out later in life.
After a break from the COVID* pandemic, my team and I have scheduled another conference for September 16-18, 2021, Pride weekend here in Nashville.  We have several speakers that will talk about building community, internalized homophobia, legal questions for those divorcing, the importance of pride, and we will all experience the power of story sharing.
Don't worry introverts, our stories will be shared with one other person, not in front of the whole group!   On Friday evening we will socialize at the Lipstick Lounge, one of the last 15 lesbian owned bars in the United States.  AND we will march in the Pride parade together as a group of people who proudly came out later in life.  It will be a wonderful, life affirming weekend for all no matter where you are in the questioning phase or far along on this journey.  Join us!
You can find all the information you need about the conference Here.