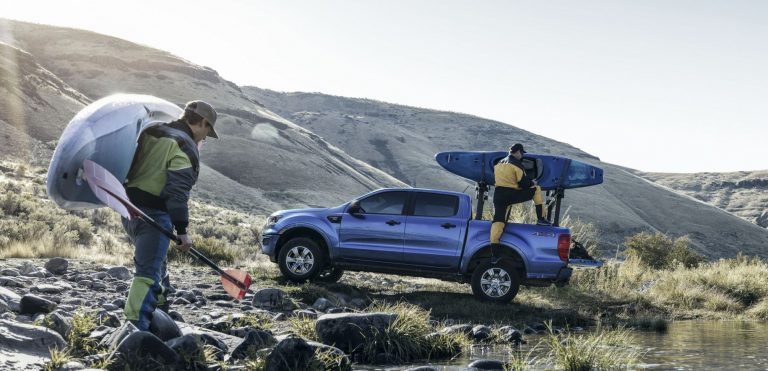 Overview of the 2020 Ford Ranger
Originally Posted On: https://www.hsmillingtonford.com/blogs/2483/millington-ford-dealer/overview-of-the-2020-ford-ranger/
Do you need a truck that can handle all your needs on the roads of Tennessee? Do you have a boat you need to pull to the lake? Want good fuel economy but also need hauling capacity?
If you answered yes to any of those questions, the 2020 Ford Ranger should be on your list. With power, off-road capability, and top-of-the-class towing and hauling, this midsize truck has it all covered.
With a range of models, trims, and price points, the Ranger is an excellent option for drivers in Tennessee who need a little more functionality but don't need a full-size pickup.
To help you learn more about the 2020 Ford Ranger, we've put together this complete overview of the latest model-year to come off the Ford production lines. Read on to see if this pickup fits your needs.
2020 Ford Ranger Models
There are 3 basic models for the 2020 Ford Ranger. The XL, the XLT, and the Lariat.
All 3 models come with a 2.3L turbo-four engine. The transmission on these trucks is a 10-speed automatic. The transmission has a good ratio spread that handles everything from starting up to cruising the highway.
Each model is also available with a choice of 2 cab/bed combinations. Choose either the extended cab and 6ft bed (Supercab) or the crew cab with a 5ft bed (SuperCrew).
You can also choose from 4×2 or 4×4 regardless of whether you prefer the XL, XLT, or Lariat.
The XL is the base model of the 2020 Ford Ranger. Standard trim on the XL includes power windows, power door locks, Bluetooth, and basic air conditioning. You can upgrade the XL to also include power mirrors.
Other options on the XL include your choice of cloth or vinyl seats. Add-on packages for technology and entertainment are also available.
The XLT comes with a little more standard. These upgrades are the Sync 3 infotainment system and more interior power points for cell phones and devices. You also get blind-spot warning, lane assistance, and automatic high beam lights.
You can opt to add adaptive cruise control and dual-zone air conditioning.
The Lariat is the top trim model in the 2020 Ford Ranger lineup. Leather seats, an upgraded instrument cluster, and better air conditioning come as standard.
People who choose the Lariat can also add adaptive cruise control, navigation systems, and premium Bang&Olufsen speakers.
New in 2020
Ford released the new generation Ranger in 2019 after a long break without a midsize truck. For 2020, Ford has kept things simple. The only new stuff is an optional FX2 off-road package and new exterior color options.
Reasons the 2020 Ford Ranger is Great for Tennessee Driving
With all the different options Ford has for the 2020 Ranger, it's a great midsize pickup truck for Tennessee. Whether you live up in the mountains or do most of your driving in the city, there are some great reasons for choosing this truck.
Good Fuel Economy
The 2020 Ford Ranger has best-in-class fuel economy. The 2-wheel drive version gets an EPA-rated 21 mpg in the city and 26 mpg on the highway. The 4-wheel drive version gets an EPA-rated 20 mpg in the city and 24 mpg on the highway.
For a midsize truck, those are impressive fuel economy numbers. When driving through Tennessee, customers will appreciate that kind of fuel economy.
FX2 Off-Road Package
For people who drive mainly in the city and on the highway a 4-wheel drive package isn't needed most of the time. Ford's new FX2 package offers these customers off-road styling and capability. For many people in Tennessee, this stylish package will be appealing.
The FX2 comes with either 17 or 18-inch wheels and some tough-looking styling on the front end.
For when city-dwellers do need to go off-road the FX2 Ford Ranger has an electronic-locking rear differential and suspension tuned for off-road traction.
Good Towing and Hauling Potential
If you need to haul heavy equipment, outdoor toys, or household junk, the 2020 Ford Ranger has you covered. Depending on whether you pick the SuperCrew or SuperCab option this midsize truck can carry between 1,560 and 1860 pounds.
When it comes to towing your boat or a trailer, the 2020 Ford Ranger is a great option. Regardless of the model the Ranger can tow up to 7,500 pounds. That number is best-in-class for midsize tucks with a gas engine.
Infotainment System
When cruising the highways of Tennessee the Ford Ranger has your entertainment needs covered. Ford offers Sync and Sync 3 infotainment options. These allow drivers and passengers to connect phones through Bluetooth so that you can play your favorite tunes.
Safety
Peace of mind when driving the wooded, hilly countryside of this great state is important to customers. The 2020 Ford Ranger has a good range of safety features to keep drivers and passengers safe.
Every model comes with Ford Co-Pilot360. This suite of safety features includes automated emergency braking and a rearview camera. It also includes curve control assistance and forward collision monitoring.
The XLT and Lariat have extra safety features. From blind-spot monitoring to reverse-sensing and help keeping in your lane.
All the models come with front and side airbags.
IIHS gave the 2020 Ford Ranger good scores in its crash tests, too. In NHTSA testing, this truck achieved a four-star rating for safety.
If You Live in Tennessee, Choose the 2020 Ford Ranger
As you can see, if you need a midsize pickup in Tennessee there are many reasons the 2020 Ford Ranger is a good choice.
With a variety of packages, trim levels, and options, there's a model to suit your needs. If you like to tow or haul things, this pickup is the best midsize on the market. It also has enough safety features to keep you safe on the road.
If you're in the Millington, TN, area, we can help you with your Ford Ranger questions. We keep a large inventory of all Ford models. We're certain to have a Ford Ranger for you to test drive that matches your needs.
Give us a call today or stop by our dealership. Our expert customer service team will help answer all your questions about the Ford Ranger and more.