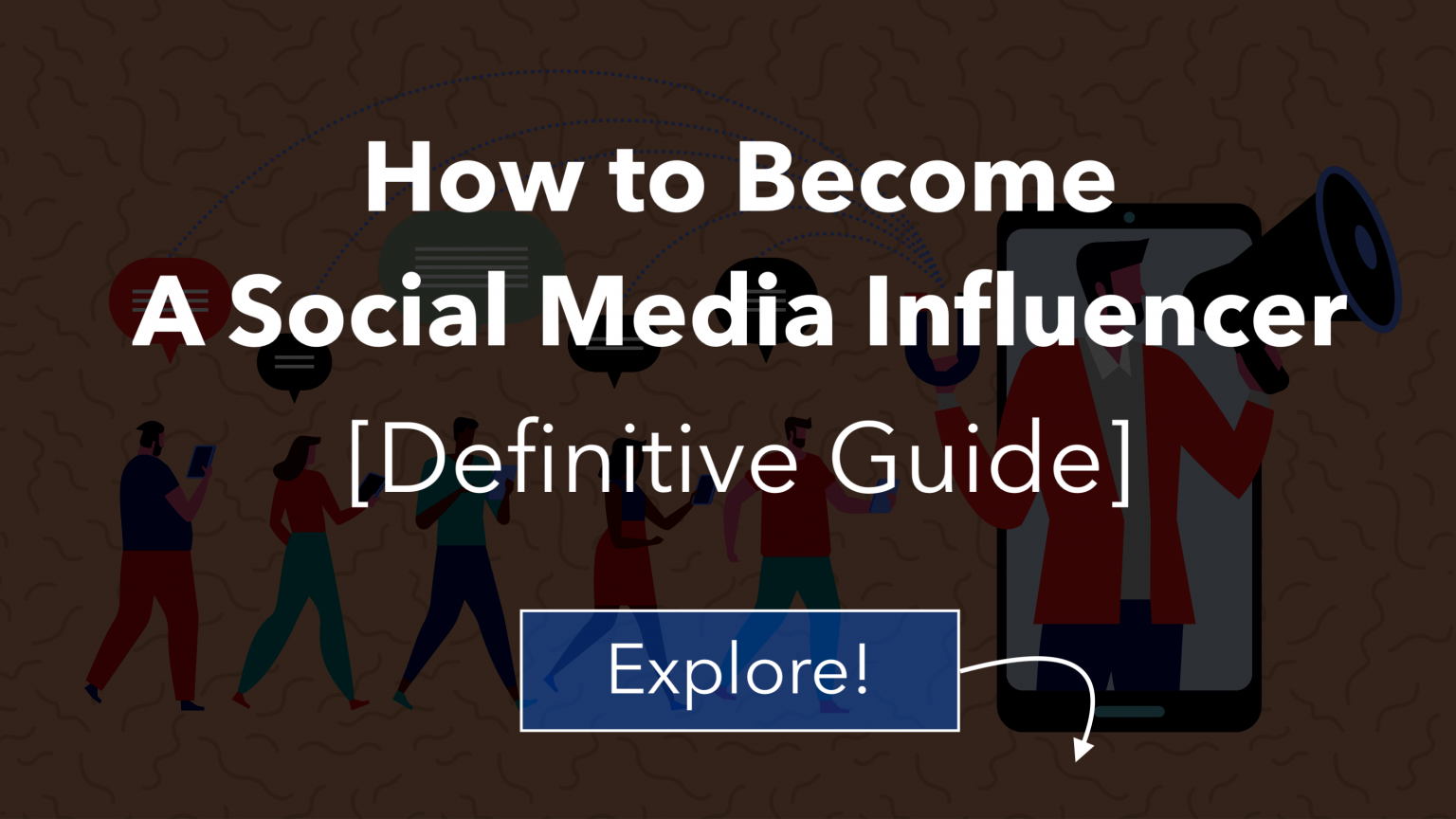 No Following Yet? No Problem – How to Become a Social Media Influencer
Social media has created a new breed of popular kids that society affectionately to refer to as influencers. This group of internet celebrities is easily recognizable by large followings and pretty impressive content. Most people even use these platforms to start careers in their respective fields.
But is it possible for anyone to be an influencer? Typically if you have the drive, desire and patience for it there's a good chance that you can earn this status as well.
You might be thinking about the fact that you currently have zero to no followers. Well, in reality, everyone starts from somewhere and the large accounts you see today were once empty grounds. So there's hope for everyone!
But there is a strategy to becoming one of these digital sensations and you'll want to brush up on it a bit if you plan on making it. Keep reading to check this tip guide for beginners on how to become a social media influencer.
Find a Niche
The first step to how to become a social media influencer is knowing where your lane is and getting in it. You'll need to figure out what your industry is then your niche. It might sound like those two are along the same lines because they are but one has a slightly different purpose.
Picking out an industry may be an easier decision for most people because it's so general. You could be in beauty or tech or marketing. It's best to choose something that either makes you happy or makes you good money -sometimes you can have both if you play your cards right.
Next, you'll want to figure out where exactly you fit into their more specifically. For instance, in the beauty influencer world, you could be a makeup artist (MUA) or a natural hair expert. They're both in the same industry but the niches will determine which audience goes to who.
Having clarity on your niches and title is important for people to be able to identify what they can come to you for. The worst thing you want to do is label yourself as an industry generalist unless you have a few decades under your belt for credibility.
Choose the Right Social Media Platforms
By now you've probably figured out that the main factor for how to become a social media influencer is to actually be on social media. However, the reason why you were tasked to find a niche is that every platform isn't built for everyone. And you'll want to be able to determine where your audience hangs out at the most.
For instance, if you're looking to attract business professionals to your consulting service website then you'll probably want to spend a good amount of time on LinkedIn. However, if you're trying to sell your handcrafted candles then Instagram might be a better route.
Should Read: How to Get Your Profile in [Trending List] of Instagram? – [2020]
This isn't to say that you can't find overlapping audiences on multiple platforms but you will probably run into the majority of your ideal customers in a primary location. Research the social network demographics to figure out where you may have the best luck finding your tribe.
Also avoid choosing too many at a time- at least when you're first starting out. Choose one or two platforms to begin then once you've mastered them you can keep building and growing from there.
Establish Your Brand
Building a brand is one of the most important parts of becoming a social media influencer because it determines how people relate to you and how you are represented. Some people think that their brand is just the color schemes and font choices they use. But it goes a little bit deeper than that.
Your personal brand has everything to do with what people think of you when you aren't around. That means the way you dress, talk and even walk can be an essential part of your branding. Your overall message and mission are important for attracting the right audience to your platform.
Think about your favorite brands and how you are able to distinguish them and what they do amongst a sea of others. Write down some keywords (ex. athletic, inspiring, etc.) that you want your brand to encompass so you remain consistent.
Provide Value
Many people say that the markets are saturated and overflowing with content. This can be a bit discouraging but it shouldn't be because it doesn't mean that there isn't a place for you to be yourself.
The way to beat the 'saturated market' narrative and an essential method for how to become a social media influencer is to provide value to others at all times. So what does valuable content actually look like and how can you tell that you're doing it? Well, metrics won't lie.
When you put out a post on Instagram, for example, check out the stats for the post. You can look at the likes but also check out the number of times it's been saved and how many comments it has to determine whether it's actually bringing value to your audience. Keep in mind that you'll have to switch your account over to business mode to see profile analytics if you're using a personal account.
Overall, listening to your audience and giving them the content that they are already talking about and asking for is one of the simplest ways to provide value.
Create Original Content
People who call themselves influencers have a good reason for doing so. That reason is that they are able to actually impact and influence society with their words, thoughts and ideas – literally. And this happens in the form of content that they've created.
That's why it's important for you to create original content so people know the opinions and creativity belong to you. Also, when you make stuff that comes from your own individual originality, supporters can only come to you for that specific type of content. This really sets you apart from the crowd and makes your creations proprietary.
Should Read: 10 Little-Known YouTube Tricks and Tips to [Boost]+ Engagement
There's nothing wrong with sharing content that resonates with you but creating your own original work will get you farther when trying to become a social media influencer. Doing this also creates the opportunity for the content to go viral and get tracked back to your account.
Share Quality Photos/Videos
The amount of people that engage with their technological devices on a daily basis has demanded companies and IT pros to create things that offer better quality. You can witness this all across social media. People are uploading some of the clearest photos and videos we've ever seen to appease internet browsers.
This might seem like a smaller detail to the whole plan of how to become a social media influencer but it is actually important. Sharing high-quality images and videos could be the difference between someone engaging with your posts or them choosing to unfollow you.
Make sure that your content doesn't have low-quality features like being blurry or grainy. Use apps and filters to help enhance your photos and videos for a better quality of appearance.
Learn Your Audience
Once you've started to grow a following (which will happen if you're already providing value consistently) you'll want to begin learning more about your audience to better serve them. This might require some market research that extends beyond social media.
Pay attention to more than just their demographics like age and gender. Get into the psychological factors that make your audience tick. For instance, what do they like to do after work, which types of content are they searching for the most and how often are they spending time on specific social network platforms?
Continue to collect data about your supporters and apply these findings to your content. Be sure to engage with them often to show that you are a real human being on the other side of the screen. Make your followers feel special, appreciated and seen.
Network & Engage
If you want to get the word out about your brand you have to be willing to put yourself out there. This means that just posting on your own account shouldn't be the only thing you focus on. You have to market yourself in multiple places at a time.
Try venturing about the platforms and show support to others. You always want to be networking and engaging because you never know where the right connection can lead you. Visit other profiles regularly and answer questions, leave kind comments and like the posts.
You can also do some IRL (in real life) networking as well to help push your influencer status forward. Go to different events and be sure to bring business cards with your social media handles on there for people to continue to follow and connect with you.
Use Your Voice
Having a large platform to share opinions is a great way to bring attention to those that are less privileged. If there are topics that you care a lot about or something that has sparked your attention that can help make the world a better place then use your voice to speak up about it.
Should Read: What Is Clout: What to Learn from the Top Social Media Influencers
This might feel a bit political to some people so make sure you tread lightly and be considerate when it comes to sensitive topics. But remember that this will show you truly and authentically care about using your social media status for the greater good- which people love.
Collaborate With Others
Collaboration is a highly efficient way of becoming a social media influencer. The whole idea is to find other brands and businesses that relate to your own and leverage each other's audience.
There are a few different ways to execute collaborating appropriately. For instance, you could run a giveaway together or be featured for guest blogs. Some companies will let you do a social media 'takeover' for the day, in which you'll basically run their account by hosting fun lives, posting stories, etc.
The most important about partnering with others is to make sure that your messages will work for the other's audience and that the relationship is mutually beneficial. Don't be afraid to reach out to brands and companies to start fostering a working relationship.
Include Hashtags
Hashtags are one of those things that make the social media world go round. They are basically a way for your content to be categorized so that more people are able to find you. They work similarly to the concept of SEO for Google.
You'll definitely want to stay updated on the keywords and phrases that are being searched for in your industry. Plan a hashtag strategy to make sure you are using them to the full potential. Instagram currently allows you to use up to 30 hashtags for each post.
Remember to switch them up sometimes and avoid abusing the same ones so your account doesn't end up getting shadowbanned. There are plenty of apps that help to generate some of the best hashtags for your audience.
Be Consistent
The most important tip for how to become a social media influencer is to remain consistent. No brand was built overnight. It took them some time to establish a brand, foster relationships and create a strong archive of content.
Stay focused on longterm planning and continue to strategize accordingly. You should also stay away from comparing yourself to others. This will take away from your own unique talents and skills and possibly slow down your building.
Be you, show up every day and remember why you started.
Looking for More Help With How to Become a Social Media Influencer?
Figuring out how to become a social media influencer partially depends on how well you know and can present yourself to the world. The other half is determined by effective strategy and marketing efforts.
Combining these two together and being consistent then you'll have a good shot at reaching influencer status. Remember to choose your platform wisely and engage with others genuinely.
If you're looking to become an influencer, contact us for help with building your social media following and brand.
Best Regards,
Famoid Blog – 2020