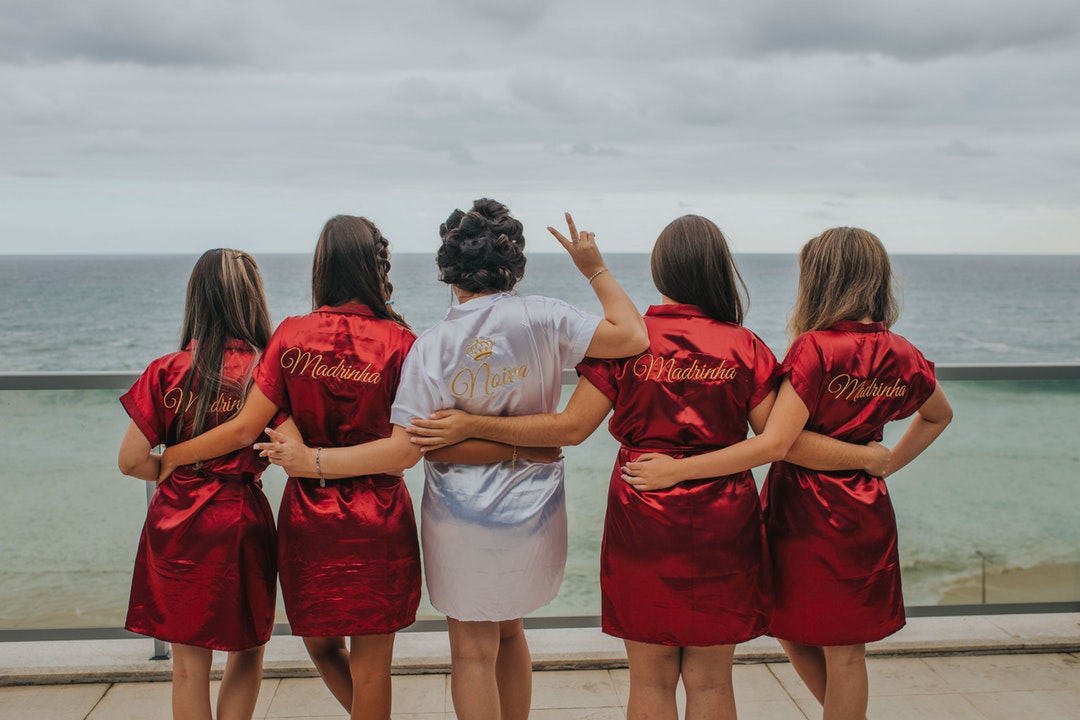 10 Classy Bachelorette Party Ideas for the Perfect Celebration
Originally posted on https://boozerbabe.com/10-simple-classy-bachelorette-party-ideas/
The bachelorette party is a chance for the bride-to-be to take a break from all the hectic wedding planning. For the bride that wants something more sophisticated, there are lots of classy bachelorette party ideas that will be fun for the entire wedding party and the bride's friends.
You can sip on some red wine or cocktails, enjoy fun activities, and relax as a group. Below, we're sharing some sophisticated bachelorette party ideas that any bride-to-be would love. Read on to learn more!
1. Make it a Fairy Tale
Every bride-to-be thinks that her love story, so why shouldn't her bachelorette party be a fairy tale? Having a "fairy tale" themed bachelorette party is one of the most tasteful bachelorette party ideas.
There is so much you can do with this creative theme.
Think about all the most beloved fairy tales from childhood, and use them as inspiration for party décor. You can also have princess tiaras for everyone to wear throughout the party.
At some point in the party, lead everyone in a round of fairy tale trivia, to see how much they remember about the classic stories. You can also create a question game related to the couples' own love story since that is the real-life fairy tale you're there to celebrate.
You can also have classic fairy tale movies on in the background throughout the party, for everyone to watch if there is some downtime.
2. Have a Spa Day
A trip to the spa is one of the most civilized ways to spend a day, so it makes sense to have a spa day theme for a sophisticated bachelorette party. There are several ways to do it, depending on the size of your group and how much money you want to spend.
If you have a smaller group, you could pick a local spa and book treatments for everyone. There are many benefits to getting a massage that any bride or wedding party member could benefit from. You could enjoy facials, or get your nails done.
For a larger group or if you're looking to save money, consider an at-home spa day. There are lots of inexpensive face masks you can make from common ingredients, and you can set up nail stations at home too.
3. Spend a Day at the Beach
When the bride loves warm weather, one of the best bachelorette party themes is to set up a day at the beach. You don't have to have warm weather or beach access to make this theme happen, so it's good for any weather!
If there is a local beach nearby, pack up some blankets and a picnic, and enjoy a classy lunch with an ocean view. Otherwise, bring the beach to you! String lights, tiki torches, and tropical cocktails can make it feel like you're at the beach, even if you're inside.
To really make it feel like you're at the beach, create a playlist of your favorite beach songs. You'll instantly be transported to the hot sand, even if you're nowhere near the ocean.
4. Mix It Up
Everyone wants to know how to whip up a great cocktail recipe or pour the perfect glass of wine. If you're looking for creative and classy bachelorette ideas, consider having a mixology-themed party.
At the beginning of the party, you can hire a mixologist to come to you, or book mixology courses. You'll learn the basics of all the classic cocktails and other top mixology tips and tricks.
Once your lesson is over, you've got the rest of the bachelorette party to practice your new skills. You can master the techniques and recipes you've learned, but don't be afraid to go outside of your comfort zone too.
Experimentation is the best way to come up with your new favorite recipe. For favors, consider giving all the girls new cocktail shakers, or a cocktail recipe book so they can keep practicing after the party is over.
5. Transport Yourself to Paris
As a city, Paris is known for its class, and a Paris-themed party is one of the best classy bachelorette party ideas. The city is associated with sophisticated glamour, which is exactly the tone you want to set.
Ask guests to come dressed in their best Parisian chic looks. If they aren't sure what to wear, they can't go wrong with all-black, or with clothes that fit them perfectly.
Keep the decorations to a minimum, but make sure they're elegant. You can also incorporate landmarks of the city—like the Eiffel Tower or the Arc de Triomphe—into your design scheme.
The drinks and food you serve to guests should be inspired by Paris as well. You don't have to go so far as to make escargot but think of other foods the city is famous for. You can't go wrong with high-quality bread, cheese, and charcuterie.
6. Throw it Back to Hollywood
Old Hollywood glamour is a great theme for any sophisticated bachelorette party. While tabloids and social media make it possible for us to know everything about modern celebrities, it wasn't always that way.
Old Hollywood was known for its sense of mystery and sophistication. Channel stars like Audrey Hepburn or Rita Hayworth in silk dresses and feather boas. You'll feel like a glamorous star, which every bride deserved before her wedding.
Of course, you should take some time during the party to watch some of the most classic Hollywood movies. You can't go wrong with Casablanca or anything with a young Elizabeth Taylor.
It would also be fun if you set up a fake red carpet, to capture pictures that commemorate the bachelorette weekend.
7. Roar With the 1920s
When tasteful bachelorette party ideas are executed correctly, they transport the bride and her guests into a world unlike their own. A 'roaring '20s' themed party is perfect for that since there are so many distinct visuals associated with the time.
If you need inspiration, turn to Gatsby. The world depicted by F. Scott Fitzgerald in The Great Gatsby is one of sophistication. All of the characters are dressed in the finest clothes, drink the finest champagne, and enjoy lives of splendor.
To channel the Gatsby era for yourself, look for flapper dressed with fringe and beading, And don't forget to make sure everyone has a full glass of champagne throughout the party.
8. Celebrate Powerful Women
A bachelorette party is all about gathering women together to celebrate. It's the bride's way of celebrating her next step with the women in her life that matter to her the most.
What better way to continue that spirit of celebration than by recognizing other powerful women with the bachelorette party's theme?
Ask guests to come dressed up as their female role model, or their favorite powerful woman from history. You may be surprised by everyone's choice, and how varied the costumes will be. Throughout the party, invite everyone to share why they chose who they chose.
9. Eat and Be Merry
Similar to a mixology class, a cooking class is a tasteful and simple bachelorette party idea. You can book a class for the group at a local culinary institution, or have a chef come to you to teach you at home.
If the bride—or her husband-to-be—has a favorite dish, see if you can arrange a lesson for that dish specifically. It's a nice way to personalize the event.
Since the couple will likely be getting new kitchen gear as wedding gifts, this is a great way to prepare them to make the most of all their new equipment.
10. Arts & Crafts: A Simple Bachelorette Party Idea
Lots of brides are taking a DIY approach to their wedding decorations, either to save money or because they want things to be more personal. If the bride-to-be has a lot of craft projects on her to-do list, the bachelorette party can be a great time to lend a helping hand.
To make the projects feel more festive, serve great food and cocktails. You should also create a playlist of all of the bride's favorite songs, to have on in the background as you work.
Want More Classy Bachelorette Party Ideas?
Bachelorette parties don't have to be about going wild or getting crazy. They should be about the bride and her friends spending time together and celebrating the big step coming up in the bride's life.
There are so many classy bachelorette party ideas that are easy to pull off but make for a great event. Everyone will have fun, and the bride will appreciate having the women she loves the most celebrating this special day with her.
For more ideas on how to throw a great party, please contact us at any time.