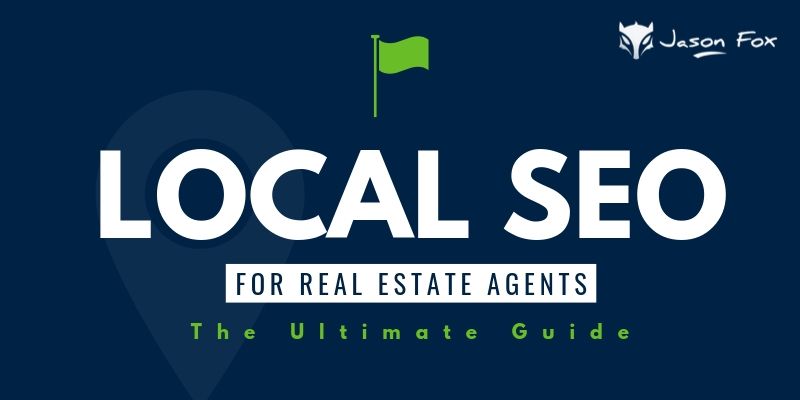 Local SEO for Real Estate Agents the Ultimate Guide
Originally posted on https://www.jasonfox.me/local-seo-for-real-estate-agents-the-ultimate-guide/
If you are a real estate agent there is no doubt that you have been successful at, invested in or thought about building your online web presence and your local SEO search results.
The idea of having people find you online and give you a call to help them buy or sell real estate sounds amazing.  And there are thousands of brands, SEO, coaches and the like that are constantly telling you that you need to be online, you need a website, you need to blog and be on Social Media.
I know that many of you have tried these things and have not had any success.  For that I apologize.  I am one of those thousands of people that have been telling you this.
I am not saying it does not work… on the contrary I have success with it in my own business.  But like any marketing strategy it takes time and effort.
If you think it is something you would like to incorporate into your marketing strategy then this guide will help get you started.
WHAT IS REAL ESTATE SEO?
…The process of increasing the quality and quantity of your traffic or visitors to your Real Estate Website by increasing the visibility of your real estate website to users of a web search engine, such as Google, Bing and Yahoo. SEO refers to the improvement of unpaid results and excludes direct traffic/visitors and the purchase of paid placement. Otherwise known as Organic Traffic. Wikipedia
WHAT IS LOCAL SEO FOR REAL ESTATE?
The same as Real Estate SEO but focusing on specific locations rather than just across the entire web.  Making Local SEO much more effective for real estate agents, teams and offices.
In 2016, it was simply putting a location in front of a search term.
Non Local SEO Search Term:
Local SEO Search Term:
Since 2016, Google has seen a 92% growth in searches for "best real estate agent," (Source: Google Data, US, 2018 vs. 2017) and a 61% increase in searches for "homes for sale near me." (Source: Google Internal Data 2018 vs 2017)
Now Google knows where you are and will find the search term that is located near you.
If you want to rank for the local search terms then you need to tell Google where you are.  It can guess… but it is a robot.  You should probably make sure you tell them.
LOCAL SEO FOR REAL ESTATE SEARCH RANKING FACTORS
Google My Business Signals 25%
Learn About Google My Business Signals
Link Signals 16%
Review Signals 15%
On Page Signals 14%
Citation Signals 10%
Behavioral Signals 9%
Learn About Behavioral Signals
Personalization Signals 5%
Learn About Personalization Signals
Social Signals 2%
[25.1%] GOOGLE MY BUSINESS SIGNALS
There are millions of little signals that Google uses to determine how to rank web results.  According to MOZ the most important signals for building strong local SEO are Google My Business signals.
These are the signals that are associated with your GMB profile that when optimized and set up correctly will most influence how your business ranks on Google.
Before we get into the ranking signals themselves we should first take a deeper dive into GMB or Google My Business.
WHAT IS GOOGLE MY BUSINESS
It is Google's way of letting us tell their robots where we are.  Or, what local search terms we should rank for.  If your office is in Seattle.  Then you should have the opportunity to get ranked for search terms with the word Seattle in front of them.
*I can not guarantee that you will rank for your Local Search Terms if you Google Your Business… but,  I can guarantee that will have a better chance if you do.
Google explains their product as:
"Engage with customers on Google for free: With a Google My Business account, you get more than a business listing. Your free Business Profile lets you easily connect with customers across Google Search and Maps."
If you've ever typed the name of a business into Google and seen an informative mini overview of the company appear on the right-hand side of the screen, then you'll have seen a Google My Business profile in action. Essentially, it provides a snippet of information about your company for the user. It should include your name, address and phone number as a minimum requirement.
A Google My Business profile for real estate also gives you the chance of appearing in map results. This means that if a user local to your business searches for a real estate business in your area you have a chance of appearing in the map result.
HOW YOUR GMB PROFILE WILL DISPLAY
1.  BUSINESS PROFILE
As a box on the side of the search page
2.  GOOGLE MAPS
As a pin on Google Maps
3.  MAP PACKS
My personal favorite… 1 of 3 Map Search results for a product of service search.
Since the largest percentage of Local SEO Ranking Factor comes from your Google My Business account you should take a few minutes to make sure that it is set-up and optimized.
69 percent of home shoppers who take action on a real estate brand website begin their research with a local term, i.e. 'Houston homes for sale,' on a search engine." ~ National Association of REALTORS®'s recent Digital House Hunt study
Google My Business for real estate is a big deal.  The last 5 clients I have built websites for have not had Google profiles.  According to BrightLocal, "42% of local businesses don't have their business information claimed".  I suspect that percentage is higher with real estate agents.
The very first thing you should do if you want to eventually rank on Google for anything is to "Google My Business".
You can build SEO without it if you really know what you are doing.  But if you really know what you are doing why wouldn't you?
And now more than ever, "Google is about to revolutionize the way consumers find real estate agents", according to Inman News.
'Google is about to revolutionize the way consumers find real estate agents', according to Inman News.CLICK TO TWEET
To me it would be like expecting business leads from an Networking group, but not joining the group.  I mean you could still get some leads from the group… but you would probably get a lot more if you joined the group.
CREATING AND OPTIMIZING YOUR GOOGLE MY BUSINESS PROFILE
If you have not created a Google My Business Profile you should do that right now by clicking the button below:
SETTING UP YOUR GMB ACCOUNT
>>  Click the "MANAGE NOW" Button
>> If you have an Account Login >> If you do not have an Account click "CREATE ACCOUNT"
>>Create Your Google Account
>>Verify Your Email Address
>>Enter Date of Birth and Gender
>>Agree to Privacy Terms
>>Search To See if Your Business Is Already Listed On GMB >>If Not "CREATE NEW BUSINESS"
>>Enter "BUSINESS NAME"
>>Select "YES" to Add Location
>>Enter "ADDRESS"
>>Select "YES" you Also Serve Customers Outside This Location
>>Enter "AREAS YOU SERVE"
>>Choose "REAL ESTATE AGENTS" for your Category
>>Enter "CONTACT DETAILS"
>>Click "FINISH" and Verify Business
>>Google will Mail You a Postcard to the Address Entered with a Verification Code that will Need to be Entered in the Profile to Place Your Business "On The Map"
COMMON QUESTIONS ABOUT CREATING A GOOGLE MY BUSINESS ACCOUNT
Can I use my brokerage address?
Yes. But there can be side effects. If your brokerage has a strong presence they may overshadow you. Because of the Google Possum update, sometimes Google will only show 1 business in the Map Pack from the same address or building.
What should my business name be?
Keep this short and sweet like your name and a real estate term… Bob Smith Homes. If you have a brand name use that. What is important here is to pick a name and stick with it. Use it on your website and all business profiles. Also, be careful here there are some words that you can not use, such as misrepresenting your self as a brokerage if you are not.
Your NAP+W is critical for local SEO make sure to save it.
Name
Address
Phone
Website
Think of this combination as a Social Security number for your business on Google. Every time Google sees that combination they know it is your business.
GOOGLE MY BUSINESS DASHBOARD
Once you have created a GMB Profile you will have access to a dashboard that allows you to:
Publish Posts, Events & Specials To Your Profile
Access Google Ads and Create Ads
See Business Insights and Stats
View and Respond To Reviews
Access Direct Messaging
Add Photos and Videos
Create A Free Website
Manage Business Info
And More
OPTIMIZE YOUR BUSINESS PROFILE
Now that you have alerted Google to the fact that you are a Local Business that would like to be indexed for local SEO we need to give them a reason to rank you higher than other real estate agents in your area.
Rest assured if you only go as far as getting your Google Real Estate Business Listing set-up you will already be ahead of most.
If you would like to take it to the next level than you need to optimize your listing.
1. Complete Every Detail of Your Business Profile Keeping Your NAP+W in Mind
Logo
Images
Videos
Cover Photo
All Contact Information
Hours of Operation
A Complete Business Description
Service Areas
Website
Services
About
2. Get Positive Reviews On Your Business Listing
We will go into greater detail about this later
3. Add Update, Add Event, Add Offer or Add Product Every few weeks
TOP GMB RANKING SIGNALS
Proximity of Address to the Point of Search (Searcher-Business Distance)
Physical Address in City of Search
Proper GMB Category Associations
Product/Service Keyword in GMB Business Title
Location Keyword in GMB Business Title
GMB Primary Category Matches a Broader Category of the Search Category (e.g. primary category=restaurant & search=pizza)
Completeness of GMB Listing
Quality/Authority of Inbound Links to GMB Landing Page
Quantity of Native Google Reviews (with text)
Product/Service Keyword in GMB Landing Page Title
Page Authority of GMB Landing Page URL
Location Keyword in GMB Landing Page Title
Quantity of Engagement Signals on GMB Listing (scrolling through listing, clicking photos, reading reviews, reading Q&A, clicking on Posts, etc.)
Age of GMB Listing
Verified GMB Listing
HTML NAP Matching GMB Listing NAP
Quantity of Inbound Links to GMB Landing Page URL
Local Area Code on GMB Listing
Association of Photos with GMB Listing
According to MOZ
[16.5%] LINK SIGNALS
These are the signals that are associated with the links that are on your website or pointing to your website that when optimized and set up correctly will be the second most influence how your business ranks on Google for local SEO.
BACKLINK
A backlink is when another web page links to your page.
Backlinks are important because it communicates authority to search engines like Google. In other words, a search engine weighs how authoritative (legitimate) your site is in its subject matter to determine how high it should rank in results. One of the ways search engines determine authority is by checking to see how many other legitimate websites send their readers back to you for industry-related key words.
So, the more backlinks from quality websites to your site, the more authoritative your website appears and the higher it will rank for local SEO keywords.
Connecting with websites that offer similar or complementary content can be a great way to build relevant backlinks. Overall, the best way to get your page linked to and to increase your backlinks is to offer quality online content that other websites consider important or interesting enough to link to.
If you are interested in finding out how many backlinks your website currently has you can use the free SEMRush tools.
PRO TIP
The easiest way to rank Number 1 on Google is to do a search for a keyword you want to rank for and make your content better than the number 1 result
You will know what keywords to focus on, how long it needs to be and how much information you will need to have.
What you won't know is how many backlinks you will need and what anchor text you will need to use.
If you would like to know how many backlinks and what anchor text you need to take over the number 1 spot on google you can can use the Linkio Backlink Campaign Manager tool to tell you that.
HOW TO BUILD A BACKLINK PROFILE
Using two different approaches, SEMrush studied over 2,000 firms of dominant U.S. companies.
Approach #1 was to maintain accuracy using the Authority Score metric to measure quality of domains, Trust Score, and how valuable it would be to a website's SEO.
Approach #2 was to identify the most popular link sources using high match percentages, and estimated monthly traffic.
Findings:
Having both reputable and popular referral links are essential in understanding what searches potential customers are doing on a regular basis.
Based off of their Authority Scores, U.S. Real Estate Firms were found to have the most reputable referring domains/link sources in both Professional Directories (30%) and General Directories (30%).
Professional and General Directories are reputable because of the pull they have specifically in the real estate industry. These directories are often used locationally, as most real estate services are specific to the areas that the clients are looking to buy or sell.
With this information you can see that creating links to your website by adding them to popular websites like, Trulia or Yellow Pages is a strong lcoal SEO strategy for real estate agents.
TOP 5 WEBSITES TO LINK FROM
According To The Study These Are The 5 Most Reputable Referring Domains For US Real Estate Agents:
PRWeb.com

PRWeb is a news release service that charges a fee to create a news release

Trulia.com

Trulia is a division of Zillow and they allow you to create a free profile.

Realtor.org

Realtor has a directory of active members

YellowPages.com

Yellowpages is a business directory website that offers a free profile.

ActiveRain.com

ActiveRain is an industry specific blogging/directory platform that offers a free profile.
The popular referring domains match the reputable list fairly seamlessly, with Professional Directories and General Directories being the highest matches in both categories as well. These provide high value for local SEO, especially as potential clients often make their decisions based off of desired location. For specific details on how the popular referring domains measure up, be sure to download the complete study here.
SOME TAKEAWAYS:
Without a doubt, this research is beneficial in several avenues of link building for your real estate firm. The results can be utilized in some of the following ways:
Analyzing web resources from your competition can create high-quality backlinks.
Pay attention to the quality of link sources through statistics from resources like Authority Score.
Consider the value of your backlinks, and what kind of relevance it has to your domain.
Diversification of your link sources is key in making sure your website does not get flagged for suspicion.
The study also offers some valuable tools to follow up with after the data.
Using tools like:
Backlink Analytics
Traffic Analytics
Backlink Gap
On Page SEO Checker
Can help find out who the direct competition is, how much traffic they get per month, collect deeper insights to link building possibilities, and protect a website from links that are potentially dangerous, all of which can you help you build the health of your local SEO campaign.
For instance, the tool Backlink Gap lets you view direct domains that your competition are getting hits from. This could be especially useful if you're lacking relevant real estate-related links that would boost your performance.
The Link Building Tool breaks it down into achievable steps that include finding relevant link sources, reaching out to potential partners, and monitoring progress, while the SEO Content Template gives you targets and SEO-friendly recommendations to create the most relevant content for your goals.
For the entire study and tools offered to build your real estate backlink profile, download here.
3 WAYS FOR REALTORS TO BUILD LINKS
#1 – START A BLOG | #2 – SOCIAL MEDIA | #3 – WEB PROFILES
#1 START A BLOG
Adding original and interesting content to the interwebs is the best way to get links to your website and start building up your Local SEO presence.
People do not usually want to link to a business or service, they do want to link to interesting content that they think their audience will enjoy or get some benefit out of reading.
Your listings are not really interesting content that people will want to link to… you need to think outside the box.
This type of marketing is called Content Marketing.
CONTENT MARKETING
Content marketing is a form of marketing focused on creating, publishing, and distributing content for a targeted audience online. Wikipedia
It is the discipline of creating content on a regular basis to attract people to your website, landing pages, social media pages, email newsletter, etc.
Content in this case is a blog post that is created using text (a story), video, images, audio, or the combination of.
Marketing is the act of getting that content distributed to Search Engines, Social Media Platforms, Book Marking Sites, Email Newsletters, and other Websites.
GETTING STARTED WITH CONTENT MARKETING
2 Blog Posts Every Month Will Work… but the more content you create the better.  We would really like to see 1 blog post per week.  But bi-weekly will work for now.
The goal is to use content and Social Media to drive traffic.  We are not focusing on SEO or organic search results or even Google for that matter.
What I am trying to say is don't let your fear of not understanding Local SEO stop you from Just adding content.
HOW TO POST TO YOUR BLOG
This is for the "Just Getting Started" Bloggers.
In order to create a WordPress Blog Post you will need to "Login" to your WordPress Backend.  You can find the Login screen by adding a /wp-admin to the end of your WordPress domain name –
Type:  https://www.YourDomainName.com/wp-admin into your web browser.
This will pull up a login screen that looks similar to this:
Once Logged In you will see the WordPress Dashboard that will look similar to this
To start Blogging you just click on Posts and Add New as you can see in the diagram below and it will pull up a screen that looks similar to this:
Like a painter your fresh canvas awaits your artistic strokes.
CREATE A FORMULA OR TEMPLATE
BLOG POST FORMULA
I have a formula for creating my blog posts.  Although the content, images, and titles are always unique; the way I format my blog post is always the same.
Create an Attention Grabbing Headline 
Add an Eye Catching Image
Use an interesting quote or statistic to reinforce your idea
Write a 2 or 3 paragraph summary of your idea
Add your first of 2-5 sub topics
Add 2-3 paragraphs of content to each sub topic
Add links to my other website content and other respectable websites
Add a conclusion
Make sure that I have written at least 1,000 words although 1,500-2,500 is preferred
That is my basic formula, it changes some here and there, but for the most part this helps me in making a good-looking blog post fairly quickly.
You can borrow mine, or find one that you like.  Remember that like most Marketing Strategies there is no perfect idea and to maximize your results you should be testing your ideas.
THE STEPS TO CREATING A BLOG POST
 I get a blog post idea (usually it is a question that a client asks me)
For Example:

What the first step of the home buying process?
How do I prepare my home before I sell it?
How long does it take to buy a home?
When is the best time to sell my home?
What is a seller's market?
How long will it take to sell my home?
What is a buyer's market?
How can I figure out how much a home is worth?
What is a stratified market?
Why is my home's assessed value different than the market value?
How much do I have to pay an agent to help me buy a house
Are real estate prices negotiable?
What kind of credit score do I need to buy a home?
How much of the sale price do I get?
How much do I need for a down payment?
Is paying 6% to sell a home required?
Should I sell my current home before buying a new one?
Do discount agents provide the same service as more expensive agents?
How many homes should I view before buying one?
What is a home buyer rebate?
What is earnest money?
Should I sell my home before buying a new one?
How long can the seller take to respond to my offer?
What if my offer is rejected?
Why do I need a mortgage before I buy a house?
Should I order a home inspection?
Can I back out of buying a house?
Do I need to do a final walk-through?
How can a real estate agent help me buy or sell a home?
2.   I create the title of the blog post (this will be the H1, or Heading 1 tag)
3. I create an image using Canva.com
I use an image I get from:
and add a little bit of text to that image.
( I want the image to fill my blog post width and make my images 850px x 400px)
4.  I add the image to the "Featured Image" link of my post.
(making sure to add a keyword to the ALT Text tag area)
5.  I create the Sub Title and wrap it the H2, or Heading 2 tag.
6.  I do a Google search for a quotation or statistic that I think is interesting and reinforces my blog idea.
I wrap it in:

block quotes
Click To Tweet

I currently use the plugin Social Warfare for this feature.
This is an amazing article about creating amazing articles.
This is an amazing article about creating amazing articles.CLICK TO TWEET
7.  I write a few paragraphs explaining what my blog post will be about and why I am writing it.
8.  I add my first Sub Topic Heading and wrap it in H3, or Heading 3, tags.
9.  I write 2-5 paragraphs of content
10.  I repeat steps 8 & 9 a few times 2-5
11.  I type the word Conclusion or Summary or Final Thoughts and wrap it in H4 tags
12.  I summarize what I just wrote in a few sentences
13.  I Select a Category OR Tags for the blog post.  (I use categories)
14.  I use a plugin called WordPress SEO to make sure that I am remembering to Optimize my blog post for the search engines.
The tool can be accessed at the very bottom of your blog post page, and looks like this:
15.  With the Yoast WordPress SEO plugin once I have entered my desired keyword in the tool, before I publish, I can check to see if my blog post is optimized.
16.  I re-read for grammatical errors, formatting issues, and clarity.  Then run a spell check.
17.  I publish my post or schedule it to post to a future date.
Tips For Making A Good Looking Blog Post
Don't write with SEO or Google in mind… write for the people.
Don't forget about SEO or Google while preparing your blog post.
Don't have more than 3 sentences in a paragraph.
Be sure to use bold, italic, bullets, numbers, lists, indent, caps, etc to break up the text.
Make sure to set up your blog post so that it is skimmable.
Don't forget to add your Featured Image.
Be sure to add at least 1 link to content on your website (reference another blog post, your about page, or a page on your site that relates to the blog post)
If you add video, remember that Google can not see any words, be sure to transcribe the video below the video.
Try to add an actionable item in your post (In this post I gave you a link to subscribe to my site if you want to download my free ebook).
Did I mention that the Title or Headline is very important.
Shoot for a minimum word count of 1,000
Don't be afraid to throw in some Sub Sub Headers and wrap them in H4, or Heading 4, tags.
Be sure that you have Social Sharing buttons that are easy for your readers to find and share your good-looking blog post.
Resources
5 Blog Post Layout Templates
MORE CONTENT MARKETING TOPICS FOR REAL ESTATE
Most of what I learn about generating leads comes from Zillow and Trulia… they are the best.
Zillow has 2 interesting menu items in relation to content:
Advice
Home Design
Give Your Real Estate Advice and Talk About Home Design
Of course there a zillion ideas for creating content, some of mine:
VIDEO + STORYTELLING + FAQ
VIDEO MARKETING
Video marketing is becoming increasingly popular in the real estate market as it offers a unique experience to audiences that leads to high engagement.
In fact, according to research done by the marketing department at HSA Home Warranty, 75 percent of home sellers are more likely to list with agents who use video.
With 50 percent of prospective home buyers using YouTube as their main source of video research, according to real estate blog Wingwire, it seems that Youtube is the place where real estate professionals should be focusing their attention.
GETTING STARTED WITH VIDEO MARKETING
Now, if you haven't made any videos yet, your first question might be how.
There are several tools you can use to make and edit videos. But for beginners, let's start with the simple apps.
VIDEO MARKETING APPS
It is free and you probably already use it for personal videos and posting on your IG page. So why not use this as well as a marketing tool?
You can use Instagram to create:
Company Story Videos
Listing Videos
Testimonial Videos
Real Estate Information Videos
If you are looking to do more in depth video give IGTV a try, a new offering from Instagram for long-form vertical video content, and it is shaping up to be a powerful contender in this arena. The rules on IGTV are still being written, so I recommend that you experiment and see which lengths perform best.
IMOVIE
If you're familiar with Apple products, give iMovie a try. It may not be free, but for a minimal fee, you can make you videos using drag and drop. There are themes with built in transition, music, and colors. And when you're done, you can publish directly to YouTube or VImeo or Facebook.
MAGISTO
One app you might not be familiar with is Magisto.
Magisto has Emotion Sense Technology which captures the emotions of the people in the video. When you upload your video to the Magisto website, it will edit it in a way that will emphasize the emotion that your video conveys.
It is a great tool for realtors who want to showcase the happiness of their clients upon closing on a deal.
WELLCOME MAT
You might also want to try WellcomeMat. This online platform specifically targets real estate professionals including brokers, agents, and brands.
They offer a host of software tools that could help you build your audience, direct traffic and listings to your site, and increase your reach.
WEVIDEO
The WeVideo App.  This app turns your cell phone into a Video Production Studio and it is pretty simple to use.
There is a free version… but if you sign up for their Power Plan, you can get upgraded features and remove the watermark for just $4.99 a year!
Here is a sample video Can You Buy A House While Selling Your Current House I made using the app.
VIDEO STORYTELLING
Here's something that stand-up comedians and real estate agents share: their success depends on the way they tell their stories.
If you're not keen on putting your writer's cap on, by all means, find professionals to help you. Just make sure that the person or people you're hiring have knowledge of your industry as well as creative talent.
A gifted storyteller isn't only someone who is crafty with words and imagery, but someone who has the unique ability to uncover the extraordinary within the ordinary.
Modern-day consumers are wise to cliché marketing phrasing and false sentiment. Although it might not drive them away entirely, they certainly won't take you very seriously if you describe every small house as "cozy and intimate" and every weekend cabin as "the ideal family getaway".
Emotions go hand-in-hand with stories. In an oversaturated market where the quality of products is normative, consumers are seeking an emotional connection with a brand. They crave the human touch of stories to influence their buying decisions.
Thus, we've entered an era of marketing where everything from hygienic products to cars is being advertised through storytelling.
But advertising real estate is not like advertising cars, although there are a few similar components.
WHAT'S SO SPECIAL ABOUT REAL ESTATE MARKETING?
When you're selling products, getting a consumer to choose you over the competitor is less about the product itself, and more about your brand story. The way you advertise your products reflects the values of your brand and the emotions you want consumers to associate with it.
A good example is the whole "Coke and Pepsi" conundrum, where there's hardly any difference between the products. Yet, consumers are compelled to choose one over the other as they get attached to the brand.
Furthermore, these stories need to be weaved so that they convey to the audience how the product may fit into their lives.
Whereas with real estate, not only is each property unique, but it doesn't need to fit into their lives – it's what they'll create their lives around.
It's the dream of a bright and harmonious future. It's the place where they will live their most private moments, celebrating the good and finding refuge when life gets tough.
It's home.
Undoubtedly, storytelling has always been the lifeblood of the real estate industry. But there's no denying that the possibilities were significantly limited prior to the digital era. After all, it's not that long ago that real estate listings were faceless, bland descriptions of properties.
With the advent of sophisticated content marketing strategies, agents now have more resources and platforms at their disposal to tell genuine stories and get them heard.
15 WAYS TO TELL YOUR REAL ESTATE STORY
Here are 15 ways to use video to tell a story along with a sample of each:
https://www.jasonfox.me/14-ways-to-use-video-storytelling-in-real-estate-marketing/
FAQ
If I asked you to put together an outline for an FAQ page for real estate website could you do it?
What is Escrow?
What is Earnest Money and How is it Applied?
How Does The Inspection Process Work?
What happens at Closing?
When Do I Get My Key?
What Should I Expect From My Real Estate Agent During Buying/Selling Process?
How Do I Make An Offer On A House?
How Does The Appraisal affect My Purchase/Sale?
How do I Buy A House Contingent On The Sale Of My Current House?
What Happens During A Multiple Bid Scenario?
How Do I Buy A Bank Foreclosure Property?
What Does a Short Sale Mean?
What Areas Do You Work In?
What Kinds Of Properties Do You List/Help Buy?
What is Title Insurance?
What is Private Mortgage Insurance?
How Much Down Payment Do I Need To Buy A House?
Can I Get A Warranty On My New Home Purchase?
#2 SOCIAL MEDIA
Social media is a powerful tool that can be very beneficial for your SEO. However, it is also essential to understand that according to Google social media has no direct relation with rankings on Google.
Social media can help you get more exposure and traffic on your website, which may help you boost your ranking and visibility on search engines. It is one of the best ways to get more traffic organically.
However, it is crucial to know that social shares don't count as individual links or backlinks.
Google has mentioned it in their guidelines that social shares cannot be equated as individual links. Therefore, we can sum up that social media is not a direct ranking factor. However, we can use social media as a platform to find our ideal audiences.
Social media can be used for targeting the right audiences.
REACH YOUR TARGET MARKET ON SOCIAL
If you have a website and people don't know about it. There's no use having it. In this competitive world, it can be challenging to boost your visibility on Google. Social media is one of the ways that can help you healthily increase your SEO.
When you have an office or a shop, it is easy for nearby locals to discover you and your business. However, when you have a website to promote your goods and services. You need to go and find out who your audience is. And social media is a useful tool that can help you connect with your ideal audience.
Every day, there is a new website. However, only a few remain active because of the competitive landscape. Social media has more than 2 million users. If you want to create an identity and want to get recognized, social media is the best way to build an audience quickly. Be active on social media and build your online presence.
Social media improves your chances of getting higher rankings if done right. You can use social media in several ways to promote your content, both organically and in a paid form.
No matter how good your products and services are, it is essential to create awareness. If people are unaware of it, you cannot do anything about your brand or search engine marketing.
SOCIAL MEDIA AND LOCAL SEO
Let's discover the activities that you should do on social media that can benefit your website and business.
1. SHARE EVERYTHING ON SOCIAL MEDIA.
Whether it's a new listing or a new blog post, inform your audience via social media.
Don't just create. Engage with your friends and fans.
Create the content on your website and use social media as a promotional tool to reach out to a broader audience.
Social sharing can also benefit you by providing high-quality links to your site if your content is unique. This gives people the opportunity to see your content and possibly link to it.  That is very good for SEO.
Get maximum exposure through social media. Create short and custom URL when sharing on social media.
Use:
and analyze how much traffic that click generated. Do not just share links.
Make your social feed creative and attractive. No matter which social platform you use, stay active on it, and use it effectively to promote your content.
2. SHARE ON PLATFORMS THAT GIVE DO-FOLLOW LINKS
Combine your SEO and social media activities; you should consider posting on social media sites that will provide you with a do-follow link.
WHAT IS DOFOLLOW LINK?
Dofollow is a descriptor of links describing that search engines crawl them and count them as votes of quality.(RavenTools)
Dofollow links are significant when it comes to link building in SEO. It will be helpful for your website if you share on thos platforms that will provide you with a do-follow link.
Following are some of the social media platforms that provide do-follow links:
Pinterest
Tumblr
Twitter
Blogspot
Google+
LinkedIn
YouTube
Facebook
Bibsonomy
Flickr
Digg
Delicious
Moz
Dont' Forget Our Top 5 Real Estate Sites From Above
These are some of the platforms. Start posting on some of them. These platforms are great for building relationships with your audiences and will also help you in driving traffic.
3. SOCIAL MEDIA PROFILES DO RANK IN SEARCH ENGINE RESULTS
Social shares may or may not have a direct impact on Google's visibility and rankings. But social media profiles do impact the search engine's results.
For example, when I searched "Zillow" on Google, the company's Twitter, Facebook and Youtube appeared on the first page.
Youtube was further down and did not make the screenshot.
Therefore, we cannot ignore the fact that social media profiles do have an impact on search engine visibility and local SEO rankings. This is why it is crucial to maintain social media presence and stay active on all the desired platforms.
It is not essential to stay active on all social media platforms. You should choose a few and remain active in them.
For real estate agents I generally suggest that you have a:
Facebook Profile
Linkedin Profile
Social profiles do matter. At times, when we discover a new brand, we are most likely to check out their website as well as their social media handles. Social media is convenient.
We're spending most of our time scrolling on different social media platforms. Aren't we? You can use social media to make your brand name more visible.
4. BUILD BRAND AWARENESS
Brand awareness is incredibly important. It can help you build recognition and trust for your company. Your popularity and engagement on social media can help you in improving the online presence of your brand.
A strong online brand presence will help you in building credibility for your brand and will also help you in building a relationship with your audience, that will also help with your local SEO campaign.
If you have a strong presence on social media channels, people will start searching more about your brand. It will help in driving more organic traffic to your website.
Post engaging content
Use appealing images
Improve your rankings on social media
Make sure you optimize your social media handles with the correct keywords
Always include a CTA (Call To Action) in your posts
Give a backlink to your website on sites like Facebook and Twitter
Building brand awareness is one of the most critical aspects that you should focus on, especially if you're a start-up. Using social media is a cheap way to create buzz around your brand and connect with the right target audience.
5. CONNECT WITH THE RIGHT INFLUENCERS
Another way to boost your visibility is by investing in influencer marketing activities. All you have to do is connect with the right influencers of your niche.
Never take the number of followers as a criterion when creating your list of influencers. Instead, check their engagement rate. There are various apps available in the market that will help you check the engagement rate of influencers.
You can also consider targeting micro-influencers. Keep in mind the engagement rate.
Connecting with influencers will not only help you in generating quality backlinks. But, will also help you in building awareness of your brand. It will help in building trust for your brand.
Bloggers have their own network and audiences. If you connect with more bloggers/influencers, there are chances of having more traffic and visibility on social media channels. In case, the influencer campaign gets higher reach; you'll get more audience searching for you, which will help improve your SEO efforts.
6. CREATE MORE SHAREABLE CONTENT
Another strategy that you should consider is to create more shareable and compelling content. Content is king and will always remain the king. We cannot ignore the power of content.
Think Content Marketing = Video + Storytelling + FAQ
If you have great content, there is nothing that can stop you from ranking higher on Google's search engines.
Post more shareable and valuable content. In case, people share your posts, there will be more visibility on social media platforms, and people will acknowledge your brand. Therefore, you need to share effective content which is meaningful and shareable.
#3 WEB PROFILES
During the process of writing this post we have already addressed this topic in a couple different ways.  We are also going to re-address it later in the form of citations.
The basic concept is finding good websites to build a business profile that allows you to add a link to your website.  This will then become a back-link, and give your local SEO a boost.
While many sites will allow you to add a link to your site, many of them will be a No-Follow link, or less powerful.  I would not worry about that as much as just building those profiles.
Here is a list of sites you should consider building business profiles on.
LIST OF SITES TO BUILD A BUSINESS PROFILE
Google My Business

We have shared at great length about GMB

Bing Places For Business

Don't just limit your business to Google!
Not everyone in the world uses Google – shocking as that may seem. So, it's important to cover all of your bases in this respect. And the most obvious way to do so is via Bing Places for Business.
The setup of Bing is just as simple as Google My Business, so it's not a hardship to create. If you have issues there is a how-to guide to help you along the way.
Of course, you may question the usefulness of Bing vs. Google. Yet, even if you only get one conversion on Bing for every ten on Google… well, it's still one conversion.
It is better to have the account and see some benefit from it, rather than having no benefit at all. And unless you create the account it will be impossible to know which it will be.
Yahoo Small Business
PRWeb.com
Trulia.com
Realtor.org
YellowPages.com
ActiveRain.com
Zillow.com
Realtor.com
Your Brokerage Provided Site
Homes.com
Youtube.com
Yelp.com
Angieslist.com
Thumbtack.com
bbb.org
bizjournals.com
homeadvisor.com
manta.com
Mapquest.com
commercialsearch.realtor.com
realestate.com.au
connect.homes.com
loopnet.com
rentals.com
realestateabc.com
luxuryrealestate.com
homefinder.com
directorycritic.com
estatesales.org
valuecom.com
fizber.com
onthehouse.com.au
reals.com
homeownerscircle.com
rentlist.com
lakehomesusa.com
rentalads.com
internationalrealestatedirectory.com
ibsteam.net
relibrary.com
iqrealestate.com
abcrealestatedirectory.com
realestateyellow.com
realestate4.com
epoweredprofessionals.com
submit2ukdirectory.com
a1webdirectory.org
realestatepros.org
cutaboverealtyagents.com
us-realestatedirectory.com
realestatehomesale.com
directoryrealestateagent.com
estateagents123.com
estatepropertyagents.co.uk
rosepetalestate.com
agentpreview.com
realestateabc2.com
realproguide.com
estateagentsfinder.co.uk
estatedir.com
homesalesonline.net
estateagents.co.uk
bestrealestatelink.com
realestateagent-listings.com
abireal.com
realestatehall.com
estateagentslocally.co.uk
superrealestatedirectory.com
LINK BUILDING HOLY GRAIL INFOGRAPHIC
Check out the infographic below and learn more about how you can create a link building strategy that synergies with your content marketing.
[15.4%] REVIEW SIGNALS
These are the rankings signals that are associated with the number, quality and diversity of your Online Reviews.
There's no denying the fact that word-of-mouth is still one of the best ways for real estate professionals to attract new business. But even the friends and families of your past clients will be interested in knowing a little bit more about the person they're about to trust to help them make such a major financial decision." (Inman.com)
Statistics show that online reviews are critically important to establishing trust with future clients, with 84% of consumers trusting online reviews as much as a personal recommendation and 60% of consumers saying that negative reviews make them question the quality of a business.
Because of that fact they are also quite crucial for your local SEO real estate results.
But which online review site matters the most? We all know that consumers search Yelp for restaurants, but what about when they search for real estate agents? Where do they go?
Before you ask your next client for a review, you might want to know which site to ask them to go to.
As it turns out, new evidence from Rising Star Reviews shows that Zillow is the most important review site for real estate agents to focus on first.
More people search for real estate agent reviews on Zillow than any other site.
This wasn't always the case. Prior to 2017, the leader in real estate agent reviews was actually Google! No, not Trulia or Realtor.com or any other real estate site…and not even the review-focused site, Yelp, but Google!
In 2017, Zillow surpassed Google for the first time as the #1 place people go when they want to find reviews of real estate agents.
But Google remains a very strong #2 behind Zillow for now. So as soon as you have your Zillow reviews under control, your very next priority should be to get lots of strong Google reviews.
Coming in a distant third, Yelp should be your next priority after Google.
And finally, the remaining real estate sites barely rank as "also ran's." Trulia is the most important site specific to the real estate industry after Zillow…although you don't have to do anything to get reviews on Trulia, since the same reviews you get on Zillow automatically transfer to Trulia now that Zillow and Trulia are fully integrated. After Trulia, Redfin is the next most popular place people search for real estate agent reviews, followed finally by Realtor.com.
REVIEW SITES YOU SHOULD FOCUS ON
Zillow – Essential! (It's important to get lots of great Zillow reviews)
Google – Essential! (It's important to get lots of great Google reviews)
Facebook – Essential! (It's Important to get lots of great Facebook reviews)
Yelp – Nice to have (It's good to get lots of great Yelp reviews, but not as essential as Zillow or Google)
Trulia – Gimme (You'll automatically get Trulia reviews by getting Zillow reviews, since they're integrated)
Redfin – Meh (Spend time on Redfin reviews if you have the time to spare)
Realtor.com – Meh (Spend time on Realtor.com reviews if you have the time to spare)
Angieslist.com – Meh (Spend time on Angieslist.com reviews if you have the time to spare)
REVIEW MISTAKES I HAVE MADE
1. Asking my clients to review me on my site using a review plugin
2. Asking my clients to review me on a 3rd party sites like Linkedin and Mosaic Hub
You can see I have many positive reviews on this page that do not show up on local searches
3. Not asking my clients for reviews…. this is the worst of all.
HOW TO GET REVIEWS
The hardest part about online reviews is not which platform to collect them on but how to get your clients to take the time and give you a review.
Here are some things to try.
Set the Expectation Early

There is a good chance the reason they are using you is because they saw your positive reviews.  During your listing or buyer presentation let them know that reviews are an important part of your business and that you will expect one from them.

Ask For The Review

The day of or the day after closing remind them about your initial request for a review.

Make It Simple

Provide some direction on what you believe to be highlights of the transaction.

Show Them Where To Go

Have a list of links to your preferred review sites or use a review tool.

Be Persistent

Most clients will not give you a review the first time you ask.  Don't be afraid to keep asking, it is 15% of your online presence after all.
REVIEW TOOLS
In my personal real estate business my partner and I use an email to collect our reviews and if you follow the tips above it is fairly effective.
Sample Email
Hello Client's Name,
It's always our pleasure to email friends and thank them for their business because we realize that you could have chosen to do business with someone else. So again, thank you for giving us the opportunity to work with you.
The other reason we are writing you today is to ask if you have any feedback about your experience working with us.
We generally use this feedback as a testimonial in our marketing material.
With that in mind, may we ask you to post your feedback so that we could use it on our website and other marketing materials?
=> Google Reviews
=> Zillow
=> YELP
=> FACEBOOK  Let me know if there is anything we can do for you.  Thanks again!Jason
The key is highlighting the links that go directly to our preferred review sites in the order of importance to us.  Most of the links are easy to find… just go to the site, find the review section and copy the link.
Getting a direct link to Google is a bit tougher:
1. Go to Google Places API.
2. Enter your business information in the "Enter a location" field at the top of the map.
3. Click your business name in the list that appears.
4. Your Place ID will appear on the map, beneath your business name.
5. Add the Place ID to the end of following URL to create the direct link:  https://search.google.com/local/writereview?placeid=
6. Using the Place ID from the example above the direct link would be:  https://search.google.com/local/writereview?placeid=ChIJD-0QZ9QGkFQRIid_1QVBXMw
7. Send this link to your past, current and future clients
REPUTATION MANAGEMENT SOFTWARE
If you are interested in getting more reviews in more locations you can try a tool to assist you.  A great review tool specifically for real estate agents is Real Satisfied.
Once you have created your account, profile, office settings, and which reviews you would like to encourage.  You can send a survey invitation to your clients.
The survey invitation will look something like this:
OTHER OPTIONS
Birdeye
RealPage
Testimonial Tree
Zillow (They allow you to bulk email your past clients asking for a review)
[13.8%] ON-PAGE SIGNALS
These are the signals that are sent to Google from your website.  We have covered a lot this indirectly in previous sections.
Things like:
ON PAGE SIGNALS
Presence of NAP
Keywords in titles
Domain authority
PRESENCE OF NAP
If you recall we talked about NAP in relation to your Google My Business Profile.  I suggested you document and save your NAP+W (Name, Address, Phone, Website).
Now we have to make sure that the same NAP is on your website.  In the form of HTML or JSON-LD format.
You can create that code with The Google Structured Data Markup Helper.
>Select "Local Businesses"
>Enter Your Website "URL"
>Click "Start Tagging"
Then you just click on the part of your website that is going to be added to your NAP code and after you have it all highlighted click "Create HTML".
The tool will spit out some code that you can add to your website footer.  The code will look something like this:
1<!– JSON-LD markup generated by Google Structured Data Markup Helper. –>2
KEYWORDS IN TITLE
Remember, as a real estate agent, all of your searches will be relevant to the local area.
Capitalise on this by finding the best keywords for each community you cover, whether this be 'homes for sale in Lynnwood' or 'realtor in Seattle'.
Do you want to know how to find the most profitable keywords, for the least amount of time and money invested?
My friend Mathew Woodward wrote a very detailed article explaining how to use free keyword research tools.
Ensure that the content on your website is focused towards the regions in which you operate.
This could mean having separate pages for each location you serve, or community pages. With information on a variety of aspects such as:
Schools
Median income
Public transportation
Listings
Community Description
Restaurants
Images and Preferably Video
Parks
And More
This ensures a pleasant user experience as well as maximising your chances of ranking in local SEO search results.
LOCAL SEO RESULTS
Google took Local Packs away from real estate for a while.  It used to be that you would see the Local results when you entered the search term…
Local Area + Real Estate (I always suggest not trying to rank for this keyword unless you are advanced)
As you can see from the image below that no longer produces results for local real estate agents, now it is just the big syndicates:
It looks like Real Estate Agents can get their Local Packs to display with the search term of…
Real Estate Agent + Local Area
As you can see below I entered Seattle + Real Estate Agent and the Local Pack is displayed:
FYI:  When I type in…
Real Estate Broker + Seattle
a different set of Local Pack results display, as you can see below:
LOCAL SEO KEYWORD RESEARCH
SEO novices assume that everyone types the same keywords into Google, a common mistake. In fact a well-optimized Real Estate website will get traffic from people who type in variations of thousands of different keywords.
When we asked our client what keywords he was checking he stated:  Major City + Real Estate.
While it is true that most often the city name + the word real estate is the most searched keyword… it is just one keyword variation.  And it happens to be the most competitive, by a large margin.
The average major city + real estate search result is only going to have room for 1 or 2 local agent's websites.  This is because you are competing with Zillow, Trulia, Redfin, Realtor.com, Homes.com,  Craigslist, and the big brokerage firms.
If I use the Google Keyword Planner Tool I can see how much keywords cost per click.  The more they cost per click the higher the competition.
For Example:
Seattle Real Estate = $.98 per click
Seattle Condos = $.64 per click
This tool is used to price Ads and not organic traffic, but is still a good indicator.  What that tells me is it will be easier to rank for Seattle Condos than Seattle Real Estate.
An easier way to simply gauge the popularity of a group of keywords is to search for them on Google and you will notice that they show you how many results were populated.
For Example:
Seattle Real Estate = 98,100,000 results
Seattle Condos = 12,800,000 results
You can see that Seattle Real Estate gets 85,300, 000 more results than Seattle Condos.
Learning to understand SEO is not a task that most real estate agents want to take on… and we understand that.  Before you dig in to deep… you don't need SEO.  There are other ways to generate traffic and leads.  This is just one way.
SEO is cheaper than all other forms of internet marketing especially pay-per-click campaigns and more effective.  It does however, take time, and time is money.  And it is not easy.  And there is not an exact formula that you can replicate to get the exact results you want.
This leads us to a very important question; what's the best way for real estate agents to start an SEO campaign?
If you are interested in the answer to this crucial question, look no further. Below is everything you need to know about SEO best practices for real estate agents who are beginners in SEO i.e. how to SEO for real estate.
CONDUCT THOROUGH RESEARCH
The first and most important step in any SEO campaign (let alone real estate campaigns) is research.
KNOW YOUR AUDIENCE
The best local SEO practices all begin with thorough research to find the best audience for your site. This step is crucial because your site is most likely to convert when you choose the right audience.
What's the point of talking to people who aren't likely to transact business with you? Most real estate agent fail in SEO because of choosing the wrong target audience right from the start.
FOR EXAMPLE: IF YOUR WEBSITE SHOWCASES LUXURY LISTINGS YOU PROBABLY DON'T WANT TO ATTRACT MOBILE HOME CLIENTS
Because the internet is a huge place, you need to research and find the perfect audience for your website if you plan on getting the best leads possible. The beauty of internet marketing is that you have control over who you want to find you.
You can start researching by writing down the characteristics of the most successful real estate clients you have dealt with.
For instance:
Where were they from
What was their age
What problems did they face
What information captured their interests
What questions were they asking?
The answers to the above questions will help you to figure out how to attract similar clientele to your website.
THIS IS CALLED CREATING A BUYER PERSONA.
A buyer persona is a semi-fictional representation of your ideal customer based on market research and real data about your existing customers. When creating your buyer persona(s), consider including customer demographics, behavior patterns, motivations, and goals. The more detailed you are, the better. (source: Hubspot)
IF YOU WOULD LIKE TO LEARN MORE ABOUT CREATING A BUYER PERSONA YOU CAN DOWNLOAD THE CREATING A BUYER PERSON FOR YOUR BUSINESS E-BOOK IN THE DIY MEMBERS AREA.
KEYWORD RESEARCH
Earlier in the post we talked about a common mistake involving Keywords or Search terms.  The first thing I would do with my keyword research is ignore the search term "Major City + Real Estate".
We can always come back to this huge keyword and try to rank for it… but lets start with some easier keywords that we can start ranking for more quickly.
IF YOU RANK FOR 100 KEYWORDs THAT EACH DRIVE 10 VISITORS, THAT IS THE SAME AS RANKING FOR 1 KEYWORD THAT DRIVES 1,000 VISITORS.
I bet you did not know that when you put together your Buyer Persona you came up with some keywords.  Sure, when you wrote down that most of your clients did not understand Mortgage Insurance… that is a keyword: "Understanding Mortgage Insurance" or "What is Mortgage Insurance" or "Do I Need Mortgage Insurance" or "Why DO I Need Mortgage Insurance"
TO BE ABLE TO CRAFT AN EXCELLENT CONTENT STRATEGY, YOU NEED TO THINK OF TWO TYPES OF KEYWORDS NAMELY; COMMERCIAL AND INFORMATIONAL KEYWORDS.
As the name suggests,
Commercial keywords are keywords that are used by real estate clients interested in transacting business i.e. buying or selling property.
Informational keywords are those keywords used by people who are interested in finding real estate related information.
Most local SEO real Estate beginners don't know this which is why they craft ineffective SEO campaigns. You need to think of the type of keywords your target audience is most likely to use on search engines and use such keywords to make your website content.
Commercial keywords are a great inclusion to your website if you are targeting real estate clients who are already interested in buying property or transacting any other real estate related business.
Good examples of commercial keywords are:
buy a home
buy property
searching for a home
A person typing these types of keywords on Google will definitely make a faster  decision compared to another person who is just looking for real estate related information i.e. the person typing informational keywords.
It's therefore up to you to decide what you want. Both keyword strategies are good depending on your strategy.
If your site is purely informational, then there is nothing wrong with posting content rich in informational keywords.
If you are looking for clients who will most likely use your services in the shortest time possible, commercial keywords are the best.
You must however do through keyword research since commercial keywords are highly competitive for obvious reasons. Keyword research will help you find those commercial keywords that are popular but less competitive.
For instance, instead of choosing a commercial keyword with a name of a state, you can choose those with the name of a city or neighborhood. Such keywords will give you a better page ranking because they aren't used by as many established real estate professionals.
If you did not do a Buyer Persona, and are not worried about Commercial vs. Informative keywords,  we will just hope you are going to attract the right people.  Sometimes just starting is good enough, so don't beat yourself up.
KEYWORD IDEAS
You can simply start typing words into Google.  Sure, once you start typing something in then Google will start suggesting more keywords.
For Example:
I have a good deal of clients that like to buy Investment Properties.  So I might type in:  "How to Buy an Investment Property" and Google starts suggesting keywords to me.
WHENEVER POSSIBLE I WANT TO ADD MY CITY, OR NEIGHBORHOOD TO THE KEYWORD. I WOULD RATHER GET PEOPLE LOOKING FOR INVESTMENT PROPERTIES IN MY CITY THAN FROM ACROSS THE NATION.
If you want a tool to help you think of Keywords try:
BETTER YET IF YOU WANT A LIST OF HIGH VOLUME REAL ESTATE KEYWORDS: YOU CAN DOWNLOAD THE REAL ESTATE KEYWORD BIBLE E-BOOK IN THE DIY MEMBERS AREA.
Be sure to try different keyword combinations.
For Example:
Did you know that the word "House" is used 20x More Than the word "Home"
It is however crucial to make sure you create high quality content that your website visitors will like/find useful and return for more.
DOMAIN ATHORITY
Domain Authority (DA) is a search engine ranking score developed by Moz that predicts how well a website will rank on search engine result pages (SERPs). A Domain Authority score ranges from one to 100, with higher scores corresponding to a greater ability to rank.
Domain Authority is calculated by evaluating multiple factors, including linking root domains and number of total links, into a single DA score. This score can then be used when comparing websites or tracking the "ranking strength" of a website over time. Domain Authority is not a metric used by Google in determining search rankings and has no effect on the SERPs.
You can view a website's DA by using MozBar (a free Chrome-extension), Link Explorer (a backlink analysis tool), the SERP Analysis section of Keyword Explorer, and dozens of other SEO tools across the web.
This one is a bit confusing because on one hand the Moz Report shows that Domain Authority is a factor for the On Page Signals which is 13.82% of your local SEO ranking factor.
On the other hand in their own description of Domain Authority they state that it is not a ranking factor for Google.
To clarify, what I think they are saying is that Google will not use the Domain Authority score that Moz produces to rank sites.  However, the concept of domain authority as defined by Moz is part of the Google scoring system.
BASICS OF DOMAIN AUTHORITY
The basic idea here is that your website has a "Reputation".  We don't want to be known as the cut-up, the cheater, the skipper, the bully, etc.  We want to be known as the student "Most Likely To Succeed".  They consistently show up, do not take short cuts, produce good work, get praise from their peers and teachers, build strong relationships and generally follow the rules.
We do this by producing good content, getting strong back links, focusing on relevant local keywords, having a strong GMB profile, getting a variety of good reviews, having a good website that runs well, building strong social media channels and not engaging in questionable SEO behavior.
Most of which we have already discussed at great length.
MOBILE FRIENDLY WEBSITE
More people browse the internet on their phone than on a desktop or laptop computer.
Make sure that your Website is Responsive in design.
Responsive web design (RWD)
RWD is an approach to web design that makes web pages render well on a variety of devices and window or screen sizes. Recent work also considers the viewer proximity as part of the viewing context as an extension for RWD. Content, design and performance are necessary across all devices to ensure usability and satisfaction.
A site designed with RWD adapts the layout to the viewing environment by using fluid, proportion-based grids,flexible images, and CSS3 media queries, and an extension of the @media rule.
Failing to optimize your site to support mobile devices is literary begging for visitors to bounce off your site and seek help elsewhere.
So, take heed and ensure that your site is seamlessly accessible through mobile devices.
You can test your site with the Google Mobile-Friendly Test.
BOOST YOUR WEBSITE LOAD SPEED
Load speed is a very important issue for Internet users, so if your website's load speed is slower than usual, you have to do whatever you can to speed things up, or you put your local SEO rankings at risk.
Image Optimization
One way you can speed up the load speed of your website is to optimize the images on it.
Unoptimized images are typically large and therefore eat up a lot of your server resources. This slows down the entire loading process.
You need to reduce the size of the images, but in a way that won't compromise their quality.
Fortunately, there are plugins that are capable of compressing your images without affecting their quality.
 reSmush.it (free)
WP Smush (free version and paid version)
Custom Fonts
Minimizing the use of custom fonts can also help speed up your site.
Custom fonts may look great, but they use plenty of JavaScript or CSS. This code-heaviness affects the loading speed of your site's loading speed, so if it's possible to avoid using them, just do so.
However, if you must use custom fonts because they're necessary, then limiting their use to headings or anywhere vital would help keep the site lighter and faster.
Minify
Speaking of codes, "minifying" them would also help boost your site's loading speed.
Your website's code is filled with thousands upon thousands of characters, which shouldn't be a problem if every single one of them is necessary.
However, many of them may already be redundant and do nothing but make the website heavier. Lighten up your site by "minifying" your website's code, which is simply removing all the redundant and therefore unnecessary characters in your code.
So if you're into coding, minify your site right away. If you don't do coding, then use any of the minifying tools available online, or get someone else to do it.
 Autoptimize (free)
WP Rocket (paid)
[10.8%] CITATION SIGNALS
These are the signals that are sent to Google from all those business profiles that we talked about earlier.
A local citation (also known as a business listing or online directory listing) is any place online that shows the following facts about your business:
Name
Address
Phone number
Website
Citations are the backbone of a good local SEO campaign and something that we have discussed previously.
[9.5%] BEHAVIORAL SIGNALS
These are the signals that are generated by your target audiences behaviors taken toward your online presence that will affect your Local SEO results.
Click-through rate
Mobile clicks to call
Check-ins
Quantity of Engagement Signals on GMB Listing
Scrolling through listing
Clicking photos
Reading reviews
Reading Q&A
Clicking on Posts, etc.
Volume of Searches for Business Name
Click-through Rate (CTR) refers to the percentage of people that click on an element that they have been exposed to. Click-through rate is calculated by simply dividing the number of people who clicked on a given element by the total number of visitors to that page.
CTR is a metric that is used to analyze emails, webpages and online advertising (Google, Bing, Yahoo etc). CTR is normally used to measure the success of marketing efforts.
Google wants to see that when your local SEO search results are displayed that the people that are searching for them are "Happy" with the results.
Meaning when they see your website they click on it.  When they find your GMB Profile they click the "Phone" or "Directions" button, and look at the pictures and reviews.  They want to see a large number of people search for your business name.  They want to see people checking in and interacting with the business.
All the things that someone would do if they did a search and found the business they were looking for.
HOW TO OPTIMIZE FOR BEHAVIORS
You can not "Game" Google's search results. 
e authentic, do good business and follow all the examples that we have already talked about.
I often get clients that ask me if it is important to have the name of the city they work in their domain name.
It might help, but the days of adding a keyword int the domain to boost local SEO are long gone.  The Alogrithm's are incredibly complex and with the invent of AI are constantly learning and adapting.
People taking action when they find you online is real… you can't fake that.
[5.88%] PERSONALIZATION SIGNALS
These are the signals that are altered by the "Personalization" of the searcher.  To the best of my understanding this is just about where the searcher is located.  Which is whole reason we want to focus on local SEO for real estate.
If you are a real estate agent in Cleveland and a person in Miami searches for a real estate agent they will not get your business as a result.
The only advice I can offer on this is… Make sure there are plenty of people searching for real estate agents in your city.
[2.8%] SOCIAL SIGNALS
These are the signals that are generated by how many likes, retweets, shares and comments you get on Social Media sites.
I know this has been said a million times before but…
YOU NEED TO BE "SOCIAL" ON SOCIAL MEDIA.
I know what you are thinking here previously in this post you tell me that Social Signals do not affect SEO, now you are telling me that Social Signals do affect SEO.  What gives?
The official stance from Google is that they do not measure social posts as a direct SEO indicator.  However, many reputable businesses have conducted SEO tests that have shown that social signals can affect the results.
According to Hootsuites Project Elephant experiment, "There is a positive correlation between social engagements and change in rank. Overall there were more improvements in rank associated with social engagements than observed ranking losses."
What most SEO's believe is that there is some correlation to a robust social media presence and a boost in local SEO.
If nothing else, as we pointed out earlier, your social media profiles will rank on search results.  And you can drive targeted traffic to your website from your Social Media profiles.
Both of those increase your Web Presence!
HOW LONG DOES IT TAKE TO RANK ON GOOGLE
Ranking in Google is a tricky business, and even if you take all the relevant variables into account, in the end, you still might not get the local SEO for real estate results you were hoping for.
This means that in most cases the answer to this burning question is – 'It depends'. But who wants to hear that? Luckily, thanks to a comprehensive study from Ahrefs, we can actually give you a more concrete answer than that.
The Ahrefs study first looked at the average age of the top-ranking pages. They took 2 million random keywords and pulled data on the Top 10 pages for each keyword. The results showed that the average Top 10 ranking page was 2+ years old, while pages which ranked at the coveted #1 position were almost 3 years old.
Ahrefs team then randomly picked 2 million pages that had been previously seen by their crawler, tracking the position history of each page for any keyword it's ranked for. It turned out that just 5.7% of pages ranked in the Top 10 within 1 year for at least 1 keyword. The average time it took for these lucky pages to get to the top was anywhere between 61 and 182 days.
The study also showed that it doesn't take too long to rank for low-volume keywords, whereas ranking for high-volume keywords can take almost a year if you want to become part of the Top 10.
Clearly, this is only the case for the very fortunate 5.7% of pages. So what happens to the majority of pages which try to rank in Google? To find out more about the Ahrefs study results, check out the useful infographic below by The Website Group!
HOW LONG DOES IT TAKE A REAL ESTATE WEBSITE TO RANK IN GOOGLE? [INFOGRAPHIC]
SUMMARY
According to the most trusted source of SEO research, Moz, local SEO is broken down into 8 major categories:
Google My Business Signals  25.12%
Link Signals  16.53%
Review Signals 15.44%
On-Page Signals 13.82%
Citation Signals 10.82%
Behavioral Signals 9.56%
Personalization  5.88%
Social Signals  2.82%
Most real estate agents would agree that getting their business to rank high enough on local SEO results to have people calling or emailing them to help them buy or sell houses would be awesome.
If you want that for your business this guide will get you off on the right foot.