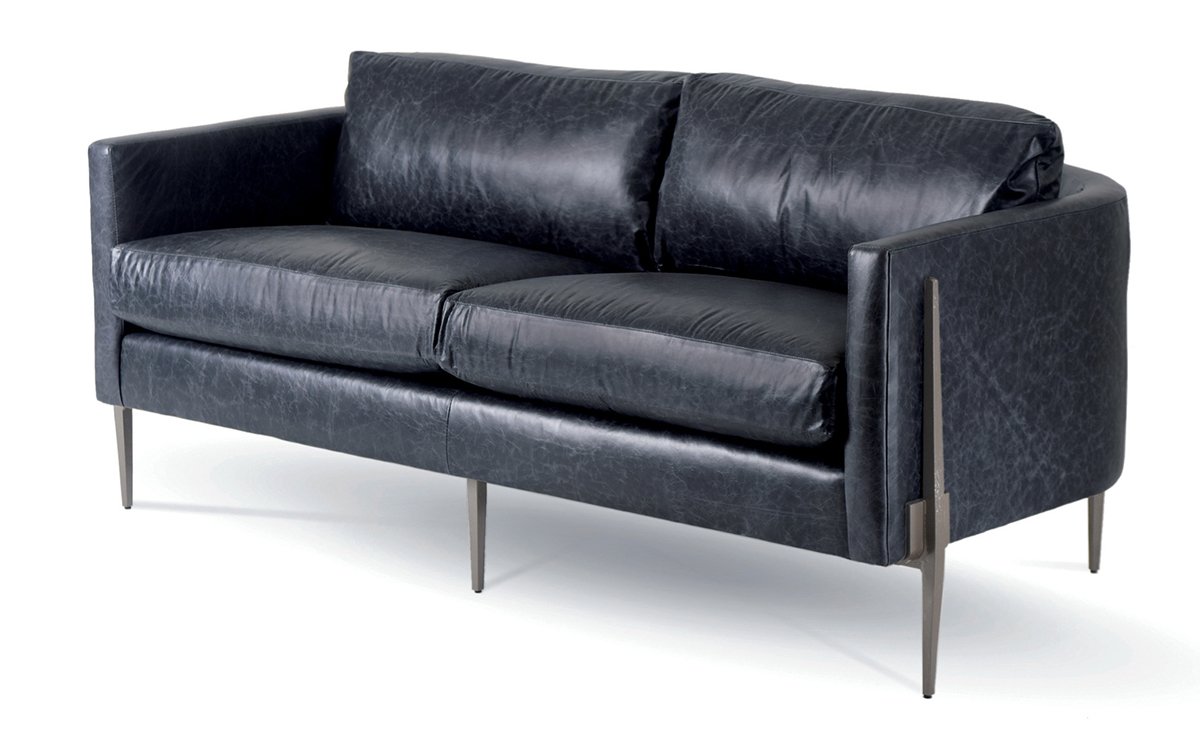 Leather Furniture Buying Guide
Photo from Charleston Forge Furniture
Originally Posted On: https://www.furnishnc.com/blog/2021/07/01/leather-furniture-buying-guide/
Many of us have leather pieces of furniture in our homes. But buying leather furniture isn't as easy as you may first think it is. People often don't realize that there are many types of leather that furniture can be made from and that they all feel different and need different treatment to keep them in good shape. This can make finding your ideal leather piece of furniture difficult. But it is important that you purchase a quality piece since leather furniture is an investment that can provide you with unmatched levels of comfort on the daily. Thanks to the unparalleled durability of leather chairs, they can last for years with minimal care needed to keep them looking their best, but this can also scare people away from buying them as they worry that they won't like the style they choose in a few years. You don't have to worry anymore.
At Furnish, we want to make shopping easy.
We have put together this leather furniture buying guide with everything you need to know about leather furniture so that you can make an informed decision about your next purchase. Keep reading for all of the information that you need to know about leather furniture.
What is Leather?
Before we can begin to describe the different types of leather furniture, you need to know what leather is in terms of furniture manufacturing to avoid being scammed by a low-quality product.
Genuine leather is a natural product. Because of this, it is generally warm and durable. But every type of leather has individual characteristics that make it distinctive and desirable to manufacturers. Still, since leather will always bear the marks of its natural origin, every piece of leather furniture is the same in its uniqueness. However, some dislike leather for this same reason as the material can show impurities, such as scratches, stretch marks, and hair pore structure when stressed. But we think these marks add to the character of a leather piece, which is why we carry a vast array of leather furniture in our showroom.
The majority of luxury retailers that produce leather furniture classify leather by grade. To the unknown eye, this can look like one type of leather is superior in comparison to others. But in reality, it is just a tool to help sales staff guide a customer to a leather type that is best suited to their needs. If a clerk tells you that the grades reference quality, shop elsewhere.
Leather is a perfect choice for those looking for furniture in both modern and traditional styles since it is a malleable upholstery material, able to be fitted to any frame with ease, and padded with any cushioning material for supreme comfort.
The Benefits of Choosing Leather Furniture
We think that a quality leather furniture buying guide should detail the benefits of choosing leather furniture over other material types before you learn the types of leather most used by manufacturers so that you know if this material is right for you.
Incredibly Durable: Furniture upholstered using leather is remarkably long-lasting. This is because leather's natural makeup makes it resistant to rips and tears, so unless the damage is done intentionally, it will not be irreconcilably damaged beyond repair by wear and tear. We always tell our customers that leather doesn't wear out. It wears in. Typically leather furniture lasts four times longer than other fabrics, with minimal care needed to keep it looking its best.
Sublime Comfort: Leather furniture is breathable. It can adjust to your body's temperature within 12 seconds, cooling or heating to meet you, making it immediately comfortable when you are transitioning from the cold outdoors to your warm, welcoming home.
Great Value For Money: Since leather is a natural product, there are limited resources available to create a piece of leather furniture. This means that only luxury companies opt to use genuine leather as they can afford to spend the time it takes to process the hide into a usable material. For this reason, most pieces of leather furniture are of a luxury quality, meaning they will last a lot longer than a piece made by a low bar brand. So you are truly investing in your home when you purchase a luxury piece of leather furniture.
It's the Safest Option: Leather as a material, when cured, is fire resistant. This means that in the unlikely event of a house fire, you can rest easy, knowing your chair will not add fuel to the flame. Moreover, since leather emits no toxic fumes, you can let your children play on it all day long without risking their health.
Extremely Versatile: Leather furniture is capable of adapting to suit any setting, whether it is traditional, modern, or formal. Most brands produce leather furniture in a range of colors and patterns, so there is always a vast array of pieces to choose from (at varying price points).
Style: Leather is designed to age well. It is timeless in its look, in a way that only something natural can be, yet it is still individual in its look like a fingerprint to ensure that your home oozes character. A mark on a piece of leather furniture is not just a mark. It is a mark of beauty.
Types of Leather
Now that you understand why buying leather furniture is your best option, we can break down the different types of leather most often used by luxury brands.
Since hides are removed from the animal in one layer, they must be split into several layers to reduce the thickness of the piece into something usable. The process of reducing leather is called tanning. The leather is split to create a single piece from the layers of extra thickness from the hide during this process.
Generally, leather is sold to manufacturers in 4 forms:
Full-Grain Leather
This is the highest grade of leather available. 'Full-grain' refers to leather hides that have not been processed to remove natural imperfections. Instead, they are left in their natural state. The grain that remains on this type of leather is what gives it its durability. This type of leather is usually available in two finish types: aniline and semi-aniline. Both have different benefits, so keep this in mind when you are shopping.
Top-Grain Leather
This type of leather is split from the top layer of the hide, making it thinner and more pliable than full-grain leather, yet it is just as durable. This makes it highly sought after by furniture manufacturers, so most luxury leather furniture is made using this type of leather. We recommend this type of leather to anyone furnishing a home with character as, over time, top-grain leather becomes softer, able to display its delicate patina with ease and blend well with already worn pieces of furniture.
Corrected-Grain Leather
This type of leather is made of top-grain leather that has had its surface grain partially removed to minimize any visual imperfections and perceived flaws.  Corrected-grain leather is, therefore, best suited for recreational rooms or other places that require exceptional durability.
Split Leather
Finally, we come to split leather. This is leather that is split from the lower fibrous layers of a hide underneath the top-grain. This type of leather is less commonly used by big-name brands as it does not have all the same characteristics of top-grain due to processing differences. Split leather is not as durable as the type of leather mentioned above, and it is stiffer and coarser to the touch, meaning it tends to crack easily. The average lifespan of a piece of furniture made using split leather is 5 years. We suggest that you avoid pieces that are made from this type of leather for this reason and purchase a piece made using one of the three above-mentioned types of leather.
Our Advice
If you are considering purchasing a piece of leather furniture for your home, always measure your space beforehand. Leather furniture is expensive, and if you fail to do this properly, you may find that your dream leather sofa may not fit through your door, let alone fit comfortably in your living room. Save yourself time and money by grabbing your tape measure and measuring your walls. You can use our handy room planner tool to help you map out your space too!
We hope our leather furniture buying guide has helped you understand the complicated world of buying furniture.
If you have any burning questions about leather furniture, then visit our furniture store. A member of our team will be happy to talk to you and give you further detail about buying leather furniture for your home. They can even start to guide you through the creative process of choosing your ideal piece of leather furniture in the comfortable setting of our design center.
Each of the pieces of living room furniture in our Raleigh store has been handpicked by us to represent the best of the industry. Come visit our furniture store today to see our quality leather furniture for yourself.
We service Apex, Raleigh, Chapel Hill, Wake Forest, Durham, Cary and surrounding areas, so visit Furnish at 8724 Glenwood Ave and let one of our experienced staff members help find great leather furniture.