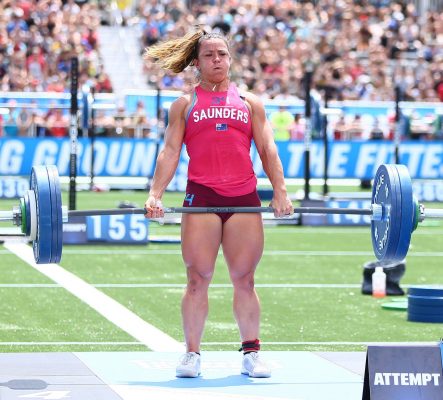 Kara Webb Crossfit: Diet, Workout Tips, Stats and More | Kara Saunders
Originally posted on https://www.bestcrossfitshoe.net/kara-webb-saunders/
Kara Webb (aka Kara Saunders) is one of the top female CrossFit athletes in the world today. The reason for the name change is that she recently married Matt Saunders and has officially changed her name on social media and for competitions.
Keep on reading to find out everything you need to know about this CrossFitter.
An Introduction to Kara Webb 
Kara hails from Australia and has been names Australia's fittest female many years in a row. She's also appeared at numerous major CrossFit competitions around the world, usually placing in the top 5. Her results are certainly impressive and she's an icon in the CrossFit world.
Webb was born in 1989, weighs 155-165 pounds, and has a height of 5'4″. She is also a certified CrossFit trainer (level 1 + 2) as well as an entrepreneur. She's affiliated with CrossFit Kova.
Kara Webb Saunders: The Switch from Swimming
Being active is essential for being healthy. You have several ways of achieving this. Some of them are training in the gym, taking up a sport, or even practicing on your own at home. Nowadays, people spend a massive amount of time sitting and watching TV or browsing the Internet, which isn't healthy at all. We don't want to argue saying that you should stop these activities, but we want to say that you should start being more active.
If you lack motivation, then it will be useful for you to follow a person that has influence. Look at the Kara Webb who has been into swimming, and in the last couple of years she has taken up CrossFit. The benefits of this program are enormous, and she has recognized them.
When you engage in this type of practice, soon you realize that it is not solely about exercising. It also changes your eating habits. Moreover, it leads to a happier and healthier life. You won't burden your body with empty calories and artificial sugar since you should stay away from junk food while you are in this program.
CrossFit Tips from Kara Webb
First of all, we should clarify what CrossFit is as you might be confused. It means that a person exercising executes functional movements which mimic our everyday actions like carrying shopping bags, climbing stairs, etc. This workout program includes all types of sports and fitness exercises to give you the best results.
Here are some tips from this top female CrossFit athlete if you are new to all of this.
EXERCISE CORRECTLY
The most important thing is that you understand everything regarding exercises. If you have doubts, then clarify them. You shouldn't be ashamed to ask your coach for explanations. Keep in mind that you should do all the tasks correctly. Moreover, you pay for this program, and your health is in question, and that is one more reason to ask questions as frequently as you need.
CONDITION YOUR BODY
If you have problems while doing some exercise, don't keep quiet. Speak with your coach and tell him/her you aren't comfortable. You are not supposed to feel the pain while exercising, so if that happens, stop practicing immediately. There is no such thing as no pain no gain so forget these words.
BE PATIENT
Be patient. Everything you do in life; it takes time before you can see the results. If they don't appear soon, then keep going. Don't give up on practicing at least during the first three months. Be consistent, and eventually, the results will come if you want to be a serious CrossFit athlete.
Kara Saunders Crossfit Documentary
Discover all the charms of CrossFit and watch what Kara Webb has to say. There are several documentaries in which she explains why she has taken up this sort of workout program and gives some tips. You can watch one of the videos here
---
Originally posted on YouTube by ROMWOD

Kara Webb's Crossfit Diet
As we have mentioned already, CrossFit is not only about exercising. You will need to follow a specific diet to be healthy and capable of performing these exercises. Don't start panicking as it is pretty simple. Mostly it involves eating veggies, fruits, and meat and avoiding junk food.
You should make sure that your meals provide you with enough energy for your workout. Sometimes if your training session is harder, you need to include carbohydrates in your diet, and the best source of them are potatoes. Moreover, you can allow yourself a cheat day from time to time and eat a hamburger or your favorite snack. Here are some tips from Kara Webb exclusively for you.
QUALITY 
The essential feature of what you eat is quality. Visit groceries where you can get fresh vegetables and meat. It is even a better option to go to the farmers market if there are any in your area.
NOURISHMENT
Food should be simple as it isn't entertainment but nourishment. You should stop considering diet as fun. It is a fuel that keeps you going and nothing else.
NEVER SKIP MEALS
You shouldn't skip meals. Especially breakfast. It gives you the energy for your workout plan. You shouldn't eat less because if you do it, you will not have enough energy while exercising.
Learn more here: What to Eat Before CrossFit.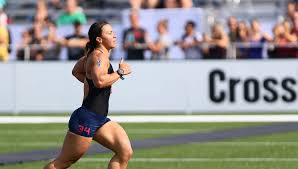 Kara Webb at the Year 2017 CrossFit Games
The CrossFit Games is an athletic competition which is being held every summer since 2007. Participants compete doing workouts such as weightlifting or gymnastic movements. There are also surprise elements such as swimming, or ascending a pegboard. It is possible to participate as an individual and as a team.
Kara Webb is a veteran of the CrossFit Games. She has won numerous awards like the Spirit of the Games. The most successful year for Kara Webb was 2017 when she finished the competition with the reward for the second fittest woman.
Kara Webb Instagram
Webb has a popular Instagram account where she has close to 500,000 followers. You can find health and fitness tips, as well as inspiration. Check it out here:
She has some inspiring posts that you won't want to miss!
Kara Webb's Husband
Kara Webb had a new name for the 2018 CrossFit season: Kara Saunders. She married Matt Saunders, who she credits with helping her achieve some great results lately in major CrossFit competitions.
Have Your Say About Kara Webb CrossFit
If you are an athlete striving to become one of the best, then you should choose the CrossFit workout program. It is designed to provide you with all types of exercise. If it is hard for you, in the beginning, do not give up. The key is in being persistent. Try for at least three months before you decide whether to continue with this program.
CrossFit champion Kara Webb is the second fittest woman of the year 2017. She has devoted her every day to practice and achieved excellent results. This workout program helped her improve her weak points. She is dedicated to this program since 2008, and she has won numerous rewards.
To sum up, if you are new to the CrossFit and want to take up a program that will not only improve your stamina but also your overall health, then you have made a perfect choice.  If you ever happen to have any doubts look at the example of Kara Webb and how successful she has become.