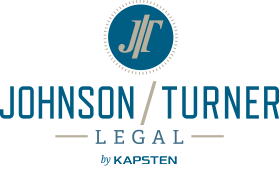 Johnson Turner Celebrates 20th Anniversary Serving Minnesota Residents
Johnson Turner Legal is celebrating 20 years of serving Minnesota.
FOR IMMEDIATE RELEASE
Forest Lake, MN, May 4, 2023— On April 21, 2023, Johnson Turner Legal celebrated the firm's 20 year anniversary. What started with two attorneys looking to make a positive impact on their community has sprouted into something much bigger.
Two decades later, the firm boasts over 40 employees working at 14 different locations across the state.
"The growth we have experienced over the years is more than any of us could have ever imagined. It has truly been an amazing journey, and I am looking forward to what the future brings," said one Minnesota Family law attorney with the firm.
Whether you are looking for a divorce lawyer in Minnesota, or an estate planning lawyer in Minnesota, Johnson Turner Legal has got you covered.
After many years of unprecedented success, the firm has been able to vastly expand their services in order to aid more of the community. In addition, Johnson Turner Legal practices in family law, elder law, bankruptcy, probate, and more.
Johnson Turner Legal has stood out from other firms over the years largely due to their dedication to their clients and the community.
When working with Johnson Turner, the team will fight for you to achieve the best possible results.
"Johnson Turner was very professional and knowledgeable as well as caring and responsive. I knew they were truly working hard in my best interest. My legal team was quick to action and got done what I needed quickly and effectively," said one Minnesota resident.
Furthermore, the firm is very involved in the local community.
Johnson Turner Legal and its employees are involved with TEFFLA (The Education Foundation of the Forest Lake Area), the YMCA, the Simpson House in Minneapolis, Wills for Heroes, Tubman (Family Crisis & Support Services), Woodbury Chamber of Commerce, North Metro Chamber of Commerce, Forest Lake Area Chamber of Commerce, Forest Lake Rotary, the Woodbury Foundation as well as other organizations.
To even further demonstrate their commitment to community, the team has jumped into frigid waters to raise money for local non-profit organizations in the annual Forest Lake Rotary Winter Plunge for 6 years running.
"Our work can make major impacts on the lives of our clients. This is why we take our role in the community so seriously," said Chris Johnson, partner and attorney.
The accolades the firm has achieved speak for themselves.  Johnson Turner Legal was named Best Law Firm by the Forest Lake Times, a prestigious recognition awarded annually.
If you are in need of lawyers who will fight for you, look no further, Johnson Turner Legal is here to help! Book a guidance call with them today!
About Johnson Turner Legal: 
Johnson Turner Legal is a law practice located throughout Minnesota. Specializing in Family Law, Estate Planning, Probate and Criminal law, our unique, team-based approach & flat-fee pricing come together to create an exceptional experience. We believe that clients deserve more from law firms.
Contact Information:
Jared Sundvall
Johnson Turner Legal
56 East Broadway Avenue, Suite #206 Forest Lake, MN

(651) 371-9117
Originally posted On: https://syndication.cloud/johnson-turner-celebrates-20th-anniversary-serving-minnesota-residents/