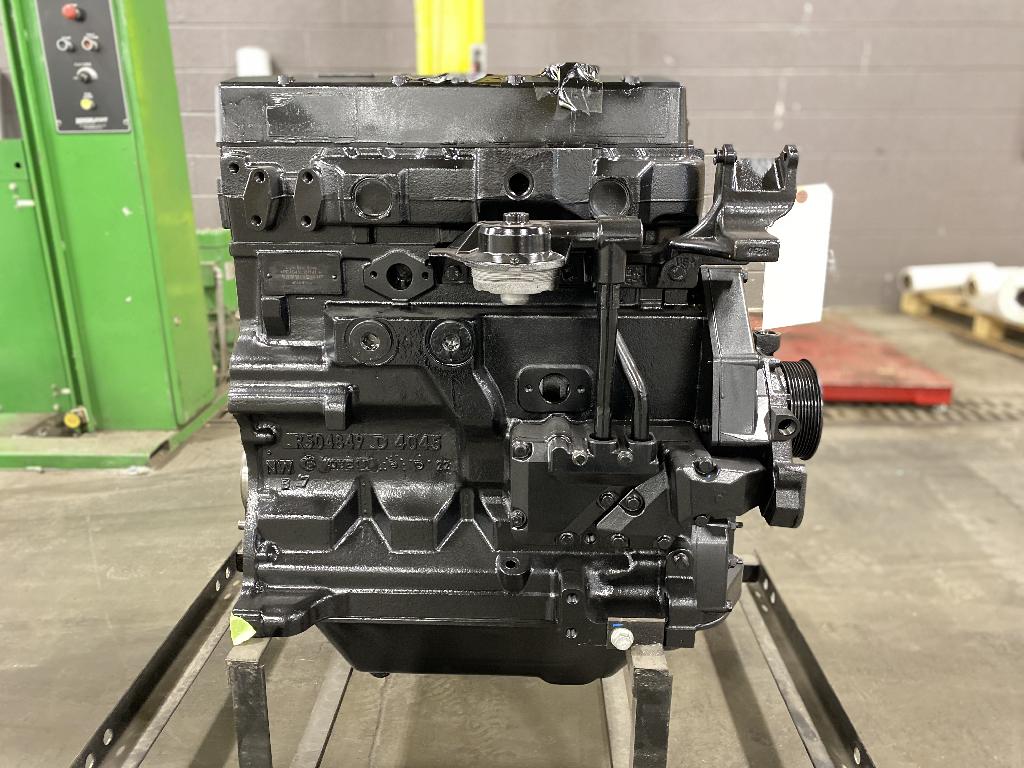 John Deere 4045 Remanufactured Engine
Photo from Global Recovery Corp
Originally Posted On: https://globalrecoveryco.com/john-deere-4045/
The John Deere 4045 series engine is one of the most popular and widely used engines in John Deere's storied history. Available in four standard models, the John Deere 4045 is a 4.5L four-cylinder diesel engine typically found in lighter industrial John Deere equipment.
Although each 4045 model does feature slight variations, all John Deere 4045 engines offer turbocharged aspiration, water cooled exhaust manifold, and vibration control internal balancers. You can expect to get between 340 – 370 foot pounds of peak torque and between 110 to 140 horsepower.
Whether buying used, new, or remanufactured, you can't wrong when choosing a John Deere 4045 Diesel Engine for your application. As one of the most trusted brands in industrial and agricultural engines, John Deere has built its reputation on quality and reliability. The popularity of the 4045 models also ensures parts are sure to be available whenever the need arises.
We currently have several remanufactured John Deere 4045 Long Block engines available in our inventory, as well as a few new and used parts. All of our remanufactured engine cores must pass extensive inspection checks and all components are rebuilt using OEM parts or better. Our remanufactured John Deere 4045 Diesel Engines also include a 6 month warranty that covers repairs, refund, or replacement.
The John Deere 4045 engine consists of many models and applications. Here are a few listed below. Contact us for more information of what we currently have available.
John Deere Agricultural Equipment
Machine Model
Engine Model
SP1800 CANE LOADER
4045TF150, 4045TT852
110 CANE TRACTOR
4045TT851
3200/3400 TELEHANDLER
4045TZ250
3215/3415 TELEHANDLER
4045HZ275, 4045TZ270
3220/3420 TELEHANDLER
4045HZ275
3800 TELEHANDLER, ARTICULATED
4045HZ050, 4045HZ060
3210 TRACTOR
4045DRT50
3310 TRACTOR
4045DRT51
3410 TRACTOR
4045TRT50
5083/5083E TRACTOR
4045TLV53
5310 TRACTOR
4045TAT50
5320 TRACTOR
4045DLV51
5410 TRACTOR
4045DLV50, 4045DLV51, 4045TAT50
5415 TRACTOR
4045DP052, 4045DAT70
5420/5420N TRACTOR
4045DLV50, 4045DLV51
5425 TRACTOR
4045TLV53, 4045DP052, 4045DP057, 4045DP060, 4045TP059
5510/5510N TRACTOR
4045TLV50, 4045TLV51, 4045TAT50
5520/5520N TRACTOR
4045TLV50, 4045TLV51, 4045TLV52, 4045DLV51
5515 TRACTOR
4045TAT70, 4045DAT70
5525 TRACTOR
4045TLV54
5615 TRACTOR
4045DP053, 4045DLV51, 4045DP054, 4045DTK20
5620 TRACTOR
4045DL270, 4045TL274
5715 TRACTOR
4045TP059, 4045TLV51, 4045TP062
5720 TRACTOR
4045TL273, 4045TL274, 4045DL270
5725 TRACTOR
4045DP052
5820 TRACTOR
4045TL274, 4045DL270
6010 TRACTOR
4045DL050
6020 TRACTOR
4045DL070
6020SE TRACTOR
4045TL270 (TIER 2)
6103 TRACTOR
4045TP055
6110 TRACTOR (DIRECT FAN DRIVE)
4045TL058
6110 TRACTOR (VISCOUS FAN DRIVE)
4045TL050
6110/6110L TRACTOR
4045TL063
6120 TRACTOR
4045TL070
6120 TRACTOR (PREMIUM)
4045TL271
6120SE TRACTOR
4045TL271
6120/6120L TRACTOR
4045TL271 (Tier 2)
6200 TRACTOR
4045TL004
6203 TRACTOR
4045TP056
6205 TRACTOR
4045TL064
6210 TRACTOR (DIRECT FAN DRIVE)
4045TL059
6210 TRACTOR (VISCOUS FAN DRIVE)
4045TL051
6210/6210L TRACTOR
4045TL054
6215 TRACTOR (CLASSIC)
4045TL72, 4045TL071, 4045TL272
6220 TRACTOR
4045TL071, 4045TL271
6220 TRACTOR (PREMIUM)
4045TL272
6220S/6220SE TRACTOR
4045TL272
6300 TRACTOR
4045TL004
6310 TRACTOR (DIRECT FAN DRIVE)
4045TL060
6310 TRACTOR (VISCOUS FAN DRIVE)
4045TL052
6310 TRACTOR (ECU LEVEL 4)
4045TLA50
6310/6310L/6310S TRACTOR
4045TL055
6320 TRACTOR
4045HL072, 4045HL073, 4045TL074
6320/6320L/S TRACTOR
4045HL470, 4045HL472, 4045HL270
6320 IVT TRACTOR
4045HLA70, 4045HLA71, 4045HL472, 4045HL476
6320 TRACTOR (PREMIUM)
4045HL472
6320SE TRACTOR
4045TL073,4045HL270 (Tier 2)
6400 TRACTOR
4045TP054, 4045TL002, 4045TL004
6403, 6405 TRACTOR (ADVANTAGE)
4045TL062, 4045TP060, 4045TP064
6410 TRACTOR (DIRECT FAN DRIVE)
4045TL061
6410 TRACTOR (VISCOUS FAN DRIVE)
4045TL053
6410 TRACTOR (ECU LEVEL 4)
4045TLA51
6410/6410L/6410S TRACTOR
4045TL056
6415 TRACTOR
4045TCQ03, 4045TP061
6415 TRACTOR (ADVANTAGE)
4045TL075, 4045HL272
6420 TRACTOR
4045HL070
6420 IVT TRACTOR
4045HLA72, 4045HL473 (Tier 2)
6420 TRACTOR (PREMIUM)
4045HL473 (Tier 2)
6420S TRACTOR
4045HLA73 (Tier 2)
6420SE/ 6420L/S TRACTOR
4045HL271 (Tier 2)
6500 TRACTOR
4045TL004
6510L/6510S TRACTOR
4045TL057
6520 TRACTOR
4045HL071
6520L/S TRACTOR
4045HL273 (Tier 2)
404 VEGETABLE SPRAYER
4045TT850, 4045TT801
4890 WINDROWER
4045TE050, 4045TE050
4895 WINDROWER
4045TE051
John Deere Construction Equipment
Machine Model
Engine Model
310E BACKHOE LOADER
4045DT055, 4045TT056, 4045TT050
310SE BACKHOE LOADER
4045TT050, 4045TT056
310G BACKHOE LOADER
4045DT056, 4045DT058, 4045TT080, 4045TT088
310J BACKHOE LOADER
4045TT094
310SG BACKHOE LOADER
4045TT080, 4045TT081, 4045TT089, 4045HT054
315SE BACKHOE LOADER
4045TT060, 4045TT050, 4045TT056
315SG BACKHOE LOADER
4045TT081, 4045TT089
325J BACKHOE LOADER
4045TT094
410E BACKHOE LOADER
4045TT053
410G BACKHOE LOADER
4045TT082, 4045TT093, 4045HT055
410J BACKHOE LOADER
4045TT095
710J BACKHOE LOADER
4045TT061
DX75 CRAWLER DOZER
4045DT006, 4045DT052, 4045TT070
450G CRAWLER DOZER
4045DT004, 4045TT005, 4045TT013, 4045TT061, 4045TT067
450H CRAWLER DOZER
4045TT057, 4045TT058, 4045TT084, 4045TT085, 4045TT090
455G CRAWLER DOZER
4045TT061, 4045TT067
550G CRAWLER DOZER
4045TT006, 4045TT014, 4045TT062, 4045TT068
550H CRAWLER DOZER
4045TT064, 4045TT086, 4045TT090
550H FOREST FIRE PLOW
4045TT083
550H LGP CRAWLER DOZER
4045TT065, 4045TT087, 4045TT090
555G CRAWLER DOZER
4045TT063, 4045TT69
650G CRAWLER DOZER
4045TT007, 4045TT015, 4045TT063, 4045TT069
650H CRAWLER DOZER
4045TT066, 4045HT050
650H FOREST FIRE PLOW
4045HT051, 4045TT091
110 EXCAVATOR
4045TT054, 4045TP052
110C EXCAVATOR
4045TP058
110CFX EXCAVATOR
4045TP058
HYEX MILITARY EXCAVATOR
4045TT050
120 EXCAVATOR
4045TT052, 4045TP051
120C EXCAVATOR
4045HP050 (TIER 2)
160CLC EXCAVATOR
4045HP051 (TIER 2)
160LC EXCAVATOR
4045TT055, 4045TP053
485E, 486E, 488E FORKLIFT
4045DT050
810 FORWARDER
4045HTJ75
1010D FORWARDER
4045HTJ76
770D WHEEL HARVESTER
4045HTJ77
210LE LANDSCAPE LOADER
4045DT050, 4045DT059, 4045TT092
LX80 LOADER 4WD
4045HDW51
324H LOADER 4WD
4045DF153
344H LOADER 4WD
4045FT152, 4045FT273
TC44H TOOL CARRIER 4WD
4045TDW50
444H LOADER 4WD
4045TDW50, 4045HDW50
444J LOADER 4WD
4045HDW52, 4045HDW53
1204C LOADER 4WD
4045TBE52
JD7 SKID STEER LOADER
4045DKV50, 4045DKV51
270 SKID STEER LOADER (AUX DRIVE)
4045DKV50
270 SKID STEER LOADER (NON-AUX)
4045DKV51
280 SKID STEER LOADER
4045TKV50