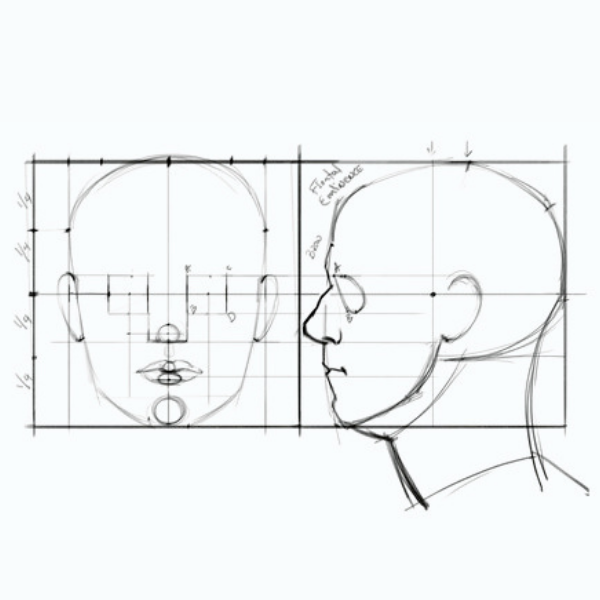 Human Anatomy for Artists: The Key to Superior Art


Originally Posted On: https://blog.vertexschool.com/human-anatomy-for-artists-the-key-to-superior-art/
Regardless of how long you've been an artist, chances are that you're looking to improve your skills. Learning to create realistic art is a skill that is mastered over a lifetime, but learning this one key can truly set you on a path for faster success: human anatomy. You may think that if you're an artist, why should you learn about the human body? Understanding human anatomy for artists will take your 3D creations, paintings, or drawings from mediocre to realistic… if you have the right foundation. 
Whether you're a sculptor, concept artist, painter, or prefer another type of medium for your creations, character creation is often an important step in advancing your skills. You may be past the "stick figure" phase of creation, but are you truly satisfied with how your characters look? 
Many artists find themselves stuck at their current skill level and don't know how to continue making progress. If you're wanting to take your character creation to the next level, then you'll need the right foundation: human anatomy. 
Having a foundational knowledge of human body anatomy for drawing, painting, or digital character creation is crucial for a realistic looking design and pattern of movement. The reason most artists never achieve a realistic human figure is they don't understand where each muscle group starts and stops, also known as the origin and insertion point. 
When you learn each muscle group and where they attach to the skeleton, you'll be able to create a realistic human figure from your imagination. You don't have to be a doctor to know the basics of the human body… you just need a simplified, basic understanding. 
Learning Human Anatomy
You may be wondering how you can learn human anatomy without going to some type of medical school – because who has time for that to learn how to create better art? The truth is you also don't need to spend hours on the internet searching each muscle group and the skeleton… because you probably just want to get to the creation part already. 
One of the best things that any beginner to intermediate artist can do is take an anatomy drawing class to learn anatomy basics. An anatomy drawing class will give you the basic knowledge you need of muscle group attachment points, skin, fat, and dynamic posing for an anatomically correct figure. 
Finding a class specifically designed for artists that teaches these skills can be difficult. Often, these types of classes are available at colleges, which require enrollment and tuition. The overall costs and inconvenience of in-person classes hinder many artists from furthering their skills and education. So, what can you do? 
Vertex School offers an online Artistic Human Anatomy course that you can take without enrolling in a college and is a fraction of the price. The Artistic Human Anatomy course also comes with bonus courses free of charge to accelerate your skill improvement. 
By the end of the course, you'll have learned: 
How to simplify the skeleton and how to draw it 

The anatomy of the human figure

How the different muscle groups attach and are correlated with each other

How the musculoskeletal system differs between male and female figures

How to draw skin, fat, and where fat builds up

How to create dynamic poses for an anatomically correct figure 
Artistic Human Anatomy Course Overview
This course is broken down into 9 easy-to-understand modules covering different areas of the body. In Module 1, you'll start off learning the foundations and basics of the skeletal system. Modules 2-9 are simplified into sections as follows: the front of the upper body, back of the upper body, upper arm, lower arm, hip, upper leg, lower leg, and head. 
Along with these information-packed modules, you will also have access to bonus courses. The first bonus course includes information all about sculpting the human figure (level one). The second bonus course that is available is all about sculpting the face (level one). Each course is separated into face and body because of the level of detail the human head and face requires. 
Frequently Asked Questions
You may be wondering how you can attend an art course without enrolling in a college, and you may also have other questions. Here are some of the most commonly asked questions about the course. 
What is the course format? 
Vertex School is a one-of-a-kind alternative to expensive college degrees. The primary goal is to make art and design education widely available to all who may not have access to college classes. 
All Vertex School classes are hosted online in a pre-recorded format, so you can take the information at your own pace. Each course is taught by a professional within the specified industry, and all student work is critiqued by highly skilled Teaching Assistants. You'll also have access to the Teaching Assistants for answering any questions you might have and a private Discord group to discuss with peers. 
What software do I need? 
The only software needed for this course is photoshop or some type of digital painting tool. This will allow you to share your work with your teachers online. 
What is the refund policy? 
Vertex School strives to create happy artists. Your investment is fully backed by the 15-day money-back guarantee. For more information on the refund policy, refer to this page and scroll down to the frequently asked questions. 
How long will I have access to the course? 
When you learn from Vertex School, you'll have lifetime access to the workshop videos. This allows you to refer back to them again and again as many times as you need to. 
Take the Next Step
Enhancing your skills as an artist doesn't need to be a lengthy process for obtaining a degree, and it doesn't need to cost years of savings. With Vertex School, you can have a quality education from top professionals, the convenience of self-paced learning, and a simple process to get started at a fraction of the cost.
Level Up Your Skills Today with the anatomy drawing class!