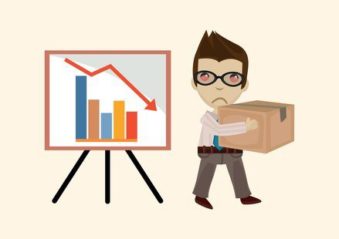 How To Write an Employee Termination Letter | DefendMyBiz
Originally posted on https://www.defendmybiz.com/write-employee-termination-letter/
A well written termination letter can help you avoid legal trouble down the road.
Here's a guide on how to write a legally sound letter.
Terminating an employee can be a rough process. But sometimes, firing an employee is a choice you have to make to benefit your business. To make the process even more complicated, the way you handle the termination can have unplanned legal consequences if not handled properly.
Statistics show that the average out of court settlement for employee lawsuits is around $40,000. Combine that with litigation costs, and you have a massive financial burden on your hands that can easily reach into the 6 figures.
It is very important to provide the notice of termination in writing. This termination letter will protect you and your business from any questions or legal issues that may come up.
Read on for a guide on how to write a legally sound termination letter.
Make Sure Your Documents Are Not Out-of-date
This one is more common than you would think. There are many companies and employers that use and reuse the same termination letter and employment contract for years and years.
While these documents were probably drafted by a lawyer at one point, it probably has not been reviewed by a professional in years. Employment laws, especially in California, change often and the letter of termination could be no longer valid. If you have a precedent letter of termination, it is wise to have your employment lawyer review it annually.
Similar to a precedent termination letter, many employers will reference an employment contract signed years ago in the termination letter. However, many older employment contracts are invalid after a certain amount of time. So always make sure that your documents are up to date.
Know California Employment Standards
If you have an employment lawyer, this will be part of their job to stay up to date on California employment standards and labor laws. There are minimum requirements that have specific rules on what an employee is entitled to if terminated.
California is also an at-will employment state. Employment-at-will means that both the employer and the employee can end the employment relationship at any time without liability. However, there are several limitations that you need to understand.
If you do not have a lawyer, it would be wise to make sure that you are well versed in these laws. The letter of termination should outline exactly what the employee is entitled to after termination. For example severance pay, termination pay, benefits, etc.
Things to Include in a Termination Letter
That leads us to our next couple of tips. Below are some important things to include in the letter of termination.
Reason for Termination
One of the most important items that should be in included in the letter is the reason for termination. A well-drafted reason states clearly why the employee is being fired in the first place.
There should be a good balance of providing important details without going overboard. If you are too specific, you may end up unable to defend your reasoning if the employee does end up taking you to court. But if you are too vague, it may damage your credibility.
There are many reasons that can lead to termination. It can range from the need to downsize your company to low-quality performance. Whatever the reason is, make sure it is clear and forthright in the letter.
Date of Termination
Specific dates are important to include in a letter of termination. Important dates in the termination process should be clearly stated. Some of these dates include last day of employment, the date the employee receives the letter, and the date the employee should return all company property.
Establishing a timeline will also help give organization and structure to the termination process. It will ensure that both you and your employee are on the same page when it comes to the termination. It will also give your terminated employee a chance to plan for the future.
Information About Any Prior Warnings
Although this is not necessary, you may want to include any records of prior warnings you gave to the terminated employee. These records should include dates, times, and details of the situation.
A well-documented record of past poor performance can go a long way if your employee decides to sue you for wrongful termination. Not only will it help with your company's credibility, it will also strengthen your case.
Benefits
There are many employers who give their employees the right to continue different types of benefits, including healthcare, after they have been terminated. If your company is offering this option, make sure it states the details in the letter of termination.
Other important information to keep in mind is unemployment benefits, which they may qualify for. Having that information in writing ensures that there is proof that you alerted your terminated employee about their benefits.
Option to Appeal
The question of whether you should provide some kind of appeal system for terminated employees is something else to consider. However, if you do provide an option for the employee to appeal his or her termination, make sure you specify the proper process for appeal in your termination letter.
If there is a specific amount of time an employee is allowed when it comes to appealing their termination, that time should be specified in the letter as well. If the time has past already, it would be apt to also detail why the employee did not take advantage of the appeal option.
Include a Severance Agreement
Typically when employers let an employee go its because they are not happy with their performance. That is why we often get resistance from our clients on this suggestion. After all who wants to reward someone that you are firing? But you want to think of it as an insurance policy. For the employee to get their severance you have them sign a waiver of claims. This is basically an agreement that in exchange for this severance they will not sue you in the future. Very well worth it!
Here is a more detailed article on severance agreements.
Ready to Write a Termination Letter?
Firing an employee is a difficult process. The last thing you want to deal with is time-consuming legal battles down the road. Statistics show that employee lawsuits have risen 400% in the last 20 years.
You want to make sure that you and your company are always protected. Writing a sound termination letter is something that you should place importance on. In the unfortunate event where a disgruntled employee takes you to court, a letter of termination may very well be used as evidence.
In that case, you want to make sure that all your documents are legally sound and ready to go.
You can hire us to write a termination letter for you. We can even terminate your employee on behalf of your business. Using this process you not only make sure all your legal bases are covered but you can avoid all the unpleasantness of the firing process.