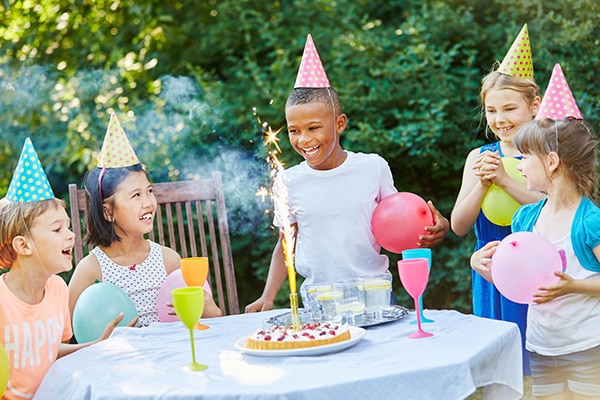 How To Throw A Cheap Kid's Birthday Party
Planning Tips for a Kid's Birthday Party on a Budget
Another year around the sun means another birthday party to plan. Whether your little one is celebrating her first birthday or you're hosting your son's fifth birthday, it doesn't mean you have to fork out a fortune to ensure they have a memorable celebration.
In fact, it's easier than ever to throw an epic bash for your children on a shoestring budget. To help you stay within your means, we've rounded up the best cheap kids' birthday ideas. From sending out free invitations to scoring affordable decorations, we have the ultimate budget-friendly party planning tips.
Guest List
Of course, it's tempting to want to invite everyone you know and love to your child's party, but that's also a sure way to rack up a pricey bill. A more intimate party with a small guest lists means fewer mouths to feed and a smaller space to accommodate them. Begin by adding close family members, best friends, and neighbors to the guest list, and see how that aligns with your budget.
Invitations
Once you have your guest list finalized, it's time to send out invitations. One way to save yourself money and time is to ditch the old-fashioned hardcopies and go for an e-version instead. Not only will you save cash on invitations and stamps, but you won't have to waste time individually addressing each card and going to the post office. When you create online invitations, you send them straight to your guests' email addresses.
With online invitation platforms such as Evite and Greetings Island, you and your kid can pick your favorite theme and send out invites entirely for free. Some versions let you personalize your message or customize your design and add in extra information, such as an image or event details. Some services even allow you to send out reminders.
Venue
When it comes to throwing a cheap kid's birthday party, you can save a ton by avoiding pricey venue rentals. First consider your free options. Can you transform your backyard or garage into a party space? Or what about your parents' or best friend's house? Would they be willing to allow you to host the party at their place? Another option is to consider having a joint birthday party with your child's friend or family member so you can share a space or split the cost of a rental.
A different route is to rent a park space, playground, or rec area. Does your apartment have a common area, or can you set up at your local beachfront? Indoor and outdoor community pools make great cheap birthday party places for kids, too. Sometimes you can snag these spots for free, otherwise they're often available for a nominal fee.
Theme and Decorations
Don't worry if your child is stuck on a specific party theme. It doesn't mean you have to spend a fortune to accommodate. It's easy to find images online that you can print out and display as decorations. Pinterest is also a great place for finding themed DIY projects and recipes on a budget. Whether you're in search of how to build a dinosaur or design a princess fairytale castle, you're bound to find budget-friendly tips and tricks online. You'll come across plenty of arts and crafts that will help you create your kid's favorite characters, along with recipes for treats and snacks that match your theme, all without breaking the bank.
When it comes to decorating, another pro tip is to avoid major brick and mortar stores geared toward party supplies. It's easy to go in there and rack up a big bill on a few streamers and balloons. Consider online suppliers where costs tend to be lower, and you can often find online discounts to use, like Oriental Trading coupons, and Amazon, which has a section dedicated to birthday party supplies. Alternatively, you can oftentimes find streamers, balloons, tablecloths, and even cups, paper plates, and napkins at discount or dollar stores. They may not have special designs that are on-theme, but you can get creative. Going for a jungle theme? Snag some green and brown streamers to make a tropical oasis. Meanwhile, if your kiddo is obsessed with all things Elsa and Olaf, check out our guide to planning the most epic Frozen birthday party on a budget.
Food
Food is another area where you don't have to splurge. Plan your party after lunch and before dinner so you're only responsible for providing snacks. If your guests come with a full belly, they won't be expecting a heavy meal.
Next, skip the fancy cupcakes and cakes that you order from a store or bakery. Instead, consider baking a cake or making sweet treats at home to save on costs, while adding your own personal touch and flair to the dessert table. The same goes for buying pre-packaged snacks. Forget about purchasing fruit and veggie platters and simply cut up your own produce and display it on a pretty dish. Think about buying in bulk and searching for grocery coupons to further cut costs, too.
Party Activities
Just because you're planning a kid's birthday party on a budget, doesn't mean your guests will be stuck twiddling their thumbs. You'd be surprised at just how many free activities for children there are that are actually a ton of fun. If your venue has some open space, create a scavenger hunt, build an obstacle course, or plan some relay races. Egg and spoon races and water balloon tosses are fun no matter your age. And you just may be surprised how far a treasure map and a three-legged race can go in the form of entertainment.
There are also plenty of affordable DIY games you can design too, like a homemade Pin the Tail on The Donkey or your very own Twister mat with some construction paper and creativity. Prefer to let the kids do the crafting? Host a craft party and inspire the little ones to use their imaginations. With just a few cheap supplies, your guests will be amused for hours and have something to take home with them. But if you're looking for first birthday party ideas, don't sweat the activities part too much. Your little one will be the star of the show, so there's no need for spending on additional entertainment.
Whether you're looking to plan a party for your tot or teen, follow these cheap kids' birthday ideas and get ready to throw an unforgettable celebration with money in your pocket to spare.