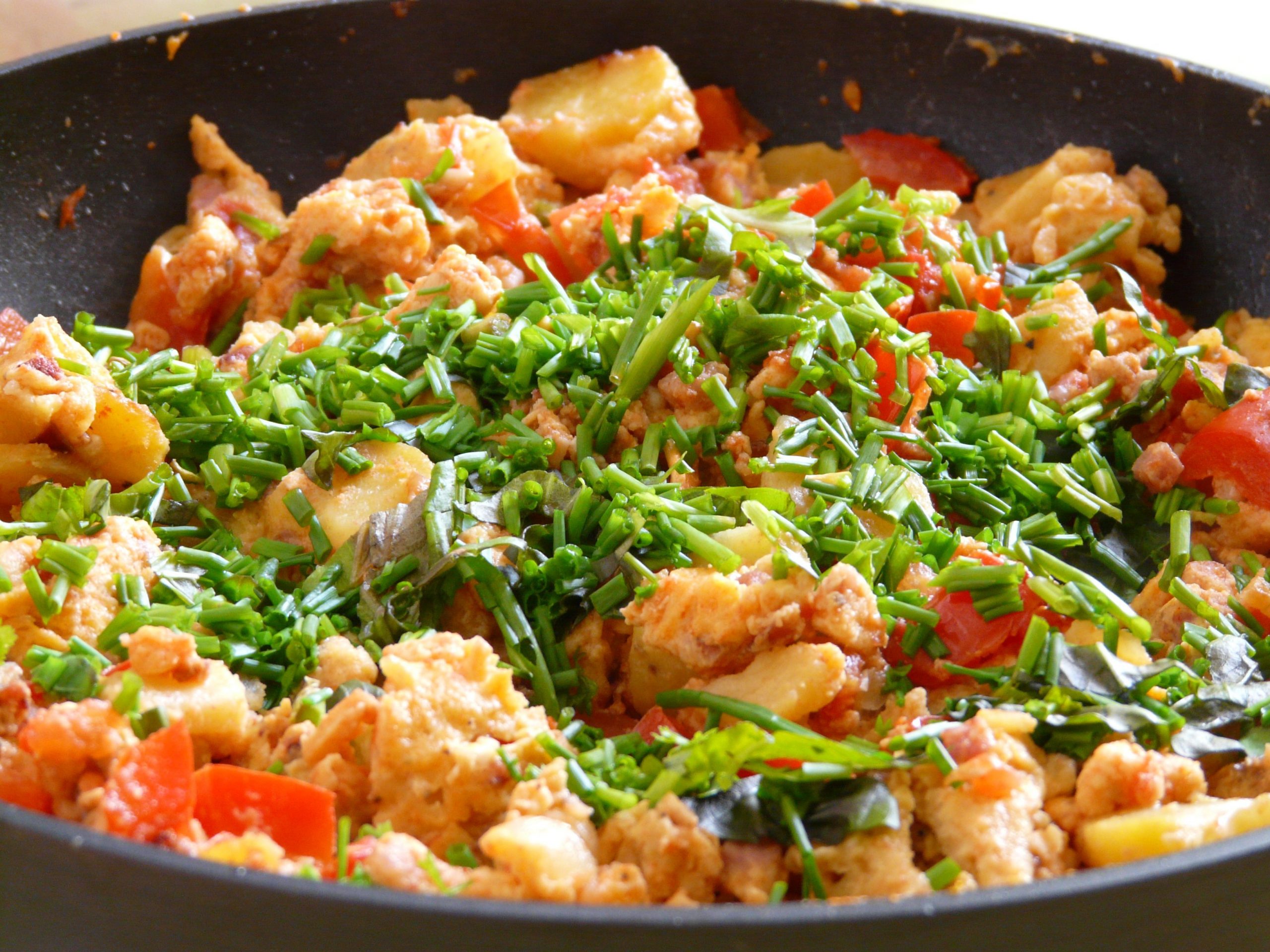 Sheet Pan Spicy Peanut Tempeh and Sesame Vegetables
Photo from Pixabay
Originally Posted On: https://www.goodcook.com/recipes/sheet-pan-spicy-peanut-tempeh-and-sesame-vegetables
This 10-ingredient vegan sheet pan dinner makes five servings full of protein and an irresistible spicy peanut flavor that satisfies hunger!
Cook once, eat all week! It sounds pretty easy. Well, I promise it is really as easy as it sounds! But, the only easy part isn't the phrase. It's also this recipe and the way you control your portions, thanks to my fave meal prep containers!
First, let's start with the recipe! If you've never cooked with tempeh before, this is a great recipe, to begin with. Tempeh, which is found ready to go in the same section as the tofu at your local grocery store, has a meatier and more firm texture than tofu. It's an excellent way to change things up from tofu. However, if you don't like tempeh or aren't ready to take the risk with tempeh yet, use extra firm tofu in this dish.
The sauce is a perfect balance of sweet and spicy. Depending on how spicy you like your meals, you can add more or less chili sauce to this dish. I love this sauce so much that I always double or triple it and save it to use on other protein sources during the week.
The Hard Part….
Waiting! Haha, Once you have your tempeh cut and your sauce prepared, the tempeh will need to marinate for 30 minutes or longer. I like to prepare the sauce and tempeh first thing in the morning and let it marinate until I am ready to meal prep in the afternoon. This saves me some time during meal prep.
Once you are done marinating the tempeh, throw it on a sheet pan with your veggies, let it do its thing in the oven, and then voila! You're ready to prep!
Portions Made Easy
Not only do I like to make sure that the recipes I am meal prepping are easy, but I also like to remove the thinking from portions. That's why I love my GoodCook meal prep containers, especially the teal ones! Not only are they a cool color, but they have two compartments: one for the main part of the meal and the other for the side. That works great here: Tempeh (main dish) + veggies (side dish). The bigger compartment is 2 cups, and the smaller is 1 cup, so I know I am getting good nutrition in each meal without going heavy-handed on my portions.
This set comes with ten containers, so I'll use 5 for a recipe like this and the other 5 for my breakfasts. It works out perfectly! Plus, the containers are BPA-free, microwave safe, and dishwasher safe.
For example, I use these containers to make a breakfast like this or this, and my lunch/dinner might be something like these Hawaiian Chicken Tenders or these Salmon Cakes!
Swaps
If you're not into tempeh (or tofu), this Sheet Pan Spicy Peanut Tempeh and Seasame vegetable recipe can be made with diced chicken or chicken strips, beef strips, or even chickpeas. I have also listed swaps for the peanut butter if you have an allergy to peanuts or nut butter.
I hope you enjoy this recipe, trying tempeh if it's new to you, and the delightfully sweet and spicy sauce!
Serves: 5
Difficulty: Low
Prep: 45 minutes
Type: Main Dishes
Total time: 1 hour 15 minutes
Bookmark itPrint recipe
Ingredients
24 oz. tempeh sliced into triangles
1/4 cup coconut aminos
1/4 cup creamy drippy peanut butter swap sunflower seed butter for allergies to nuts
2 tbsp fresh lime juice
1 tbsp garlic-chili sauce
8 oz. broccoli florets
1 medium red bell pepper diced
2 medium carrots peeled/thinly sliced carrots
3 tbsp toasted sesame oil
1/2 tsp salt
For Serving:
Directions
Stir together coconut aminos, peanut butter, lime juice, and garlic-chili sauce in a bowl. Place tempeh in a large glass dish or bowl and cover with marinade. Gently stir to coat. Cover and marinate for 30 minutes.
Heat oven to 375F and line a large baking sheet with parchment paper. Spread tempeh on the top half of the baking sheet and reserve any remaining marinade. Bake tempeh for 15 minutes.
Remove the baking sheet from the oven and spread vegetables on the lower half. Drizzle with sesame oil and sea salt. Use tongs to gently toss. Pour remaining peanut sauce on tempeh. Return to the oven for 15 minutes longer.
Divide tempeh between 5 large compartments of 5 teal Good Cook meal prep containers and divide vegetables between small compartments.