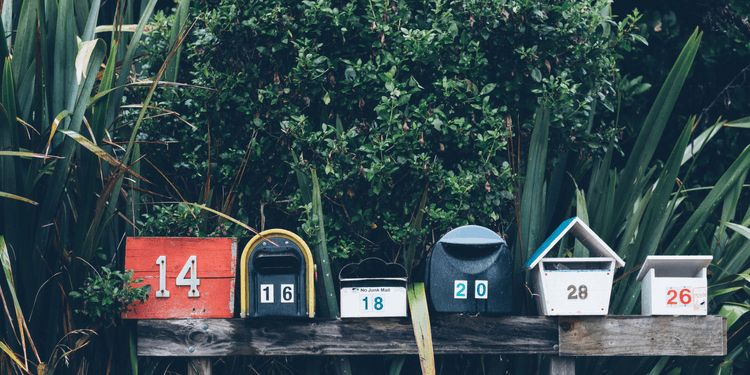 How to Outsource Your Inbox to an Email Virtual Assistant
Do you control your email inbox…2001…3059…10679…unread emails? How many times have you searched for an email that you couldn't find? Have you missed a deadline or vital information because you missed an email…or decided to reply later and it slipped your mind? Maybe you even have a system with inbox folders but don't have the time to keep it up to date. Now there are emails in the appropriate folders, but there's just as many in them as there are in the general inbox. You're worse off than before because now you truly have no idea what is going on in your email inbox…it's chaos.
You can't delete your email inbox, although you may want to. Emails are an important part of running a successful business, online or offline. The average return is $38 for every $1 spent on email marketing. Do the math…With 3.7 billion email users in 2017 and an estimate of 4.3 billion users by 2022, managing emails is essential to growing your business.
Email is the communication preference for 86% of business professionals. According to a Carleton University study, people spend a third of their workday on emails that aren't necessarily important or urgent. That is almost 12 hours per week. Then they spend another 5 hours at home reading and responding to emails. The average business owner sends and receives more than 100 emails per day—about 86 emails at work and another 25 or more at home.
It is, therefore, crucial to effectively manage an email inbox. It is just as important to get rid of spam and to respond timely to relevant emails.
Why hire a virtual email assistant to manage your inbox?
Imagine having an extra 12 hours per week to spend on growing your business…
A freelance email virtual assistant can give a business owner those extra hours to be productive in other areas. Outsourcing email inbox management will free up valuable time.
It takes time to sort through emails, deciding what to read and what to ignore. Valuable time is wasted on spam emails. Even if you don't read the emails before you decide if they're really spam, the time taken in selecting and deleting spam emails is wasted time. Let the virtual assistant scan your spam folder in case important messages got flagged by mistake and get rid of the real spam for you.
The habit of checking emails on a regular basis is a good one, but it can steal valuable and productive time. A few minutes here and there adds up. Running a successful business means every minute counts. When hiring an email virtual assistant, control of your email inbox is passed over to the freelancer. It's no longer required of the business owner to check emails every few minutes. This is now the freelancer's task.
The opposite is also true. No more missing important emails because there wasn't any time to read or send a response. The virtual assistant reads every email and will notify you of important and urgent emails.
Declutter the inbox and organize the inbox are tasks that are often shifted to the bottom of the to-do list and then carried over to the next day, next week…It is the virtual assistant's function to organize the inbox so that it makes sense to the business owner.
An organized inbox means the business owner can easily find emails he's searching for. In fact, now you've gained control because you know what's going on in your inbox again. It also means that the email virtual assistant sends and receives emails on your behalf. Emails that don't require your personal attention but need to be sent is taken care of.
How does a business owner hire a freelancer to manage their emails?
There are a few practical steps that will make it easy to hand over your email inbox to an email virtual assistant. These steps will clarify instructions to the virtual assistant how you want your email box managed.
Access to Your Email Accounts
Decide to what extent the email virtual assistant will have access to your email accounts. Are you willing to give her the username and password with access to all your emails? If you prefer to restrict access, especially in the beginning, create an email account for the freelancer that limits access.
A delegation service like Outlook and Gmail allows a third party to access the same email account with a different password. It also gives you the freedom to revoke the access if required.
Alternatively, create a separate account for your confidential emails and give the virtual assistant access to the main account. A second account is also useful when you're busy or on holiday. Then the virtual assistant can forward only the urgent and important emails to this second email account. You can relax while on holiday knowing your emails are managed and that you will be notified if there is a crisis.
With cloud sharing, the email virtual assistant may be in any part of the world. Keep in mind the company's business hours and how it affects the time zone the freelancer lives in. Do you need an email virtual assistant that sends and receives emails during your business hours or does it not matter when the emails are managed?
Create a List of Emails
Create a list of all the types of emails you receive and send. Divide the emails into personal and business groups. Then decide which emails are confidential, emails you prefer to respond to personally, and emails a virtual assistant can manage.
The purpose of creating a list of email types is to assist you in deciding what emails the freelancer can always respond to on your behalf. Even limited access such as diary confirmations and scheduling meetings will save you time.
With a remote email virtual assistant, you'll probably limit access to your personal emails. An email from your wife or mother isn't an email you'd like the virtual assistant to read or respond to. Confirmation of a social event, however, saves time if the virtual assistant responds on your behalf.
When you've decided which email types the email virtual assistant will have access to, the next step is to decide how to manage the emails.
Sending On the Business Owner's Behalf
After you've decided which emails the virtual assistant will respond to, you need to decide how she should respond to the emails. There are three different groups of people that determine how the virtual assistant will respond.
The first group is people that know you have hired a virtual assistant who manages the email inbox. You don't mind them knowing who the virtual assistant is. A colleague, friends or family member may send an email, and she can respond with, "Hi, this is Sam. Paul is…" or "Hi, this is Sam, Paul's virtual assistant, he asked me to…"
With the second group of people, the virtual assistant replies to the emails on your behalf. Give the virtual assistant a list of senders who are part of this group. Senders in this group will be colleagues, other people working with the company, other businesses, and customers. Managing the diary, confirming receipt of a report or request, and issuing instructions are examples of email responses on your behalf.
Then there are the emails that only the business owner can respond to. These may be confidential emails or emails that require your expertise and authority. With emails that require your expertise, you can save time by dictating your response and sending it to the virtual assistant. She can transcribe your reply and send the email. Then only the confidential emails will be left for you to manage.
Create a list of approved senders for each group for the virtual assistant. It will help to identify senders who are not on the list as well as avoiding sending the wrong type of response.
Draft Email Response Templates
Draft sample replies the virtual assistant can use when replying to emails. Many emails require the same kind of response. By providing the email virtual assistant with drafted email response templates will ensure the right message is sent.
A pre-approved response saves the virtual assistant time. It is quicker to use a template or to edit a template than to draft a new message with every email. Many emails require a response as a means of confirming the appointment or content of the email. A standard response is good enough for this kind of email.
Usage of email response templates regulates the response the virtual assistant sends on your behalf. Therefore, you don't have to check the responses; you already know the content.
Drafted templates allow for good client communication. Emails that require a two-step process, the virtual assistant can manage on your behalf. Set up a string of if-then scenarios. If the email contains this kind of content, then reply with this template and forward to that department or copy so-and-so. Setting up these if-then scenarios with required actions beforehand gives the virtual assistant the freedom to respond correctly.
Give Feedback on Performance
When you've outsourced to a freelance email virtual assistant, start small with a few approved senders and drafted templates. Gradually increase the level of work based on the virtual assistant's performance. Give regular feedback, especially in the beginning. It helps build the relationship. It also helps the virtual assistant learn how you prefer the management of your email inbox to go. The more feedback you give, the better the virtual assistant knows what you expect.
Give the virtual assistant enough time to get used to your methods. Wait until the virtual assistant is performing the tasks to your satisfaction. Then instruct her to draft email responses of her own. Give feedback on these drafts and teach the freelancer how to draft emails to your satisfaction. When you are satisfied with the quality of the freelancer's drafts, you can allow her to draft emails to new senders. It will free up more of your time when the email virtual assistant can manage your email inbox in its entirety.
Daily and Weekly Briefs
Initially, a daily brief would be necessary. Book a specific time to go through the emails and decide how each will be managed. Use this time to dictate responses to emails that require your personal attention.
After a while, decrease the daily briefs and checkups to weekly scheduling briefs. During these briefing sessions, take the time to solve any issues and to answer questions the virtual assistant may have. It is also a good time to see how the virtual assistant manages new senders.
The more you work together, the more responsibility the virtual assistant will take over and the less you need to worry about your emails.
It is good practice to continue to meet at least once a week with the email virtual assistant. Even when you fully trust the virtual assistant, weekly meetings may prevent any possible issues that could occur.
Allow the virtual assistant to suggest improvements. After all, an email virtual assistant is an expert in managing email inboxes. You'll be surprised how quickly and effectively she will organize folders and rules in your email inbox.
Conclusion
Remember, you've been handling your email inbox from your head. For the email virtual assistant to effectively take over, clear instructions are required. That is why creating the initial email list is so essential. It will help you to help her clarify which emails belong to which group and what the appropriate action should be.
Create your email list to guide the virtual assistant. Group senders in the following groups:
Delete email immediately.
Virtual assistant replies in own name, as an assistant.
Virtual assistant replies on your behalf with and uses relevant pre-approved templates.
Emails that require your personal and immediate attention.
Important emails that require an immediate response that the virtual assistant can manage.
Emails that shouldn't be deleted but can be read when there's time available.
Become a client today for free and hire a pre-vetted email virtual assistant and other freelancers to grow your business.
For more topics like this visit the FreeeUp YouTube Channel for informative videos or check out the FreeeUp Outsourcing and Scaling show on Itunes!