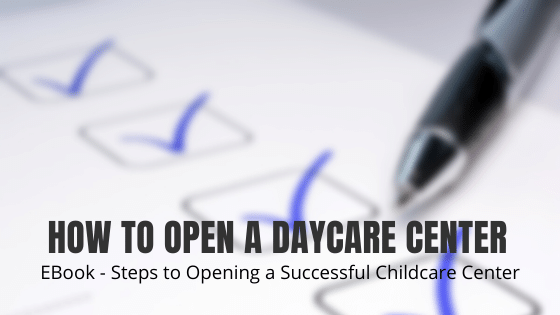 How To Open A Daycare Center
Photo from childcarebizhelp
There is a trend in the early childhood education industry: more and more childcare centers are opening up new locations all over the U.S. Not only are more centers opening, but the childcare investor is taking on a new look. Why you ask?
Childcare services are in such high demand, the current supply of daycare centers can not meet the need. Opening a daycare makes sense for any type of investor.
Most areas across the country suffer from varying degrees of childcare shortage. This is no secret to frustrated parents struggling to find care, or to providers who are stretched thin trying to serve as many children and families as possible.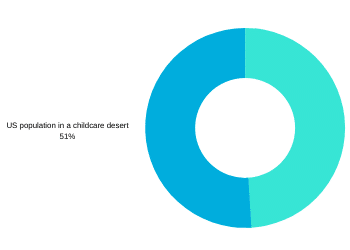 Fifty-one percent of people in the United States live in a childcare desert. A childcare desert is any census tract with more than 50 children under age 5 that contains either no childcare providers or so few options that there are more than three times as many children as licensed childcare slots.
"Across several states…the number of children under age 3 far exceeds the number of child care slots available for infants and toddlers. On average, there are more than five children under age 3 for every one licensed infant and toddler child care slot."
​In childcare deserts among community after community, families find themselves on very long waiting lists in order to get care for their children. This dynamic has opened the door for an influx of investors to enter this much-needed industry.
​But what do these child care investors look like?
The childcare center owner can look very different in today's market than the most common image of past years. The industry's top avatars fall into six different categories:
Entrepreneurs — seeking a new industry to invest in
Existing childcare owners — looking to expand existing locations or build new ones
Childcare employees — ready to start their own center
Families — discouraged by current service and/or inability to have access to care
Corporate in-house childcare — offered by businesses as a benefit to attract/retain employees
School districts — expanding into the early education area to meet the needs of the community and staff
​Options to Opening a Daycare
No matter what type of investor you are, there are several different options to consider when opening a daycare center. Your decision will determine how much support you need, how much creative freedom you have, and even the direction of the programs you offer.
No matter which option you choose, finding the right partner is critical to ensure your success.
Three options for opening a daycare include:
Franchise
Buy an existing center
Start your own brand
Franchise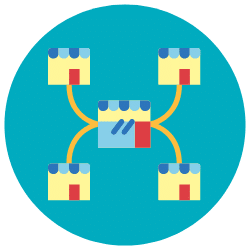 ​If you franchise, some of the major players in the market include:​
​With a franchise, you receive an immediate game plan to get your center up and running, plus you gain instant credibility from the name.
However, you miss out on the exciting chance to create something of your own —something amazing, unique, and impactful. Also, not only are you held hostage to the franchise requirements, but the fees create a recurring expense for the life of your centers.
​Existing Center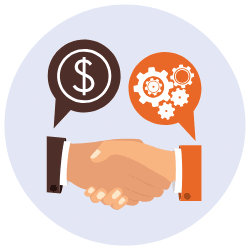 ​If you choose to buy an existing center, you get the brand but also all the baggage that comes with it.
Though you have eliminated a lot of front-end work, you inherit a lot of "clean-up" work. The really great thing about investing in an established center is it comes with staff and children.
​However, having witnessed many of these types of purchases, I always question if the shortcuts are worth it.
Start Your Own Brand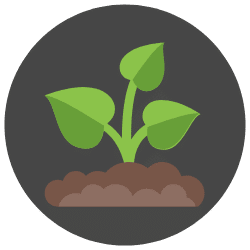 Opening a childcare center on your own, without a franchise partner, is certainly possible!
It is, however, a very complicated industry to learn and the whole process is extremely time-consuming.
Is it doable? Yes.
Is there a better way? Heck yeah!
The solution we suggest is to partner with a Child Care Consultant who not only understands the industry but can help you develop a brand you can build upon and be proud to own.
A lot of joy comes from building a childcare program that impacts your specific community exactly how it needs, and in a way that fits your personal mission. Build a unique brand you can continuously evolve and nurture, and which can someday become a legacy for your family or an investment for retirement or even for that next adventure.
If you choose to work with a child care consultant, it's important to understand all they can bring to the table. Not only will they help you make important decisions, but they may also help execute those decisions, monitor success, and help adjust strategy as needed.
Often, your child care consultant can help you work through the following stages in the project of opening a new childcare center:
Due Diligence (Feasibility study, workforce & demand, financial & enrollment projections, liability)
Executive Strategy
Brand Development (Unique Selling Proposition, differentiation, core values, logos)
Program Development
Vendor/Systems Evaluation
Marketing, Advertising, & Lead Tracking
Implementation of Childcare Plan Services
Post-live Support
Steps to Opening a Daycare Center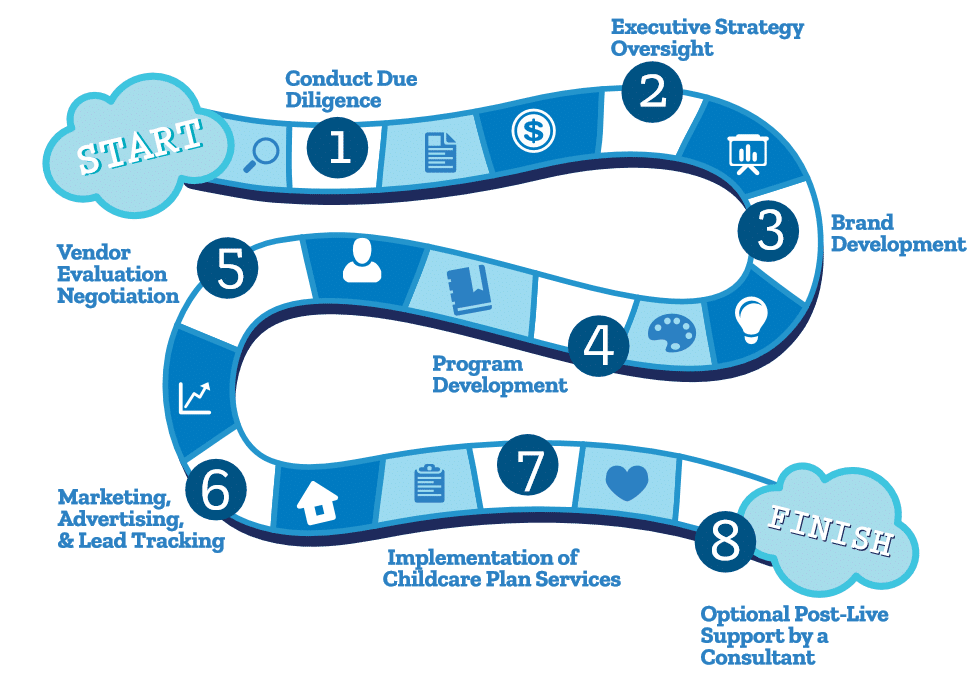 Ready to Open Up Your Own Childcare Center?
All phases are equally important and must be carefully planned and executed. There is a lot to plan for as you start your own daycare, so following a simple guide can help ensure you do everything right, from preparing a daycare business plan and effectively choosing a location to marketing, hiring, and finally managing your day-to-day operations.
Interested in learning more about each step in opening a childcare center?
Download the Child Care Biz Help EBook on Starting a Childcare Center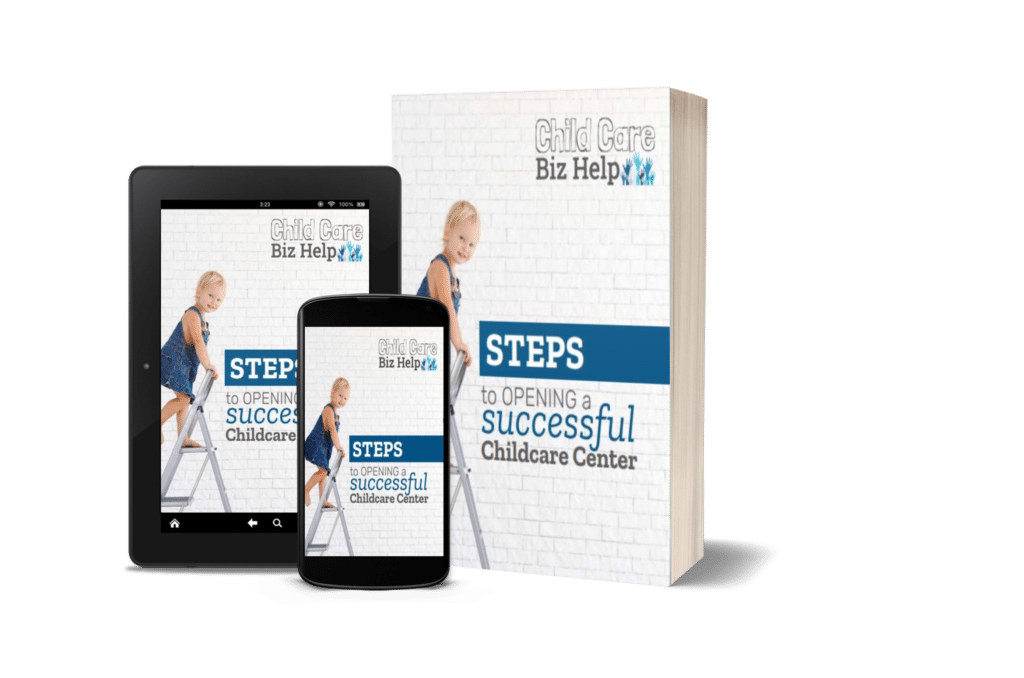 Whichever route you choose when starting your daycare, I imagine we can agree on why you're doing it: an overwhelming desire to make that childcare center the destination and the best choice not only for the families it serves but also the employees who choose to work there.
Interested in getting help? No matter what phase you're currently in or what type of center you have started or want to start, book a call with us today to learn more or complete the form below to get our latest ebook.