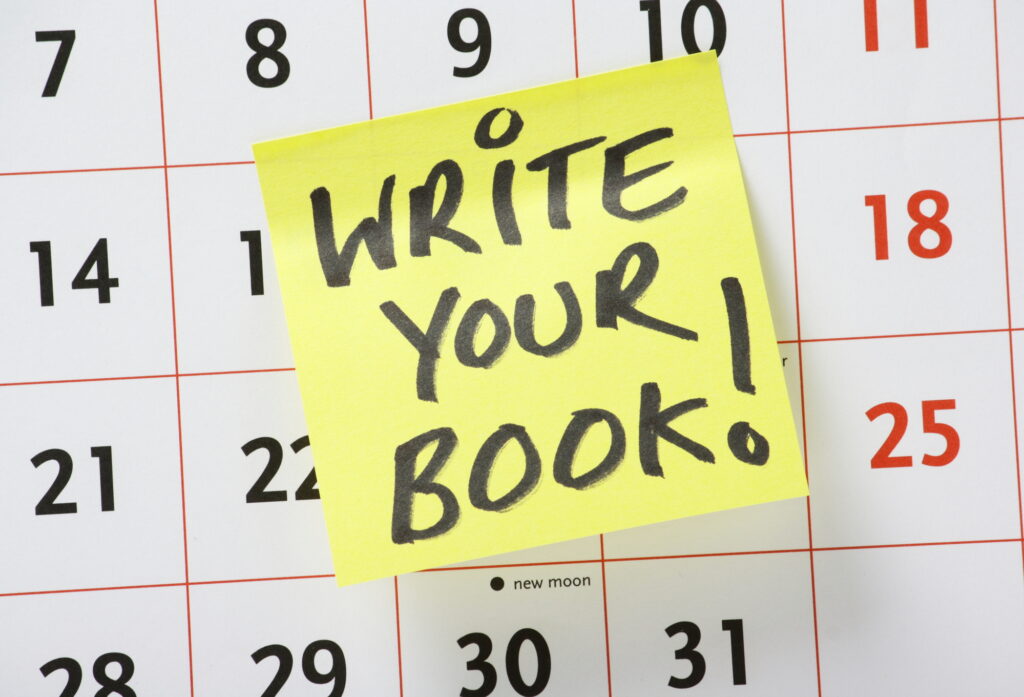 How To Hire A Ghostwriter
Photo from Deposit Photos
Originally Posted On: https://depositphotos.com/36650479/stock-photo-write-your-book.html
Do you have a great idea for a book but find yourself having trouble making your dream a reality? It could be that you don't know where to start. Or maybe you don't have the time or discipline to write a book right now. Perhaps you're not a huge fan of research, or possibly you just don't enjoy writing. Whatever the stumbling block, it doesn't have to keep you from finishing your book. There is a solution. Bottom line, if you want to write a book this year, it might be time to hire a ghostwriter.
A ghostwriter can help you take your idea from conception to fruition. She can help sculpt your vision into a book that your readers won't want to put down.
Here are some tips that will help you select, interview, and hire the right ghostwriter for you.
Decide on a budget
If you reach out to me, one of the first questions that I'll ask is "What is your budget?" I charge one dollar per word, so if you have $500 to spend, I'm not your ghostwriter.
Ghostwriting pricing can span a broad range but remember the old saying: you get what you pay for.
There are ghostwriters who seem to charge impossibly low rates. These could be enticing, especially if you are on a budget; but if you're interested in producing a high-quality book, you'll need to pay an experienced ghostwriter what she is worth.
You can expect an experienced professional writer to charge you between $20,000 and $75,000 for a 100-300 page book. A student ghostwriter could be less.
Ask your prospective ghostwriter about his fee right up front. There is no sense in pouring out your heart and story only to learn that the writer is way out of your price range.
Don't dance around the subject of money. If your prospective ghostwriter does, he probably hasn't been in business for long or is simply working part time. You want to hire a ghostwriter who writes for a living, not one who tries to cram in time after his day job.
Be prepared to answer a few questions
When you talk to a ghostwriter, know that she is interviewing you, even as you are interviewing her. She needs to know various facts in order to determine if she is the best ghostwriter for you. Plus, in order to create a bid for your project, any ghostwriter will need the following information:
The general subject matter and genre of your book
Writers specialize in different kinds of books. Some prefer to craft fictional tales, others pen memoirs, and then there are those who create non-fiction business books. By knowing the kind of book you want to write, the ghostwriter will be able to determine if your project is a good match for his skills.
Your purpose for writing your book
For me, the author's reason for writing his or her book is important. If you're writing a fictional book, I will ask you about your motivation for writing it. I may ask about your marketing plans as well.
If you're writing your memoir, I'll want to know what lessons you wish to impart to your reader. What drives you to tell your life story? Or are you simply writing your life story to entertain the readers?
If you're writing a business book, are you doing so to gain new clients? Often that is a wise goal for new authors who are successful entrepreneurs. In addition, many of my clients wish to teach their readers how to master a new skill. They feel it is time to pass the baton to the younger generation.
There are countless reasons for writing a book. If you are clear on your main purposes, I can help you breathe life into your project.
The proposed word count
Of course, you can't know the precise length of your book before you write it, but you will need to give an accurate estimate. Most ghostwriters base their bids upon the proposed length. An average word count will be 50,000 to 75,000 words (or 200-300 pages).
If your budget it low, consider writing a shorter book. While books released by a traditional publisher usually require a standard length of 200 – 300 pages, when you self-publish, you can play with that number and make it any length.
Your publishing goals
Do you plan to self-publish, or will you pursue a traditional publisher? If you wish to secure an agent, your ghostwriter will be able to help you with a query letter and a proposal (but that will cost extra).
Your deadline
Skilled ghostwriters are in high demand and book their projects well in advance. Be warned that the writer you want may not be able to take on your project right away.
Consider being flexible on your timeline so that you can engage the writer who will best bring your project to life. If you try to pressure him into finishing your book in an unreasonably short period, he will either try to make it work and fail or turn it down because his schedule is too tight. After all, it takes time to research and write a high-quality book.
Having said that, be clear about your intentions and requirements. You know what you need to accomplish.
Find a ghostwriter who is a good fit
Writing a book is a financial investment, but also an endeavor of the heart, so you want to find someone with whom you are compatible. Make sure you feel comfortable talking with your ghost about personal matters. You should mesh well with her.
However, when you take steps to hire a ghostwriter, it is a business decision. You'll need to do your due diligence as you would in hiring any professional. I'm always impressed when someone writes me after they have read a few of my blog articles and checked out the books I've written.
When researching a ghostwriter, here are a few steps that will help you find a good fit:
Check every candidate's writing resume.
Ideally, you would want to see that the ghostwriter has written dozens of books. However, ask yourself, does your project require a highly experienced writer, or can you take a chance on someone with fewer books under his belt? Depending on his skill, you may discover a gem.
Evaluate work samples.
Ask for and read over the sample of every writer you interview. Make sure that the style of the ghostwriter you hire resonates with you. In addition, make sure that she demonstrates the ability to take on different voices. After all, your voice will be different from a chiropractor's memoir or a schoolteacher's how-to book. Make sure that the ghostwriter you hire can write in the voice and style you want for your book.
Review testimonial pages.
What have previous clients said about the ghostwriter you are considering for your project? That's key. Note: some writers will have trouble coming up with testimonials from clients because of the confidentiality agreement they have signed. Still, someone who has been in the industry for years will be able to find clients willing to share their experiences. Hiring a ghostwriter with no recommendations is a little risky.
Learn the writer's process.
Every ghostwriter has a different way of working. Some will work closely with the client as the book is written. Others will deliver a final manuscript only when they are finished. Personally, I will send a few pages early on. I'll stop working until I get feedback. Once I receive corrections and a critique, I'll incorporate those suggestions in the next few pages. Then, when the client and I are confident that I have captured his voice and style, I'll send larger chunks at a time. Decide what works best for you and hire a ghostwriter who can work around your needs.
It's very important that you feel absolutely comfortable talking to her. Make sure she listens well and produces what you ask for.
Pay your first installment and get started
Once you have made your decision, plan to sign a ghostwriting contract and make the first payment before you begin the project. This will be required by any professional writer. Don't wait too long to make your decision because the more popular ghostwriters will get booked quickly. If you love a writer and know you want to hire her, don't dawdle.
I've discovered that January and September are key months for potential clients to contact ghostwriters. On the flip side, the summer months and December are quiet. So, my advice is to avoid the busy months and interview writers when they are less inundated with new prospects.
Plan the time to work with your ghostwriter
As your project unfolds, it's important to answer your writer's emails and phone messages promptly. Don't allow too much time to go by without communication.
If you find that you're putting off talking to your ghost, it's a good time to pick up the phone. Tell her what's going on and let her help you. It's not uncommon to hit a snag and need a little assistance. For instance, if you're working on notes about your life story, you may want to talk to your ghost on the phone. She can help you navigate this emotional journey.
Personally, I love to shoot emails back and forth with my clients throughout the week. In addition, I will pick up the phone to talk to each client at least once a month. Frequent communication is key to a good relationship.
With a great concept, a little bit of help, and a lot of preparation, your book can become a reality and a success. If you realize that you need to hire a ghostwriter, please email me, and let me know how I can help.