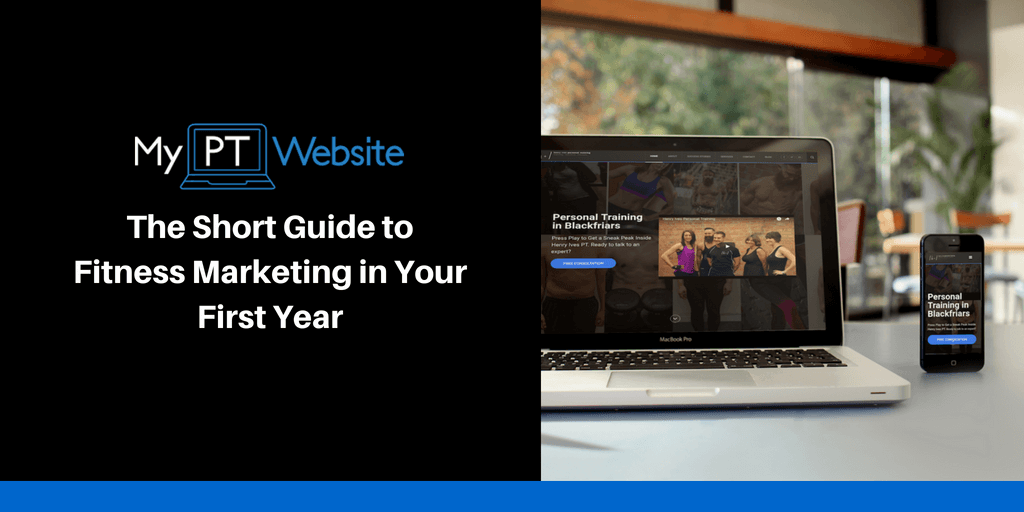 The Short Guide to Fitness Marketing in Your First Year
Following on from our previous post to help you market your personal training business in the first 6 months, in this article we're going to learn more about marketing tools and strategies you can implement and test in the first year of your personal training career.
​
If you've been training clients and running a business for a year now, hopefully things have progressed since trying out the strategies from our advice on marketing in your first 6 months.
You might have a few more clients under your belt, a lot more experience and maybe even some disposable income.
With that in mind, your marketing needs to adapt to those changes. Here's how.
1. ​Incorporate Video into Your Marketing Plan
According to stats there were already half a billion people who watched videos daily on Facebook in 2016 and that number has only increased since with the growing popularity of the Facebok Live feature.
Incorporating videos into your marketing plan can reach prospects who choose video over other content. As a fitness expert, your videos can be your way of connecting with your audience while also building credibility.
Here are three ways to use video as pat of your marketing strategy:
​Go Live
You can live stream on many platforms including YouTube, Facebook, Instagram, Ustream, and Periscope. Create an account on the one that appeals to you the most, test the feature and figure out what the best way s for you to use it, then just promote your first official live session at least a few days advance to generate interest, then jump head first.
Read More: 7 Facebook Live Ideas to Market Your Personal Training Business
If it worked, you can come up with a consistent schedule and ensure your audience is aware of the days and times in advance so they can keep that slot free in their schedule.
Using hashtags on platforms like Instagram can also be a great way to drive traffic to your live videos. Find the ones that are relevant to your content but also popular for your target audience.
​Client Testimonials
There's no better way to drive business than proving your worth with indisputable evidence. Let's say you have a client you've been working with for several months. You helped them come up with a food and exercise plan that has given them some amazing results. Use that client relationship to help you gain more clients.
A video that shows before and after photos along with the client speaking about their fitness journey will be more relatable to your target audience than a fit and healthy personal trainer trying to explain how they can help them. Many people get inspired by others' success and take action hoping they can achieve the same.
Here's an awesome example of a weight loss success video from our Managed Website client The Body Transformation Academy in Belrose.
This type of video is great to post on your social media, include on the Success Stories page of your website, or even being linked in a blog or an email marketing campaign.
​What's It like Behind the Scenes?
People like to see how the products they buy are made. They like to know what their favorite celebrities do when they aren't in the spotlight. And they appreciate truthful insight from the brands they follow.
Video marketing is an excellent way to give your followers and potential clients a genuine feel for who you are as a person and what goes into the service they buy into. Don't worry about being too perfect, aim to be genuine, honest and transparent. This will make you relatable and trusted. People buy from people and businesses they trust and think they understand them.
You can give your viewers a tour of your gym, demonstration of the use of new equipment, insight into the program design process or brainstorming with your team or a snapshot of a session with your clients.
2. ​Understand the Art of the Freebie
Giving away valuable, free information has been an effective marketing strategy for a long time. Because it works. If you give potential clients a risk-free feel for your service, and they like it, they'll most likely come back and stay.
It's worth noting that free trials and other freebies will only convert prospect who are already considering hiring an expert to solve their problem, meaning they are already at the consideration phase of their buyers journey. For that reason I recommend you target a specific audience who had already shown some interest in your offers previously, when launching a new free trial.
There are other ways to give away freebies and build trust though. Here are three ways.
​An Exercise Video
Remember the video marketing we talked about earlier? If you release a high-quality workout video, you can attract new people to join your community and establish yourself as the expert in your field.
The video doesn't have to be long. It can be just a knowledge bomb on a topic your ideal clients will find important, or a short workout routine that could help them with a specific problem they experience. Here's an example by Chris Wong.
​Free Downloadable E-Book
Free downloads are amazing for two reasons:
you're drawing customer's attention with the word "free."
you're having them provide you with their email addresses in exchange for the download, which then helps you build your email marketing list.
Creating a well performing Lead Magnet is not rocket science so long you understand your clients and their struggles well and are able to solve a very specific problem of theirs in a short PDF guide.
Our Managed Website client, Ripped by Rycroft, created a free resources page for people who land on her website:

Once that's available, driving traffic to the landing page of that lead magnet is crucial to assess how it's performing. If you have more than one niche, you can write a lead magnet for each.
​Offer a Door Prize
Have you ever arrived at an event a few minutes early because you were told the first 50 people would get a free t-shirt or something? Why can't you do the same thing for your personal training services?
You can offer the first 3 people to sign up to your service a freebie that will help them along their fitness journey. This could be anything, depending on the profile of your fitness business. Examples may include:
Pair of weight lifting gloves
Workout tank
Waterbottle
Pair of cordless earbuds
​
If you can, brand these goodies so when your clients are using or wearing them outside your facility, they will become ambassadors for your brand.
3. ​Make Paid Ads Work for You
Social media advertising in your first year of business may be scary yet crucial. The key thing to remember here that paid ads, whether that's via Google, Facebook or other platforms would only yield the desired results if they target the right audience and use content that speaks to that market.
​
Here is why you should test Facebook Ads in your first year as a personal trainer.​It's a Highly Targeted Advertising Platform
Before creating your Facebook Ad, understanding who your ideal clients are is essential. So is where they live, their age and what topics they are interested in.
These are metrics you can use when creating your targetted audience on Facebook so that you can reach the people who are most likely are already looking for your services. When your audience is not specific enough, the ROI of your ad will suffer significantly.
Don't feel discouraged if your first few attempts won't bring any results. Look at it as a learning curve towards identifying the audience that will engage with your offer and act on it. It may take time, but once you nail it, your ads will perform much better.
When you target the right group of people, you will reach leads that can easily convert into revenue. Additionally, Facebook ads are measurable. This will give you the opportunity to see in real time the number of people that have clicked on your ad and shared it. You'll also have a chance to view whether there were any clicks to your website.
​
These analytics will show you exactly how effective your ads are. And if you aren't doing well on your own, you can hire an agency that specializes in Facebook marketing.
Call Buttons
There were 2.19 billion users actively scrolling through Facebook in the first quarter of this year alone. And the majority of those people are checking their accounts multiple times a day on their smart phones.

​This makes the call buttons on Facebook extremely valuable to your marketing strategy. Many prospects, especially those who lead a very busy life will appreciate a quick call over lengthy text messaging or emailing once they are ready to buy. Setting up the Call Button on your Facebook page properly may just become one of the most important tools to ensure the easiest a quickest way for your ideal clients to contact you.
Budget Friendly Solution
A lot of trainers in their first year of their fitness business may not have a large marketing budget, and that's totally fine. Facebook ads are still some of the cheapest forms of advertising out there.
You can create an ad and set your budget to $5 and still reach 1,000 people on Facebook. There also won't be any downtime before your ad starts to show up on your customer's news feeds. Take your time to make your ads attractive and double check your spelling and grammar to make sure your message is clear.
4. ​Fitness Marketing Ideas You Should Avoid
There are a lot of marketing trends out there. Try not to fall into the "shiny object" mistake and let yourself be distracted by every deal that comes your way.
Don't get me wrong, it's great to try strategies to find out what works and what doesn't. But if you consider your personal training clients and their goals. Would you advise someone who wants to lose weight to try a different diet each week?
Same goes for your fitness marketing. Pick a strategy that you like the most. Work on it, apply and give it some time to get some data so you can decide whether it's working or not.
Only if you explored all angles of a method and you definitely can't make it work think about trying something else. Sometimes you know immediately, sometimes it takes time. Trial and error is part of the process in the first year, but that's how you learn.
Free Consultations
This may surprise you, but free consultations don't always serve the purpose. At this point, many people expect a consultation to be free, they understand there is no commitment involved which also means they often cancel late, don't turn up or get the last bit of free info out of the trainer and vanish.

This doesn't apply to everybody of course, but unless you have a rock solid filtering system before booking a 1-2-1 chat with a prospect, you may end up wasting too much time on freebie hunters and time wasters.
Instead of offering a free consultation to EVERYBODY, create a strategy that involves many steps before an in person chat is offered to a lead. Ideally by the time you meet them in person, you will have a lot of information about the prospect, their goals, their struggles and you have established a rapport that guarantees if you are able to show them the value of your services, the answer will be a yes. Maybe not on the spot, but in a follow-up email or call.​
Learning about the different stages of the buyers journey and knowing what people in each phase are interested in and what type of questions they ask, you will be better equipped to offer the consultation to the right audience.
Poor Reputation Management
Some fitness businesses fail because the owner doesn't realize that everything they do after starting the business is a method of marketing one way of the other.
​
For example, if you're rude to the barista at your local coffee shop, it's very possible that the barista or even the person behind you in line knows who you are or something about your business.
Add internet and social media to the picture, and soon enough people who weren't even near you will hear about your unfortunate interaction with that barista. Identifyng who you are becomes even easier if you're wearing a shirt or something with your business name and logo on it.
You don't just want to be nice and courteous to your clients while you're at work. You should be mindful of your public reputation in general, whether that's local or online.
​
Other things that you may not realize are part of your marketing are the presentation and cleanliness of your gym, how long it takes for you to respond to customer emails and calls, and the way you answer the phone.
In a nutshell, once you launched your business, everything you do offline and online is marketing that builds the perception of you and your business in the eye of your community.
Networking Overkill
It's easy to fall into the trap of trying to reach new customers in each available way when you are trying to establish your business. But the truth is, you don't need to be on every single social media site or use every single marketing tool out there.
It can be demanding and you're bound to become overwhelmed if you're trying to market through every possible channel. This can cause you to come off insincere and even water down your marketing efforts.
​
Instead, stick to two or three marketing channels that you are good at and find fun to work with. It will pay off in the long-run.
On another note, while regularly following up with prospective clients is key for long-term success, nagging them daily to make a decision may just have the opposite effect on them. Aim to find the balance between slacking and overkill.
​Start Marketing Your Personal Training Business Today
It's never too late to jump on the online marketing wagon and create strategies that will bring in results long-term, whether that's content creation, SEO or social media marketing. Feel free to contact us if you need some guidance on where to start or if you need professional help, check out our Marketing Services.