How to Choose the Right Material for Your Shop Display Stands
Photo From pexels
Originally Posted On: https://www.popai-global.com/shop-display-stands.html
The power of the shop display stands in retail marketing cannot be overemphasized enough. These innovative and colorful displays are highly effective when it comes to promoting last-minute purchases and impulse buying.
By isolating specific items and setting up promotional display stand away from the regular aisles, you can draw your shoppers' attention to the specific product, pique their interest, and motivate them to make purchases.
Be that as it may, the effectiveness of product display stands depends on several factors, one of which is the material from which they are made. Here are some of the important details you need to factor in when selecting the right material for your display stands:
– Keep Your Budget in Mind
As a retail store owner, you certainly want your display stand to be a high-end product made out of the best material with striking visuals and eye-catchy print. However, it is prudent to stick to an allocated budget while also keeping in mind the retail price of the product which you are offering. Therefore, it makes no economic sense to spend a huge amount of money to purchase an expensive product display stand, just to promote a product which comes with minimal profit margins.
– Consider How Long You Intend On Using It
When purchasing a product display stand for use in your retail store, it is also absolutely important to consider the duration of time you expect to use it. If you are using temporary display stands to promote or push the sales of a specific product for a short time, it is best to procure display stands made out of inexpensive material, which can be recycled once it has served its purpose.
On the other hand, if you intend to use your display stands for extended periods of time, it would be wise to opt for durable material which can last for years. You may have to spend a little more for highly durable product display stands. However, due to their longevity, you won't need to spend more money to replace them, which makes them a smart investment in the long run.
– Keep it Relevant to the Product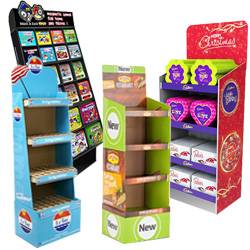 When selecting the right material for a product display stand, it is also wise to ensure that your shop display stand compliments the product which they are intended to promote. For instance, if you are trying to entice your customers to purchase tech devices such as mobile phones or computers, you can set up digital product display stands with interactive features such as touch-screens and special effects. This will instantly capture the interest of your clients and lure them to the product stand, thereby making them more likely to complete a purchase.
Product display stands come in a variety of materials to cater to the needs of every retailer. If you are wondering which material to use for your display stands, you have several prime options to choose from, including, cardboard, wood, metal, plastic, and acrylic.
Display stands made out of cardboard are typically cheapest but at the same time less durable than other material. As such, cardboard product display stands are ideal for temporary use, for example, if you are promoting the sale of surplus stock. Product display stands made out of metal and plastic are highly durable and can be used for years.
They are also relatively cheaper to procure, therefore making them the best option if you want a display stand that can last for a long time without having to spend insane amounts of money. Wood and acrylic display stands, on the other hand, are usually very pricey but also top of the line in terms of quality. These product display stands are ideal for promoting luxury items to high-end customers.
Select the Right Material for Your Shop Display stands
With plenty of materials to choose from, selecting the right option for your pop display stand may seem like a mentally intensive process. However, understanding the needs of your business, your clients, and your products can help you make the right decision.
We are a leading manufacturer of product display stands with overarching experience in the industry. The high-quality materials from which our products are manufactured have made us the preferred partner for most businesses in major Australian cities such as Sydney Melbourne and Perth.
If you are thinking about purchasing a new product display stands for your retail store, give us a call today to learn more about our top of the line products and the amazing offers we have for you.