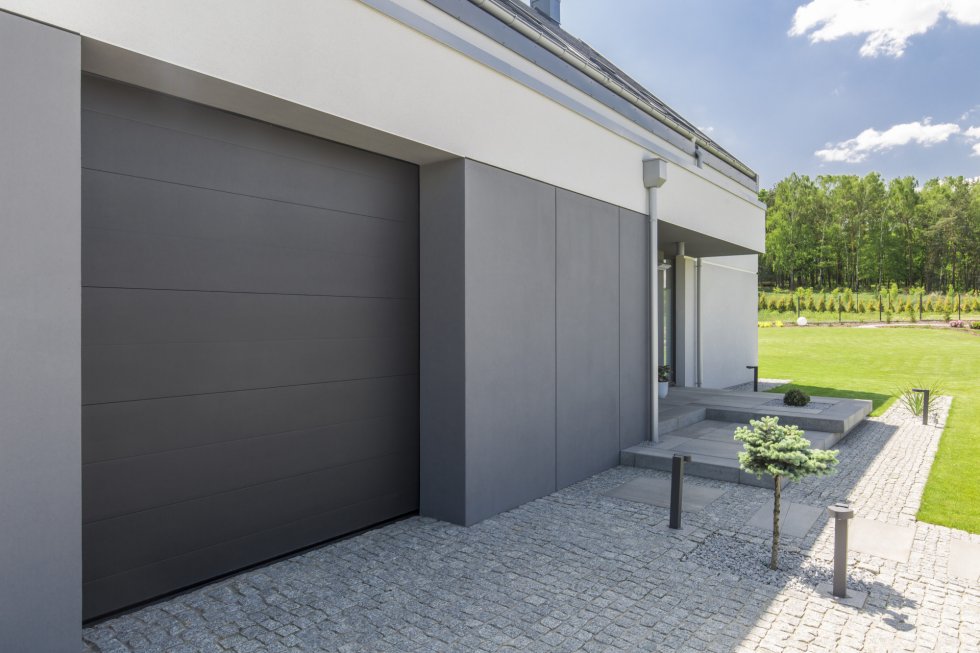 How to Choose the Best Garage Doors for Your Home
Most garage doors open and close around 1,500 times every year, or roughly four times a day. If we use our garage doors so much, then why don't we pay more attention to them?
Not only do they provide us with important everyday usage, but they can also increase the overall value of homes. Around 70% of realtors agree that an attractive garage door can help sell a home faster.
As such, you should pay close attention to the products when you purchase new doors. If you want to know what to look for to find the best garage doors, then you came to the right place.
We'll walk you through everything you need to know about the new garage doors.
Be Familiar With the Different Types of Garage Door Material
The material that a manufacturer uses on your garage door can determine both how long it lasts and how it looks. We broke down the categories into five popular types of garage doors. We also go over the pros and cons of each kind.
Wood Garage Doors
Nothing beats the look of a wood garage door. When properly designed, a wooden garage door can make a house look both rustic and modern. However, it's important to realize the limitations of wood as a door material.
It's attractive and sturdy, but it also requires a lot of upkeep. You should be willing to invest some time and money if you want wooden garage doors.
If you fail to apply fresh coats of finishing, then your wooden doors will go from sleek and attractive, to dry and rotting. As such, know what you're getting into before you go with wooden garage doors.
Pro
Beautiful aesthetic value
Customizable
Sturdy design
Cons
Expensive
Degrades quickly
Steel Garage Doors
Steel is usually associated with strength and resilience. Garage doors made of it are no exception. The material can hold up against the roughest weather conditions.
However, pure steel can rust when exposed to moisture. But, if you apply a polyester finish to the steel garage door, then you can make it rust-proof in wet weather.
Pros
Easy to maintain
Sturdy
Long warranty life
Cons
Heavy
Climates with lots of moisture can cause rust
Vinyl Garage Doors
If you're on a budget, then vinyl garage doors are a dependable solution that won't break the bank. There will last a long time because vinyl is a durable material that is hard to damage.
It's even weather-resistant, so it's good for wet climates. The only problem is that it's hard to maintain and it blends in easily with other types of garage doors.
Pros
Affordable
Durable
Hard to dent
Cons
Not as aesthetically pleasing
Hard to maintain
Aluminum Garage Doors
Aluminum garage doors offer a lot of the same benefits as steel garage doors — they're strong and sleek looking.
However, the big difference is that aluminum is much lighter than steel, which makes it more ideal for manual opening.
Unfortunately, quality aluminum frames are quite expensive. If you find a more affordable model available, then it's likely a cheap, lightweight material that isn't as durable as traditional heavy-frame aluminum.
Pros
Lightweight material
Strong material
Cons
Sturdy aluminum frames are expensive
More affordable aluminum frames aren't durable
Fiberglass Garage Doors
The see-through nature of fiberglass gives it a distinctly modern feel. It's also resistant to salt in the air, which makes it ideal for garages found on beach houses or coastal climates.
Unfortunately, fiberglass doesn't work well in cold environments because the door material is an awful insulator. It also turns a shade of yellow after a few years due to sun damage.
Pros
You can see through them
Resists salt in the air
Affordable
Cons
Doesn't work well in cold climates
Can turn yellow with age
How Do You Want Your Garage Door to Open?
A survey found that more than 55% of Americans use their garage door as the main entrance to their home.
As such, it's important to find one that opens with relative ease. There are three main types of opening methods that garage doors utilize.
Tilt-Up Garage Doors
Tilt-up models are some of the more affordable garage doors available on the market.
This affordability is in part due to the simplicity of the design. As the name suggests these types of doors tilt upward manually and lock into position.
These models are strong and less likely to break than some of the more complicated doors.
Roll Up Garage Doors
Instead of tilting upwards the roll-up garage doors slide on a rail system toward the ceiling of the garage. Many of these types of doors are connected to an electric garage door opener.
This allows for hands-free opening and closing capabilities. Roll-up garage doors require panels of material that can bend with the curvature of the door.
As such, wood and glass options can be more costly and impractical with roll-up doors. However, these options aren't impossible.
Swinging Garage Doors
Swinging garage doors work a lot like barn doors — they swing open from left to right. These types of garage doors are much more visibly appealing than the other two models.
Swinging doors can open manually or through an electric door opener. They also work better with stiff materials like glass and wood.
However, you should know that swing garage doors typically cost a lot more than regular roll-up or tilt-up models.
Garage Door Insulation Can Save Cut Down On Your Energy Bill
If you invest in proper insulation for your garage door, then you save money on your monthly energy bill.
How?
By reducing the amount of air conditioning or heating that escapes outside. It also keeps the air outside from getting inside.
If you plan on spending time in your garage either as a workroom or lounge, then you should consider insulation. Insulation material comes with an R-value that indicates how powerful it is.
18.4 is the highest R-value available for insulation and it will keep the garage the same temperature as the rest of the house. Garage insulation is usually either made of polystyrene or foam polyurethane.
Best Garage Doors Frequently Asked Questions
People looking for new garage doors often have a lot of questions about their new product and how to install it. In this section, we cover some popular questions that new garage door customers ask.
Do Garage Door Springs Matter?
There are two types of springs popularly used on garage doors. The first type is called extension springs. These springs are used on a horizontal track and recoil up the sides of the garage door.
They're cheaper to use so they often go with tilt-up garage doors. The other type of spring is called a torsion spring.
The torsion spring spread across the entire door and distributes weight more evenly. As such, it's more ideal for sectional doors that utilize a roll-up method.
Should I Install My New Garage Door Myself?
You may be tempted to try and save a few bucks by installing your garage door yourself. We would urge you to reconsider for several reasons. For one, garage door installations usually require some insider knowledge to get started.
Unless you want to spend all day researching, you're better off going with a professional. Even when done by professional garage door installations still usually take up to four hours.
As such, you can imagine how long it will take someone with no experience. It's also dangerous to set up a garage door by yourself. These are heavy materials that can easily fall and hurt you if you aren't careful.
So, don't install a garage door unless you know what you're doing. Instead, call a company you can trust to assist with the garage door installation service.
Can I Repair My Garage Door Instead of Fixing It?
We all know that moment of fear when the garage door we take for granted begins making noises.
People panic for a good reason — garage doors feature many moving parts that make it hard to find the source of the problem. It could be the door opener, hinges, old parts, or the door itself.
More often than not, if you try and fix a garage door without knowing what you're doing, then you'll just make it worse. Luckily many companies offer dependable garage door repair services.
If you want to learn more about how long you can expect your garage door to last, then check out our article at this link here.
Can a New Garage Door Increase My Home's Value?
If you plan on selling your house, then you should pay attention to your garage door. One study found that the value added by a new garage door comes with a return-on-investment rate of 98.3%.
This fact means that almost all the money you spend on a new garage door will be recuperated in the value of the house if you decide to sell.
However, this return on investment increases if the garage door comes with some visual appeal too.
If you match the material to the house well, then the color and style can make this home feature pop out. It's also important to note that garage doors require continual maintenance.
So if you want a return on investment, then you will need to factor in the cost of labor and parts for keeping your garage working properly.
How Much Do Garage Doors Cost?
The cost of a garage door depends on a variety of factors like the materials you get, and the complexity of the system. A simple tilt-up garage will cost a lot less than a complex carriage house wooden garage.
As such, it's hard to list a set price for garage doors. We can say that most garage doors average between $700 and $1,500.
The cheapest garage door you can find will cost around $250, will some upper-end models can cost $2,500++. Keep in mind that these prices reflect the cost of the garage door itself.
You will likely also need to pay an installation company to set it up. If you can, get a contractor to come out to your house so that they can see your specific garage needs.
They can give you an estimate and advice on what material/systems will benefit you the most in the long run.
If I Want to Install My Garage Door, Then What Tools Will I Need?
If you are hard-set on installing your garage door by yourself, then you probably want to know what tool you will need to set it up.
Most residential garage doors require a hammer, screwdrivers, locking pliers, a tape measure, a socket wrench kit, and a level.
If you're working on a commercial project, then you will likely also need an impact driver and a ¼" open-end combination wrench.
Can I Paint My Garage Door?
Almost all types of garage doors (besides glass) can be painted. A fresh coat of paint can work wonders on the appearance of your garage door.
Make sure you research the best combination of primer, paint, and coating for your specific garage door material before you begin painting.
Need Help With Your Garage Door? Call Texas Garage Door Repair and Installation
As you can see, there are a lot of things to consider when searching for the best garage doors. We also hope we've convinced you that it's in your best interest to hire a professional to install your new garage door.
If you live in the area surrounding Austin, Texas and need any help with your garage door, then contact Texas Garage Door Repair and Installation.
In addition to home garage repair and installation work, our company can also assist with more complicated commercial garages. We also offer emergency services if you get locked out of your garage.
If you want to schedule a service with Texas Garage Door Repair and Installation, then visit our contact page through this link here.