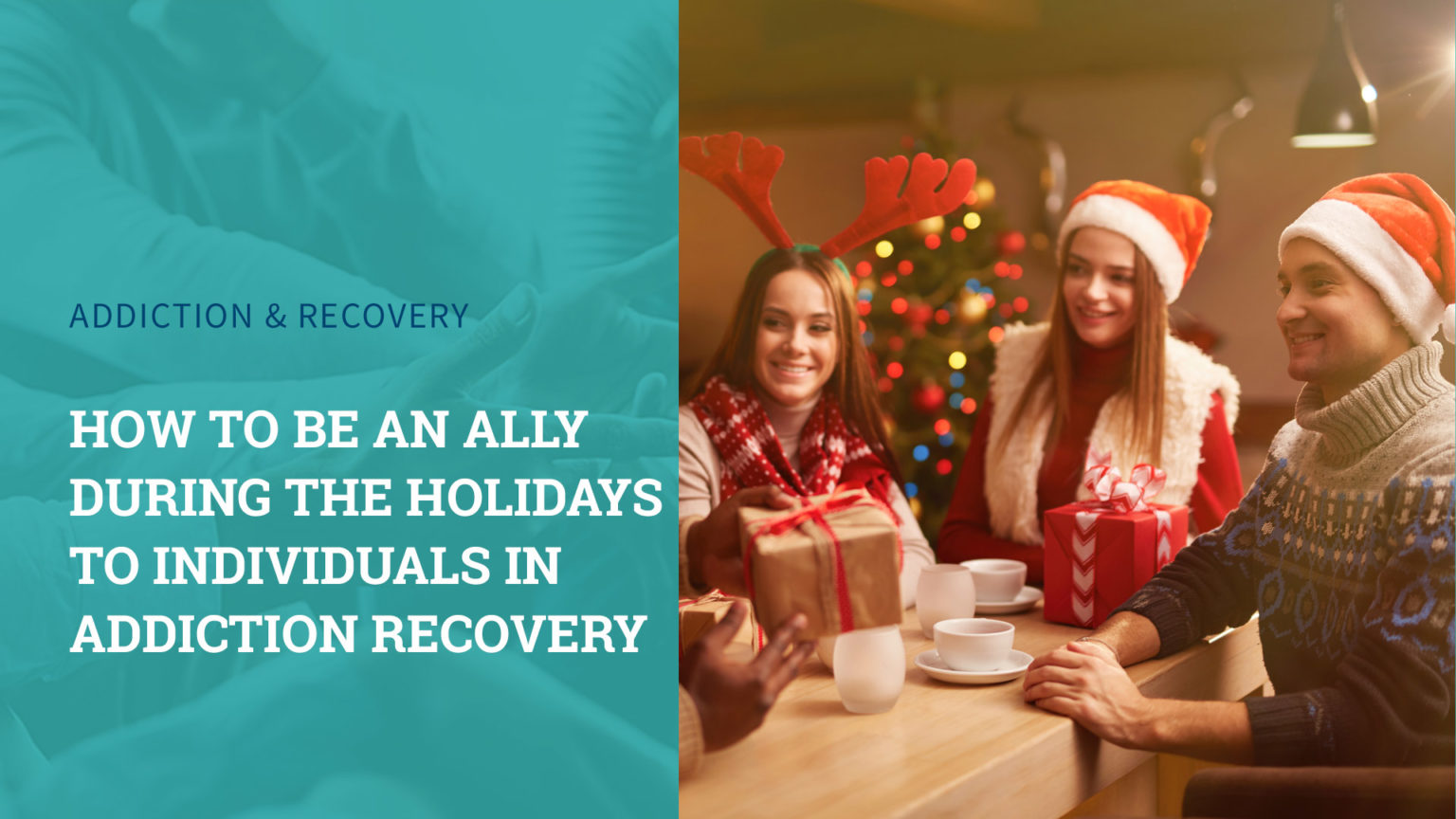 How to be an Ally During the Holidays to Individuals in Addiction Recovery
Holidays are sometimes challenging for folks in recovery. Offering support with not only your words but your actions can be very helpful.  Here are a few thoughts and suggestions around supporting your friends, family and coworkers in recovery as they navigate the season.
First things first, honor their right to self-disclose. The only person who has a right to disclose they are in recovery or have been treated for substance use disorder is that person, themselves. Do let them know personally that you support them. Don't disclose to everyone at a holiday gathering that they have to "watch out for…" That could create unnecessary tension that won't help anyone.
Ask the person in recovery what they need from you over the holidays. Don't act on assumptions; different people have different recovery needs. What you think they need may not be what they need. Always ask!
Be flexible! Some people don't necessarily know what they need until they're in or close to a situation or event. Understand that what they said they might be comfortable participating in three weeks ago they may not be comfortable doing now.
Offer to be the person that your friend, coworker, or loved one can reach out to at an event or celebration if their plans need to change or they need to adjust. Remember, you're not there to tell them what to do, but you can listen and ask how you can help.
Navigating larger family events over the holidays can be especially challenging. Listen and acknowledge your loved ones or friends' feelings and perhaps, if appropriate, offer to accompany that person to a family gathering as support or suggest they bring another person in recovery with them, if they ask.
Keep family gatherings focused on the festivities and joy of the holidays. Don't try to resolve any deep-rooted issues or bring up the wreckage of the past. It's not the best time or place for those discussions.
If you are holding an event that includes alcohol, please offer a reasonable amount of alternative beverages. Note that for some people, near-beer, mock-tails or non-alcoholic champagne may not be an appropriate alternative and could be upsetting reminders to some. Soda, coffee, juice, sports/health drinks and water are great options.
Another way to make any gathering recovery friendly is to create an event that doesn't just focus on drinking but includes activities that encourage fun and connection. Karaoke, Pictionary or other group games, a white elephant exchange and a blindfolded cookie decorating contest to name a few!
Having an alcohol free holiday gathering is not a bad idea either! Maybe you could start a new holiday tradition?! Just a thought.
Allow the person in recovery to take care of themselves without any judgment. If they need to leave the party early or not attend at all, support those decisions. Conversely, don't make decisions for them, if you're having a holiday gathering let them decide if want to attend or not. Recovery is not one-size-fits-all. Empower them to choose to attend or decline.
Finally, never take any of their social event decisions personally. Proactive social navigation of events over the holidays is a positive indication of their commitment to recovery. Support their decisions as if their life depends on it, because it does!
Remember, no one is personally responsible for anyone else's recovery, however, as a recovery ally you can be an asset by providing understanding and support.
Wishing you and yours a peaceful, joyous and happy holiday!