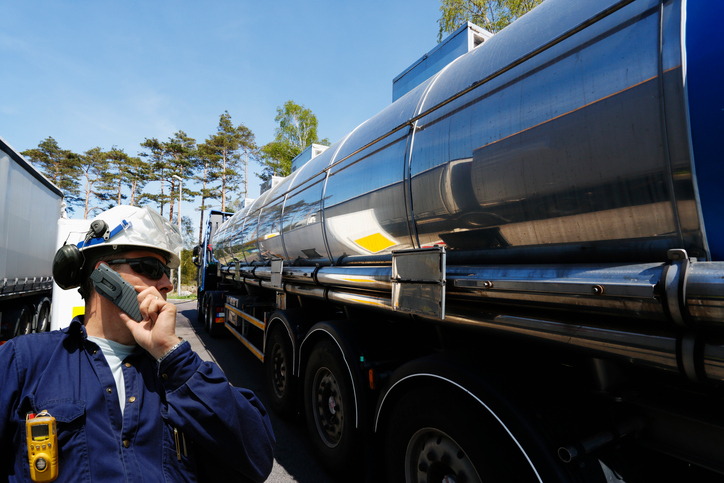 Driver Profile: Tanker Driver
Average Day for a Tanker:
A normal day for a tanker trucker involves waking up between 4 and 6 AM. The first thing most truckers do is their logs, marking the numbers miles they drove the day before.  After this, they check their truck to make sure everything is good to go.  Then they check to make sure weather conditions are safe to drive before picking up their load.  There are three types of jobs for a truck driver.
The first is a "live load," which means that they wait in line to have the load attached to their truck. This waiting process can take hours depending on how many loads their company has and how many truckers are in line.
The second type of job is a "live unload." Like a live load, the live unload means that most truckers will be waiting in line for a while.  This time, however, truckers wait to unload their tankers instead of loading them.
The third option is the "drop and hook."  In a drop and hook, truckers deliver their shipment and attach a new one without waiting in line.  Most truckers prefer this method because the wait time is significantly shorter.
After something is loaded, drivers are allowed to driver 11 hours in one shift. Many drivers also opt to cut their day into multiple shifts. In these cases, drivers must end their day 14 hours after they start driving. Breaking these rules, set by the Department of Transportation can cost a driver lots of money.
At the end of the day, drivers should find a truck stop, rest stop, or any safe place to shower, eat, and sleep, if they are away from home.  If they are doing loads that don't require them to drive too far, they may even be able to spend the night at home.
Fuel Drivers, Chemical Drivers, and Crude Drivers
Depending on what materials you are driving in your tanker, your job can look very different. Crude drivers who pick transport oil from storage to refinery, for example, often have to test the sulfur levels and purity of the oil.  Depending on what you are carrying, you may also be responsible for cleaning the truck and trailer. In some cases, this can require a deep acid cleanse. Because of the high cost of cleaning, companies often have their clients pay for it so as not to burden the drivers.
Each of these jobs generally requires a lot of patience and attention to detail. Chemical driving can be a bit more complicated if you are responsible for unloading it yourself. Unloading the a chemical into the wrong tank can destroy the product and has even resulted in death. Companies generally take a lot of steps to make sure this does not happen. In most of these cases, the driver is at fault and can face punishments.
The trade off for the complexity and difficulty of these jobs is the pay.  On average, the salary for a CDL driver is around $40,000 a year. This increase to $50,000 a year when hauling a tanker. Different companies hire for different pay depending on experience and position. Certain loads can also increase your pay.
For more information on the trucking industry, subscribe to the UES Solutions blog! UES helps place great HAZMAT/Tanker drivers in great jobs.