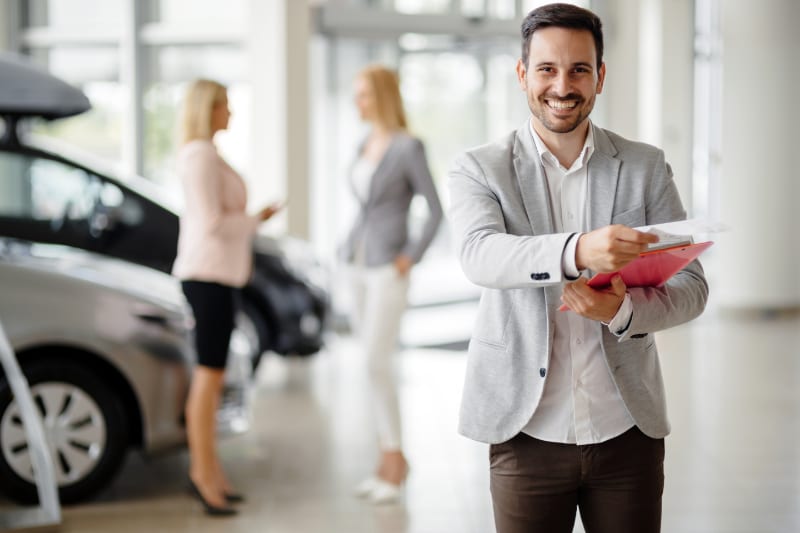 HOW TEXT MESSAGING CAN HELP AUTO DEALERS SELL CARS FASTER!
Photo from Envato Elements
Originally Posted On: https://www.tecobi.com/how-text-messaging-can-help-auto-dealers-sell-cars-faster/
HOW MANY TIMES DO YOU SEE A PHONE CALL POP UP ON YOUR SCREEN, ONLY FOR YOU TO HIT DECLINE?
Or how often do you click "delete" on that annoying marketing email in your inbox? Now, think about how often you read your texts. You at least glance at every single one, right? That's why text messaging is such an effective marketing tactic to help auto dealers sell more cars, and FASTER! Though your dealership might currently use more traditional marketing strategies to find new leads, it's important to change and adapt with the times. Auto dealer text messaging with TECOBI is the answer to make your job easier, find more leads, and ultimately, sell more vehicles.
HOW CAN AUTO DEALER TEXT MESSAGING HELP ME?
These days, many people are more comfortable with texting than they are with phone calls or even emails. At TECOBI, our Text Ninjas use artificial intelligence to talk to thousands of customers every day and deliver the best results. We specialize in lead generation and customer follow-up to help YOUR auto dealership drive sales. Automotive text message marketing is the key to beating your local competition.
Here's another benefit of text messaging for auto dealers. With a text message, you know your potential customer's phone will beep or vibrate when they get the message, which is more than can be said for email.
Plus, when a potential customer has a question about a certain vehicle, they will know exactly who to turn to. All they need to do is type out a simple text on their phone. It couldn't be easier. We all have our phones in our pockets or in our purses all day, every day. And we can text anytime, anywhere. No need to step out to make a phone call to the dealership with your question. Instead, customers can text at their convenience. (Shh, we won't tell if you text during that meeting.)
Plus, it works both ways. How many times has a potential client told you that they will think it over, then you never hear from them again? If you can text them a gentle but convincing follow-up message, it just might seal the deal. A text eliminates the pressure that a phone call puts on the client, but is more personal than an email.
CUSTOMERS ARE ALREADY TURNING TO THEIR PHONES FOR INFORMATION. LET THEM TURN TO YOU, RATHER THAN A COMPETITOR, WITH THE POWER OF TECOBI.
Photo from Envato Elements
HOW TEXT MESSAGES HELP AUTO DEALERSHIPS SELL MORE CARS
How can text messaging help your auto dealership? There are several ways that car dealerships can use text messaging, including notifying customers about your sales, following up with leads, asking for reviews, and more. These are just a few examples of how TECOBI clients are using text messaging to exponentially grow their business.
NOTIFY CUSTOMERS ABOUT PROMOTIONS
You already know that sales are a great way to bring buyers into your dealership. But how are you letting people know about your latest promotion? Try using text messaging to alert leads about your latest promotions. Is it time for your big end-of-your blowout sale? Or are you clearing out inventory? A text with a notification might just be the push they needed to walk in the door and drive out with a new vehicle.
FOLLOW UP WITH LEADS
A quick text is the perfect way to follow up with a potential client who is interested. We recommend including a photo of the car they were interested in, or sweetening the deal to entice them.
ASK FOR REVIEWS
Text messaging can help your dealership accomplish other goals beyond just sales. For example, you can use a text to ask a happy client to review your dealership online. You can even offer them 10% off their next service for leaving a positive testimonial. Think outside the box! The opportunities for auto dealer text messaging are endless. The best part is that you can personalize messages.
Photo from Envato Elements
Photo from Envato Elements
BEST CAR SALES TEXT MESSAGES
Whether you want to send out a blast telling potential customers about a new promotion your dealership is offering, or if you want to connect with a previous client about a new vehicle upgrade you know they might be interested in, you can use TECOBI to text them. Text messaging allows you to directly contact real leads, rather than traditional mass advertising or marketing strategies.
Here are some examples of the best car sales text messages:
"We are making room for our 2021 inventory by offering low prices on our 2020 models! Come get $5,000 off a new vehicle today!"
Or, "Happy New Year! Come in to (insert dealership name here) and see our holiday deals on our brand-new models!"
You can even personalize your message. For example, "Hi Kim, I hope you've had a great weekend. We still have the 2018 Toyota Camry you liked so much and I can get you a great deal if you're still interested!"
The key is to make your potential client a deal they can't refuse with an amazing offer. The more personalized your text message is, the better.
FACEBOOK MESSAGING FOR AUTO DEALERS
Text messaging isn't the only option to get in contact with your potential customers. Did you know you can use Facebook messaging to turn casual online browsers into leads for your dealership? Facebook messaging is simply another way you can communicate directly with your next lead. Automotive Facebook marketing is the next step.
Facebook ads also help you reach an audience you might not otherwise find with traditional marketing tactics. TECOBI uses the Facebook advertising platform to help dealerships sell more cars and engage directly with automotive customers through direct messaging. As a result, your dealership can sell more cars faster. Automotive Facebook marketing can help grow your dealership and meet your goals.
Photo from Envato Elements
USE AUTO DEALER TEXT MESSAGING WITH TECOBI
If you want to develop more leads and beat out the other dealerships in your area, we can help. TECOBI can generate leads and set up appointments for you. All you need to do is finish the job and sell cars! You can free up the rest of your team to do their jobs, not to mention make their jobs MUCH easier, if you use TECOBI. Let our Text Ninjas to do the hard work for you! Contact the team at TECOBI today to learn how we can help you utilize our automotive text message marketing services to drive your sales through the (sun)roof!