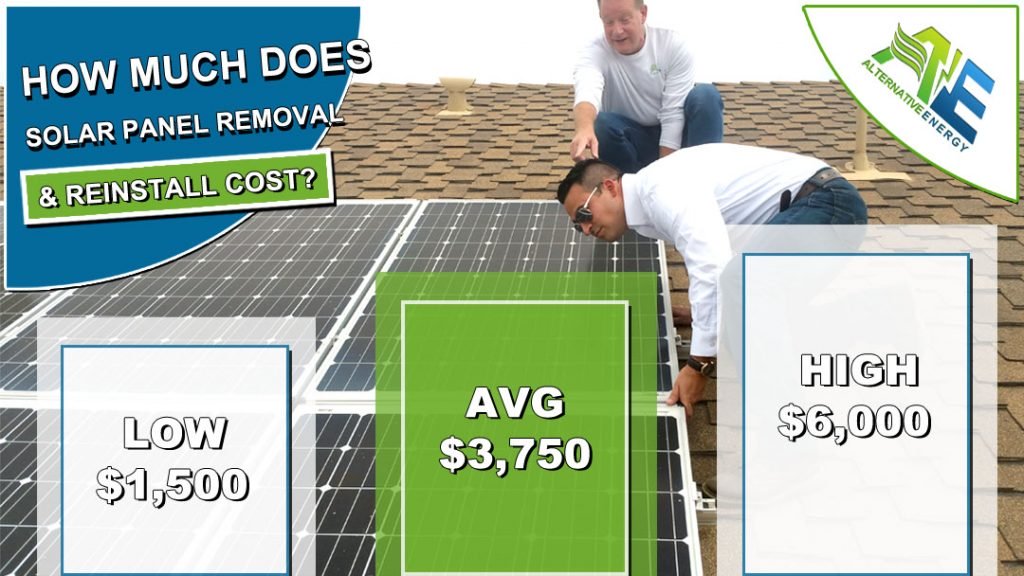 HOW MUCH DOES SOLAR PANEL REMOVAL AND REINSTALL COST?
The average cost to remove and reinstall solar panels is about $3,750. Solar R&R costs range from $1,500 to $6,000 in the US for 2019. According to EnergySage, "On average, residential installations tend to cost somewhere between $1,500 to $6,000 to remove and reinstall. This is not inclusive of the cost required to replace your actual roof."
(480) 744-1803 FREE SOLAR PANEL QUOTES
Solar Panel Removal Cost
On average, it solar panel removal costs about $500 with average prices ranging from $400 to $600 in the US for 2019 according to HomeAdvisor. They also add another $200 for shipping equipment off site and $600 for uninstalling the solar panel mounting hardware, putting your closer to around $1,000 total to remove solar panels. HomeAdvisor estimates another $800 to get your roof work completed.
Common reasons homeowners choose to remove solar panels include:
Transferring the system to another home
Repairing, replacing or improving their roofing systems
Getting rid of a broken or outdated solar system
Updating to a brand new solar system
Replacing solar panels
Cost to Remove & Reinstall Solar Panels for Roof Repair, Replacement, or Reroofing
If you have solar panels on your home and need roof work done, you must disconnect the solar system and remove the solar panels before the roofing company can repair or replace your roofing system. After the roof work is complete, a solar company must reinstall the solar panels and hook the system back up. The process of removing and reinstalling solar panels costs about $1,500 on average according to HomeAdvisor, but can go as high as $6,000 says EnergySage.
Are Solar Panels Worth it Since I Have to Re-Roof?
Yes, solar panels are still worth it in Arizona can save the average homeowners upwards of $25,000 over the next 25 years alone. With the average cost of solar panel removal and reinstall being around $3,750, that still makes your solar panels savings around $21,250 dollars over the next 25 years. Learn more about how much solar panels cost vs savings. Furthermore, solar panels can increase your home value in some areas by 2-3%.
Homeowners Insurance Might Pay For Solar Panel Removal?
Did you know that homeowners insurance will pay to have your solar panels removed and then reinstalled in order for you to get your roof work done. Roof maintenance is a requirement with some homeowners insurance plans and they will actually pay the cost for solar panel removal to make sure it gets completed.
Solar Panel Removal & Reinstall Services in Arizona & California
Alternative Energy, Diamond Solar Inc (one of the top solar companies in California), and SunPower® have teamed up together to bring you the most affordable solar panel removal & reinstall, solar panel repair, solar installation, off-grid solar systems, residential solar panels, solar batteries for home & business, solar air conditioning, solar carports & canopies, commercial solar panels, solar EV charging stations, solar panel repair, and other very effective energy saving products & services.
Our Solar Panel Removal & Reinstall Service area in California includes: Los Angeles, Anaheim, Oxnard, Thousand Oaks, La County, Orange County, Ventura County, San Bernardino, Riverside, Temecula, Palm Springs, Palaverde, Palm Desert, Indio, and more. We offer solar panels in La County, Orange County, Ventura County, San Bernardino County, Riverside County, and more areas in California.
Our Solar Panel Removal & Reinstall Service area in Arizona includes: Phoenix, Tucson, Mesa, Chandler, Litchfield Park, Glendale, Ajo, Paradise Valley, Scottsdale, Fountain Hills, Gilbert, Tempe, Carefree, Cave Creek, Peoria, Surprise, Yuma, Avondale, Flagstaff, Goodyear, Lake Havasu City, Buckeye, Sedona, Flagstaff, Kingman, Goodyear and more.