Free Background Check Online
Photo by Christian Wiediger
Originally Posted On: https://www.searchquarry.com/background-check/
How To Perform A Background Check
Maybe you're an employer or landlord who needs a background check of a potential employee or tenant. Or it could be you're about to take on a new roommate or heading out on a blind date. There are lots of good reasons you might decide a background check is in order. The Internet Age has made it easier than ever to check up on almost anyone's past, and many of the resources to do this are free. No need to hire a snooping private eye any more. But how does one go about conducting an effective online background check? It's not that hard. Here are some rock solid tips to help you complete your mission.
FCRA Compliance
Here's the first thing you should know. If you are an employer or landlord using a third party (like those that produce consumer credit reports – Equifax, etc.) to screen potential employees, you MUST comply with the Fair Credit Reporting Act (FCRA) and be able to document that you have done so. For the rest of us simply wanting to ascertain that the cute gal we're going to meet for coffee after work isn't a shoe bomber, the requirements are less stringent. Okay, non-existent. This article deals primarily with background checks for personal reasons, not employment. If you are performing a background check for employment, tenancy, or any other reason that requires FCRA compliance, then there are plenty of FCRA compliant background check services.
Background Check Legal Problems
Perhaps the best way to start an online background check on someone is to visit the National Center for State Courts. This incredible resource will direct you to the official government websites for each state that allows you to research whether or not the person you're interested in has had legal issues: felonies, misdemeanors, bankruptcies, judgments against them. Since these are state level archives, you'll need to repeat the search on any state your target has lived in. The best part? It costs nothing.
Google and More
Perhaps even before you sift the court records, you might want to Google the person's name and see what comes up. Same with popular social media websites like Facebook, Twitter, YouTube, Instagram, LinkedIn, Google+, and whatever flavor of the moment platform is enjoying its 15 minutes in the glorious sunshine of public popularity. While you're not going to find any official records via this method, you could stand to learn an awful lot. Maybe enough to send you scurrying to clean up your own tracks.
Credit Scores
As we've already mentioned, you need to make extra sure you're complying with the FCRA if you are an employer or landlord. But there's no law that says you can't ask a new roommate to volunteer a credit report for your perusal. Otherwise you need an official business purpose and signed permission, neither of which that cute girl at the coffee shop is liable to provide. You might even get a slap in the face for asking.
Take a Peek
Before embarking on your own finger-numbing excursion across the Internet, consider visiting the website PeekYou.com. The concept is interesting. It's been described as Google for people. PeekYou is a person based search engine that combs 60 different social media and news sites in search of the name you give it. There's no cost for many of the services but you may encounter a fee if you want to dig deep.
Beware the False Positive
If you're relying on free websites to conduct your search, take heed. Believe it or not, sometimes information found online is not true. If you find adverse information, it's only fair to ask the person about it before casting them aside like so much garbage. So, if you use the search engines and other free tools for your background checks, be aware that you need to take necessary steps to verify that the information which you have found is true. For example, if you find some evidence of someone having a criminal record on Google, you should then inquire about that specific charge with the county in which the crime occurred.
Non-FCRA Background Checks
If your background check is not for employment or tenancy then it probably does not fall under the requirements of the FCRA. If you are not sure if your background check falls under the FCRA, then please review the FCRA requirements. SearchQuarry.com is a background check service that does not fall under FCRA compliance. If you want to see a background check on a neighbor, an acquaintance, someone at your kid's school, a business partner, or anything else that does not fall under the FCRA, then we will provide you with an easy and inexpensive way to conduct your background check.
The Professional Option
So far, we've discussed free or low-cost ways to get find background information on someone. You could also choose to go the professional route. There are full-service employment screening companies out there who will do a deep background check for $50-100 per report.
Though set up primarily to work with businesses engaged in hiring, there's no law that says you can't hire such a company to uncover exactly what the cute girl in the coffee shop has been doing with her life: marital status, employment, education, military and motor vehicle records, social security number verification. The catch is that there won't be anything sneaky about this. The company will solicit your target's permission and will abide by the letter of the FCRA. Not a great choice if you're trying to be subtle.
The bottom line is that there has never been a better time in history for poking and prodding into someone's background. From personal interests to legal convictions, the Internet is the best tool ever to uncover the dirty (or clean) details about a person before becoming personally or professionally entangled with them.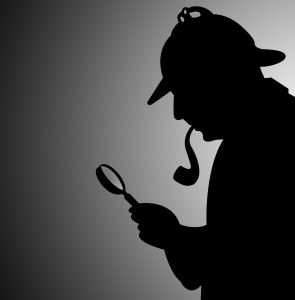 Background Check
Background Check On Myself
Have you ever thought of performing a background check on yourself? It's best practice in today's society, with vast number of data breaches and identity theft, to make sure your information is accurate and up to date. Performing a " Background Check on Myself " once a year is always a savvy idea. That being said, Background Checks have become easier than ever at SearchQuarry.com. Our background check resources include; criminal records, warrants, arrests, incarcerations, marriage and divorce records, vehicle records, social media records and much more. With our new and improved member's area, performing a background check online, on your smartphone or laptop, is easier than ever. We also have live customer support to assist you with any of our public record resources.
Can You Get a Free Background Check?
You can get a free background check with some public record websites however the information you obtain with a free background check might be limited. Typically, a detailed background check will cost a few bucks to run but you can do this anonymously as background checks are public information.
Can I run a background check on someone?
Yes, someone's background information is public record. To run a background check on someone you just need the name and state they live in. Background check results include criminal records, driving history, vital records, court records, incarcerations and more. You can run a background check on someone anonymously online.
How long does it take to run a background check?
A background check performed online can take as little as a few minute. To run a background check online you will need the full name of the person and state they live in. Another nice feature of running a background check online is that you can do this anonymously. Background records are public information that anyone can access.
What does a background check show?
A background check will show a person's criminal history, driving records, court records, vital records, jail and prison records. Some information will not show or might be limited such as social security numbers and credit information. A background check can be performed online through various public record websites.