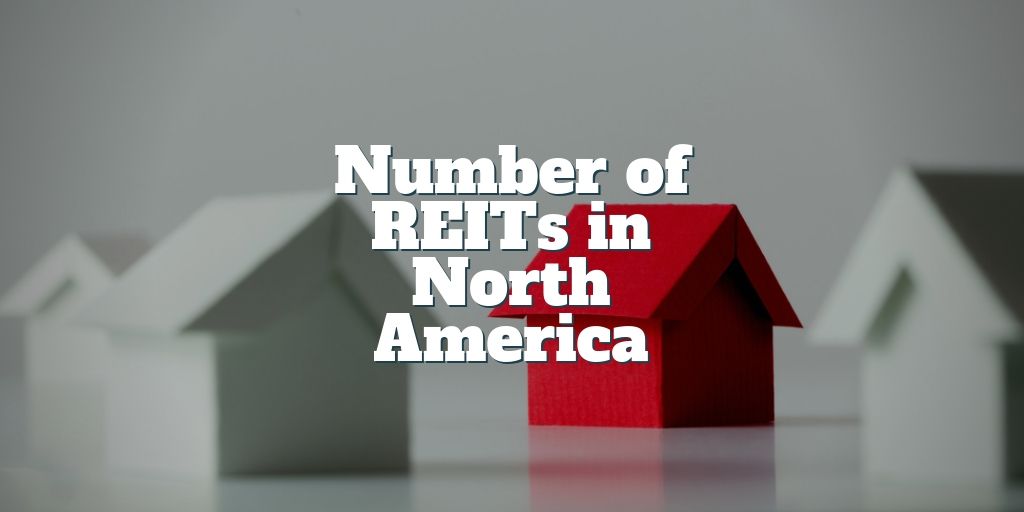 How Many REITs Are There In North America?
Originally posted on https://investormint.com/real-estate/how-many-reits-are-there-in-north-america
Real estate investment is a popular method of building wealth, but most average investors aren't financially able to bankroll large developments alone.
Fortunately, there is an alternative. Real Estate Investment Trusts (REITs) offer an opportunity to pool your money with other investors to purchase and/or manage income-producing properties.
What is a REIT?
The concept of an REIT is similar to that of a mutual fund. The REIT manager handles the logistics of buying, managing, and selling real estate. Investors buy shares of the REIT, and income generated from the real estate holdings is returned to shareholders.
Because REITs are eligible for special tax treatment, they must meet certain IRS requirements to qualify in this category.
The REIT must be organized as a corporation
It must have a managing board of directors
There must be a minimum of 100 shareholders
No more than 50% of an REIT's shares can be held by five or fewer individual shareholders
A minimum of 75% of the REIT's assets must be in real estate, cash, or US Treasuries
At least 75% of an REIT's net income must come from real estate
At least 95% of an REIT's income must be passive – for example, rental payments
At minimum, 90% of taxable income must be paid to shareholders as dividends
Of course, the biggest question for investors is which REIT is most likely to generate the highest dividends?
How Many REITs Exist In North America?
Choosing the best REIT can be overwhelming. According to IRS records, approximately 1,100 REITs have filed tax returns. Of these, more than 225 US REITs are registered with the SEC to trade on major stock exchanges.
Most can be bought and sold on the NYSE. As a group, these REITs have more than $1 trillion in market capitalization.
With numbers like that, it simply isn't practical to conduct research on all of them before making an investment decision.
Though bigger isn't always better, understanding which REITs are largest can make it easier to select your investment. After all, size can be an indication of success in some cases. In others, it can be an indication of investors' faith in the REIT.
These are five of the largest REITs in the United States today:
Though these five are currently the largest, they don't represent the diversity available in REIT investing.
You can choose to focus your real estate investment dollars on health care facilities, office space, senior living centers, timberlands, and so forth.
Some REITs don't specialize in a specific type of real estate. Instead, they own and/or operate properties used for a variety of purposes in an effort to mitigate the risk of losses if one industry experiences economic challenges.
How To Invest in REITs
Much like investing in mutual funds or trading individual stocks, the first step in buying REIT shares is opening a brokerage account.
Once your account is established and funded, you can trade shares as you would any other publicly traded investment.
The beauty of REIT investing is that you can build a passive income stream. Profits are paid out in dividends on a regular basis, so you can grow your wealth with additional investments.
If you're not sure where to begin, pick a broker that gets an all-round top rating like TD Ameritrade, whose thinkorswim platform ranks among the very best.
You don't have to invest in a REIT to get exposure to real estate as an asset class. Other alternatives to REIT investing are available these days through real estate crowdfunding platforms.
Crowdstreet, Rich Uncles, and Fundrise, are just a handful of the many property marketplaces that allow individuals, both accredited and unaccredited, to get on the property ladder without the upfront cost.
Similar to REITs, you don't actually need to get your hands dirty and manage tenants when you invest in any of the deals on these sites.
However, some investors like the idea of owning property outright and if you fall into that category but want to outsource the management of the property you own, Roofstock is the best place to begin.
Roofstock includes some perks, such as:
Every House Is Certified
A national inspection firm conducts a multi-point property inspection to assess habitability, risk, and safety.
Properties are examined both internally and externally.
Roofstock Negotiates List Prices For You
If you hate the idea of haggling over prices when you buy an investment property, Roofstock will be the answer to your prayers because it conducts the list price negotiation after performing a property evaluation and rental market analysis.
Certified Property Managers
Roofstock further simplifies the process of buying investment property by finding and certifying local property managers.
| | |
| --- | --- |
| Property Purchases Made Easy | 100% Online |
| Minimum Downpayment | 20% |
| Geographic Diversification | Nationwide |
| Property Type | Residential |
| Buyer Fees | 0.50% |
| Non-accredited Investors | |
| Passive Income | |
| Pre-Screened Property Managers | |
| 30-Day Guarantee | |