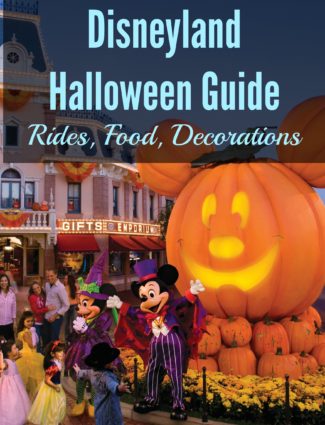 Disneyland Halloween Guide: Decorations, Food, and Special Events!
Originally posted on https://mickeyvisit.com/disneyland-halloween/
Disneyland Halloween Time, with special themed attractions, delicious autumn food, and Disney Halloween park decorations, is one of the most fun times of year at Disneyland. The Disneyland Halloween 2019 season will run from September 6th through October 31st. 
The entire Disneyland Resort is decorated for Halloween including special park decorations and overlayed attractions with Disneyland Halloween themes. Also, during this time Disney will host their popular ticketed Halloween party! This year the party, Oogie Boogie's Bash, takes place at California Adventure- read all about this party including how to get tickets here.
SAVE NOW! DISCOUNT DISNEYLAND TICKETS Book with our travel partner, Get Away Today, to save money on Disneyland tickets and get exclusive perks like free hotel nights, free parking, free breakfast, and more. Buy Tickets Now>
Disney California Adventure park has continued to expand their offerings to provide even more great Disneyland Halloween experiences. The decorations in both parks are impressive now that California Adventure has caught up with the Halloween fun with Cars Land and Buena Vista Street decked out in its spooky glory. The 2019 Halloween season will bring a new party to Disney's California Adventure: Oogie Boogie Bash! Now, there are fantastic offerings in both Disneyland and Disney California Adventure park.
Check out my list of the top 13 Disneyland Halloween Experiences You Can't Miss and my review and photos of the new Disneyland Halloween in Disney California Adventure.
In the article below, I will break down all of the Disneyland Halloween festivities happening throughout the Disneyland Resort and provide advice on how to maximize your time during the Halloween season. Be sure to check the official Disneyland website for full information on Halloween at Disneyland.
Halloween Rides and Entertainment at Disneyland
Disneyland Park transforms two popular attractions for Halloween Time. Both Space Mountain and the Haunted Mansion are totally decorated and changed over for the Disneyland Halloween season.
The Haunted Mansion becomes the Haunted Mansion Holiday for the Halloween and Disneyland Christmas seasons. This special holiday edition features the story of "The Nightmare Before Christmas" and characters from the film including Jack Skellington, Zero the Ghost Dog, and Sally. The attraction is fun regardless of whether you know the story of "The Nightmare Before Christmas" or not. Explained simply, the story goes something like this: the king of Halloween takes over the celebration of Christmas and we get to witness what happens when "two holidays collide."
The one disappointment with the overlay is that because the Haunted Mansion Holiday runs from September-January, the classic Haunted Mansion attraction is only available for six months out of the year– which is bemoaned by some Disney fans.
When the Haunted Mansion Holiday rolls into town, the lines balloon to have multi-hour waits. You can avoid these lines by getting a FastPass for the attraction or heading here early in the day.
Haunted Mansion Holiday Video
---
Originally posted on YouTube by Inside the Magic
*So far, there has been no announcement of the return of Ghost Galaxy for the 2019 Halloween season. 
Space Mountain becomes Space Mountain: Ghost Galaxy during Halloween Time. This overlay is created using new projection effects and a spooky soundtrack onboard the roller coaster. The rides regular feeling of optimistic space exploration transforms to focus on a darker and more menacing theme. Plenty of people come out screaming from this more intense ghost infested space rollercoaster. While the ride is fantastic for teens and up, this may not be the time to bring young children on Space Mountain, especially if it is their first time riding.
Space Mountain: Ghost Galaxy Video
---
Originally posted on YouTube by SoCal Attractions 360
The same way that we always recommend enjoying Space Mountain first in our Disneyland touring advice, you should really be rushing to Space Mountain: Ghost Galaxy. Even during regular season, this is one of the most popular attractions at Disneyland. Imagine what making the attraction one of the headlining pieces of the Disneyland Halloween season does. Suffice to say, arrive here early and get a FastPass or the new Disneyland MaxPass if you want to ride the attraction any other time during the day.

NEW this year for the 2019 Halloween season- for the first time in nearly a decade, all guests visiting Disneyland can see a version of the popular yearly Halloween Screams projection and special effects show. In previous years guests had to have a ticket to the Halloween party at Disneyland to see this special show.
Since the Halloween party will take place at California Adventure this year, all guests visiting Disneyland can see Halloween Screams without having to purchase a party ticket! Fireworks will enhance this projection show on select nights- likely weekends.
As for specific Disneyland Halloween characters, over by the Haunted Mansion Holiday, Jack Skellington and Sally are often out for a special holiday meet and greet. Mickey Mouse and Minnie Mouse often wear their Halloween costumes the entire day. Beyond these characters, you never know which Halloween specific people you will see wandering the parks. In the past popular Disney villains like Maleficent, Captain Hook, Cruella de Ville, and more have been spotted wandering Main Street U.S.A. You can find specific information on characters each day in the official Disneyland app.
Halloween Rides and Entertainment at California Adventure
In Disney California Adventure park the Halloween entertainment and ride overlays have increased more and more each year.
Over in Cars Land, Mater's Junkyard Jamboree will become Mater's Graveyard JamBOOree and Luigi's Rollickin' Roadsters will change into Luigi's Honkin' Haul-O-Ween.
Guardians of the Galaxy-Mission: Breakout! becomes Guardians of the Galaxy-Monsters After Dark starting at 6 pm everyday. This special Halloween version of the attraction is a scarier version that does not include the popular song soundtrack of the regular version of the attraction. Instead, Monsters After Dark picks up where the main Mission: Breakout story leaves off. The attraction centers around your car serving as bait to distract the monsters–which have inconveniently been released from their cages–from eating Baby Groot.
See the intro video for the full story:
You will want to get a FastPass which is distributed starting at 3 pm each day in person and for those using MaxPass. The lines for this special nighttime experience will be long so you will really want to have the FastPass.
You can find more entertainment options like Plaza de la Familia in the Paradise Gardens Park- a celebration inspired by Día de los Muertos including a festive experience celebrating the film "Coco" with live entertainment, craft making, food, and merchandise.
Guests can enjoy a Musical Celebration of Coco several times a day when Miguel joins the storytellers of Plaza de la Familia and the Mariachi Divas.

You can also find a plenty of favorite characters, like the Fab Five, wearing their Halloween costumes and ready to do meet and greets. Make sure you're using the Disneyland app to track down your favorites.
Save Money on Disneyland Halloween
The popularity of the Halloween season at Disneyland has only increased. Each year, more and more people schedule vacations during this time period. This has taken this time period, which was once an off season, and created another time period with incredibly high room rates.
But, I am here to help…
I set up an exclusive deal with one of Disneyland's longest travel partners to provide my readers (that's you) the lowest priced Disneyland tickets anywhere on the web. Also, I pushed them to give me special prices on Disneyland packages for the September and October Halloween months. Check out the special Disneyland packages and ticket prices for more information on how to save during your Disneyland Halloween vacation.
For more information on all of these savings provided, you need to join our FREE Disney deals email. I send out information on limited time deals and vacation planning. You need to get these emails. Join now>
Halloween Time at Disneyland Decorations
Upon first entering Disneyland park, huge Disney character pumpkins adorn the ticket booths and greet you as you step into Disneyland Park. The large Mickey Mouse floral arrangement will be completely done in a darker Halloween theme.
Then, once you arrive on Main Street U.S.A. you'll see pumpkins and orange bunting adorning every building. It seems that every pumpkin is unique in shape and size. This really adds to the fall feeling in the park.
The Main Street decorations are capped off by a huge Mickey Mouse pumpkin that is perfect for photos. There are long lines for a photo at the beginning and end of the day when mass amounts of people are coming and going. Don't waste your precious morning time when you could be getting a Disneyland FastPass or your tired evening time when you should be going to bed. Take your picture with the Mickey Mouse pumpkin head sometime in the late morning or afternoon. A perfect time is when you are crossing between parks using your Disneyland Park Hopper ticket (discounted here).
In Frontierland, the decorations feel much more unique and provide a very special charm and three dimensional level of detail I expect in anything Disneyland does.
When you first enter the land, next door to the Golden Horseshoe you can find The Halloween Tree, dedicated to Ray Bradbury and his book with the same title. Ray Bradbury has an important place in Disney history because of his work on EPCOT Center in Walt Disney World, his friendship with Walt Disney, and insightful observations on Disneyland.
Ray Bradbury's writings on Disneyland are extremely prolific and a quote from his work even serves as the forward into my book on Disneyland Secrets.
Further into Frontierland near one of my favorite Disneyland Restaurants, Rancho Del Zocalo, are beautiful decorations honoring Dia de Los Muertos, or day of the dead.
Halloween Decorations at California Adventure
Cars Land celebrates "Haul-O-Ween" with awesome overlays and decorations everywhere. You can see photos from Cars Land at Halloween here.
From "Fillmore's Jack-Oil Lanterns and Flo's Spider-Car to Witchy Miss Lizzie's shop" each and every location will transform Radiator Springs into Radiator Screams.
Buena Vista Street and the entrance has Halloween decor inspired by The Nightmare Before Christmas film. Oogie Boogie has taken over Disney California Adventure as his oversized silhouette beckons guests down the street and a swarm of bats swirl around Carthay Circle Theater.
The Headless Horseman sits at the top of the street serving as an ominous beacon and fantastic photo location.
Disneyland Halloween Snacks and Foods
Just like the decorations and ride overlays, the snack offerings during the Halloween season are transformed. The Disney culinary team outdoes itself every year as they work out new sweet treats to be sold throughout the resort.
If you can dream up a bakery good, you can probably buy that good in pumpkin flavor at Disneyland during Halloween Time. If you are looking for these sweet treats, look specifically at the Pooh's Corner shop in Critter Country, Candy Palace on Main Street, Trolley Treats on Buena Vista Street in Disney California Adventure, and if you are outside the parks you can find treats at Marceline's Confectionery in Downtown Disney.
One of my favorite treats at any time of the year are the New Orleans Square Mickey Beignets. Well, during the Halloween season there is a special flavor in….you guessed it…pumpkin. As my younger sister says, these will really make you go "ben-YAY."
There are so many treats that is hard to provide up to date information on these important addition to the Disneyland Halloween celebration. When you visit, be sure to look at all of the selection for seasonal dessert as not to miss one of the new Halloween specific creations. Make sure to read all about Halloween themed treats in our yearly updated guide to Halloween food at Disneyland.
Disneyland Mickey's Halloween Party
NEW: This 2019 Halloween season, Mickey's Halloween Party will take a year off as Disney California Adventure hosts the Halloween festivities! Scroll down to read all about the new Oogie Boogie Bash coming to California Adventure which will feature similar villainous characters as Mickey's Halloween Party hosted in the past along with the popular Frightfully Fun Parade.
Mickey's Halloween Party takes place at Disneyland and is a special Halloween themed event held in September and October in conjunction with the Disneyland Halloween season. The party consists of fun entertainment, attractions, and candy, all while you wear your Halloween costume inside Disneyland Park at the Disneyland Resort.
The events typically run from 6pm or 7pm until 11pm or 12pm. With the purchase of a ticket to the Halloween party, you can enter the park up to three hours before the party begins. At the time of the party, every non-Halloween party guest who doesn't have a wristband given to all event attendees will be ushered out of Disneyland. This is an important point for all guests visiting during September and October: If you don't have a park hopper ticket then you will be forced to leave Disneyland early in the evening and have nowhere to go but back to your hotel or home. Be sure to check the Mickey's Halloween Party dates to see if they conflict with your Halloween trip.
The Disneyland Mickey's Halloween Party event centers around special entertainment fireworks and a character cavalcade, which, this year, will be headed off, by the headless horseman (see that pun I worked in there). The main draw for the event is the popular Halloween-Screams fireworks, which worked in impressive projection on the castle years before the debut of the Disneyland Forever fireworks.
Another highlight of the event for park guests are the various Halloween trick-or-treat trails located throughout Disneyland. These provide Disneyland guests the opportunity to receive huge amounts of candy.
The tickets for the event can be pricey and I really don't recommend purchasing both a park ticket and event ticket in the same day. If you like the sounds of the party, then consider not purchasing a park ticket for that day and enjoying yourself at the hotel or in Downtown Disney until you are allowed to enter the park with the ticket. Even with our exclusive discounted Disneyland tickets, purchasing both the Mickey's Halloween party ticket and regular park ticket seem costly.
Read all about the Disneyland Mickey's Halloween party information here.
Oogie Boogie Bash – A Disney Halloween Party
This NEW event coming to California Adventure this Halloween season will be a separate-ticket party event at Disney's California Adventure park featuring a new World of Color show, an interactive dance party, stage shows with Mickey, and Disney villains walk-through experiences. Read all about this new party, including information on ticket dates and prices, here!
Oogie Boogie Bash will take place from Sept. 6 through Oct. 31, 2019. 
Here are the important dates you need to know:
April 23: Tickets on sale to Disneyland Resort Annual Passholders, Disney Vacation Club members and Disney Visa card holders
April 30: Tickets on sale to general public
This is an important point for all guests visiting during September and October: If you don't have a park hopper ticket then you will be forced to leave California Adventure early in the evening and have nowhere to go but back to your hotel or home. 
This event will likely be similar to what we have seen offered at Mickey's Halloween Party at Disneyland in the past but this time with a new Oogie Boogie themed twist as it moves over to Disney's California Adventure!
Read our guide on Oogie Boogie's Bash here to find out information on ticket costs, dates, and all about the entertainment offered at this new Halloween party!
Disneyland Halloween Happiest Haunts Tour
During Halloween Time at Disneyland, a specific "Happiest Haunts Tour" is held that focuses around the specific Halloween attractions and story of certain Halloween elements in the park. Last year, the tour centered around a Halloween quest to find Aladdin's missing magic lamp. Over the course of the search, the tour guide took guests on six attractions throughout the entire park.
Tour benefits can change year to year, but in the past these Halloween tours have included front of the line access to the two Halloween themed attractions, plus some of the other top attractions throughout the park.  Also, in previous years the tour has included two Halloween desserts and an exclusive pin.
This tour, not to be confused with the Disneyland VIP tour guides, provides a nice fun way to see all of the Halloween offerings and a fun interactive story that kids will really enjoy.
The tour is pricey, costing $99 in addition to purchasing theme park admission. You can find out more information on the Disneyland Halloween Happiest Haunts Tour on the official website.
Tips for Visiting Disneyland Even When It's Not Halloween
For a complete help planning your entire Disneyland vacation, be sure to subscribe to our FREE Disneyland Deals newsletter. Here you will receive helpful planning information, exclusive Disney deals, and access to the lowest priced Disneyland tickets anywhere. Subscribe for FREE>
Click the links below for more planning information beyond Disneyland Halloween.
You can find all of the most current official information on the Disneyland Halloween season on the Halloween Time at Disneyland page on the Disneyland website.
Disclosure: We have used all the products recommended on Mickey Visit. We may receive compensation when you click on links to some products featured.