How Jira Align Helps Enterprises Embrace Lean Budgets
Photo by Victor Vargas
Hopefully, you've followed my posts and webinars on Portfolio for Jira, as well as how to manage Lean Budgets in Atlassian and its ecosystem. We released a White Paper providing a solution for mid-sized organizations that have embraced SAFe® and want to also incorporate Lean Budgets concepts within the Atlassian technology stack. After all, one of the most critical pieces of adopting an agile mindset is to break the cycle of traditional Project Cost Accounting.
Project Cost Accounting and agile frameworks (regardless of the flavor) are in direct conflict with one another. Moving teams to work in a Project Cost Accounting model does not work in agile frameworks. Instead, we move work to teams. When we scale agile, regardless of the model, all we're doing is connecting the overarching strategic initiatives to execution. Also, we're all still trying to figure out how to understand the costs associated with the work. SAFe® offers the seductive allure of Lean Budgets. Simply define the Enterprise budget and allocate it to the Portfolios to do what they will. Wait, what? Just hand over $100,000,000 to a Portfolio for the year and trust that they'll make the right decisions? As Yogi Berra once said, "In theory, there's no difference between theory and practice. In practice, there is."
Lean Budgets Guardrails
While the Atlassian tools and ecosystem are not intended to be the financial system of record for any organization, one key part of Lean Budgets, which is called out several times in the Lean Portfolio Management competency in SAFe® 5.0, is to provide Guardrails. The four Guardrails are as follows:
Guiding investments by horizon
Applying capacity allocation to optimize value and solution integrity
Approving significant initiatives
Continuous Business Owner engagement
© Scaled Agile, Inc.
The Atlassian tools, and specifically Jira Align, are uniquely positioned to provide the Guardrails for Lean Budgets. By adhering to the SAFe® Core Values of Transparency and Program Execution, Jira Align provides complete aggregation from the corporate strategy, including Mission, Vision, and Values, all the way through team-level execution and back up again. This includes Allocation, Estimate, and Actual comparisons based on the Program Increment. Mind-blowing, right?
While you will have to wait for the full solution (details are coming soon), here are a few tips to assist you in your journey.
Create a Strategic Snapshot
Your organization has a well-established Mission, Vision, and Values. They're likely plastered all over your organization's intranet or when in an office, you'll find them displayed every 25 feet down the halls. Add these into the Enterprise Room in a strategic snapshot that aligns with your fiscal year. Break down the Mission, Vision, and Values into long-term, annual goals and establish your Strategic Themes. Add those into Jira Align to start tying execution to these items.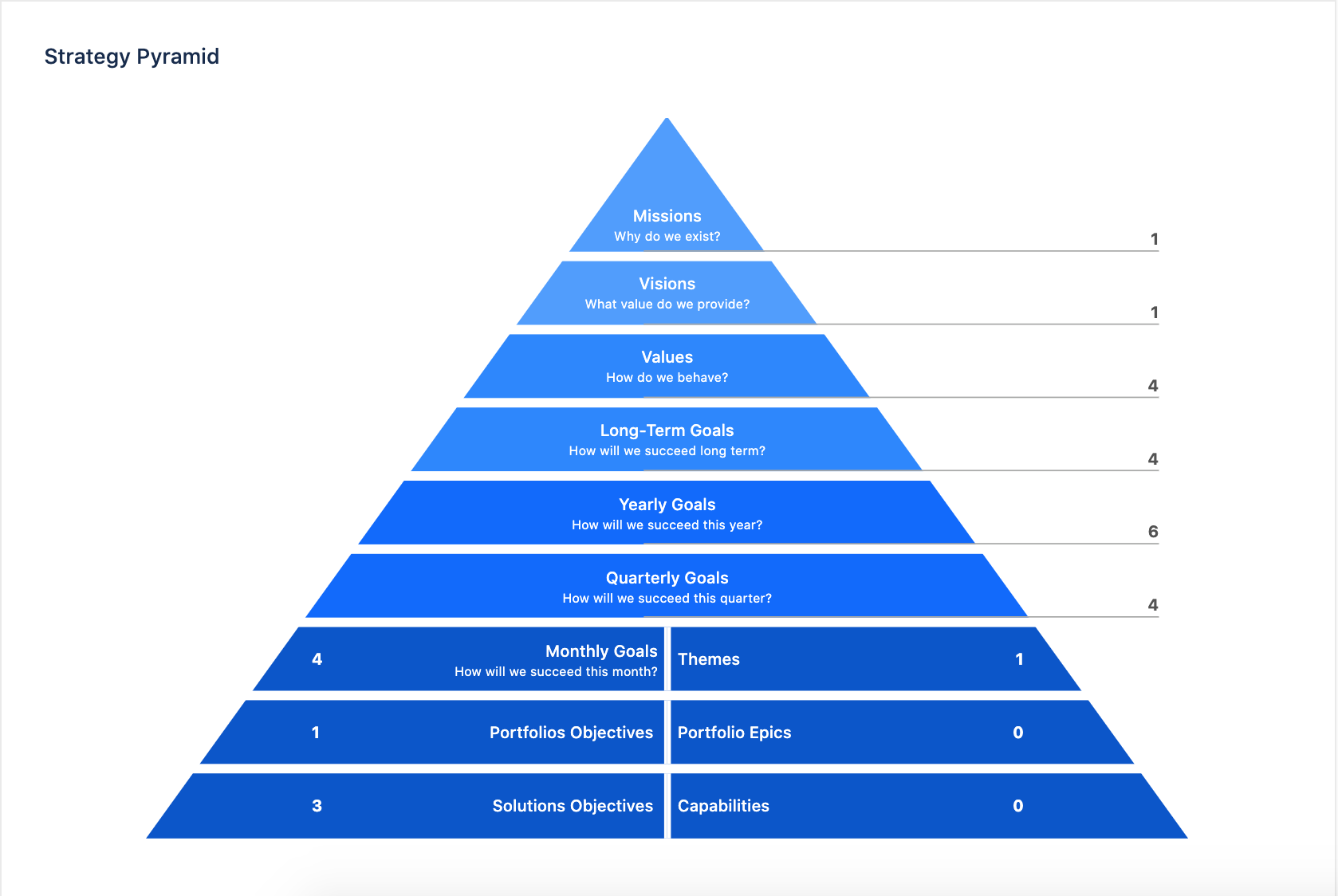 Themes are an entity in Jira Align. Think of them as an Issue Type that drives the rest of the hierarchy. However, one of the key strengths of Jira Align is ensuring, at every level, the entity is tied to execution. In SAFe® the key execution entity is the Program Increment (PI). Even if a Theme straddles several PIs, you must commit to the timebox of the PI. This drives the entire organization to say, "This thing is important to us, and this is how and when we plan on executing it." While at first, you may have no idea, you can always go back and add the information after the fact.
Determine Theme Allocation for the PI
While you may not know the exact dollar amount while planning the budget, you've likely done the SWAG for the fiscal year. SWAG, of course, stands for Scientific Wild Ass Guess. As you're determining your Themes and Portfolio Epics for the Fiscal Year (or just your Themes), you will likely have a high-level idea of how much of the pie you will allocate to each Theme. Since they are also ranked by highest to lowest priority, the allocations should follow suit as well. If a Theme is ranked number one, it should have a higher percentage allocated than, say, Theme number 10. Theme allocations can be updated as your organization moves through the budget cycle. Jira Align will do the calculation for you as you determine the overall budget.
However, to truly succeed at Lean Budgets in Jira Align, you must determine the budget for the PI. Again, as you're working through your organization's budget cycle, you can start with your SWAG. For example, if you have an overall budget of $100,000,000 for the fiscal year and your PI cadence puts you at 12-week PIs, then allocate $25,000,000 per PI to start. By tagging your Themes with the PI(s), you can start to understand the dollars, as well as the overall level of effort, needed for a specific PI. As you get closer to final budget approval, continue to refine these numbers.
Determine a Blended Rate
While I've proposed a series of different methods for translating Story Points to dollars either via Cost Per Story Point or Total Cost of Solution or Monetized Opportunity Cost, the fact remains that we live in a time-based world (sigh). And our best method for translation still comes from determining a Blended Rate. In Jira Align, once you've determined the Blended Rate for the PI, you simply enter it into a field and the magic starts to happen. But how do we determine a Blended Rate?
Remember, a fixed Team equals a fixed cost. Take the combined salary of the team members, divide it by workweeks, then divide it by work hours. You can skip a step if you remember the exact number of working hours are in a year, but that number will vary based on your geolocation. You can always adjust as needed based on PTO policies and holidays to determine the Blended Rate. From there, Jira Align takes over once you're in execution mode.
Budget, Estimate, and Actual
In the Portfolio section of Jira Align, you can quickly access a report called Investment versus Actuals. Wait, what? It's that simple? I click a button, and I can compare plan, actual, and variance? That can't be right.
To be honest, it truly is that simple. However, if Teams aren't fostering good data in Jira Software and if RTEs, Program Owners, Epic Owners, and the like, aren't making the connections in Jira Align, you will end up with junk. This leads to frustration, as well as low adoption levels of the solution. Take a deep breath, and remember Principle #1 of SAFe ®: Take an economic view. Just like any other tools your organization uses, you must adhere to the process and commit to the facilitation of that process within the tools.
Based on the historical Velocity of the individual Teams in a Program, the Blended Rate, the Teams' Burn Hours, and the Theme Allocation, Jira Align will calculate the Estimate (original estimate at the start of the Program Increment) as well as the Actual (actual completed stories in each of the Sprints). This is where the Team discipline comes in. If Teams do not estimate work, move cards across the board, and close Sprints, this fails. You cannot calculate the roll-up, or if you do, it's wildly inaccurate. Thus, the comparisons are out of whack, and when compared against the financial system of record, you find that you've spent your time and money on Theme number 10 instead of Theme number one.
Want to know more?
In the coming days, Praecipio Consulting will release a White Paper detailing the solution to managing Lean Budgets with Jira Align. We look forward to your questions and feedback. Lean Budgets is still an emerging concept, and while we have a solid solution, we'd love to know how your organization is currently managing or where you are in your digital transformation journey with the Atlassian tools.