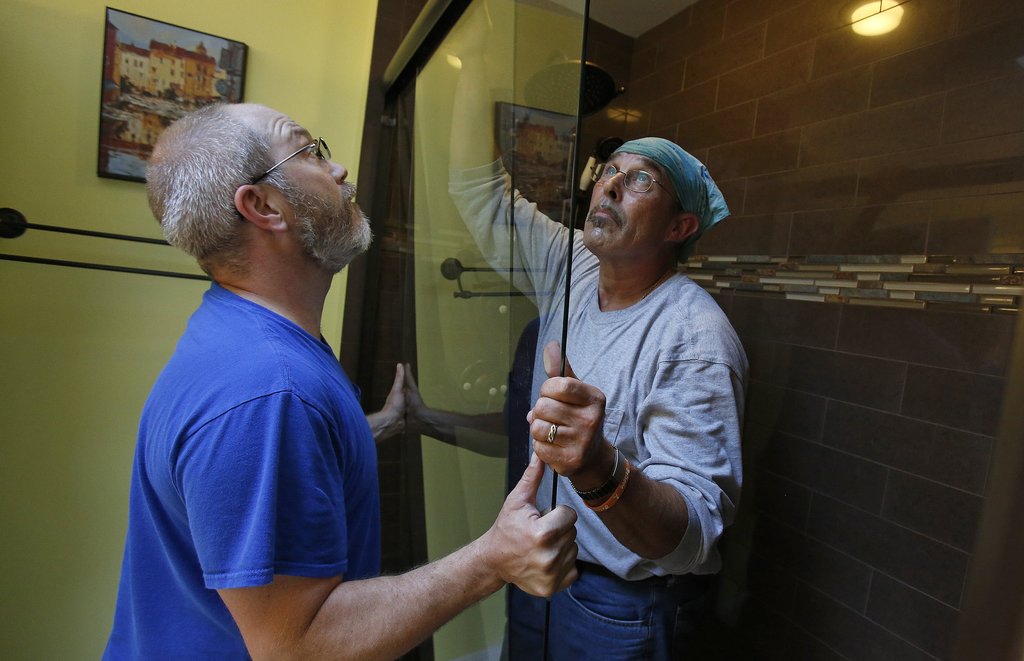 Home-remodeling industry moves online
Seattle has become a hub for home-improvement marketplaces with Amazon.com, Porch.com and Pro.com, as well as a division of Zillow known as Digs active in the region. Elsewhere, Angie's List, Houzz and a big entrance by Google in August have made the industry a crowded space.
Before David Johnson booked a contractor to undertake a nearly $20,000 remodel of his bathroom, he scheduled a much smaller job to test the waters. Johnson, a Tukwila homeowner, wanted to try out an online service that helps customers find home-improvement workers, but he wasn't sure what to expect and didn't want to spend several thousand dollars without knowing.
So Johnson turned to an emerging crop of online home-services companies that offer homeowners something that's otherwise hard to find: a level of trust when searching for a contractor.
Far from operating in the traditional model — as directories for homeowners to connect with workers — these sites are personalizing home-improvement projects by trying to build a relationship between customers and professionals.
Johnson started with Seattle startup Pro.com to book a $400 replacement of a ventilation fan in the laundry room of his three-bedroom home.
A few days later, he had a ventilated room and an expectation to find a few more vendors from Pro.
Johnson's initial hesitation is common, possibly one reason home services' online movement comes years after many other industries'. But as consumers get used to going online to find everything from food and clothes to vacation spots, it only makes sense that they should be able to find help for home projects, too.
The Puget Sound region is one place home-improvement marketplaces are blooming, anchored by technology giant Amazon.com, which launched a home-services platform in March and expanded it to 15 U.S. cities in August.
Amazon joined quickly growing Seattle startups Porch.com and Pro.com, as well as a division of Zillow known as Digs, which operates much like a Pinterest board for homeowners to get design ideas and find products.
Elsewhere, Angie's List, Houzz and a big entrance by Google in August have made the industry a crowded space.
The time is ripe for such services to make a big move online, said Kermit Baker, project director of the Remodeling Futures Program, a division of Harvard University's Joint Center for Housing Studies. Remodeling took a 15 to 20 percent hit during the Great Recession but didn't fare nearly as bad as homebuilding. Now, home improvements and repairs are thought to be a $300 billion annual business nationally.
"The remodeling industry is one of the most fragmented in our economy," Baker said. "Technology is creating opportunities to take advantage of things going on in the market."
The technology enables customers to find contractors, price jobs and even schedule appointments — without leaving the couch.
Compare that to how it used to be done: call a neighbor, check-in with old friends who had their house painted last year, a desperate search for anyone who can vouch for the worker about to enter your home.
Each Puget Sound-area entry is trying to carve out a niche. Porch has years of data on home projects. Pro.com created complex technology to learn what projects will cost and estimate prices. Amazon is coupling installation services with its wealth of product offerings and deep base of customers.
All are trying to convince customers that the professionals on their sites will do the best job at a fair price.
"It's an industry that totally lacks transparency and trust," said Pro.com CEO Matt Williams. "You have no idea how much it should cost, you have no idea if the guy doing it is going to be safe and trusted. … We make it super simple."
Derrick Hammond, of Seattle, searched for someone to mount his TV by first reading reviews on Yelp. He tried multiple times to contact a provider with strong reviews but no luck. He hesitantly searched on Amazon Home Services.
"If it were through a company or service I had never heard of, I probably wouldn't have done it," he said. "But I'm a pretty active Amazon customer, and I like if I make a choice I regret, I can return it."
Amazon's service began as a way for people to bundle product purchases with installation services. A customer can buy a bookcase on Amazon, for example, and book a professional to assemble it.
"We saw it in the reviews," Amazon Marketplace director Nish Lathia said. "People were writing in reviews for products, 'Does anybody know anyone in Memphis, Tenn., who can get this installed?' "
Now Amazon is expanding to book everything from electricians to grazing goats to clean up weeds. (Yes, more than one person has booked the goats, Lathia confirmed.) More than half of jobs now come from customers searching for services not attached to a product.
Amazon incorporated services into its existing third-party marketplace, and operates it much the same way. Home professionals don't pay to advertise with Amazon, but rather are vetted "rigorously" to be able to participate on the site, Lathia said.
"We considered advertisements and stayed away because customers want Amazon to stand behind the service," Lathia said. That's a big way Amazon secures customer trust, he said.
But the company has run into a tangle with Angie's List, one of the entrenched home-services review sites. Indianapolis-based Angie's sued Amazon Local, saying the latter's employees signed up for Angie's List and stole proprietary information. Amazon is fighting back, arguing Angie's List has used similar tactics.
Commissions
Pro.com, like Amazon, steered clear of an advertising model. It takes a commission of each project, usually between 10 and 20 percent.
"We're going after high quality, trusted professionals because at the end of the day, we don't get paid unless a job happens," Pro.com CEO and co-founder Matt Williams said.
Pro assigns a company job manager to each project who works as a liaison between the homeowner and contractor, scheduling appointments and checking in with all parties.
Porch also markets a "satisfaction guaranteed" offer in some areas. The company, valued at $500 million by Seattle research firm Pitchbook Data, focuses on connecting homeowners with contractors. It makes money by selling preferred website placement and analytics to contractors and taking a booking fee when jobs are scheduled through its app.
On Tuesday, it launched the Porch Guarantee in 28 markets across the U.S. When homeowners book a job with a contractor Porch has certified, it guarantees the customer will be "satisfied" or Porch will find another contractor and will pay that professional up to $1,000 to fix the issue.
Heavy-hitting backers
Apart from a commission-model, Amazon and Pro.com have another big factor in common: Jeff Bezos. The Amazon CEO invested in Pro.com through his personal investing arm, Bezos Expeditions, before Amazon launched its competing service.
Williams ran another company acquired by Amazon and worked at the online retailer for more than a decade. He said he doesn't have a problem with the competition.
"It's part of Jeff's method. There are teams internally that compete on the same thing," he said. "If anything, I see them as a potential partner down the road."
Porch, on the other hand, has a much more traditional backer. The Seattle company has a deep partnership with home-improvement store Lowe's, including signage in all stores and millions in investment from the retailer.
Porch employees work inside Lowe's stores and help customers navigate the online service. The number of those workers recently more than tripled.
"It's all about being more relevant to our consumers and customers," said Jay Rebello, Lowe's vice president of new business development and corporate innovation. "A lot of projects people look for are categories where we don't offer a service."
Lowe's has acquired online retailers in the past, including Kirkland's ATG Stores, but both Porch and Lowe's insist that isn't on the horizon — for now.
"We don't have any immediate plans to acquire them," Rebello said. "You never know what could happen in the future, but we're happy for now."
However the online home-services industry works out, it has at least one more customer — David Johnson, the Tukwila homeowner. After the small ventilation job worked out, he took the plunge and booked the bathroom remodel. The project totaled about $20,000, along with having a few rooms painted, and he couldn't be happier with his decision.
He's even branching out. Johnson booked his latest job, hauling away a big load after a garage cleanup, through Amazon.com.